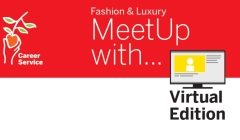 MeetUp with...Ferrari - Virtual Edition
Incontro online
Attraverso il ciclo dei MeetUp with... avrai la possibilità di ascoltare direttamente dalla voce dei recruiter le opportunità di inserimento lavorativo, di sviluppo professionale e di carriera offerte dalle aziende oltre a capire quali sono le modalità di selezione e valutazione dei potenziali candidati. Potrai consegnare o inviare il tuo CV e svolgere brevi colloqui conoscitivi.
Dalla primavera 2020, i MeetUp si trasformano in Virtual Edition e si svolgono in modalità live webinar.
Martedì 6 ottobre 2020 Ferrari sarà protagonista di un secondo MeetUp - Virtual Edition nel corso del quale presenterà a un gruppo pre-selezionato di cafoscarini e cafoscarine di Area Economica, Scientifica e di Informatica le opportunità offerte dalla Ferrari GT Marketing & Sales Academy.
Introdurranno il live webinar il prof. Tiziano Vescovi e il prof. Leonardo Buzzavo.
Programma
10.00-11.30 / Live webinar di Ferrari su piattaforma Zoom di Ateneo
10.00 / "Ferrari vista dall'esterno"; a cura di Tiziano Vescovi e Leonardo Buzzavo, Università Ca' Foscari Venezia
10.30 / "Ferrari vista dall'interno"; a cura di Dennis De Munck, Head of Employer Branding and University Partnerships at Ferrari
10.50 / Presentazione della seconda edizione della Ferrari GT Marketing & Sales Academy con focus sulle opportunità di lavoro e iter di selezione a cura di Valeria Fauci, Employer Branding & Talent Acquisition at Ferrari
11.15 / Q&A session
A chi si rivolge
Laureandi e neolaureati magistrali di Area Economica, Scientifica e di Informatica
Modalità di partecipazione
Compila il form per inviare la tua candidatura entro domenica 27 settembre.
Entro lunedì 5 ottobre ti invieremo il link per accedere al webinar.
Language
The event will be held in Italian
Organized by
Career Service
Downloads