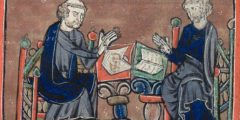 Toscana bilingue - Presentazione del volume
On-line
Presentazione del volume: Toscana bilingue (1260 ca. – 1430 ca.). Per una storia sociale del tradurre medievale, a cura di Sara Bischetti, Michele Lodone, Cristiano Lorenzi, Antonio Montefusco, De Gruyter 2021. Dialogheranno con gli autori:
Eugenio Burgio (Università Ca' Foscari Venezia), Nadia Cannata (Sapienza Università di Roma), Elisa Guadagnini (ILC - Istituto di linguistica computazionale "Antonio Zampolli"), Alessandra Petrina (Università di Padova)

Seminario organizzato nell'ambito del progetto BIFLOW - Bilingualism in Florentine and Tuscan Works (ca. 1260 - ca. 1416).
This project has received funding from the European Research Council (ERC) under the European Union's
Horizon 2020 research and innovation programme (grant agreement No 637533).
Language
The event will be held in Italian
Organized by
Dipartimento di Studi Umanistici; prof. Antonio Montefusco; dott. Michele Lodone
Downloads