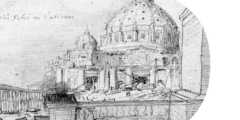 "The Building History of Early Modern Rome"
Online Zoom
ERC AdriArchCult SeminarsHistory of construction
At the end of the sixteenth century, Roman construction practices reached the peak of a centuries-old process of technical-operational improvement, which had remained unsurpassed for a long time. Founded on the strategic coordination of qualified workers, this practice made use of very effective methods of procurement and transport of materials, as well as of scaffolding and work machines that allowed the successful contraction of the financial commitment and the direct transfer of a precious operational knowledge in a long course. The Fabbrica di San Pietro in Vaticano, the first workshop of the art of building in Rome, put in place a capillary work of assistance to other construction sites, public and private, reflected both in the supply of materials and equipment, and in the decisive contribution of its highly qualified workers. The Fabbrica embodied an undisputed authority for a long period and controlled all major building interventions conducted up to the unification of Italy, in the city of Rome and in the entire Papal State.
For further information: ines.ivic@unive.it
Language
The event will be held in Italian
Organized by
Dipartimento Filosofia e Beni Culturali in collaborazione con ERC AdriArchCult
Link
http:// https://unive.zoom.us/meeting/register/tZIpc--urT4tHt2maUIS-sNRuL4l6leMLrzqM
Downloads