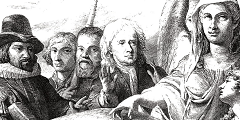 Occasionalism and Its Trends in Natural Philosophy
Aula Morelli, piano terra, palazzo Malcanton Marcorà Dorsoduro 3484/D Venezia
ERC EarlyModernCosmology
This workshop aims to provide an overview of (some of) the various strands of the early modern philosophical doctrine called "Occasionalism", in particular, in the context of natural philosophy. Occasionalism in its most extreme form holds that all finite substances (both minds and bodies) lack causal power, and that the only truly efficacious cause is God. The speakers will approach the topic of occasionalism in different ways and from different historical, and philosophical points of view. They will focus on different arguments in favour of and motivations for adopting occasionalism. The overall goal is to investigate different trends of occasionalism in 17th and 18th century natural philosophy.
Organizers:
Omar Del Nonno
Pietro Daniel Omodeo
Important:
According to the anti-contagion protocol the number of participants is limited.
For this reason, it is requested to register by email before the conference.
Registration email: omar.delnonno@unive.it
Language
The event will be held in English
Organized by
Dipartimento di Filosofia e Beni Culturali, in collaborazione con ERC European Research Council
Link
https://www.unive.it/pag/35129
Downloads