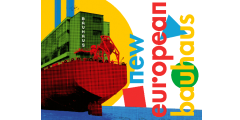 Bauhaus of the seas
Arsenale, Venezia
Il 20 e 21 settembre Venezia torna nuovamente alla ribalta internazionale con la conferenza Bauhaus of the seas co-organizzata dal Comune di Venezia e dall'Università Ca' Foscari, per rispondere agli obiettivi del New European Bauhaus, il progetto lanciato dall'Unione Europea che mette la creatività al servizio della sostenibilità, della bellezza e dell'inclusione.
Il programma completo dell'evento è consultabile sul sito ufficiale del progetto. La conferenza sarà trasmessa in live streaming a partire dalle ore 09:00 del 20 settembre, nel canale Youtube del progetto Bauhaus of the seas. E' anche possibile registrarsi al convegno su Zoom e restare così costantemente aggiornati sulle iniziative del consorzio Bauhaus of the Sea.
Informazioni e aggiornamenti sono disponibili anche nei canali social ufficiali (Instagram @bauhaus.seas e Twitter @BauhausSeas).
Language
The event will be held in Italian
Organized by
Università Ca' Foscari Venezia, Comune di Venezia