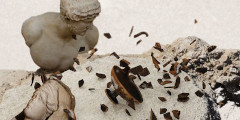 Patrimonio Sottratto | Stolen Heritage
Aula Baratto, Ca' Foscari, Dorsoduro 3246 - Venezia
Promoted by Ca' Foscari University of Venice - Department of Humanities and by the Center for Cultural Heritage Technology - Istituto Italiano di Tecnologia, under the H2020 EU funded project NETcher (NETwork and digital platform for Cultural Heritage Enhancing and Rebuilding), the seminar will look into the topics of looting, theft, destruction and illicit trafficking of Cultural Heritage properties, with a multidisciplinary lens.
The international laws and conventions implemented by UNESCO, UNIDROIT, EU and CoE are the framework for the exposition and analysis of specific case-studies of crimes portrayed against Cultural Heritage, but also for the presentation of positive initiatives and on-going projects that are fighting against this criminal phenomena.

In fact, an international network of organized crime exists; using "subsistence diggers", this network branches into reaching white-collar buyers. It involves money-laundering activities, fraud and terrorist's funding. In the end, this phenomenon destroys and depletes our identity and our history.

"Possession" of Cultural Heritage items is manifold and with shadowy outlines, due to the multiplicity of national laws. Criminals, from the simplest and most miserable of the looters to transnational criminal organizations, always used these grey areas to put into the art and antiquities market objects coming from robbery, destruction and looting - of museums and archaeological areas. Indeed, in this way, the most famous museums - more or less consciously - bought - and are buying - objects with illicit provenience.

The looting, the theft, the illegal trade and the unlawful exportation are phenomena affecting any country rich in historical and artistic reservoirs. Italy included: for centuries it witnessed its own Cultural Heritage gradually but inexorably plundered.
Language
The event will be held in Italian
Organized by
Progetto NETcher, Dipartimento di Studi Umanistici, Istituto Italiano di Tecnologia-CCHT, Research for Global Challenges-Digital and Cultural Heritage
Link
https://www.unive.it/pag/38202
Downloads