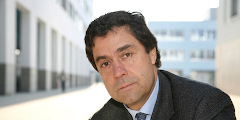 River Networks as Ecological Corridors
Ca' Bottacin, Room A
The European Centre for Living Technology-ECLT invites Andrea Rinaldo, Director of the Laboratory of Ecohydrology at the École Polytechnique Fédérale de Lausanne-EPFL, for a Christmas lecture at Ca' Bottacin venue.
River basins are a natural laboratory for the integration of hydrological, ecological and geomorphological processes. Moving from morphological and functional analyses of dendritic geometries observed in Nature over a wide range of scales, this Lecture addresses essential processes sustaining human life and societies taking place along dendritic structures (floods, droughts, a fair distribution of water) - suggesting that indeed they can be predicted.
Ecological processes occurring in the fluvial landscapes are so constrained by hydrologic controls and by the morphology of the matrix for ecological interactions (notably, the directional dispersal embedded in fluvial and host/pathogen mobility networks) that the spatial and temporal patterns in ecology are indelibly marked by them in a remarkably broad range of applications. This lecture shall suggest that a coherent ecohydrological framework, rooted in laboratory, field and theoretical work, has contributed substantially to our understanding of a number of fields, from spatial ecology of species, to population dynamics, biological invasions and the spread of endemic or epidemic waterborne disease.
Language
The event will be held in Italian
Organized by
European Centre for Living Technology, Research for Global Challenges - Complexity, Green and Blue Growth
Link
https://www.unive.it/pag/17754/?tx_news_pi1%5Bnews%5D=8225&cHash=725e2b39bcf659188e8f3c296a35a7b0