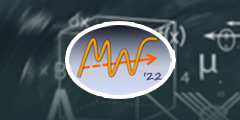 Call for Contribution | MAF2022
10th Conference on Mathematical and Statistical Methods for Actuarial Sciences and Finance - MAF2022
will take place at the University of Salerno (Italy), on April, 20-22, 2022, in a blended form.
The main aim of MAF conference is to promote the interaction between mathematicians and statisticians, in order to provide new theoretical and methodological results, and significant applications in actuarial sciences and finance, exploiting the potential of the interdisciplinary mathematical and statistical approach.
The conference is devoted to a wide variety of topics in actuarial science and finance, all of which are addressed in light of the cooperation between the two quantitative approaches. It is open to both academics and practitioners to encourage their cooperation.
The Steering Committee of the Conference would appreciate if people intrested could collaborate in the success of the conference by participating in some activities such as the organization of sessions and/or the presentation of contributions (also through a co-author).
We would inform you that the deadline for the submission of 4/6 page papers is extended to January 7, 2022.
Please, consider that this term is imperative in order to have the availability of the MAF2022 book, containing the accepted papers after peer review, close to the event.
We take this opportunity to remind you that it is necessary to follow very carefully the Springer template, as it is available on the conference website.
Please visit the web site of the Conference; the email address for communications is maf2022@unisa.it
Link