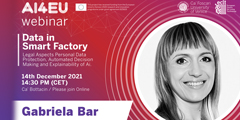 Data in Smart Factory
Ca' Bottacin / Online
Data in Smart Factory.
Legal Aspects Personal Data Protection, Automated Decision Making and Explainability of AI
14th December, 14:30 PM (CET) - Ca' Bottacin | Camino room
Dr. Gabriela Bar
Managing partner at Szostek_Bar i Partnerzy Kancelaria Prawna and Lecturer at the Faculty of Law and Administration of the Silesia University in Katowice (Poland)
Please use this Zoom link to attend the seminar.
To participate in presence kindly write an email to eclt@unive.it
Abstract
In smart factory, which is the fundament of Industry 4.0, machines and humans are deeply interconnected and the management of the supply chain relies to a great extent on data. The data produced in such context do not only refer to machines, to production or to industrial processes. Indeed, they can also be personal data, thus causing not only cyber-security challenges, but also informational privacy risks, especially when there is fully automatic decision-making towards data subjects (including employees).
Increasingly sophisticated smart tools will make easier to make data re-personalisation. Even full anonymisation does not necessarily have to be effective in the future, because due to the dynamic technological development (especially ANN), what has been non-personal data so far may become personal data in the near future.
The implementation of data subjects' rights execution process in a complex environment is also a significant challenge, with particular emphasis on automated decision making and provision of explanation to data subjects.
Bio sketch
Dr. Gabriela Bar doctor of law, Attorney at Law, managing partner at Szostek_Bar i Partnerzy Kancelaria Prawna. Enthusiast of new technologies, with particular emphasis on Artificial Intelligence. Experienced expert in the field of electronic contracts, e-commerce, legal aspects of IT systems implementation and privacy protection. Member of the IEEE Legal Committee in the IEEE Global Initiative on Ethics of Autonomous and Intelligent Systems project; member of the New Technologies Law Association, Women in AI and AI4EU Platform.
Lecturer at the Faculty of Law and Administration of the Silesia University in Katowice (Poland) and member of the legal team in the Multi-Agent Systems for Pervasive Artificial Intelligence for assisting Humans in Modular Production Environments project - MAS4AI (HORIZON 2020).
​A graduate of the Faculty of Law, Administration and Economics at the University of Wrocław and the Kozminski University.
-----
With the support of AI4EU Project.
This project has received funding from the European Union's Horizon 2020 research and innovation programme under grant agreement 825619.
Language
The event will be held in English
Organized by
European Centre for Living Technology (ECLT)
Link
https://unive.zoom.us/j/81473591592
Downloads