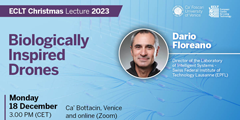 ECLT Christmas Lecture 2023 | "Biologically Inspired Drones"
Ca' Bottacin, Venice
ECLT Christmas Lecture 2023

"Biologically Inspired Drones"
Prof. Dario Floreano
Director of the Laboratory of Intelligent Systems
Swiss Federal Institute of Technology Lausanne (EPFL)
Introduction
Prof. Achille Giacometti
ECLT Director
DIscussant
Prof. Marcello Pelillo
Ca' Foscari University of Venice
-----
Abstract:
Drones have taken the world by storm. In the past 10 years, they have become one of the fastest growing sectors in robotics and in some countries are even available on the shelves of a neighborhood supermarket. And yet, today's commercial drones cannot yet compete with insects and birds in terms of mechanical resilience, agility and endurance, adaptability, and cooperation. In this talk I will describe research addressing these challenges that take inspiration from insects and birds.
Bio:
Prof. Dario Floreano is director of the Laboratory of Intelligent Systems at Ecole Polytechnique Fédérale de Lausanne (EPFL). He has been the founding director of the Swiss National Center of Competence in Robotics from 2010 to 2022. Prof. Floreano holds an M.A. in Visual Perception, an M.S. in Neural Computation, and a PhD in Robotics. He held visiting research positions at Sony Computer Science Laboratory, at Caltech/JPL, and at Harvard University. His research interests are biologically inspired robotics and artificial intelligence. Prof. Floreano has made pioneering contributions to the fields of evolutionary robotics, aerial robotics, and soft robotics that have been published in approximately 400 peer-reviewed articles, and five books (Artificial Neural Networks, Evolutionary Robotics, Bio-inspired Artificial Intelligence, Bio-inspired Flying Robots, Tales from a Robotic World) with MIT Press and Springer Verlag. He served in several advisory boards and committees, including the Future and Emerging Technologies division of the European Commission, the World Economic Forum Agenda Council, the International Society of Artificial Life, the International Neural Network Society, the Max-Planck Institute for Intelligent Systems, and in the editorial committee of ten scientific journals, including Science Robotics. In addition, he helped spinning off two successful drone companies (senseFly.com and Flyability.com) and the world-largest non-for-profit portal on robotics and A.I. (RoboHub.org). He is an IEEE Fellow and an ELLIS Fellow.
----------
Participation:
>> To participate in person at Ca' Bottacin, Main Hall, Venice please fill in this form, seats are limited.
>> To join the seminar online on Zoom:
https://unive.zoom.us/j/87304771241?pwd=ZGhWczhTMngvcmd1emRxWGN3VXpXZz09
ID: 873 0477 1241
Passcode: 181223et
Language
The event will be held in English
Organized by
ECLT