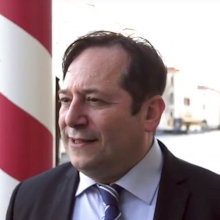 Dati relazione
Periodo di riferimento

09/02/2017 - 08/02/2020
Afferenza

Dipartimento di Economia
Ruolo

Professori ordinari
Attività didattica
| A.A. | Insegnamento | Codice | Voto (max 4) | Voto medio area (max 4) |
| --- | --- | --- | --- | --- |
| 2016/2017 | DIRITTO DEL COMMERCIO INTERNAZIONALE | EM1004 | 3.1 | 3.1 |
| 2016/2017 | DIRITTO INTERNAZIONALE | LM1910 | 2.9 | 3.2 |
| 2016/2017 | DIRITTO INTERNAZIONALE | ET3002 | 2.9 | 3.1 |
| 2017/2018 | DIRITTO INTERNAZIONALE | LM1910 | 2.8 | 3.2 |
| 2017/2018 | DIRITTO INTERNAZIONALE | ET3002 | 2.9 | 3.1 |
| 2017/2018 | INTERNATIONAL BUSINESS LAW | EM1202 | 2.6 | 3.1 |
| 2018/2019 | DIRITTO INTERNAZIONALE | ET3002 | 3 | 3.1 |
| 2018/2019 | DIRITTO INTERNAZIONALE | LM1910 | 3 | 3.2 |
| 2018/2019 | INTERNATIONAL BUSINESS LAW | EM1202 | 2.7 | 3.1 |
Tesi
| Anno solare | Tipologia | Tesi Relatore | Tesi Correlatore |
| --- | --- | --- | --- |
| 2017 | Corso di dottorato | 2 | |
| 2017 | Corso di laurea | 7 | |
| 2017 | Corso di laurea magistrale | 3 | 5 |
| 2018 | Corso di laurea | 14 | |
| 2018 | Corso di laurea magistrale | 5 | 3 |
| 2019 | Corso di dottorato | 2 | |
| 2019 | Corso di laurea | 6 | |
| 2019 | Corso di laurea magistrale | 3 | 3 |
Ricerche sviluppate e in corso
Codice doganale dell' Unione europea commentato, La Tribuna ed., 2 ed., 2016
Codice doganale dell'Unione europea commentato , Milano, Giuffré, Francis Lefebvre, 2019
D. Carreau (Paris I Sorbonne), F. Marrella (Cà Foscari - Venezia), Diritto internazionale, I ed., 2016
D. Carreau (Paris I Sorbonne), F. Marrella (Cà Foscari - Venezia), Droit international, 11 ed., Pedone, Paris, 2016
D. Carreau (Paris I Sorbonne), F. Marrella (Cà Foscari - Venezia), Droit international, 12 ed., Pedone, Paris, 2018
D. Carreau (Paris I Sorbonne), F. Marrella (Cà Foscari - Venezia), Droit international, XIII ed., pubblicazione a Parigi, presso l'editore Pedone, prevista nel 2021
D. Carreau, F. Marrella, Diritto internazionale, 3 ed., Milano, Giuffré-Francis Lefebvre, pubblicazione prevista nel 2021
Enciclopedia Treccani - Il Libro dell'anno del diritto, Sezione di Diritto internazionale (2014 -)
F. Galgano (LUISS), F. Marrella (Cà Foscari-Venezia), Diritto del commercio internazionale. Manuale, 4 ed., Padova, CEDAM, 2016
F. Marrella, Manuale di diritto del commercio internazionale, I ed., Padova, CEDAM-Wolters Kluwer, 2017
F. Marrella, Manuale di diritto del commercio internazionale, II ed., Padova, CEDAM-Wolters Kluwer, 2020
F. Marrella, Manuale di diritto del commercio internazionale, III ed., Padova, CEDAM-Wolters Kluwer, 2022
Il Reg. Roma I sulla legge applicabile alle obbligazioni contrattuali, per il Commentario Scialoja-Branca, Bologna-Roma
International Protection of Human Rights and Activities of Transnational Corporations (published in the Collected Courses of The Hague Academy of International Law, RCADI, Leiden-Boston, Massachussets (USA), Brill-Nijhoff, vol. 385, 2017, pp. pp. 33-435 )
L'arbitrato e i contratti internazionali nel terzo millennio. Studi in onore di Giorgio Bernini/Arbitration and International Contracts in the third Millennium. Essays in honor of Giorgio Bernini, Milano, pubblicazione prevista nel 2021
Lo straniero e la condizione di reciprocità (art.16 preleggi)
ON TRADE LIBERALISATION FOR POLITICAL ENDS: IS THE EURASIAN ECONOMIC UNION (EAEU) MORE THAN A REGIONAL TRADE AGREEMENT (RTA)?, in corso di pubblicazione sul CHiCAGO JOURNAL OF INTERNATIONAL LAW, 2020
Pubblicazioni realizzate nel triennio
Fabrizio Marrella (2020), Manuale di diritto del commercio internazionale, 2 ed. in MANUALI DI SCIENZE GIURIDICHE, Milano-Padova, Cedam - Wolters Kluwer, pp. 1-836 (ISBN 9788813373672) (Monografia o trattato scientifico)
Fabrizio Marrella (2019), Codice doganale dell'Unione europea commentato , Milano, Giuffré, Francis Lefebvre, pp. 1-712 (ISBN 9788828807346) (Commento scientifico)
Fabrizio Marrella (2018), Diritto internazionale , Milano, Giuffré (ISBN 9788814229114) (Monografia o trattato scientifico)
Marrella (2018), Droit international , Paris, Pedone, vol. 1 (ISBN 978-2-233-00871-8) (Monografia o trattato scientifico)
Fabrizio Marrella, Patricio Barbirotto (2018), L'UNIONE ECONOMICA EUROASIATICA: una rivoluzione russa per il commercio internazionale? in DIRITTO DEL COMMERCIO INTERNAZIONALE, vol. 1/2018, pp. 277-287 (ISSN 1593-2605) (Articolo su rivista)
Fabrizio Marrella; Patricio Ignacio Barbirotto (2018), L'Unione Economica Euroasiatica in DIRITTO DEL COMMERCIO INTERNAZIONALE, vol. 1/2018 (ISSN 1593-2605) (Articolo su rivista)
Fabrizio Marrella (2018), Il contenzioso Panama-Italia all'ITLOS in Marrella, Fabrizio, Treccani. Il Libro dell'anno del Diritto 2018, Roma, Istituto della Enciclopedia Italiana fondata da Giovanni Treccani, pp. 738-740 (ISBN 9788812006519) (Voce in dizionario/enciclopedia)
Fabrizio Marrella (2018), Voce "Arbitrato in materia di investimenti (Dir. int.)" in Marrella, Fabrizio, Treccani, Enciclopedia del diritto online, Roma, Istituto della Enciclopedia Italiana fondata da Giovanni Treccani, pp. 1-16 (ISBN 978-8813-362935) (Voce in dizionario/enciclopedia)
Fabrizio Marrella (2018), Voce "Investimenti (Diritto internazionale)" , Treccani, Enciclopedia del diritto online, Roma, Istituto della Enciclopedia Italiana fondata da Giovanni Treccani (ISBN 978-8813-362935) (Voce in dizionario/enciclopedia)
MARRELLA Fabrizio (2017), Manuale di Diritto del commercio internazionale , Padova, CEDAM, Wolters Kluwer, pp. 1-752 (ISBN 978-8813-362935) (Monografia o trattato scientifico)
Marrella, Fabrizio (2017), Protection internationale des droits de l'homme et activités des sociétés transnationalesInternational/Protection of Human Rights and Activities of Transnational Corporations in COLLECTED COURSES OF THE HAGUE ACADEMY OF INTERNATIONAL LAW - RECUEIL DES COURS, Leiden-Boston, Massachussets (USA), Brill-Nijhoff, vol. 385, pp. 33-435 (ISBN 9789004351325) (Monografia o trattato scientifico)
MARRELLA Fabrizio, VETTOREL, Arianna (2017), Banca mondiale e diritti umani : il ruolo dell'Inspection Panel , Éthique globale, Bonne gouvernance et Droit international économique in DIRITTO INTERNAZIONALE DELL'ECONOMIA, Torino, Giappichelli, vol. 17, pp. 39-55 (ISBN 978-88-921-0698-7) (Articolo su libro)
Marrella, Fabrizio (2017), Arbitrato in Marrella, Fabrizio, Treccani .Il Libro dell'anno del Diritto 2017, Roma, Istituto dell'Enciclopedia italiana Treccani, pp. 781-782 (ISBN 9788812006212) (Voce in dizionario/enciclopedia)
Marrella, Fabrizio (2017), Controversie economiche internazionali. Organizzazione mondiale del commercio (WTO) in Marrella, Fabrizio, Treccani, Il libro dell'anno del Diritto 2017, Roma, Istituto per l'Enciclopedia italiana Treccani, pp. 779-780 (ISBN 8812006212) (Voce in dizionario/enciclopedia)
Marrella, Fabrizio (2017), Controversie interstatuali - Corte internazionale di giustizia in Marrella, Fabrizio, Treccani. Il Libro dell'anno del Diritto 2017, Roma, Istituto dell'Enciclopedia italiana Treccani, pp. 777-778 (ISBN 8812006212) (Voce in dizionario/enciclopedia)
Marrella, Fabrizio (2017), Corte europea dei diritti umani in Marrella, Fabrizio, Treccani. Il Libro dell'anno del Diritto 2017, Roma, Istituto dell'Enciclopedia italiana Treccani, pp. 783-784 (ISBN 9788812006212) (Voce in dizionario/enciclopedia)
Tesi di dottorato interateneo
Patricio Barbirotto, L'Unione economica eurasiatica, supervisore della tesi dottorale in co-tutela con l'Università di Astrakahn (Russia)
Partecipazione come referee di progetti di ricerca nazionali ed internazionali
Occasional referee per Oxford University Press; Cambridge University Press e Pedone editeur (Parigi).
E' Membre associé presso l'Institut de Recherche en Droit International et Européen de La Sorbonne (IREDIES) ed al SERPI (Sorbonne - Étude des Relations Privées Internationales) presso l'Université de Paris I - Panthéon Sorbonne), dal 2010.
E' altresì Membro del Comitato scientifico della Associazione sul diritto doganale (ASDD); della Società italiana di Diritto internazionale e dell'Unione europea (SIDI); dell'omologa società scientifica francese (SFDI); Associazione italiana per l'arbitrato (AIA); ASSIDMER (diritto del mare); International Law Association;
Partecipazione a comitati editoriali di riviste/collane scientifiche
E' General Editor della collana scientifica di studi monografici EIUC studies on Human rights and Democratisation (Cambridge University Press), coordinatore della sezione di "Diritto internazionale" del Libro dell'anno del Diritto edito dall'Istituto della Enciclopedia italiana Treccani, nonché componente del comitato scientifico internazionale della collana di studi monografici "La ricerca del diritto nella Comunità internazionale", Editoriale Scientifica, Napoli.

*Attualmente è membro del Comitato scientifico o del Comitato di redazione delle seguenti riviste specialistiche: Rivista di diritto internazionale privato e processuale (CEDAM-WKI); Contratto e impresa (CEDAM-WKI); Contratto e impresa/Europa (CEDAM, WKI); della Rivista dell'arbitrato (Giuffré- Francis Lefebvre, Milano); Diritto del commercio internazionale (Giuffré-Francis Lefebvre, Milano); Il Foro Padano, nonché è componente del Comitato dei Referees della Rivista telematica Ordine Internazionale e Diritti Umani (Univ. La Sapienza, Roma). E' altresì membro dell'Advisory Board dell'University of Bologna Law Review; nonché del Comitato scientifico di riviste internazionali quali: lo European Journal of Human Rights/Journal Européen des droits de l'homme (Université catholique de Louvain (UCL)); L'Europe des Droits & Libertés/Europe of Rights & Liberties (Université de Strasbourg/Fondation Marangopoulos); European Papers ; la Revista Brasileira de Arbitragem (Sao Paulo, Brasile) ; lo European Yearbook on Human Rights (Vienna, Graz, Berlin); il Vienna Journal on International Constitutional Law (Vienna, Austria); International and Comparative Law Review, De Gruyter, Germania.
Descrizione dell'attività di ricerca svolta nel triennio e gli obiettivi futuri
Nel triennio di riferimento, il sottoscritto ha sviluppato la propria attività di ricerca secondo tre direzioni principali. La prima, in continuità con le precedenti ricerche, ha avuto per oggetto l'esame dei problemi generali e delle questioni di sistema del Diritto internazionale contemporaneo ai fini di elaborare un manuale che è già divenuto un testo di riferimento a livello nazionale (essendo stato adottato per i corrispondenti corsi tenuti in alcuni tra i migliori Atenei) ed internazionale, essendo stato pubblicato in Italia ed in Francia e poi tradotto da altri colleghi in Brasile e presto in Russia. Sono altresì proseguite le ricerche volte a sistematizzare la complessa materia del diritto del commercio internazionale, ricerche da cui è nato un altro volume (ora in II edizione con la prefazione del prof. Andrea Giardina, Emerito della Sapienza, Università di Roma). Infine, ulteriori ricerche hanno condotto ad approfondire la materia doganale e quindi alla curatela del primo "Commentario del Codice doganale dell'Unione europea" (opera tuttora unica nelle varie lingue degli Stati membri UE) che è stato pubblicato per i tipi di Giuffré, con una prefazione del Giudice costituzionale Luca Antonini.
Altri prodotti scientifici
E' altresì Membro del Comitato scientifico della Associazione sul diritto doganale (ASDD); della Società italiana di Diritto internazionale e dell'Unione europea (SIDI); dell'omologa società scientifica francese (SFDI); Associazione italiana per l'arbitrato (AIA); ASSIDMER (diritto del mare).
Menzioni e premi ricevuti
Nel 2017, il Curatorium dell'Accademia di diritto internazionale dell'Aja ha pubblicato nel suo prestigioso "Recueil des cours de l'Académie de droit international/Collected courses of The Hague Academy of International Law",
il corso monografico svolto dal sottoscritto in tema di "International protection of Human Rights and activities of transnational companies".
Relazioni invitate presso convegni o workshops
Tra queste si possono indicare, inter alia:
• 7 febbraio 2020 - Relatore all'Università di Pisa su "Par condicio creditorum e concorrenza fra ordinamenti. Il ruolo della Corte di Giustizia dell'Unione Europea" al convegno su "La continuità aziendale nel Codice della Crisi".
• 30 settembre 2019 – Relatore presso l'Università di Trieste – sede di Gorizia incaricato dell'introduzione generale al XVI incontro di studio fra i giovani cultori delle materie internazionalistiche in tema di "Il diritto dei trattati a 50 anni dall'adozione della Convenzione di Vienna
• 27 settembre 2019 - Moderatore e discussant alla presentazione, a Venezia, del libro "Lezioni di tutela internazionale dei diritti umani", Bari, Cacucci, 2019, di Pietro Pustorino.
• 31 Agosto 2019. – Relatore nell'ambito delle attività organizzate nel 61ème Séminaire de Droit Comparé et Européen, fondato nel 1959 da ENRICO PALEARI e GERMAIN BRULLIARD e diretto da MARIE ELODIE ANCEL con I. Pretelli, attivo presso l'Università di Urbino "Carlo Bo". Tema della relazione "Les Principes d'Unidroit 2016 et le droit international privé des contrats".
• 16 aprile 2019 - relatore nell'ambito della presentazione del Rapporto ISPI 2019: scenari globali e l'Italia, con A. Colombo, G. Samarani e A. Ferrari.
• 27 febbraio 2019 – Relatore alla XLVIII Giornata di Studio su "La minaccia cibernetica", organizzato dall'Istituto di studi militari marittimi della Marina Militare alla presenza dei vertici militari e dell'intelligence. Tema della relazione: "Il Manuale di Tallin sul Diritto Internazionale applicabile alla Guerra Cibernetica".
• 10 dicembre 2018. Relatore al convegno su "OSCE, Italia e i conflitti
protratti alle porte dell'UE. I conflitti nel Caucaso meridionale e i nodi
della convivenza nello spazio eurasiatico", Università Cà Foscari Venezia
• 25 settembre 2018 – Moderatore e discussant della lectio "La politica europea di sicurezza e difesa" del Capo di Stato Maggiore della Difesa, Generale Claudio Graziano, Presidente del Comitato Militare dell'Unione europea.
• 19 novembre 2018 – Organizzatore, moderatore e discussant a Venezia, col Prof. ANDREA GIARDINA, nel convegno "Guerre commerciali e imprese a Nord Est. Dazi, sanzioni internazionali o nuove opportunità d'affari?".
• 31 Agosto 2018. – Relatore nell'ambito delle attività organizzate nel 60ème Séminaire de Droit Comparé et Européen, fondato nel 1959 da ENRICO PALEARI e GERMAIN BRULLIARD e diretto da MARIE ELODIE ANCEL con I. Pretelli, attivo presso l'Università di Urbino "Carlo Bo". Tema della relazione "I Principi UNIDROIT 2016 dei contratti commerciali internazionali e l'arbitrato".
• Il 17/02/2018 su invito della Prof. PAOLA SEVERINO, Rettore della LUISS, tiene una relazione presso la School of Law - Compliance e Prevenzione della Corruzione nei Settori Pubblico e Privato in tema di "La soft law".
Seminari su invito tenuti presso altre Università, Centri di Ricerca, Aziende, etc.
• 10-30 Marzo 2019 - Professeur invité presso l'Institut des Hautes Etudes Internationales de Paris, Université Paris II, Panthéon Assas;
. Seminario di simulazione di arbitrato (il 7-8 Marzo 2019) nel IV AIA-CAM Pre Moot tenutosi a Milano presso la Camera Arbitrale di Milano e destinato agli studenti universitari partecipanti al Willem C. Vis International Commercial Arbitration Moot di Vienna 2019.
• 6 dicembre 2019 - Seminario a Trieste su "vendita internazionale ed arbitrato" al Convegno annuale dell'Ordine Triveneto dei Dottori commercialisti e Revisori contabili dal titolo "Commercio con l'estero. IVA, questioni doganali e aspetti contrattuali".
. 5 novembre 2019 - Seminario su "autonomia privata e contratti internazionali" presso l'Università di Firenze, in qualità di Componente (con i Proff. UGO DRAETTA e PAOLA LUCARELLI, gli Avv. PAOLO LOMBARDI, Presidente Commissione Diritto internazionale privato UIA, l'Avv. CLAUDIO COGGIATTI, Presidente Comitato nazionale italiano UIA e l'Avv. ALDO BULGARELLI, Membro Comitato di direzione UIA) del Comitato scientifico italiano dell'Union internationale des Avocats (UIA) istituito per il Corso biennale di alta formazione specialistica in'Area internazionalistica: Diritto degli affari e dei contratti internazionali organizzato di concerto con la Scuola Superiore dell'Avvocatura (Fondazione del Consiglio Nazionale Forense) e in Convenzione con il Dipartimento di Scienze Giuridiche dell'Università degli Studi di Firenze, per il conseguimento del titolo di "Avvocato Specialista".
• Il 7/12/2018, su invito del Coordinatore, Prof. ANTONINO GULLO, tiene una lezione seminariale al Dottorato di ricerca LUISS in Diritto ed impresa, in tema di "CSR – la Corporate Social Responsibility oggi".
• 6 luglio 2018 – Relatore al Corso di formazione sull'arbitrato organizzato dalla Fondazione forense bolognese e dall'Ordine degli Avvocati di Bologna. Relazione su: "L'arbitrato commerciale internazionale". Altri relatori e discussants: Prof. MASSIMO BENEDETTELLI e Avv. ANTONIO FRATICELLI.
• 9-13 Ottobre 2017 – Seminari, su invito dei Proff. ROSARIO SAPIENZA ed ADRIANA DI STEFANO, all'Università di Catania (Dipartimento di Scienze Giuridiche) presso la Scuola Superiore di Catania, nell'ambito del Corso specialistico "Imprese multinazionali e diritto transnazionale privato nell'Unione europea: per una nuova lex mercatoria".
• 20 maggio 2016 – Relatore al Convegno annuale nazionale CREDIMPEX (Associazione nazionale degli operatori bancari del commercio internazionale) a Lodi, su invito del Presidente ALFONSO SANTILLI. Relazione in tema di "Il credito documentario: aspetti di diritto internazionale privato".
• 24 giugno 2016 – Relatore al Convegno (formazione continua) organizzato dalla Camera degli Avvocati della Riviera del Brenta e del Miranese su "La vendita internazionale tra fonti normative e pratica degli scambi commerciali". Tema della relazione: "La Convenzione di Vienna sui contratti di compravendita internazionale di merci tra diritto sostanziale e risvolti pratici".
• Dal 2017 ad oggi, è tra i Docenti al Master di II° livello in Global Regulation of Markets del Dipartimento di Scienze giuridiche dell'Università "La Sapienza" di Roma diretto dal Prof. MARCO D'ALBERTI, nel modulo didattico coordinato dal Prof. GIAN LUIGI TOSATO. Svolge due seminari (di una giornata ciascuno) in materia di Gatt e soluzione delle controversie economiche; arbitrato commerciale e degli investimenti internazionali.
Altre attività didattiche
- Direttore poi coordinatore didattico del Master (I livello) in Commercio, Fiscalità ed Arbitrato internazionale (IBATAX)
- Direttore del Master (II livello) in Studi Strategici e Sicurezza Internazionale (in partnership con la Marina Militare italiana)
- Componente della Faculty del Master in EU Law della LUISS School of Government (Roma)
Incarichi accademici e attività organizzative
- Delegato del Rettore presso l'EIUC negli anni 2017 e 2018 (partecipazione all'Assemblea Generale, 2 giorni all'anno).
Partecipazione alle attività di valutazione della ricerca
- Membro della Commissione di Abilitazione Scientifica Nazionale (ASN) 2018/2020, istituita dal Ministero dell'Università e della Ricerca scientifica (già MIUR) per l'abilitazione a Professore Associato ed Ordinario per il S.S.D. IUS 13 (Diritto internazionale) .
Componente di Collegi didattici, Comitati e Commissioni di Dipartimento, Commissioni di Ateneo
Dal 2017 ad oggi:
- Componente del Collegio didattico del corso di laurea magistrale in Relazioni internazionali comparate (RIC)
- Componente del Collegio dei docenti del Dottorato di ricerca in Diritto, Mercato e Persona.
- Componente della Commissione Senatoriale di Ateneo per i Rapporti Istituzionali con i Paesi Extraeuropei.
Attività e incarichi esterni
• Previa apposita autorizzazione, insegnamento del corso di Diritto internazionale A presso il Dipartimento di Giurisprudenza della LUISS, corso di laurea magistrale in Giurisprudenza (2018 e 2019)
• Membro della Commissione CLP "Diritto e pratiche del Commercio internazionale" designato dalla Sezione italiana della International Chamber of Commerce (Roma-Parigi)
• Of Counsel, Studio Chiavegatti (Verona) e Studio Ceccon (Padova)
• Dal 2016, è componente, su designazione dell'Università Cà Foscari Venezia, della Commissione di esame di Stato per Mediatore marittimo di cui agli artt. 9-10 della legge 12 marzo 1968, n.478 (e succ. modifiche ed integrazioni) presso la Camera di commercio di Venezia, Rovigo e delta lagunare.
Altre informazioni
7 settembre 2019 – Moderatore e discussant al Festival della Politica 2019 di Mestre. Tavola rotonda con Massimo Panebianco (Univ. Bologna) e Renzo Guolo (Univ. di Padova)in occasione del libro "All'alba di un nuovo mondo", circa il futuro dell'Unione europea.