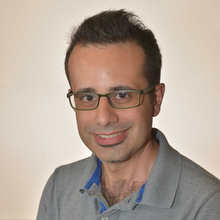 Dati relazione
Periodo di riferimento

01/09/2018 - 01/09/2021
Afferenza

Dipartimento di Economia
Ruolo

Professori Associati
Attività didattica
| A.A. | Insegnamento | Codice | Voto | Voto medio area |
| --- | --- | --- | --- | --- |
| 2018/2019 | ECONOMIA E POLITICA ECONOMICA INTERNAZIONALE | ET3005 | 2.8 | 3.1 |
| 2018/2019 | ECONOMICS OF INTERNATIONAL TRADE | EM1057 | 2.4 | 3.1 |
| 2018/2019 | HISTORY OF ECONOMIC THOUGHT | LT9003 | 2.2 | 3.2 |
| 2019/2020 | ECONOMIA E POLITICA ECONOMICA INTERNAZIONALE | ET3005 | 6.3 | 7.6 |
| 2019/2020 | ECONOMICS OF INTERNATIONAL TRADE | EM1057 | 7.1 | 7.6 |
| 2019/2020 | HISTORY OF ECONOMIC THOUGHT | LT9003 | 5.9 | 8.1 |
| 2019/2020 | STORIA DEL PENSIERO ECONOMICO | ET0061 | 8.1 | 7.6 |
| 2020/2021 | ECONOMICS OF INTERNATIONAL TRADE | EM1057 | 6.4 | 7.8 |
| 2020/2021 | HISTORY OF ECONOMIC THOUGHT | LT9003 | 6.5 | 8.3 |
| 2020/2021 | POLITICA ECONOMICA | ET0052 | 5.9 | 7.8 |
| 2020/2021 | STORIA DEL PENSIERO ECONOMICO | ET0061 | 8.3 | 7.8 |
Tesi
| Anno solare | Tipologia | Tesi Relatore | Tesi Correlatore |
| --- | --- | --- | --- |
| 2018 | Corso di laurea | 9 | |
| 2018 | Corso di laurea magistrale | 1 | 3 |
| 2019 | Corso di laurea | 7 | |
| 2019 | Corso di laurea magistrale | 4 | 10 |
| 2020 | Corso di laurea | 12 | |
| 2020 | Corso di laurea magistrale | 2 | 2 |
Ricerche sviluppate e in corso
A new canonical classical model of economic growth
A secular analysis of spillovers and connectedness across agricultural markets
Residential prices and uncertainty
Pubblicazioni realizzate nel triennio
Licia Ferranna, Michael Donadelli, Ivan Gufler, Antonio Paradiso (2021), Using past epidemics to estimate the macroeconomic implications of COVID-19: A bad idea! in STRUCTURAL CHANGE AND ECONOMIC DYNAMICS, vol. 57, pp. 214-224 (ISSN 0954-349X) (Articolo su rivista)
Donadelli M.; Juppner M.; Paradiso A.; Schlag C. (2020), Computing Macro-Effects and Welfare Costs of Temperature Volatility: A Structural Approach in COMPUTATIONAL ECONOMICS, vol. 2020, pp. 1-48 (ISSN 0927-7099) (Articolo su rivista)
Billio M.; Donadelli M.; Livieri G.; Paradiso A. (2020), On the role of domestic and international financial cyclical factors in driving economic growth in APPLIED ECONOMICS, vol. 52, pp. 1272-1287 (ISSN 0003-6846) (Articolo su rivista)
M. Donadelli, M. Juppner, A. Paradiso, M. Ghisletti (2020), Tornado activity, house prices, and stock returns in THE NORTH AMERICAN JOURNAL OF ECONOMICS AND FINANCE, vol. 52, pp. 1-25 (ISSN 1062-9408) (Articolo su rivista)
Donadelli, M.; Paradiso, A.; Riedel, M. (2019), A Quasi Real-Time Leading Indicator for the EU Industrial Production in MANCHESTER SCHOOL, Blackwell Publishing Ltd, vol. 87, pp. 510-542 (ISSN 1463-6786) (Articolo su rivista)
Donadelli, M.; Paradiso, A.; Livieri, G. (2019), Adding cycles into the neoclassical growth model in ECONOMIC MODELLING, vol. 78, pp. 162-171 (ISSN 0264-9993) (Articolo su rivista)
Costantini, Mauro; Meco, Iris; Paradiso, Antonio (2018), Do inequality, unemployment and deterrence affect crime over the long run? in REGIONAL STUDIES, vol. 52, pp. 558-571 (ISSN 0034-3404) (Articolo su rivista)
Costantini, Mauro*; Paradiso, Antonio (2018), What do panel data say on inequality and GDP? New evidence at US state-level in ECONOMICS LETTERS, vol. 168, pp. 115-117 (ISSN 0165-1765) (Articolo su rivista)
Descrizione dell'attività di ricerca svolta nel triennio e gli obiettivi futuri
Nel corso di questo triennio ho pubblicato 8 articoli di cui 6 su riviste di fascia A per il settore SECS-P02. I progetti di ricerca futuri si concentreranno sulle mie tematiche di ricerca (crescita, integrazione finanziaria e effetti di shock esterni sull'economia).

A new canonical classical model of economic growth (coautorato con Licia Ferranna e Claudio Sardoni). Il lavoro ha l'obiettivo di costruire un modello teorico di crescita che sia in grado di considerare tutte le caratteristiche delle teorie di Smith, Ricardo e Malthus.

A secular analysis of spillovers and connectedness across agricultural markets (coautorato con Costantini Mauro e Ferranna Licia). Il lavoro si occupa di studiare il processo di convergenza dei prezzi agricoli nelle principali città inglesi a partire dal 1800 usando diverse tecniche econometriche.

Residential prices and uncertainty (coautorato con Michael Donadelli, Luca Gerotto e Ivan Gufler). Il lavoro studia gli effetti di shock di incertezza sulla dinamica dei prezzi delle case nei diversi stati americani. Per far ciò si utilizza la tecnica di local projection sviluppata da Cloyne, Jordà e Taylor (2021).

Reference

Cloyne, J. S., Jordà, O., Taylor, A. M. (2021) Decomposing the fiscal multiplier, NBER Working Paper No. 26939.
Altre attività scientifiche
Negli ultimi 3 anni ho svolto attività di referaggio per le seguenti riviste scientifiche: Economic Modelling, Empirical Economics, International Review of Financial Analysis, Journal of International Money and Finance, Plos One, Regional Studies, Journal of International Financial Markets, Institutions & Money, Southern Economic Journal.
Incarichi accademici e attività organizzative
Dal 2019 sono il coordinatore per la parte Italiana del workshop "Anglo-French-Italian Workshop" che viene organizzato annualmente tra le università di Cardiff, Marsiglia e Ca' Foscari. L'edizione del 2021 è stata organizzata da me a Ca' Foscari (sede di San Giobbe) nei giorni del 10 e 11 Dicembre.
Componente di Collegi didattici, Comitati e Commissioni di Dipartimento, Commissioni di Ateneo
Incarichi amministrativi condotti negli ultimi 3 anni:

Membro del comitato per la didattica del Dipartimento di Economia (Presidente Prof.ssa Francesca Zantomio) da Ottobre 2020 (tuttora in corso).

Membro della commissione di assegnazione dei corsi supplementari per il Dipartimento di Economia (insieme alla Prof.ssa Vania Brino e al Dott. Simone Righi) da Ottobre 2020 (tuttora in corso).

Membro del gruppo della qualità di ricerca del corso COMEST (insieme alla Prof.ssa Diana Barro e alla Prof.ssa Francesca Parpinel) da Aprile 2017 a Novembre 2021.

Membro del comitato della didattica del corso GDE (Presidente Prof. Stefano Soriani) da Aprile 2017 a Novembre 2021.

Membro del consiglio della BEC da Novembre 2019 a Dicembre 2020.

Membro della commissione di valutazione (insieme al Prof. Stefano Soriani e alla Prof.ssa Martina Nardon) dei "foreign degree seekers" per GDE da Novembre 2019 a Luglio 2020.