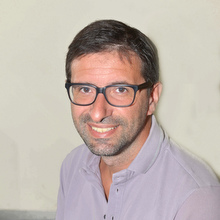 CINQUEGRANI Alessandro
Position

Full Professor
Telephone

041 234 7209 / 041 234 6684
E-mail
Scientific sector (SSD)

LETTERATURA ITALIANA CONTEMPORANEA [L-FIL-LET/11]
Website

www.unive.it/persone/cinquegrani (personal record)

Office
Office
Dati relazione
Periodo di riferimento

01/12/2018 - 30/11/2021
Afferenza

Dipartimento di Studi Umanistici
Ruolo

Professori Associati
Attività didattica
| A.A. | Insegnamento | Codice | Voto | Voto medio area |
| --- | --- | --- | --- | --- |
| 2018/2019 | LETTERATURA COMPARATA SP. | FM0113 | 3.7 | 3.3 |
| 2018/2019 | LETTERATURE COMPARATE | LT1240 | 3.7 | 3.2 |
| 2018/2019 | SCRITTURA CREATIVA | NM001A | 3.3 | 3.1 |
| 2019/2020 | LETTERATURA COMPARATA SP. | FM0113 | 9 | 8.3 |
| 2019/2020 | LETTERATURE COMPARATE | LT1240 | 8.6 | 8.1 |
| 2019/2020 | SCRITTURA CREATIVA | NM001A | 8.2 | 7.6 |
| 2020/2021 | LA SCRITTURA 'CREATIVA' | NU003B | 7.8 | 8.3 |
| 2020/2021 | LETTERATURA COMPARATA SP. | FM0113 | 8.5 | 8.3 |
| 2020/2021 | LETTERATURA ITALIANA CONTEMPORANEA | FT0120 | 9 | 8.3 |
| 2020/2021 | LETTERATURE COMPARATE | LT1240 | 9.1 | 8.3 |
Tesi
| Anno solare | Tipologia | Tesi Relatore | Tesi Correlatore |
| --- | --- | --- | --- |
| 2018 | Corso di laurea | 1 | |
| 2018 | Corso di laurea magistrale | 3 | 4 |
| 2019 | Corso di laurea magistrale | 6 | 3 |
| 2020 | Corso di dottorato | 1 | |
| 2020 | Corso di laurea magistrale | | 3 |
Finanziamenti
Modelli ermeneutici junghiani e postjunghiani dalla letteratura alle imprese
Ricerche sviluppate e in corso
Bibbia e letteratura (Anticristo)
Edizione Nazionale delle Opere di Carlo Gozzi
La casa. Letteratura cinema arte storia filosofia psicoanalisi
Letteratura e cinema
Primo Levi e l'etologia
Pubblicazioni realizzate nel triennio
Cinquegrani Alessandro, Pangallo Francesca, Rigamonti Federico (2021), Romance e Shoah. Pratiche di narrazione sulla tragedia indicibile in DIASPORE, Venezia, Edizioni Ca' Foscari (ISBN 978-88-6969-492-9; 978-88-6969-493-6) (ISSN 2610-9387) (Monografia o trattato scientifico)
Cinquegrani (2021), Il Mediterraneo contro la dittatura: Littell, Bolaño, Cercas in SYMBOLON, vol. 14 (ISSN 1126-0173) (Articolo su rivista)
Alessandro Cinquegrani (2021), Il Veneto. Raccontare la città diffusa , LE CITTA' ITALIANE NELLE LETTERATURE DEL XX SECOLO, Kragujevac, Facoltà di Filologia e Arti dell'Università di Kragujevac, pp. 107-118 (ISBN 9788680796796) (Articolo su libro)
Cinquegrani, Alessandro (2020), Alterità e inesperienza nell'opera di Don DeLillo , L'altro sono io/El otro soy yo. Scritture plurali e letture migranti in DIASPORE, Venezia, Edizioni Ca' Foscari, vol. 12, pp. 249-262 (ISBN 978-88-6969-396-0) (ISSN 2610-9387) (Articolo su libro)
Cinquegrani (2020), Pirandello e la persuasione. Note su Sei personaggi in cerca d'autore , La detection della critica. Studi in onore di Ilaria Crotti, Venezia, Edizioni Ca' Foscari, pp. 89-100 (ISBN 978-88-6969-455-4; 978-88-6969-456-1) (Articolo su libro)
Cinquegrani (2020), Significato e totalità in Carlo Bagnoli, Beniamino Mirisola, Veronica Tabaglio, Alla ricerca dell'impresa totale. Uno sguardo comparativo su arti, psicoanalisi, management, Venezia, Edizioni Ca' Foscari, pp. 217-235 (ISBN 978-88-6969-418-9; 978-88-6969-419-6) (Articolo su libro)
Cinquegrani (2020), Ulisse e Telemaco in Dalmazia. Una mitologia di Umberto Saba , Visioni d'Istria, Fiume e Dalmazia nella letteratura italiana, Pisa, Fabrizio Serra Editore, pp. 198-203 (ISBN 9788833152400) (Articolo su libro)
Cinquegrani (2019), Note sulla narrativa italiana contemporanea (a partire da due saggi recenti) in STUDI NOVECENTESCHI, vol. 98, pp. 431-444 (ISSN 0303-4615) (Articolo su rivista)
Alessandro Cinquegrani (2019), "Una sfida alla ragione": su un disegno di Primo Levi nella Bestia nel tempio. , La modernità letteraria e le declinazioni del visivo: arti, cinema, fotografia e nuove tecnologie, Pisa, ets (ISBN 9788846755520) (Articolo su libro)
Alessandro Cinquegrani (2019), Il corpo e la performance: percorsi nel contemporaneo , Scritture del corpo, Pisa, ETS, pp. 709-716 (ISBN 9788846754288) (Articolo su libro)
Cinquegrani (2019), Il ritorno a casa secondo Primo Levi , "Un viaggio realmente avvenuti". Studi in onore di Ricciarda Ricorda in ITALIANISTICA, Venezia, Edizioni Ca' Foscari - Digital Publishing, pp. 330-344 (ISBN 978-88-6969-344-1; 978-88-6969-345-8) (ISSN 2610-9514) (Articolo su libro)
Cinquegrani (2019), Imprese e letteratura , Imprese letterarie in STUDI E RICERCHE, Venezia, Edizioni Ca' Foscari - Digital Publishing, pp. 15-44 (ISBN 978-88-6969-356-4; 978-88-6969-357-1) (ISSN 2610-993X) (Articolo su libro)
Cinquegrani (2019), Imprese letterarie , Imprese letterarie in STUDI E RICERCHE, Venezia, Edizioni Ca' Foscari - Digital Publishing, pp. 7-14 (ISBN 978-88-6969-356-4; 978-88-6969-357-1) (ISSN 2610-993X) (Articolo su libro)
Cinquegrani (2019), Introduzione. Camminare , "Un viaggio realmente avvenuti". Studi in onore di Ricciarda Ricorda in ITALIANISTICA, Venezia, Edizioni Ca' Foscari - Digital Publishing, pp. 259-260 (ISBN 978-88-6969-344-1; 978-88-6969-345-8) (ISSN 2610-9514) (Articolo su libro)
(a cura di) Cinquegrani (2019), Imprese letterarie in STUDI E RICERCHE, Venezia, Edizioni Ca' Foscari - Digital Publishing, pp. 1-187 (ISBN 978-88-6969-356-4; 978-88-6969-357-1) (ISSN 2610-993X) (Curatela)
(a cura di) Ilaria Crotti (2019), Un viaggio realmente avvenuto. Studi in onore di Ricciarda Ricorda in Alessandro Cinquegrani; Ilaria Crotti, Venezia, Edizioni Ca' Foscari - Digital Publishing, pp. 9-354 (ISBN 9788869693458) (Curatela)
cinquegrani (2018), Il sacrificio di Bess. Sei immagini su nazismo e contemporaneità in ETEROTOPIE, Milano/Udine, Mimesis, vol. 453, pp. 1-120 (ISBN 9788857547725) (Monografia o trattato scientifico)
Tesi di dottorato interateneo
Tesi di dottorato in cotutela con l'Università Capodistriana di Atene: 1
Tesi di laurea/dottorato anno solare
Relatore di tesi di dottorato:
Ciclo 32 (2016-2019): 1
Ciclo 33 (2017-2020): 1
Ciclo 34 (2018-2021): 1
Ciclo 35 (2019-2022): 1
Ciclo 37 (2021-2023): 3
Partecipazione a comitati editoriali di riviste/collane scientifiche
Direttore con Valentina Re della collana Ecf "Innesti. Cinema, letteratura e altri linguaggi"
Membro del comitato di direzione di Ermeneutica Letteraria.
Membro del comitato scientifico della collana editoriale "Sinestesie".
Descrizione dell'attività di ricerca svolta nel triennio e gli obiettivi futuri
L'attività di ricerca si è sviluppata in diverse traiettore:
- la rappresentazione della Shoah nella letteratura del secondo Novecento e del Duemila. Questo ha portato alla pubblicazione di due monografie: "Il sacrificio di Bess" (Mimesis 2018) come autore singolo e "Romance e Shoah. Pratiche di narrazione sulla tragedia indicibile" (Edizioni Ca' Foscari, 2021);
- il rapporto tra imprese e letteratura, per il quale ho vinto (come PI) prima il progetto d'Ateneo "Modelli ermeneutici junghiani e post-junghiani dalla letteratura alla imprese" e seguito in qualità di tutor un assegno biennale; poi il progetto FSE "Imprese da favola" (anche come tutor del relativo assegno di ricerca) e infine il progetto FSE "Slow Life, Slow Stories. Un altro modo di raccontare le imprese sostenibili" (anche come tutor del relativo assegno di ricerca). Nell'ambito di questo filone di ricerca, ho organizzato il convegno interdisciplinare "Imprese letterarie" (11 giugno 2018) e curato la pubblicazione del volume omonimo.
- L'immagine letteraria del Veneto. Relativa a questo filone di ricerca è la mia partecipazione al progetto Interreg "MerlinCV - Esperienze multisensoriali legate ai castelli e ville della regione transfrontaliera per l'eccellenza nel turismo", la pubblicazione dei risultati della ricerca sono prossimi. In quest'ambito si colloca anche la pubblicazione per un editore serbo del contributo "Il Veneto. Raccontare la città diffusa".

Gli obiettivi futuri sono:
- lavorare su letteratura, imprese e turismo nell'ambito del Pnrr;
- preparare un volume sul rapporto tra autore e personaggio nella letteratura del Novecento.
Relazioni invitate presso convegni o workshops
CONVEGNI ORGANIZZATI:
Imprese letterarie, Venezia, Università Ca' Foscari, 11 giugno 2018.

PARTECIPAZIONE SU INVITO:
1. Giornata nazionale della letteratura. Lettere dal '68, Università Ca' Foscari Venezia, 26 ottobre 2018.
Titolo dell'intervento: Il Sessantotto: letteratura, politica, ecologia

2. Dalla scuola all'università. Lettere in classe, Università Ca' Foscari Venezia - ADI-SD. Associazione degli Italianisti - Settore Didattica, 26-27 Febbraio 2019.
Titolo dell'intervento: Quando finisce la letteratura italiana?

PARTECIPAZIONE SU PRESENTAZIONE DI PROPOSTA:

1. Past (Im)Perfect Continuous. Trans-cultural Articulations of the Post-Memory of WWII, Università di Roma La Sapienza, 26-28 June 2018.
Titolo dell'intervento: Enric Marco and the Others: Post-Memory and the Theory of the Romance

2. Natura, società, letteratura. XXII congresso Nazionale Associazione degli Italianisti, Bologna, 13-15 settembre 2018. Titolo dell'intervento: «L'ecologia contro natura» di Primo Levi
Seminari su invito tenuti presso altre Università, Centri di Ricerca, Aziende, etc.
Seminario dal titolo "Modelli di Business culturali" presso l'impresa Strategy Innovation di Venezia.
Altre attività scientifiche
Revisore per l'editore "Routhledge" e le riviste: "Diaspore. Quaderni di ricerca", "Culture del lavoro", "Testo", "Enthymema", "Finzioni".
Altre attività didattiche
2021: PCTO presso il Liceo Canova di Treviso.
4 ore di lezione presso il Dottorato di Italianistica, Ca' Foscari.
Partecipazione alle attività di valutazione della ricerca
Referee per la Vqr 2015-2019
Componente di Collegi didattici, Comitati e Commissioni di Dipartimento, Commissioni di Ateneo
2017-2020: Delegato per l'internazionalizzazione; Membro del collegio didattico.
2020- oggi: Coordinatore del collegio didattico del CdL in Lettere.
2020- oggi: Coordinatore del collegio didattico del CdLM in Filologia e letteratura italiana.
2020- oggi: Vicecoordinatore del Dottorato in Italianistica.
2020- oggi: Membro della commissione per la terza missione del DSU.