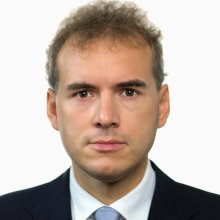 SGARBI Marco
Position

Full Professor
Roles

Department's Delegate for European projects and special projects

Telephone

041 234 7256
E-mail
Scientific sector (SSD)

STORIA DELLA FILOSOFIA [M-FIL/06]
Website

www.unive.it/persone/marco.sgarbi (personal record)

Office
Dati relazione
Periodo di riferimento

01/05/2017 - 30/04/2020
Afferenza

Dipartimento di Filosofia e Beni Culturali
Ruolo

Professori associati
Attività didattica
| A.A. | Insegnamento | Codice | Voto (max 4) | Voto medio area (max 4) |
| --- | --- | --- | --- | --- |
| 2016/2017 | INTRODUCTION TO PHILOSOPHY | LT9004 | 2.1 | 3.2 |
| 2017/2018 | INTRODUCTION TO PHILOSOPHY | LT9004 | 3 | 3.2 |
| 2018/2019 | STORIA DELLA FILOSOFIA MODERNA II | FT0424 | 2.8 | 3.3 |
| 2018/2019 | STORIA DELLA FILOSOFIA RINASCIMENTALE | FM0462 | 3.2 | 3.3 |
Tesi
| Anno solare | Tipologia | Tesi Relatore | Tesi Correlatore |
| --- | --- | --- | --- |
| 2018 | Corso di dottorato | 1 | |
| 2018 | Corso di laurea | 2 | |
| 2019 | Corso di laurea magistrale | | 1 |
Finanziamenti
Aristotle in the Italian Vernacular: Rethinking Renaissance and Early-Modern Intellectual History (c. 1400–c. 1650)
Logic in the Time of Peter Abelard. Neglected Evidence from Manuscripts Preserved on the Italian Peninsula, and an Analysis of the Links between Scholars in Northern France and Italy, c. 1090-1160
Sperone Speroni (1500-1588) and the Rebirth of Sophistry in the Italian Renaissance
Standing at the Crossroads: Doubt in Early Modern Italy (1500-1560)
The Ophiucus Supernova: Post-Aristotelian Stargazing in the European Context (1604-1654)
Ricerche sviluppate e in corso
Erc Starting Grant 2013 – 335949. Aristotle in the Italian Vernacular: Rethinking Renaissance and Early-Modern Intellectual History (c. 1400–c. 1650)
Pubblicazioni realizzate nel triennio
Marco Sgarbi (2019), Francesco Robortello (1516-1567). The Architectural Genius of the Humanities , London, Routledge (ISBN 9780367224875) (Monografia o trattato scientifico)
Marco Sgarbi (2019), L'etica di Aristotele presso l'Accademia degli Infiammati , Ethik theory. Studi sull'Etica Nicomachea in onore di Carlo Natali, Roma, Edizioni di storia e letteratura, pp. 403-428 (ISBN 9788893592871) (Articolo su libro)
Marco Sgarbi (2018), What was meant by vulgarizing in the Italian Renaissance? in INTELLECTUAL HISTORY REVIEW, vol. 1, pp. 1-28 (ISSN 1749-6977) (Articolo su rivista)
Marco Sgarbi (2018), Renaissance facultative logic and the workings of the mind: the "cognitive turn" , Philosophy of Mind in the Late Middle Ages and Renaissance, Routledge, pp. 270-290 (Articolo su libro)
(a cura di) Marco Sgarbi (2018), I generi dell'aristotelismo volgare nel Rinascimento in Marco Sgarbi, Padova, Cleup (ISBN 9788867879892) (Curatela)
(a cura di) M. Sgarbi (2018), Virgil and Renaissance Culture\ , Brepols (ISBN 978-2-503-58190-3) (Curatela)
Marco, Sgarbi (2017), Aristotle and the People. Vernacular Philosophy in Renaissance Italy in RENAISSANCE AND REFORMATION, vol. 39, pp. 59-109 (ISSN 0034-429X) (Articolo su rivista)
Marco Sgarbi (2017), Renaissance Aristotelianism and the Scientific Revolution in PHYSIS, RIVISTA INTERNAZIONALE DI STORIA DELLA SCIENZA, vol. 5, pp. 329-345 (ISSN 0031-9414) (Articolo su rivista)
Marco, Sgarbi (2017), What does a Renaissance Aristotelian look like? From Petrarch to Galilei in HOPOS, vol. 7, pp. 226-245 (ISSN 2152-5188) (Articolo su rivista)
Marco Sgarbi (2017), What was a Renaissance Academy? An Aristotelian Perspective in ARCHIVUM MENTIS, vol. 6, pp. 263-288 (ISSN 2281-3667) (Articolo su rivista)
Partecipazione come referee di progetti di ricerca nazionali ed internazionali
2019- Expert for New Opportunities for Research Funding Agency Cooperation in Europe (NORFACE)
2019- Expert for Humanities in the European Research Area (HERA)
2018- Evaluator for Croatian Science Foundation
2018- Evaluator for Madrid Institute of Advanced Study
2016- Evaluator for National Science Centre, Poland
2016- Evaluator for the Ministero dell'Istruzione, dell'Università e della Ricerca of the research products for the VQR
2016- Evaluator for the Ministero dell'Istruzione, dell'Università e della Ricerca of the Research Projects of National Interest (PRIN)
2016- Evaluator for the European Research Council for the Marie Curie Programme for the panel ECO-SOC
2015- Evaluator for the Netherlands Organisation for Scientific Research
2015- Evaluator for the Ministero dell'Istruzione, dell'Università e della Ricerca for the SIR project
2014- Evaluator for the Ministero dell'Istruzione, dell'Università e della Ricerca of the research products for the ANVUR
2014- Evaluator for the DAAD (Humanities and Philosophy)
2013- Evaluator for the Czech Science Foundation (GAČR)
Partecipazione a comitati editoriali di riviste/collane scientifiche
Editor: Philosophical Readings
Editor: Encyclopedia of Renaissance Philosophy
Editor: Bloomsbury Studies in the Aristotelian Tradition
Editorial board: Al-Mukhatabat. Logic-Epistemology-Analytical Philosophy. المخاطبات. منطق - ابستيمولوجيا - فلسفة تحليلية; Etica & Politica; Estudios Kantianos; philosophy@lisbon; Lo Sguardo.
Descrizione dell'attività di ricerca svolta nel triennio e gli obiettivi futuri
Past research
1. Conclusion of the ERC project on vernacular Aristotelianism
2. Research on Francesco Robortello and publication of the correspondent monograph
3. Research on early modern epistemology, the monograph has been submitted to Princeton University Press
Future Research
1. Anatomies of mind
2. Philosophical Reviews in Early Modern Europe
3. Epistemology of medicine in Early Modern Italy
Relazioni invitate presso convegni o workshops
"The Rise of the Instrumental Conception of Logic. Vernacular Logical Textbooks in Renaissance Italy," L'Europe de la logique, College de France, 14-15 May 2018.
Altre attività scientifiche
Conference organization
New Paradigms of the History of Knowledge, 4-5 December 2019, Dipartimento di Filosofia e Beni Culturali, Università di Venezia Ca' Foscari.
Incarichi accademici e attività organizzative
2016- Vice Provost for the Communication and Development, Università Ca' Foscari, Venezia
2016-2018 Member of the Committee for Ca' Foscari 150 Anniversary, Università Ca' Foscari, Venezia
2016-2019 Member of the Committee for the University Rankings, Università Ca' Foscari, Venezia
2016- Member of the Committee for the Search Committee, Università Ca' Foscari, Venezia
2014-2019 Member of the Committee for the Presidio di Qualità, Università Ca' Foscari, Venezia
2018-2019 Head of the Project Delievery, Science Gallery Venice at Ca' Foscari University of Venice
2017- Initiator of the LEI-Center for Women Leadership at Ca' Foscari University of Venice
Componente di Collegi didattici, Comitati e Commissioni di Dipartimento, Commissioni di Ateneo
2014- Member of the Committee for the PhD Degree in Philosophy and Educational Sciences, Università Ca' Foscari, Venezia
Altre informazioni
Fellowship:
Max-Planck-Institut für Wissenschaftsgeschichte, Alexander von Humboldt Experienced Research Fellowship (6 months) Project: Medical Epistemology in Renaissance Italy: Theory and Practice
2021-2023 Supervisor of Fabrizio Baldassarri, Marie Curie Fellowship - H2020-MSCA-IF-2019 – The Emergence of a Science of Vegetation in Early Modern Natural Philosophy and the Sciences of Life: From Cesalpino to Malpighi
2021-2022 Supervisor of Cesare Pastorino, Marie Curie Fellowship - H2020-MSCA-IF-2019 – Empirical Knowledge and Antiquarian Architecture in Sixteenth-century Venice
2021-2023 Supervisor of Marie-Louise Leonard, Marie Curie Fellowship - H2020-MSCA-IF-2019 – Ill-Health, Work and Occupational Health in Early Modern Italy (ca. 1550-1750)
2021-2022 Supervisor of Andrea Strazzoni, Marie Curie Fellowship - H2020-MSCA-IF-2019 – Reading Descartes: A Reassessment of the Shaping and Transmission of Knowledge in the Seventeenth Century