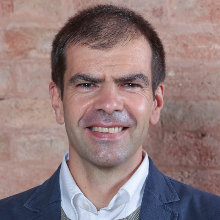 Dati relazione
Periodo di riferimento

01/10/2019 - 30/09/2022
Afferenza

Dipartimento di Economia
Ruolo

Professori Ordinari
Attività didattica
| A.A. | Insegnamento | Codice | Voto | Voto medio area |
| --- | --- | --- | --- | --- |
| 2019/2020 | ECONOMIA POLITICA | ET0031 | 7.4 | 7.6 |
| 2019/2020 | FINANCIAL ECONOMICS | ET4009 | 6.4 | 7.6 |
| 2019/2020 | MICROECONOMICS | ET2020 | 8.1 | 7.6 |
| 2019/2020 | MICROECONOMICS 1 | EM2Q01 | | |
| 2020/2021 | FINANCIAL ECONOMICS | ET4009 | 6.8 | 7.8 |
| 2020/2021 | MACROECONOMICS 2 | EM2Q04 | 5.6 | 7.8 |
| 2020/2021 | MICROECONOMICS | ET2020 | 7.2 | 7.8 |
| 2020/2021 | MICROECONOMICS 1 | EM2Q01 | 8.3 | 7.8 |
| 2021/2022 | FINANCIAL ECONOMICS | ET4009 | 6.2 | 7.7 |
| 2021/2022 | MACROECONOMICS 2 | EM2Q04 | 7 | 7.7 |
| 2021/2022 | MICROECONOMICS 1 | EM2Q01 | 7.4 | 7.7 |
Tesi
| Anno solare | Tipologia | Tesi Relatore | Tesi Correlatore |
| --- | --- | --- | --- |
| 2019 | Corso di dottorato | 1 | |
| 2019 | Corso di laurea | 10 | |
| 2020 | Corso di dottorato | 3 | |
| 2020 | Corso di laurea | 13 | |
| 2020 | Corso di laurea magistrale | 2 | 5 |
| 2021 | Corso di laurea | 17 | |
| 2021 | Corso di laurea magistrale | 2 | 3 |
Ricerche sviluppate e in corso
Economies with beliefs heterogeneity
Financial Intermediaries and Macro-financial Dynamics
Social Interaction and Norm Dynamics
Pubblicazioni realizzate nel triennio
Bottazzi Giulio; Dindo Pietro (2022), Drift criteria for persistence of discrete stochastic processes on the line in JOURNAL OF MATHEMATICAL ECONOMICS, vol. 101 (ISSN 0304-4068) (Articolo su rivista)
Dindo P.; Modena A.; Pelizzon L. (2022), Risk pooling, intermediation efficiency, and the business cycle in JOURNAL OF ECONOMIC DYNAMICS & CONTROL, vol. 144, pp. 104500 (ISSN 0165-1889) (Articolo su rivista)
Barucci E.; Dindo P.; Grassetti F. (2021), Portfolio insurers and constant weight traders: who will survive? in QUANTITATIVE FINANCE, vol. 21, pp. 1993-2004 (ISSN 1469-7688) (Articolo su rivista)
Dindo; Massari Filippo (2020), The Wisdom of the Crowd in Dynamic Economies in THEORETICAL ECONOMICS, vol. 15 (ISSN 1555-7561) (Articolo su rivista)
Bottazzi, Giulio; Dindo, Pietro; Giachini, Daniele (2019), Momentum and reversal in financial markets with persistent heterogeneity in ANNALS OF FINANCE, vol. 15, pp. 455-487 (ISSN 1614-2446) (Articolo su rivista)
Partecipazione a comitati editoriali di riviste/collane scientifiche
Associate Editor per "Research in Economics" (2018 - in corso)
Descrizione dell'attività di ricerca svolta nel triennio e gli obiettivi futuri
Nel trienno coperto dalla relazione la mia attività di ricerca si è concentrata sui seguenti temi.

- Economie con differenze di opinioni, con particolare attenzione al ruolo della non corretta specificazione dei modelli predittivi usati dagli investitori su prezzi e allocazioni nei mercati azionari. Obiettivo futuro in questo ambito è lo studio delle possibili regolamentazioni che moderino le conseguenze della non corretta specificazione sul benessere sociale, anche in relazione alle previsioni delle conseguenze economiche del cambiamento climatico.

- Dinamiche culturali ed interazione sociale, con particolare attenzione al ruolo degli incentivi economici di coordinazione e di anti-coordinazione nel governare i processi di acculturazione. Obiettivo futuro in questo ambito è di mettere in relazione questi studi con quelli che si focalizzano sulla dinamica di opinioni per caratterizzare le condizioni che permettono la formazione e persistenza delle così dette fake-news.

- Intermediazione finanziaria e crescita, con particolare attenzione alla capitalizzazione degli intermediari finanziari e alla loro capacità di offrire strumenti di mitigazione dei rischi in presenza di mercati dei capitali segmentati. Obiettivo futuro in questo ambito è di considerare anche il ruolo della moneta e di strumenti di politica monetaria.
Relazioni invitate presso convegni o workshops
--2022--
ASSET Meeting (Creta, presentazione)

--2019--
SAET Meeting (Ischia, presentazione)
ASSET Meeting (Atene, presentazione)
Seminari su invito tenuti presso altre Università, Centri di Ricerca, Aziende, etc.
--2022--
Scuola Superiore Sant'Anna

--2019--
Università di Grenoble
JRC Ispra
Libera Università di Bolzano
Altre attività scientifiche
Attività di peer-review per Journal of Economic Theory, Journal of Economic Dynamics and Control, Journal of Economic Behavior and Organization, European Economic Review, Mathematics and Financial Economics, Journal of Mathematical Economics, European Journal of Operation Research, Review of Economic Dynamics.
Incarichi accademici e attività organizzative
- Coordinatore del Dottorato in Economia (settembre 2021 - in corso)

- Vice-coordinatore locale del programma di Laurea Magistrale con titolo
congiunto "Models and Methods of Quantitative Economics Methods"
(QEM) (marzo 2022 - in corso)

- Coordinatore locale del programma di Laurea Magistrale con titolo
congiunto "Models and Methods of Quantitative Economics Methods"
(QEM) (fino a febbraio 2022)

- Referente del curriculum Economics-QEM della LM in Economia e Finanza (fino ad agosto 2021)

- Referente del curriculum Economics, Markets and Finance della LT in Economia e Commercio (fino ad agosto 2020)
Partecipazione alle attività di valutazione della ricerca
- Valutatore di area 13A per la VQR 2015-2019
Componente di Collegi didattici, Comitati e Commissioni di Dipartimento, Commissioni di Ateneo
- Componente della Commissione didattica del Dipartimento di Economia (da inizio periodo - in corso)

- Componente del Collegio didattico del Dottorato in
Economia (da inizio periodo - in corso)

- Componente della Commissione Reclutamento del Dipartimento di Economia (da marzo 2022 - in corso)

- Componente del Comitato di Gestione del centro di ricerca VERA e
referente per le attività didattiche e le borse VERA ACADEMY (fino a dicembre 2022)

- Componente del collegio didattico della LM in Economia e Finanza (fino ad agosto 2021)

- Componente del collegio didattico della LT in Economia e Commercio (fino ad agosto 2020)