BERTUZZO Enrico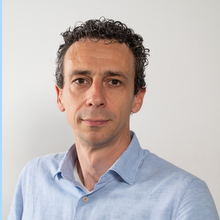 Dati relazione
| | |
| --- | --- |
| Periodo di riferimento | 01/10/2016 - 30/09/2019 |
| Afferenza | Dipartimento di Scienze Ambientali, Informatica e Statistica |
| Ruolo | Professori associati |
Attività didattica
| A.A. | Insegnamento | Codice | Voto (max 4) | Voto medio area (max 4) |
| --- | --- | --- | --- | --- |
| 2016/2017 | ISTITUZIONI DI MATEMATICA CON ESERCITAZIONI | CT0245 | 3.4 | 3.1 |
| 2017/2018 | ISTITUZIONI DI MATEMATICA CON ESERCITAZIONI | CT0245 | 3.4 | 3.2 |
| 2017/2018 | MATEMATICA DI BASE | CT0436 | | |
| 2018/2019 | ISTITUZIONI DI MATEMATICA CON ESERCITAZIONI | CT0245 | 3.3 | 3.2 |
| 2018/2019 | MATEMATICA DI BASE | CT0436 | | |
| 2018/2019 | PRECORSO-MATEMATICA GENERALE | CT0110 | | |
Tesi
| Anno solare | Tipologia | Tesi Relatore | Tesi Correlatore |
| --- | --- | --- | --- |
Finanziamenti
Cholera spreading and migration fluxes around lake Chad: The Niger case study
Science and management of intermittent streams and ephemeral rivers
Ricerche sviluppate e in corso
Processi ecologici e biogeochimici nelle reti fluviali
Pubblicazioni realizzate nel triennio
Giezendanner J.; Bertuzzo E.; Pasetto D.; Guisan A.; Rinaldo A. (2019), A minimalist model of extinction and range dynamics of virtual mountain species driven by warming temperatures in PLOS ONE, vol. 14, pp. e0213775 (ISSN 1932-6203) (Articolo su rivista)
Mari L.; Casagrandi R.; Bertuzzo E.; Rinaldo A.; Gatto M. (2019), Conditions for transient epidemics of waterborne disease in spatially explicit systems in ROYAL SOCIETY OPEN SCIENCE, vol. 6, pp. 181517 (ISSN 2054-5703) (Articolo su rivista)
Gonzalez-Ferreras A.M.; Bertuzzo E.; Barquin J.; Carraro L.; Alonso C.; Rinaldo A. (2019), Effects of altered river network connectivity on the distribution of Salmo trutta: Insights from a metapopulation model in FRESHWATER BIOLOGY, vol. 64, pp. 1877-1895 (ISSN 0046-5070) (Articolo su rivista)
Koenig, Lauren E.; Helton, Ashley M.; Savoy, Philip; Bertuzzo, Enrico; Heffernan, James B.; Hall, Robert O.; Bernhardt, Emily S. (2019), Emergent productivity regimes of river networks in LIMNOLOGY AND OCEANOGRAPHY LETTERS, vol. 4, pp. 173-181 (ISSN 2378-2242) (Articolo su rivista)
Muneepeerakul, Rachata*; Bertuzzo, Enrico; Rinaldo, Andrea; Rodriguez-Iturbe, Ignacio (2019), Evolving biodiversity patterns in changing river networks in JOURNAL OF THEORETICAL BIOLOGY, vol. 462, pp. 418-424 (ISSN 0022-5193) (Articolo su rivista)
Salles T.; Rey P.; Bertuzzo E. (2019), Mapping landscape connectivity as a driver of species richness under tectonic and climatic forcing in EARTH SURFACE DYNAMICS, vol. 7, pp. 895-910 (ISSN 2196-6311) (Articolo su rivista)
Carraro L.; Toffolon M.; Rinaldo A.; Bertuzzo E. (2019), SESTET: A spatially explicit stream temperature model based on equilibrium temperature in HYDROLOGICAL PROCESSES, vol. ND (ISSN 0885-6087) (Articolo su rivista)
Horgby A.; Segatto P.L.; Bertuzzo E.; Lauerwald R.; Lehner B.; Ulseth A.J.; Vennemann T.W.; Battin T.J. (2019), Unexpected large evasion fluxes of carbon dioxide from turbulent streams draining the world's mountains in NATURE COMMUNICATIONS, vol. 10, pp. 4888 (ISSN 2041-1723) (Articolo su rivista)
Ulseth, Amber J; Bertuzzo, Enrico; Singer, Gabriel A.; Schelker, Jakob; Battin, Tom J. (2018), Climate-Induced Changes in Spring Snowmelt Impact Ecosystem Metabolism and Carbon Fluxes in an Alpine Stream Network in ECOSYSTEMS, vol. 110, pp. 136-146 (ISSN 1432-9840) (Articolo su rivista)
Dzubakova, Katharine; Peter, Hannes; Bertuzzo, Enrico; Juez, Carmelo; Franca, Mário J.; Rinaldo, Andrea; Battin, Tom J.* (2018), Environmental heterogeneity promotes spatial resilience of phototrophic biofilms in streambeds in BIOLOGY LETTERS, vol. 14, pp. 20180432 (ISSN 1744-9561) (Articolo su rivista)
Carraro, Luca; Hartikainen, Hanna; Jokela, Jukka; Bertuzzo, Enrico; Rinaldo, Andrea (2018), Estimating species distribution and abundance in river networks using environmental DNA in PROCEEDINGS OF THE NATIONAL ACADEMY OF SCIENCES OF THE UNITED STATES OF AMERICA, vol. 115, pp. 11724-11729 (ISSN 1091-6490) (Articolo su rivista)
Helton, Ashley M.; Hall, Robert O.; Bertuzzo, Enrico (2018), How network structure can affect nitrogen removal by streams in FRESHWATER BIOLOGY, vol. 63, pp. 128-140 (ISSN 0046-5070) (Articolo su rivista)
Azman, Andrew S.*; Luquero, Francisco J.; Salje, Henrik; Mbaïbardoum, Nathan Naibei; Adalbert, Ngandwe; Ali, Mohammad; Bertuzzo, Enrico; Finger, Flavio; Toure, Brahima; Massing, Louis Albert; Ramazani, Romain; Saga, Bansaga; Allan, Maya; Olson, David; Leglise, Jerome; Porten, Klaudia; Lessler, Justin (2018), Micro-hotspots of risk in urban cholera epidemics in THE JOURNAL OF INFECTIOUS DISEASES, vol. 218, pp. 1164-1168 (ISSN 0022-1899) (Articolo su rivista)
Pasetto, Damiano*; Finger, Flavio; Camacho, Anton; Grandesso, Francesco; Cohuet, Sandra; Lemaitre, Joseph C.; Azman, Andrew S.; Luquero, Francisco J.; Bertuzzo, Enrico; Rinaldo, Andrea (2018), Near real-time forecasting for cholera decision making in Haiti after Hurricane Matthew in PLOS COMPUTATIONAL BIOLOGY, vol. 14, pp. e1006127 (ISSN 1553-734X) (Articolo su rivista)
Balister, Paul; Balogh, József; Bertuzzo, Enrico; Bollobás, Béla; Caldarelli, Guido; Maritan, Amos; Mastrandrea, Rossana; Morris, Robert; Rinaldo, Andrea (2018), River landscapes and optimal channel networks in PROCEEDINGS OF THE NATIONAL ACADEMY OF SCIENCES OF THE UNITED STATES OF AMERICA, vol. 115, pp. 6548-6553 (ISSN 0027-8424) (Articolo su rivista)
Carraro, Luca; Mari, Lorenzo; Gatto, Marino; Rinaldo, Andrea; Bertuzzo, Enrico (2018), Spread of proliferative kidney disease in fish along stream networks: A spatial metacommunity framework in FRESHWATER BIOLOGY, vol. 63, pp. 114-127 (ISSN 0046-5070) (Articolo su rivista)
Finger, Flavio; Bertuzzo, Enrico; Luquero, Francisco J.; Naibei, Nathan; Touré, Brahima; Allan, Maya; Porten, Klaudia; Lessler, Justin; Rinaldo, Andrea; Azman, Andrew S. (2018), The potential impact of case-area targeted interventions in response to cholera outbreaks: A modeling study in PLOS MEDICINE, vol. 15, pp. e1002509 (ISSN 1549-1277) (Articolo su rivista)
Benettin P.; Bertuzzo E. (2018), Tran-SAS v1.0: A numerical model to compute catchment-scale hydrologic transport using StorAge Selection functions in GEOSCIENTIFIC MODEL DEVELOPMENT, vol. 11, pp. 1627-1639 (ISSN 1991-959X) (Articolo su rivista)
Mari, Lorenzo; Ciddio, Manuela; Casagrandi, Renato; Perez saez, Javier; Bertuzzo, Enrico; Rinaldo, Andrea; Sokolow, Susanne H.; De Leo, Giulio A.; Gatto, Marino (2017), Heterogeneity in schistosomiasis transmission dynamics in JOURNAL OF THEORETICAL BIOLOGY, vol. 432, pp. 87-99 (ISSN 0022-5193) (Articolo su rivista)
Bertuzzo, Enrico; Mari, Lorenzo (2017), Hydrology, water resources and the epidemiology of water-related diseases in ADVANCES IN WATER RESOURCES, vol. 108, pp. 329-331 (ISSN 0309-1708) (Articolo su rivista)
Carraro, Luca; Bertuzzo, Enrico; Mari, Lorenzo; Fontes, Inãªs; Hartikainen, Hanna; Strepparava, Nicole; Schmidt-Posthaus, Heike; Wahli, Thomas; Jokela, Jukka; Gatto, Marino; Rinaldo, Andrea (2017), Integrated field, laboratory, and theoretical study of PKD spread in a Swiss prealpine river in PROCEEDINGS OF THE NATIONAL ACADEMY OF SCIENCES OF THE UNITED STATES OF AMERICA, vol. 114, pp. 11992-11997 (ISSN 0027-8424) (Articolo su rivista)
Rinaldo, Andrea; Bertuzzo, Enrico; Blokesch, Melanie; Mari, Lorenzo; Gatto, Marino (2017), Modeling Key Drivers of Cholera Transmission Dynamics Provides New Perspectives for Parasitology in TRENDS IN PARASITOLOGY, vol. 33, pp. 587-599 (ISSN 1471-4922) (Articolo su rivista)
Pasetto, Damiano; Finger, Flavio; Rinaldo, Andrea; Bertuzzo, Enrico (2017), Real-time projections of cholera outbreaks through data assimilation and rainfall forecasting in ADVANCES IN WATER RESOURCES, vol. 108 (ISSN 0309-1708) (Articolo su rivista)
Bertuzzo Enrico; Helton Ashley M.; Hall Robert O.; Battin Tom J. (2017), Scaling of dissolved organic carbon removal in river networks in ADVANCES IN WATER RESOURCES, vol. 110, pp. 136-146 (ISSN 0309-1708) (Articolo su rivista)
Baracchini, Theo; King, Aaron A.; Bouma, Menno J.; Rodó, Xavier; Bertuzzo, Enrico; Pascual, Mercedes (2017), Seasonality in cholera dynamics: A rainfall-driven model explains the wide range of patterns in endemic areas in ADVANCES IN WATER RESOURCES, vol. 108 (ISSN 0309-1708) (Articolo su rivista)
Strano, Emanuele; Giometto, Andrea; Shai, Saray; Bertuzzo, Enrico; Mucha, Peter J.; Rinaldo, Andrea (2017), The scaling structure of the global road network in ROYAL SOCIETY OPEN SCIENCE, vol. 4 (ISSN 2054-5703) (Articolo su rivista)
Carraro, Luca; Mari, Lorenzo; Hartikainen, Hanna; Strepparava, Nicole; Wahli, Thomas; Jokela, Jukka; Gatto, Marino; Rinaldo, Andrea; Bertuzzo, Enrico (2016), An epidemiological model for proliferative kidney disease in salmonid populations in PARASITES & VECTORS, vol. 9, pp. 1-16 (ISSN 1756-3305) (Articolo su rivista)
Bertuzzo, E.; Carrara, F.; Mari, L.; Altermatt, F.; Rodriguez-Iturbe, I.; Rinaldo, A. (2016), Geomorphic controls on elevational gradients of species richness in PROCEEDINGS OF THE NATIONAL ACADEMY OF SCIENCES OF THE UNITED STATES OF AMERICA, vol. 113, pp. 1737-1742 (ISSN 1091-6490) (Articolo su rivista)
Perez-Saez, Javier; Mande, Theophile; Ceperley, Natalie; Bertuzzo, Enrico; Mari, Lorenzo; Gatto, Marino; Rinaldo, Andrea (2016), Hydrology and density feedbacks control the ecology of intermediate hosts of schistosomiasis across habitats in seasonal climates in PROCEEDINGS OF THE NATIONAL ACADEMY OF SCIENCES OF THE UNITED STATES OF AMERICA, vol. 113, pp. 6427-6432 (ISSN 1091-6490) (Articolo su rivista)
Finger, Falvio; Genolet, Tina; Mari, Lorenzo; de Magny, Guillaume Constantin; Manga, Noël Magloire; Rinaldo, Andrea; Bertuzzo, Enrico (2016), Mobile phone data highlights the role of mass gatherings in the spreading of cholera outbreaks in PROCEEDINGS OF THE NATIONAL ACADEMY OF SCIENCES OF THE UNITED STATES OF AMERICA, vol. 113, pp. 6421-6426 (ISSN 1091-6490) (Articolo su rivista)
Bertuzzo, Enrico; Finger, Flavio; Mari, Lorenzo; Gatto, Marino; Rinaldo, Andrea (2016), On the probability of extinction of the Haiti cholera epidemic in STOCHASTIC ENVIRONMENTAL RESEARCH AND RISK ASSESSMENT, vol. 30, pp. 2043-2055 (ISSN 1436-3240) (Articolo su rivista)
Rinaldo, A; Benettin, P; Harman, C.J.; Hrachowitz, M.; Mcguire, K.J.; Van Der Velde, Y.; Bertuzzo, E.; Botter, G. (2016), Reply to comment by Porporato and Calabrese on "storage selection functions: A coherent framework for quantifying how catchments store and release water and solutes" in WATER RESOURCES RESEARCH, vol. 52, pp. 616-618 (ISSN 1944-7973) (Articolo su rivista)
Partecipazione come referee di progetti di ricerca nazionali ed internazionali
Referee per progetti di ricerca finanziati da Swiss National Science Foundation, US National Science Foundation, UK Engineering and Physical Science Research Council.
Partecipazione a comitati editoriali di riviste/collane scientifiche
2015-2017 Guest Editor, Advances in Water Resources. Special Issue: "Hydrology, water resources and the epidemiology of water-related diseases"
Descrizione dell'attività di ricerca svolta nel triennio e gli obiettivi futuri
Principali attività di ricerca svolte:
1) Studio di processi ecologici nelle reti fluviali;
2) Modelli di metabolismo e cicli biogeochimici nelle reti fluviali;
3) Dinamica dell'antrace nelle regioni artiche;
4) Sviluppo di modelli idrologici per la previsione delle piene nei bacini veneti;
5) Sviluppo di modelli per la temperatura dell'acqua e il trasporto dei soluti nel ciclo idrologico;
6) Sviluppo di modelli epidemiologici per il colera.
Obiettivi futuri:
sviluppo e potenziamento dei punti 1) e 2)
Menzioni e premi ricevuti
Premio alla ricerca 2016, Università Ca' Foscari, Venezia
Relazioni invitate presso convegni o workshops
Relazioni su invito:
-Luglio 2019. Ecological interactions in complex landscapes, 1st conference of the Italian Chapter of the Complex System Society, Trento, Italy.
-Gennaio 2018 Scaling of Dissolved Organic Carbon Removal in River Networks, third meeting of the COST-action SMIRES: Science and Management of Intermittent Rivers & Ephemeral Stream, Pécs University, Hungary
Altre relazioni presentate a:
- European Geoscience Union General Assembly, Vienna 2016-2019;
- American Geophysical Union Annual Meeting, Washington 2018;
- Freshwater Society annual meeting, Salt Lake city 2019.
Seminari su invito tenuti presso altre Università, Centri di Ricerca, Aziende, etc.
Seminario su invito presso Università di Zurigo. The metabolic regimes of river networks. Zurigo, Settembre 2019.
Altre attività scientifiche
Revisore per Proceedings of the National Academy of Sciences, Lancet Infectious Diseases, Ecology Letters, Water Resources Research, Geophysical Research Letters, PLoS Neglected Tropical Diseases, Advances in Water Resources, Hydrological Processes, Journal of Hydrology, Proceedings of the Royal Society Interface
Incarichi accademici e attività organizzative
- Delegato di Dipartimento all'assicurazione della qualità (Gennaio 2018-presente);
- Coordinatore Dottorato Scienze Ambientali (2019-Presente).
Componente di Collegi didattici, Comitati e Commissioni di Dipartimento, Commissioni di Ateneo
- Vicecoordinatore Dottorato Scienze Ambientali (2017-2018);
- Membro del collegio didattico CdS triennale e magistrale in scienza ambientali.