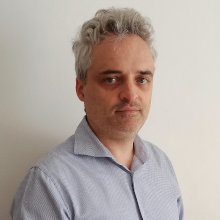 Dati relazione
Periodo di riferimento

29/11/2018 - 28/11/2021
Afferenza

Dipartimento di Scienze Molecolari e Nanosistemi
Ruolo

Professori Associati
Attività didattica
| A.A. | Insegnamento | Codice | Voto | Voto medio area |
| --- | --- | --- | --- | --- |
| 2018/2019 | APPLICATIONS OF NANO AND BIOTECHNOLOGY | CM1301 | 3.4 | 3.2 |
| 2018/2019 | BIOTHERAPEUTICS AND BIOCOMPATIBLE DRUG DELIVERY SYSTEMS | PHD116 | | |
| 2018/2019 | ECOTOSSICOLOGIA | CM0043 | | |
| 2019/2020 | APPLICATIONS OF NANO AND BIOTECHNOLOGY | CM1301 | 8 | 7.9 |
| 2019/2020 | BIOTHERAPEUTICS AND BIOCOMPATIBLE DRUG DELIVERY SYSTEMS | PHD116 | | |
| 2019/2020 | ECOTOSSICOLOGIA | CM0043 | 7.9 | 7.9 |
| 2020/2021 | APPLICATIONS OF NANO AND BIOTECHNOLOGY | CM1301 | | |
| 2020/2021 | BIOTHERAPEUTICS AND BIOCOMPATIBLE DRUG DELIVERY SYSTEMS | PHD116 | | |
| 2020/2021 | ECOTOSSICOLOGIA | CM0043 | | |
Tesi
| Anno solare | Tipologia | Tesi Relatore | Tesi Correlatore |
| --- | --- | --- | --- |
| 2018 | Corso di laurea magistrale | 1 | |
| 2019 | Corso di laurea magistrale | 2 | |
| 2020 | Corso di laurea magistrale | 3 | |
Finanziamenti
Cibo intelligente per un futuro sostenibile
ISE-EMH, Ecosistema italo-sloveno per la sanità elettronica e mobile
Inhibition of Pin1 to improve carboplatin and taxol cytotoxicity in high-grade serous ovarian cancer
New diagnostic and therapeutic tools against multidrug resistant tumors
PIN1 targeted therapy in high grade serous ovarian cancer patients
PREDIzione Tumori Tiroidei
Sensori elettrochimici e kit biomolecolari per l'analisi di contaminanti emergenti in prodotti agroalimentari
Sviluppo di procedure standardizzate per la valutazione di microplastiche in prodotti agroalimentari
Tumoroids as new REAl Time therapy for High Grade Serous Epithelial Ovarian Cancer patients
Ricerche sviluppate e in corso
Functional analysis of cell cycle genes in cancer
Genetic and epigenetic analysis of X linked candidate genes for Premature Ovarian Failure
Targeted therapy in colorectal and ovarian cancers and development of new drug delivery systems
Pubblicazioni realizzate nel triennio
Adeel M.; Canzonieri V.; Daniele S.; Vomiero A.; Rizzolio F.; Rahman M.M. (2021), 2D metal azolate framework as nanozyme for amperometric detection of glucose at physiological pH and alkaline medium in MIKROCHIMICA ACTA, vol. 188, pp. 77 (ISSN 0026-3672) (Articolo su rivista)
Adeel M.; Asif K.; Rahman M.M.; Daniele S.; Canzonieri V.; Rizzolio F. (2021), Glucose Detection Devices and Methods Based on Metal–Organic Frameworks and Related Materials in ADVANCED FUNCTIONAL MATERIALS, vol. 01, pp. 2106023 (ISSN 1616-301X) (Articolo su rivista)
Scattolin T.; Andreetta G.; Mauceri M.; Rizzolio F.; Demitri N.; Canzonieri V.; Visentin F. (2021), Imidazo[1,5-a]pyridine-3-ylidenes and dipyridoimidazolinylidenes as ancillary ligands in Palladium allyl complexes with potent in vitro anticancer activity in JOURNAL OF ORGANOMETALLIC CHEMISTRY, vol. 952, pp. 122014 (ISSN 0022-328X) (Articolo su rivista)
Duzagac F.; Saorin G.; Memeo L.; Canzonieri V.; Rizzolio F. (2021), Microfluidic organoids‐on‐a‐chip: Quantum leap in cancer research in CANCERS, vol. 13, pp. 1-35 (ISSN 2072-6694) (Articolo su rivista)
Adeel M.; Canzonieri V.; Daniele S.; Rizzolio F.; Rahman M.M. (2021), Organobase assisted synthesis of Co(OH)2 nanosheets enriched with oxygen vacancies for nonenzymatic glucose sensing at physiological pH in JOURNAL OF INDUSTRIAL AND ENGINEERING CHEMISTRY - KOREAN SOCIETY OF INDUSTRIAL AND ENGINEERING CHEMISTRY, vol. 103, pp. 165-174 (ISSN 1226-086X) (Articolo su rivista)
Andrea Morandini; Emanuele Spadati; Benedetta Leonetti; Roberto Sole; Vanessa Gatto; Flavio Rizzolio; Valentina Beghetto (2021), Sustainable triazine-derived quaternary ammonium salts as antimicrobial agents in RSC ADVANCES, vol. 11, pp. 28092-28096 (ISSN 2046-2069) (Articolo su rivista)
Morandini Andrea; Leonetti Benedetta; Riello Pietro; Sole Roberto; Gatto Vanessa; Caligiuri Isabella; Rizzolio Flavio; Beghetto Valentina (2021), Synthesis and Antimicrobial Evaluation of Bis-morpholine Triazine Quaternary Ammonium Salts in CHEMMEDCHEM, vol. 16, pp. 1-6 (ISSN 1860-7179) (Articolo su rivista)
Scattolin T.; Piccin A.; Mauceri M.; Rizzolio F.; Demitri N.; Canzonieri V.; Visentin F. (2021), Synthesis, characterization and anticancer activity of palladium allyl complexes bearing benzimidazole-based N-heterocyclic carbene (NHC) ligands in POLYHEDRON, vol. 207, pp. 115381 (ISSN 0277-5387) (Articolo su rivista)
Asif, Kanwal; Memeo, Lorenzo; Palazzolo, Stefano; Frión-Herrera, Yahima; Parisi, Salvatore; Caligiuri, Isabella; Canzonieri, Vincenzo; Granchi, Carlotta; Tuccinardi, Tiziano; Rizzolio, Flavio (2021), STARD3: A Prospective Target for Cancer Therapy , STARD3: A Prospective Target for Cancer Therapy, Cancers MDPI, vol. 13, pp. 4693 (Recensione in Volume)
Scattolin T.; Bortolamiol E.; Rizzolio F.; Demitri N.; Visentin F. (2020), Allyl palladium complexes bearing carbohydrate-based N-heterocyclic carbenes: Anticancer agents for selective and potent in vitro cytotoxicity in APPLIED ORGANOMETALLIC CHEMISTRY, vol. 34 (ISSN 0268-2605) (Articolo su rivista)
Bononi G.; Poli G.; Rizzolio F.; Tuccinardi T.; Macchia M.; Minutolo F.; Granchi C. (2020), An updated patent review of monoacylglycerol lipase (MAGL) inhibitors (2018-present) in EXPERT OPINION ON THERAPEUTIC PATENTS, vol. NA, pp. 1-16-16 (ISSN 1354-3776) (Articolo su rivista)
Poli G.; Granchi C.; Rizzolio F.; Tuccinardi T. (2020), Application of MM-PBSA methods in virtual screening in MOLECULES, vol. 25, pp. 1971 (ISSN 1420-3049) (Articolo su rivista)
Palazzolo S.; Memeo L.; Hadla M.; Duzagac F.; Steffan A.; Perin T.; Canzonieri V.; Tuccinardi T.; Caligiuri I.; Rizzolio F. (2020), Cancer extracellular vesicles: Next-generation diagnostic and drug delivery nanotools in CANCERS, vol. 12, pp. 1-36 (ISSN 2072-6694) (Articolo su rivista)
Jha V.; Galati S.; Volpi V.; Ciccone L.; Minutolo F.; Rizzolio F.; Granchi C.; Poli G.; Tuccinardi T. (2020), Discovery of a new ATP-citrate lyase (ACLY) inhibitor identified by a pharmacophore-based virtual screening study in JOURNAL OF BIOMOLECULAR STRUCTURE & DYNAMICS, vol. NA, pp. 1-9-9 (ISSN 0739-1102) (Articolo su rivista)
Lepeltier E.; Rijo P.; Rizzolio F.; Popovtzer R.; Petrikaite V.; Assaraf Y.G.; Passirani C. (2020), Nanomedicine to target multidrug resistant tumors in DRUG RESISTANCE UPDATES, vol. 52, pp. 100704 (ISSN 1368-7646) (Articolo su rivista)
Scattolin T.; Bortolamiol E.; Visentin F.; Palazzolo S.; Caligiuri I.; Perin T.; Canzonieri V.; Demitri N.; Rizzolio F.; Togni A. (2020), Palladium(II)-η3-Allyl Complexes Bearing N-Trifluoromethyl N-Heterocyclic Carbenes: A New Generation of Anticancer Agents that Restrain the Growth of High-Grade Serous Ovarian Cancer Tumoroids in CHEMISTRY-A EUROPEAN JOURNAL, vol. 26, pp. 11868-11876 (ISSN 0947-6539) (Articolo su rivista)
Adeel M.; Rahman M.M.; Caligiuri I.; Canzonieri V.; Rizzolio F.; Daniele S. (2020), Recent advances of electrochemical and optical enzyme-free glucose sensors operating at physiological conditions in BIOSENSORS & BIOELECTRONICS, vol. 165, pp. 112331 (ISSN 0956-5663) (Articolo su rivista)
Dinic J.; Efferth T.; Garcia-Sosa A.T.; Grahovac J.; Padron J.M.; Pajeva I.; Rizzolio F.; Saponara S.; Spengler G.; Tsakovska I. (2020), Repurposing old drugs to fight multidrug resistant cancers in DRUG RESISTANCE UPDATES, vol. 52, pp. 100713 (ISSN 1368-7646) (Articolo su rivista)
Adeel M.; Duzagac F.; Canzonieri V.; Rizzolio F. (2020), Self-Therapeutic Nanomaterials for Cancer Therapy: A Review in ACS APPLIED NANO MATERIALS, vol. 3, pp. 4962-4971 (ISSN 2574-0970) (Articolo su rivista)
Campalani, Carlotta; Chioggia, Francesco; Amadio, Emanuele; Gallo, Michele; Rizzolio, Flavio; Selva, Maurizio; Perosa, Alvise (2020), Supercritical CO2 extraction of natural antibacterials from low value weeds and agro-waste in JOURNAL OF CO2 UTILIZATION, vol. 40, pp. 101198 (ISSN 2212-9820) (Articolo su rivista)
Scattolin T.; Bortolamiol E.; Caligiuri I.; Rizzolio F.; Demitri N.; Visentin F. (2020), Synthesis and comparative study of the anticancer activity of η3-allyl palladium(II) complexes bearing N-heterocyclic carbenes as ancillary ligands in POLYHEDRON, vol. 186, pp. 114607 (ISSN 0277-5387) (Articolo su rivista)
Velihina Y.; Scattolin T.; Bondar D.; Pil'o S.; Obernikhina N.; Kachkovskyi O.; Semenyuta I.; Caligiuri I.; Rizzolio F.; Brovarets V.; Karpichev Y.; Nolan S.P. (2020), Synthesis, in silico and in vitro Evaluation of Novel Oxazolopyrimidines as Promising Anticancer Agents in HELVETICA CHIMICA ACTA, vol. 103 (ISSN 0018-019X) (Articolo su rivista)
Scattolin T.; Bortolamiol E.; Palazzolo S.; Caligiuri I.; Perin T.; Canzonieri V.; Demitri N.; Rizzolio F.; Cavallo L.; Dereli B.; Mane M.V.; Nolan S.P.; Visentin F. (2020), The anticancer activity of an air-stable Pd(i)-NHC (NHC = N-heterocyclic carbene) dimer in CHEMICAL COMMUNICATIONS, vol. 56, pp. 12238-12241 (ISSN 1359-7345) (Articolo su rivista)
Bayda S.; Adeel M.; Tuccinardi T.; Cordani M.; Rizzolio F. (2020), The history of nanoscience and nanotechnology: From chemical-physical applications to nanomedicine in MOLECULES, vol. 25, pp. 112 (ISSN 1420-3049) (Articolo su rivista)
Casagrande E.; Back M.; Back M.; Back M.; Cristofori D.; Cristofori D.; Ueda J.; Tanabe S.; Palazzolo S.; Rizzolio F.; Rizzolio F.; Canzonieri V.; Canzonieri V.; Trave E.; Riello P. (2020), Upconversion-mediated Boltzmann thermometry in double-layered Bi2SiO5:Yb3+,Tm3+@SiO2hollow nanoparticles in JOURNAL OF MATERIALS CHEMISTRY. C, vol. 8, pp. 7828-7836 (ISSN 2050-7534) (Articolo su rivista)
Casagrande E.; Back M.; Back M.; Back M.; Cristofori D.; Cristofori D.; Ueda J.; Tanabe S.; Palazzolo S.; Rizzolio F.; Rizzolio F.; Canzonieri V.; Canzonieri V.; Trave E.; Riello P. (2020), Upconversion-mediated Boltzmann thermometry in double-layered Bi2SiO5:Yb3+,Tm3+@SiO2hollow nanoparticles in JOURNAL OF MATERIALS CHEMISTRY. C, vol. 8, pp. 7828-7836 (ISSN 2050-7534) (Articolo su rivista)
El Boustani, Maguie; De Stefano, Lucia; Caligiuri, Isabella; Mouawad, Nayla; Granchi, Carlotta; Canzonieri, Vincenzo; Tuccinardi, Tiziano; Giordano, Antonio; Rizzolio, Flavio (2019), A guide to PIN1 function and mutations across cancers in FRONTIERS IN PHARMACOLOGY, vol. 9, pp. 1477 (ISSN 1663-9812) (Articolo su rivista)
Palazzolo S.; Hadla M.; Spena C.R.; Caligiuri I.; Rotondo R.; Adeel M.; Kumar V.; Corona G.; Canzonieri V.; Toffoli G.; Rizzolio F. (2019), An effective multi-stage liposomal DNA origami nanosystem for in vivo cancer therapy in ACS MEDICINAL CHEMISTRY LETTERS, vol. 11, pp. 1997 (ISSN 1948-5875) (Articolo su rivista)
Poli, Giulio; Lapillo, Margherita; Jha, Vibhu; Mouawad, Nayla; Caligiuri, Isabella; Macchia, Marco; Minutolo, Filippo; Rizzolio, Flavio; Tuccinardi, Tiziano*; Granchi, Carlotta (2019), Computationally driven discovery of phenyl(piperazin-1-yl)methanone derivatives as reversible monoacylglycerol lipase (MAGL) inhibitors in JOURNAL OF ENZYME INHIBITION AND MEDICINAL CHEMISTRY, vol. 34, pp. 589-596 (ISSN 1475-6366) (Articolo su rivista)
Tuccinardi T.; Rizzolio F. (2019), Editorial: Peptidyl-prolyl isomerases in human pathologies in FRONTIERS IN PHARMACOLOGY, vol. 10, pp. 794 (ISSN 1663-9812) (Articolo su rivista)
Lapillo M.; Salis B.; Palazzolo S.; Poli G.; Granchi C.; Minutolo F.; Rotondo R.; Caligiuri I.; Canzonieri V.; Tuccinardi T.; Rizzolio F. (2019), First-of-its-kind STARD3 Inhibitor: In Silico Identification and Biological Evaluation as Anticancer Agent in ACS MEDICINAL CHEMISTRY LETTERS, vol. 10, pp. 475-480 (ISSN 1948-5875) (Articolo su rivista)
Scattolin, Thomas; Moro, Giulia; Rizzolio, Flavio; Santo, Claudio; Moretto, Ligia Maria; Visentin., Fabiano (2019), Improved Synthesis, Anticancer Activity and Electrochemical Characterization of Unusual Zwitterionic Palladium Compounds with a Ten‐Term Coordinative Ring in CHEMISTRYSELECT, vol. 4, pp. 10911-10919 (ISSN 2365-6549) (Articolo su rivista)
Chiarelli, Laurent R.; Mori, Matteo; Beretta, Giangiacomo; Gelain, Arianna; Pini, Elena; Sammartino, Josè Camilla; Stelitano, Giovanni; Barlocco, Daniela; Costantino, Luca; Lapillo, Margherita; Poli, Giulio; Caligiuri, Isabella; Rizzolio, Flavio; Bellinzoni, Marco; Tuccinardi, Tiziano; Villa, Stefania*; Meneghetti, Fiorella (2019), New insight into structure-activity of furan-based salicylate synthase (MbtI) inhibitors as potential antitubercular agents in JOURNAL OF ENZYME INHIBITION AND MEDICINAL CHEMISTRY, vol. 34, pp. 823-828 (ISSN 1475-6366) (Articolo su rivista)
Granchi, Carlotta; Lapillo, Margherita; Glasmacher, Sandra; Bononi, Giulia; Licari, Cristina; Poli, Giulio; El Boustani, Maguie; Caligiuri, Isabella; Rizzolio, Flavio; Gertsch, Jürg; Macchia, Marco; Minutolo, Filippo; Tuccinardi, Tiziano*; Chicca, Andrea (2019), Optimization of a Benzoylpiperidine Class Identifies a Highly Potent and Selective Reversible Monoacylglycerol Lipase (MAGL) Inhibitor in JOURNAL OF MEDICINAL CHEMISTRY, vol. 62, pp. 1932-1958 (ISSN 0022-2623) (Articolo su rivista)
Scattolin T.; Giust S.; Bergamini P.; Caligiuri I.; Canovese L.; Demitri N.; Gambari R.; Lampronti I.; Rizzolio F.; Visentin F. (2019), Palladacyclopentadienyl complexes bearing purine-based N-heterocyclic carbenes: A new class of promising antiproliferative agents against human ovarian cancer in APPLIED ORGANOMETALLIC CHEMISTRY, vol. 33, pp. e4902 (ISSN 0268-2605) (Articolo su rivista)
Scattolin T.; Pangerc N.; Lampronti I.; Tupini C.; Gambari R.; Marvelli L.; Rizzolio F.; Demitri N.; Canovese L.; Visentin F. (2019), Palladium (0) olefin complexes bearing purine-based N-heterocyclic carbenes and 1,3,5-triaza-7-phosphaadamantane (PTA): Synthesis, characterization and antiproliferative activity toward human ovarian cancer cell lines in JOURNAL OF ORGANOMETALLIC CHEMISTRY, vol. 899, pp. 120857 (ISSN 0022-328X) (Articolo su rivista)
Palazzolo S.; Hadla M.; Spena C.R.; Bayda S.; Kumar V.; Lo Re F.; Adeel M.; Caligiuri I.; Romano F.; Corona G.; Canzonieri V.; Toffoli G.; Rizzolio F. (2019), Proof-of-Concept Multistage Biomimetic Liposomal DNA Origami Nanosystem for the Remote Loading of Doxorubicin in ACS MEDICINAL CHEMISTRY LETTERS, vol. 10, pp. 517-521 (ISSN 1948-5875) (Articolo su rivista)
Scattolin T.; Caligiuri I.; Mouawad N.; El Boustani M.; Demitri N.; Rizzolio F.; Visentin F. (2019), Synthesis and in-depth studies on the anticancer activity of novel palladacyclopentadienyl complexes stabilized by N-Heterocyclic carbene ligands in EUROPEAN JOURNAL OF MEDICINAL CHEMISTRY, vol. 179, pp. 325-334 (ISSN 0223-5234) (Articolo su rivista)
Russo Spena, Concetta; De Stefano, Lucia; Poli, Giulio; Granchi, Carlotta; El Boustani, Maguie; Ecca, Fabrizio; Grassi, Gabriele; Grassi, Mario; Canzonieri, Vincenzo; Giordano, Antonio; Tuccinardi, Tiziano; Caligiuri, Isabella*; Rizzolio, Flavio (2019), Virtual screening identifies a PIN1 inhibitor with possible antiovarian cancer effects in JOURNAL OF CELLULAR PHYSIOLOGY, vol. xx (ISSN 0021-9541) (Articolo su rivista)
Granchi, Carlotta; Rizzolio, Flavio; Caligiuri, Isabella; Macchia, Marco; Martinelli, Adriano; Minutolo, Filippo; Tuccinardi, Tiziano (2018), Rational development of MAGL inhibitors , Humana Press Inc., vol. 1824, pp. 335-346 (ISBN 978-1-4939-8629-3; 978-1-4939-8630-9) (Monografia o trattato scientifico)
Poli, Giulio; Lapillo, Margherita; Granchi, Carlotta; Caciolla, Jessica; Mouawad, Nayla; Caligiuri, Isabella; Rizzolio, Flavio; Langer, Thierry; Minutolo, Filippo; Tuccinardi, Tiziano (2018), Binding investigation and preliminary optimisation of the 3-amino-1,2,4-triazin-5(2H)-one core for the development of new Fyn inhibitors in JOURNAL OF ENZYME INHIBITION AND MEDICINAL CHEMISTRY, vol. 33, pp. 956-961 (ISSN 1475-6366) (Articolo su rivista)
Cailotto, Simone; Amadio, Emanuele; Facchin, Manuela; Selva, Maurizio; Pontoglio, Enrico; Rizzolio, Flavio; Riello, Pietro; Toffoli, Giuseppe; Benedetti, Alvise; Perosa, Alvise (2018), Carbon-dots from sugars and ascorbic acid: Role of the precursors on morphology, properties, toxicity and drug uptake in ACS MEDICINAL CHEMISTRY LETTERS, vol. 9, pp. 832-837 (ISSN 1948-5875) (Articolo su rivista)
Piccoli, Martina; D'Angelo, Edoardo; Crotti, Sara; Sensi, Francesca; Urbani, Luca; Maghin, Edoardo; Burns, Alan; De Coppi, Paolo; Fassan, Matteo; Rugge, Massimo; Rizzolio, Flavio; Giordano, Antonio; Pilati, Pierluigi; Mammano, Enzo; Pucciarelli, Salvatore; Agostini, Marco (2018), Decellularized colorectal cancer matrix as bioactive microenvironment for in vitro 3D cancer research in JOURNAL OF CELLULAR PHYSIOLOGY, vol. xx (ISSN 0021-9541) (Articolo su rivista)
Aghazadeh Tabrizi, Mojgan; Baraldi, Pier Giovanni; Baraldi, Stefania; Ruggiero, Emanuela; De Stefano, Lucia; Rizzolio, Flavio; Di Cesare Mannelli, Lorenzo; Ghelardini, Carla; Chicca, Andrea; Lapillo, Margherita; Gertsch, Jürg; Manera, Clementina; Macchia, Marco; Martinelli, Adriano; Granchi, Carlotta; Minutolo, Filippo; Tuccinardi, Tiziano (2018), Discovery of 1,5-Diphenylpyrazole-3-Carboxamide Derivatives as Potent, Reversible, and Selective Monoacylglycerol Lipase (MAGL) Inhibitors in JOURNAL OF MEDICINAL CHEMISTRY, vol. 61, pp. 1340-1354 (ISSN 0022-2623) (Articolo su rivista)
Bononi, Giulia; Granchi, Carlotta*; Lapillo, Margherita; Giannotti, Massimiliano; Nieri, Daniela; Fortunato, Serena; Boustani, Maguie El; Caligiuri, Isabella; Poli, Giulio; Carlson, Kathryn E.; Kim, Sung Hoon; Macchia, Marco; Martinelli, Adriano; Rizzolio, Flavio; Chicca, Andrea; Katzenellenbogen, John A.; Minutolo, Filippo; Tuccinardi, Tiziano (2018), Discovery of long-chain salicylketoxime derivatives as monoacylglycerol lipase (MAGL) inhibitors in EUROPEAN JOURNAL OF MEDICINAL CHEMISTRY, vol. 157, pp. 817-836 (ISSN 0223-5234) (Articolo su rivista)
Rani, Reshma; Kumar, Vinit; Rizzolio, Flavio (2018), Fluorescent Carbon Nanoparticles in Medicine for Cancer Therapy: An Update in ACS MEDICINAL CHEMISTRY LETTERS, vol. 9, pp. 4-5-5 (ISSN 1948-5875) (Articolo su rivista)
Russo Spena, Concetta; De Stefano, Lucia; Palazzolo, Stefano; Salis, Barbara; Granchi, Carlotta; Minutolo, Filippo; Tuccinardi, Tiziano; Fratamico, Roberto; Crotti, Sara; D'Aronco, Sara; Agostini, Marco; Corona, Giuseppe; Caligiuri, Isabella; Canzonieri, Vincenzo; Rizzolio, Flavio (2018), Liposomal delivery of a Pin1 inhibitor complexed with cyclodextrins as new therapy for high-grade serous ovarian cancer in JOURNAL OF CONTROLLED RELEASE, vol. 281, pp. 1-10 (ISSN 0168-3659) (Articolo su rivista)
Rizzolio, Flavio* (2018), Nanomedicine in cancer pathology in CURRENT MEDICINAL CHEMISTRY, vol. 25, pp. 4190-4191 (ISSN 0929-8673) (Articolo su rivista)
Farra, Rossella; Musiani, Francesco; Perrone, Francesca; Čemažar, Maja; Kamenšek, Urška; Tonon, Federica; Abrami, Michela; Ručigaj, Aleš; Grassi, Mario; Pozzato, Gabriele; Bonazza, Deborah; Zanconati, Fabrizio; Forte, Giancarlo; El Boustani, Maguie; Scarabel, Lucia; Garziera, Marica; Spena, Concetta Russo; De Stefano, Lucia; Salis, Barbara; Toffoli, Giuseppe; Rizzolio, Flavio; Grassi, Gabriele; Dapas, Barbara* (2018), Polymer-mediated delivery of siRNAs to hepatocellular carcinoma: Variables affecting specificity and effectiveness in MOLECULES, vol. 23, pp. 777 (ISSN 1420-3049) (Articolo su rivista)
Scattolin, Thomas; Canovese, Luciano; Demitri, Nicola; Gambari, Roberto; Lampronti, Ilaria; Santo, Claudio; Visentin, Fabiano; Rizzolio, Flavio; Caligiuri, Isabella (2018), Synthesis of new allyl palladium complexes bearing purine-based NHC ligands with antiproliferative and proapoptotic activity on human ovarian cancer cell lines in DALTON TRANSACTIONS, vol. 47, pp. 13616-13630 (ISSN 1477-9226) (Articolo su rivista)
Dubuc, Céléna; Savard, Martin; Bovenzi, Veronica; Lessard, Andrée; Fortier, Audrey; Côté, Jérôme; Neugebauer, Witold; Rizzolio, Flavio; Geha, Sameh; Giordano, Antonio; Chemtob, Sylvain; Gobeil, Fernand (2018), Targeting intracellular B2 receptors using novel cell-penetrating antagonists to arrest growth and induce apoptosis in human triple-negative breast cancer in ONCOTARGET, vol. 9, pp. 9885-9906 (ISSN 1949-2553) (Articolo su rivista)
Tesi di dottorato interateneo
• 2017-2020
Student: Magguie El Boustani
Institution: University of Trieste, PhD in Molecular Biomedicine
Title: AP3M2, new molecular target in colorectal cancer therapy
Role: External co-supervisor
Activities: study of the functional role of some oncogenes important for colorectal cancer (cell proliferation and transformation)
Tesi di laurea/dottorato anno solare
Supervisor:
o Sota Hirano matricola 851913, 34  ciclo Dottorato in Science and Technology of Bio and Nanomaterials
o Matteo Mauceri matricola 838405, 34  ciclo Dottorato in Chimica
o Enrico Cavarzerani matricola 956588, 35  ciclo Dottorato in Science and Technology of Bio and Nanomaterials
o Gloria Saorin matricola 846278, 35  ciclo Dottorato in Science and Technology of Bio and Nanomaterials

Co-supervisor:
o Emanuela Di Gregorio matricola 956454, 34  ciclo Dottorato in Science and Technology of Bio and Nanomaterials
o Muhammad Adeel matricola 956465, 34  ciclo Dottorato in Science and Technology of Bio and Nanomaterials
o Davide Campagnol matricola 956451, 34  ciclo Dottorato in Science and Technology of Bio and Nanomaterials
o Kanwal Asif matricola 956538, 35  ciclo Dottorato in Science and Technology of Bio and Nanomaterials
o Kossivi Jean D'Arc Pacome Andele matricola 877875, 36  ciclo Dottorato in Science and Technology of Bio and Nanomaterials

Bachelor thesis:
Student: Claudia Bravin
Institution: University of Ferrara, three-year degree course in Biotechnology for health
Title: Evaluation of gene alteration due to the effect of PFAS on mouse liver organoids
Role: External co-supervisor
Activities: study of the effect of PFAS on mouse liver organoids (cell proliferation and transformation)

• 2021
Student: Martina Quagliata
Institution: University of Ferrara, three-year degree course in Biotechnology
Title: Evaluation of the antiproliferative activity of new palladium-based compounds on human cell lines
Role: External co-supervisor
Activities: Evaluation of the activity of new anticancer compounds through the study of cell viability
Partecipazione come referee di progetti di ricerca nazionali ed internazionali
TRANSCAN projects
National Research Foundation-Republic of South Africa
Partecipazione a comitati editoriali di riviste/collane scientifiche
-Editorial Board: BMC Cancer, 2021-
-Editorial Board: Diagnostic Pathology, 2021-
-Editorial Board: Chinese Clinical Oncology, 2020-
-Guest Editor: Cancer Organoids in Basic Science and Translational Medicine, Cancers, 2019
-Guest Editor: Breakthrough in drug discovery and delivery in oncology, Molecules, 2019
-Guest Editor: Biocompatible Materials in Drug Delivery System in Oncology, Pharmaceutics, 2019
-Guest Editor: Recent Advances in Nanomedicine for Cancer Treatment, Journal of Oncology, Hindawi, 2019
-Guest Editor: Peptidyl-prolyl Isomerases in Human Pathologies. Frontiers in Pharmacology, 2018
-Guest Editor: Nanomedicine in cancer. Current Medicinal Chemistry, 2016
-Frontiers in Nanoscience and Nanotechnology, OAT 2016-
-Nanomedicine & Nanoscience Research, Gavin publisher 2016-
Descrizione dell'attività di ricerca svolta nel triennio e gli obiettivi futuri
The research activity is described based on specific topics.

Cancer Targeted Therapies
The molecular mechanisms of cancer development and progression are at the base of targeted therapies. With approaches that include functional genomics, cellular biology and drug development we have prioritizing key target proteins. In collaboration with the National Cancer Institute (Prof. Vincenzo Canzonieri), we are focusing on the functional characterization of novel therapeutic opportunities for ovarian and colon cancer patients. Through the use of cancer organoids derived from the patients, microfluidic technology for ex vivo body-on-chip technology and animal models, the group aims to define novel and repurposed drugs for a patient-tailored therapeutic approach.

PIN1 targeted therapy in high grade serous ovarian cancer patients
The research project aims to identify new treatments for high-grade serous ovarian cancer patients. This is the most frequent type of ovarian cancer, which, although patients initially respond to therapy, in about 70 percent of cases it relapses within 3 years. In the last five years, we demonstrated that the peptidyl prolyl cis-trans isomerase (PPIase) NIMA-interacting 1 (PIN1) is a new potential target in HGSOC therapy. Chemical and genetic inhibition of PIN1 reduce the tumor burden of human and mouse models of ovarian cancer. We will set up a clinical protocol to use Pin1 inhibitors in combination with the current therapy for ovarian cancer patients.

Novel Therapeutics Targets in colon cancer
Through the analysis of data published by international consortia dedicated to the molecular definition of tumors (e.g. TCGA), putative oncogenes in colorectal cancer were selected. Using a biomolecular approach, three-dimensional cultures of organoids derived directly from patients and in vivo mouse models, we aim to find new drugs for the treatment of cancer patients at an advanced stage.

BioNanoMaterials for cancer therapies
Many preclinical or clinical grade drugs have problems of solubility and toxicity. Nanotechnologies can be used to improve the characteristics of the drug. Through the use of biocompatible materials (eg liposomes, albumin), we developed new nanopharmaceutical materials to use in a personalized approach for cancer patients. We are looking to define novel BNM for direct therapy or as carrier of drug. Inorganic and organic nanoparticles are deeply studied to define the cross-border interaction with living systems up to biomolecular level. The ultimate goal is to kill specifically cancer cells reducing side toxicity.

Self-Therapeutic Nanomaterials
We are developing state-of-the-art smart nanomaterials having their self-therapeutic properties. We believe that, as nanotechnology revolutionized the computer and electronics field in the past, it can change the nanomedicine field likewise. We are developing several inorganic and organic materials and characterizing them with different tools before using as medicine. A part of the project we plan to synthesized patient-specific nanomaterials and developing electrochemical, microfluidics, and optical-based transduction methods as wearable sensing devices for personalized therapy.

Drug Delivery
The research group is producing drug delivery systems (e.g. liposomes, polymeric nanoparticles, nanocrystals) to deliver both new and clinically used drugs for cancer therapy. Innovative techniques such as microfluidics and supercritical CO2 processes are utilized.
Menzioni e premi ricevuti
• 2019
Awards.
ENTITY: European Medicines Agency (EMA)
Speaker in Bioequivalence of liposomal formulations / Amsterdam / Holland
• 2018
Awards and acknowledgments.
Body: National Scientific Qualification. Title: Full Professor, Molecular Biology 05 / E2
Relazioni invitate presso convegni o workshops
- Development of delivery systems for experimental clinical biochemistry and therapy, II meeting, 2019, 19 September, Trieste, Italy (Invited speaker)
-Controlled Release Society, 2019, 21-24 July, Valencia, Spain (Poster)
-Workshop on 'BioNanoMedicine in Combating Cancer', 2019 21 May, Trondheim, Norway (Invited Speaker)
-USCAP 108th Annual Meeting, Unlocking Your Ingenuity, 2019, 16-21 March, National Harbor, Maryland.
-12th Biennial Ovarian Cancer Research Symposium presented by the Rivkin Center for Ovarian Cancer and the AACR, September 13- 15, 2018, Seattle, WA (Poster).
Seminari su invito tenuti presso altre Università, Centri di Ricerca, Aziende, etc.
11-07-2019 Presentazione attività di Ricerca, Gruppo Stevanato, Piombino Dese
21-05-2019 Presentazione dal titolo "Targeted and Nano Therapies in Ovarian Cancer:
A Pinning approach", SYMPOSIUM on BioNanoMedicine in Combating Cancer, Oslo Cancer Center, Trondheim Norwegian.
14-12-2020 Presentazione nell'ambito del Progetto Interreg ISE-EMH dal titolo "IL PORTALE DI TELEMEDICINA ISE-EMH Opportunità e sviluppi futuri", Teatro M9 Mestre
5-10-2021 Presentazione nell'ambito del progetto Interreg ISE-EMH dal titolo "THE ISE-EMH TELEMEDICINE PORTAL Opportunities and future developments" JSI, Lubiana
15-10-2021 Presentazione nell'ambito del progetto POR-FESR 2014-2020 dal titolo "La tecnologia degli organoidi per la sicurezza ambientale", Mestre
18-11-2021 Presentazione all'interno del progetto Interreg ECOMAP dal titolo "Biomolecular approaches for the blue growth ", Sealogy Ferrara.
24-06-2021 Presentazione attività di Ricerca, Gruppo Simam, Senigallia
Altre attività scientifiche
AD HOC REVIEWER of Scientific Journal

Anti-Cancer Agents in Medicinal Chemistry, ACS Medicinal Chemistry Letters, ACS Nano, Asian Pacific Journal of Tropical Medicine, Acta Biomaterialia, Advances in Colloid and Interface Science, Agence Nationale De La Recherche, Aging, ACS Sustainable Chemistry&Engineering, ACS Biomaterials Science & Engineering, Biomedicine&Pharmacotherapy, Cell Biology and Toxicology, Cancers, Computational and Structural Biotechnology Journal, Chem, Expert Review of Molecular Diagnostics, Food&Function, Frontiers in Pharmacology, Frontiers in Oncology, International Journal of Molecular Sciences, International Journal of Nanomedicine, Journal of Cellular Physiology, Journal Medicinal Chemistry, Journal of Controlled Release, JACS, Journal of Drug Delivery Science & Technology, Journal of Industrial and Engineering Chemistry, Journal of Functional materials, Molecular Pharmaceutics, Medical Science Monitor, Molecular Carcinogenesis, Molecules, Pharmaceutics, Nanomaterials, Oncotarget, Pharmaceutics, Theranostics
Altre attività didattiche
-Teacher at Master in Risanamento Sostenibile dell'Ambiente e Bonifica dei Siti Contaminati, Challenge School, Ca'Foscari University.
-Teacher at PhD in Science and Technology of Bio and Nanomaterials (Ca' Foscari University)
-Erasmus+ Program: Silvija Venyte, Biology program, from 17-06-2019 to 02-09-2019 Vytautas Magnus University, Lithuania
Incarichi accademici e attività organizzative
2019-2021 Responsabile laboratorio didattico Biotecnologie
2018-2021 Responsabile Laboratorio di ricerca Bio&Nanotechnology
Partecipazione alle attività di valutazione della ricerca
2020- Valutazione Tesi di dottorato, Matteo Roberto Fallico, Università di Catania
2020- Valutazione Tesi di dottorato, Rossella Salemi, Università di Catania
2020- Valutazione Tesi di dottorato, Dell'Aquila Milena, Università di Siena
2020- Valutazione Tesi di dottorato, Concetta D'Ambrosio, Università di Torino
Componente di Collegi didattici, Comitati e Commissioni di Dipartimento, Commissioni di Ateneo
2019-2021 Board of Teaching Council in Sustainable Chemistry and Technologies (CM7)
2018-now Board of Teaching Council in Nanobiomaterials (CM12)
2018-now Board of PhD school in Nanobiomaterials
2017-now Board of the Department Council
Attività e incarichi esterni
2016-2021 Adjunct Professor, Temple University Philadelphia, USA.