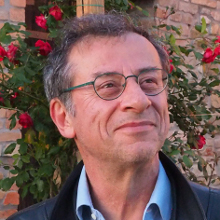 GIRARDI Michele
Position

Associate Professor
E-mail
Scientific sector (SSD)

MUSICOLOGIA E STORIA DELLA MUSICA [L-ART/07]
Website

www.unive.it/persone/michele.girardi (personal record)

Office
Dati relazione
Periodo di riferimento

02/04/2019 - 01/04/2022
Afferenza

Dipartimento di Filosofia e Beni Culturali
Ruolo

Professori Associati
Attività didattica
| A.A. | Insegnamento | Codice | Voto | Voto medio area |
| --- | --- | --- | --- | --- |
| 2018/2019 | DRAMMATURGIA MUSICALE | FM0454 | | |
| 2018/2019 | PRODUZIONE, RICEZIONE E CONSUMO DELLA MUSICA I | EM3F14 | 3.1 | 3.1 |
| 2018/2019 | STORIA DELLA MUSICA | FT0504 | 3.3 | 3.3 |
| 2019/2020 | DRAMMATURGIA MUSICALE | FM0454 | | |
| 2019/2020 | PRODUZIONE, RICEZIONE E CONSUMO DELLA MUSICA I | EM3F14 | 7.7 | 7.6 |
| 2019/2020 | STORIA DELLA MUSICA | FT0504 | 7.3 | 8.3 |
| 2020/2021 | DRAMMATURGIA MUSICALE | FM0454 | 9.1 | 8.3 |
| 2020/2021 | STORIA DELLA MUSICA | FT0504 | 8.3 | 8.3 |
| 2020/2021 | STORIA ED ECONOMIA DELLA MUSICA MODERNA E CONTEMPORANEA | EM3E28 | 8.4 | 7.8 |
Tesi
| Anno solare | Tipologia | Tesi Relatore | Tesi Correlatore |
| --- | --- | --- | --- |
| 2019 | Corso di laurea | 4 | |
| 2019 | Corso di laurea magistrale | 2 | 2 |
| 2020 | Corso di laurea | 3 | |
| 2020 | Corso di laurea magistrale | | 1 |
| 2021 | Corso di laurea | 1 | |
| 2021 | Corso di laurea magistrale | | 2 |
Ricerche sviluppate e in corso
Melodramma e usi politici della storia fra Ottocento e Novecento
Melodramma e usi politici della storia tra Ottocento e Novecento
Pubblicazioni realizzate nel triennio
Michele Girardi (2022), Giorgio Battistelli per Venezia. Michele Girardi intervista Giorgio Battistelli. , Le Baruffe, Venezia, Marsilio, pp. 111-126 (ISBN 978-88-297-1538-1) (Articolo su libro)
Michele Girardi (2022), Tra verve e poesia: atti unici del primo Novecento , Il segreto di Susanna / Suor Angelica, Verona, Arena di Verona, pp. 9-16 (Articolo su libro)
Michele Girardi (2022), Verdi e la rivoluzione: «Les Vêpres siciliennes» , Les Vêpres siciliennes, Palermo, Teatro Massimo, pp. 37-52 (ISBN 978-88-98389-94-0) (Articolo su libro)
Michele Girardi (2021), Puccini e Strauss: «Musica tedesca in Italia, musica italiana in Germania – dove sono i confini?!» , Tra ragione e pazzia. Saggi di esegesi, storiografia e drammaturgia musicale in onore di Fabrizio Della Seta in DIVERSE VOCI, Pisa, ETS, pp. 535-553 (ISBN 978-884676152-1) (Articolo su libro)
michele girardi (2021), Venezia e il fascino dell'opera , Venezia 1600. Nascite e rinascite, Venezia, Fondazione Musei civici di Venezia, vol. 1, pp. 231-236 (ISBN 978-88-32026-10-8) (Articolo su libro)
Michele Girardi (2021), «Et vive la musique qui nous tombe du ciel!». Spazio scenico e drammaturgia nell'opera dell'Ottocento , Libretto – Partitur – Szene. Studien zum Musiktheater: Festschrift für Jürgen Maehder zum 70. Geburtstag in PERSPEKTIVEN DER OPERNFORSCHUNG, Bern, Peter Lang, pp. 157-178 (ISBN 978-3-631-84499-1) (ISSN 0178-6121) (Articolo su libro)
Michele Girardi (2020), Con Puccini rien n'est simple»: drammaturgie pittoriche. In memoria di Mercedes Viale Ferrero (1924-2019) in STUDI PUCCINIANI, vol. 6, pp. 7-8 (ISSN 1724-2401) (Articolo su rivista)
Michele Girardi (2020), Editoriale in STUDI PUCCINIANI, vol. 6, pp. 5-6 (ISSN 1724-2401) (Articolo su rivista)
Michele Girardi (2020), Bibliografia degli scritti su Giacomo Puccini. Aggiornamenti 2016-2019 in STUDI PUCCINIANI, vol. 6, pp. 183-196 (ISSN 1724-2401) (Scheda bibliografica)
Michele Girardi (2020), «Che lavoro d'orchestra e de' violini» , Puccini, «Tosca» in VOX IMAGO, Milano, Skirà, pp. 12-34 (ISBN 978-88-944374-5-4) (Articolo su libro)
Michele Girardi (2020), «La bohème», un'opera materialista , La Bohème in I LIBRETTI, Torino, Teatro Regio, pp. 27-37 (ISSN 1825-3504) (Articolo su libro)
Michele Girardi (2020), Un mondo di segreti in Federica Marsico, La seduzione «queer» di Fedra, Roma, Aracne, pp. 7-13 (ISBN 8825538758) (Prefazione/Postfazione)
Michele Girardi (2020), Una passione intellettuale in Alban Berg, Suite lirica. Scritti musicali e letterari, Milano, Il Saggiatore, pp. XIII-XV (ISBN 9788842825791) (Prefazione/Postfazione)
(a cura di) Michele Girardi (2020), ALBAN BERG, Suite lirica. Scritti musicali e letterari in Alban Berg, Milano, Il Saggiatore, vol. 1, pp. 1-632 (ISBN 9788842825791) (Curatela)
(a cura di) Michele Girardi (2020), «Studi pucciniani», 6 in STUDI PUCCINIANI, Firenze, Olschki, vol. 6, pp. 1-206 (ISBN 9788822265252) (ISSN 1724-2401) (Curatela)
Michele Girardi (2019), Intervento nel dibattito Italia senza sinfonia in CLASSIC VOICE OPERA, vol. 236, pp. 4-5 (ISSN 1592-1530) (Articolo su rivista)
Michele Girardi (2019), «Cavalleria rusticana» 1890-1891. La prima disposizione scenica di casa Sonzogno nella genesi e la ricezione dell'opera in STUDI CLASSICI E ORIENTALI, vol. LXV, pp. 487-516 (ISSN 0081-6124) (Articolo su rivista)
Michele Girardi (2019), Da «La Tosca» a «Tosca», «la» prima donna «fin de siècle» , Tosca di Giacomo Puccini in TEATRO ALLA SCALA, Milano, Teatro alla Scala, pp. 91-103 (ISSN 2611-898X) (Articolo su libro)
michele Girardi (2019), Fedora, una prima donna sull'orlo di una crisi di nervi , Fedora, Catania, Teatro Bellini, pp. 61-70 (Articolo su libro)
Michele Girardi (2019), Il trittico in breve , Puccini, Il trittico, Firenze, Teatro del maggio musicale fiorentino, pp. 21-23 (Articolo su libro)
michele girardi (2019), Lear in breve , Lear di Reimann, Firenze, Teatro del maggio musicale fiorentino-94 (Articolo su libro)
Michele, Girardi (2019), Mefistofele Triumphant – From the Ideal to the Real , Oxford Handbook of Faust in Music, Oxford, New York, Oxford University Press, pp. 317-342 (ISBN 9780199935185) (Articolo su libro)
Michele Girardi (2019), «Una drammaturgia per tre 'tinte'. «Il trittico» , Puccini, Il trittico, Firenze, Teatro del maggio musicale fiorentino, pp. 113-139 (Articolo su libro)
Michele Girardi (2019), «We are come to this great stage of fools»: «Lear», ossia Shakespeare nel Novecento , Lear di Reimann, Firenze, Teatro del maggio musicale fiorentino, pp. 99-115 (Articolo su libro)
Michele Girardi (2019), Ecco Boito , «Ecco il mondo»: Arrigo Boito, il futuro nel passato e il passato nel futuro, Venezia, Marsilio, pp. 7-10 (ISBN 978-88-297-0562-7) (Prefazione/Postfazione)
(a cura di) maria ida biggi, Michele Girardi, Emanuele d'Angelo (2019), Ecco il mondo. Arrigo Boito, il futuro nel passato e il passato nel futuro in Maria Ida Biggi, Emanuele d'Angelo, Michele Girardi, Marsilio, pp. 1-408 (ISBN 9788829705627) (Curatela)
(a cura di) Michele Girardi (2019), «Ecco il mondo»: Arrigo Boito, il futuro nel passato e il passato nel futuro , Venezia, Marsilio, pp. 1-416 (ISBN 978-88-297-0562-7) (Curatela)
Tesi di laurea/dottorato anno solare
A parziale rettifica del dato importato: nel 2021 sono stato correlatore di tre tesi di laurea magistrale dell'Università degli studi di Venezia, Ca' Foscari, e di un'ulteriore tesi (la quarta) dell'Università degli studi di Pavia
Co-direttore di tesi, «La Fanciulla del West» di Giacomo Puccini: storia e edizione critica del libretto di Carlo Zangarini e Guelfo Civinini, Université de Genève-Università di Venezia, 2017-2022, tesi di dottorato di Andrea Palandri.
Partecipazione a comitati editoriali di riviste/collane scientifiche
Redattore e membro del Comitato scientifico della rivista «Studi Pucciniani», 1998-; curatore, 2016-
Curatore dell'edizione della mises en scène e membro del comitato scientifico per l'edizione dell'epistolario e delle musiche, nell'Edizione nazionale delle opere di Giacomo Puccini, 2007-
Membro del Referee's Board della Società ligure di storia patria, 2013-
Membro del Comitato editoriale della Collana di studi Impromptus. Studi di filosofia della musica e discipline affini – Studies in the Philosophy of Music and Related Disciplines per l'editore EUT, Edizioni Università di Trieste (2016-)
Membro del Comitato scientifico della collana «Venetian Music Studies», pubblicata dall'editore Brepols, 2017-
Membro del Comitato promotore e del Comitato nazionale per le celebrazioni del centenario della morte di Arrigo Boito, 2018-.
Descrizione dell'attività di ricerca svolta nel triennio e gli obiettivi futuri
Ho lavorato e sto lavorando su diversi fronti, avendo in corso una ricerca sull'intertestualità nel teatro musicale, e la revisione e l'aggiornamento della mia ricerca su Giacomo Puccini. Sto preparando due monografia: una nuova, e una aggiornata e ampliata, per due case editrici di riferimento.
Altri prodotti scientifici
Ho organizzato i seguenti convegni:
Due veneti nel mondo: Faccio Boito, un «Amleto» di più; giornata internazionale di studi (con Mario Tedeschi Turco); Verona, 11 maggio 2019
Le donne del «Don Carlo», tavola rotonda (con Vincenzina Ottomano), Venezia, Fondazione Levi, 23 novembre 2019
Giacomo Puccini. Il trittico 1919-2019. Fonti, drammaturgia, messa in scena, convegno internazionale di studi; centro studi GIACOMO PUCCINI-Fondazione Giacomo Puccini, Lucca, 4-6 luglio 2021
Come si monta un'opera, ciclo di conferenze-dibattito con artisti e uomini di cultura; Venezia, 14 settembre-18 ottobre 2021
Giovanni Morelli didatta, tavola rotonda; Venezia, Ca' Foscari-Fondazione Levi, 2 ottobre 2021.
Menzioni e premi ricevuti
XLIX Premio Puccini, Comune di Viareggio. Assegnato il 23 luglio 2021.
Relazioni invitate presso convegni o workshops
Ho presentato relazioni ai seguenti convegni:
Giacomo Puccini. Il trittico 1919-2019; Lucca, 4-6 luglio 2019
Tosca, primadonna all'opera, convegno internazionale di studi; Milano, Teatro alla Scala, 16 novembre 2019
Storia, regia, creazione: tre sguardi su Giacomo Puccini, Roma, Circolo delle Quinte S2 E4, 25 febbraio 2021
La seduzione queer di Fedra. Contributo su genere e sessualità nel teatro musicale del secondo Novecento, dibattito in rete; CESTUDIR, I Caffè pedagogici, 19 aprile 2021
«Non avendo libretto come faccio della musica?» Il libretto di Puccini dalla genesi alla realizzazione scenica, convegno internazionale di studi; Università di Ginevra, 6-8 maggio 2021
Letteratura in scena. «I promessi sposi» dal romanzo all'opera, convegno internazionale di studi; Lecco, FAI-RES musica; 19 giugno 2021
Ombre romite, taciti orrori, convegno di studi; Venezia, Fondazione Levi-Conservatorio di musica Benedetto Marcello, in collaborazione con il Teatro La Fenice; 15-17 ottobre 2021
Caruso 100, convegno internazionale di studi; Napoli; 21-23 ottobre. 2021
Ecco il mondo; Milano, Teatro alla Scala, 9 dicembre 2021
«I lombardi alla prima crociata»: incontro in occasione della prima assoluta dell'edizione critica; Venezia, Teatro La Fenice; 25 marzo 2022.
Altre attività didattiche
Il sistema produttivo del Teatro La Fenice; lezione nel Master di I livello MaDAMM, Istituto Boccherini-Università di Pisa, Lucca, 26 marzo 2019
Docente nel Master di regia d'opera, Verona, Accademia per l'Opera. Polo nazionale artistico di alta specializzazione, 2020-
Masterclass: Tosca, Madama Butterfly, La rondine, Turandot, conferenze-lezioni, Puccini Academy; Torre del Lago, Fondazione Puccini Festival, 19-20 aprile 2022
Docente nei corsi di formazione e perfezionamento per cantanti lirici e maestri collaboratori della Puccini Academy; Fondazione Festival pucciniano, Torre del lago, 3-4 aprile 2022.
Componente di Collegi didattici, Comitati e Commissioni di Dipartimento, Commissioni di Ateneo
Membro della commissione terza missione, Università di Venezia, Dip. di Filosofia e beni culturali.