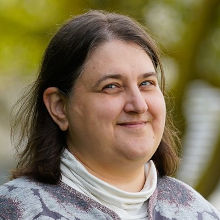 Dati relazione
Periodo di riferimento

15/01/2018 - 14/01/2020
Afferenza

Dipartimento di Scienze Ambientali, Informatica e Statistica
Ruolo

Professori associati
Attività didattica
| A.A. | Insegnamento | Codice | Voto | Voto medio area |
| --- | --- | --- | --- | --- |
| 2018/2019 | GLOBAL CHANGE BIOLOGY | CM0441 | 2.9 | 3.2 |
Tesi
| Anno solare | Tipologia | Tesi Relatore | Tesi Correlatore |
| --- | --- | --- | --- |
Pubblicazioni realizzate nel triennio
Mattalia G.; Soukand R.; Corvo P.; Pieroni A. (2020), Blended divergences: local food and medicinal plant uses among Arbëreshë, Occitans, and autochthonous Calabrians living in Calabria, Southern Italy in PLANT BIOSYSTEMS, vol. 154, pp. 615-626 (ISSN 1724-5575) (Articolo su rivista)
Kalle R.; Soukand R.; Pieroni A. (2020), Devil is in the details: Use of wild food plants in historical Võromaa and Setomaa, present-day Estonia in FOODS, vol. 9, pp. 570 (ISSN 2304-8158) (Articolo su rivista)
Valeria Kolosova; Olga Belichenko; Alexandra Rodionova; Denis Melnikov; Renata Sõukand (2020), Foraging in Boreal Forest: Wild Food Plants of the Republic of Karelia, NW Russia in FOODS, vol. 9, pp. 1015 (ISSN 2304-8158) (Articolo su rivista)
Kalle R.; Belichenko O.; Kuznetsova N.; Kolosova V.; Prakofjewa J.; Stryamets N.; Mattalia G.; Sarka P.; Simanova A.; Pruse B.; Mezaka I.; Soukand R. (2020), Gaining momentum: Popularization of Epilobium angustifolium as food and recreational tea on the Eastern edge of Europe in APPETITE, vol. 150, pp. 104638 (ISSN 0195-6663) (Articolo su rivista)
Soukand R.; Mattalia G.; Kolosova V.; Stryamets N.; Prakofjewa J.; Belichenko O.; Kuznetsova N.; Minuzzi S.; Keedus L.; Pruse B.; Simanova A.; Ippolitova A.; Kalle R. (2020), Inventing a herbal tradition: The complex roots of the current popularity of Epilobium angustifolium in Eastern Europe in JOURNAL OF ETHNOPHARMACOLOGY, vol. 247, pp. 112254 (ISSN 0378-8741) (Articolo su rivista)
Giulia Mattalia; Nataliya Stryamets; Renata Soukand; Andrea Pieroni (2020), Knowledge transmission patterns at the border: ethnobotany of Hutsuls living in the Carpathian Mountains of Bukovina (SW Ukraine and NE Romania) in JOURNAL OF ETHNOBIOLOGY AND ETHNOMEDICINE, vol. 16 (ISSN 1746-4269) (Articolo su rivista)
PrakofyevaY.; Kalle R.; Belichenko O.; Kolosova V.; Soukand R. (2020), Re-written narrative: transformation of the image of Ivan-chaj in Eastern Europe in HELIYON, vol. 6, pp. e04632 (ISSN 2405-8440) (Articolo su rivista)
Soukand R.; Stryamets N.; Fontefrancesco M.F.; Pieroni A. (2020), The importance of tolerating interstices: Babushka markets in Ukraine and Eastern Europe and their role in maintaining local food knowledge and diversity in HELIYON, vol. 6, pp. e03222 (ISSN 2405-8440) (Articolo su rivista)
Giulia Mattalia; Renata soukand; Paolo Corvo; Andrea Pieroni (2020), Wild Food Thistle Gathering and Pastoralism: An Inextricable Link in the Biocultural Landscape of Barbagia, Central Sardinia (Italy) in SUSTAINABILITY, vol. 12 (ISSN 2071-1050) (Articolo su rivista)
Pieroni A.; Soukand R. (2019), Ethnic and religious affiliations affect traditional wild plant foraging in Central Azerbaijan in GENETIC RESOURCES AND CROP EVOLUTION, vol. 66, pp. 1495-1513 (ISSN 0925-9864) (Articolo su rivista)
Fontefrancesco M.; Barstow C.; Grazioli F.; Lyons H.; Mattalia G.; Marino M.; McKay A.E.; Soukand R.; Corvo P.; Pieroni A. (2019), Keeping or changing? Two different cultural adaptation strategies in the domestic use of home country food plant and herbal ingredients among Albanian and Moroccan migrants in Northwestern Italy in JOURNAL OF ETHNOBIOLOGY AND ETHNOMEDICINE, vol. 15, pp. 11 (ISSN 1746-4269) (Articolo su rivista)
Soukand R.; Pieroni A. (2019), Resilience in the mountains: biocultural refugia of wild food in the Greater Caucasus Range, Azerbaijan in BIODIVERSITY AND CONSERVATION, vol. 28, pp. 3529-3545 (ISSN 0960-3115) (Articolo su rivista)
Mattalia G.; Soukand R.; Corvo P.; Pieroni A. (2019), Scholarly vs. Traditional Knowledge: Effects of Sacred Natural Sites on Ethnobotanical Practices in Tuscany, Central Italy in HUMAN ECOLOGY, vol. 47, pp. 653-667 (ISSN 0300-7839) (Articolo su rivista)
Pieroni A.; Zahir H.; Amin H.I.M.; Soukand R. (2019), Where tulips and crocuses are popular food snacks: Kurdish traditional foraging reveals traces of mobile pastoralism in Southern Iraqi Kurdistan in JOURNAL OF ETHNOBIOLOGY AND ETHNOMEDICINE, vol. 15, pp. 1-14 (ISSN 1746-4269) (Articolo su rivista)
Pieroni, Andrea*; Sõukand, Renata; Amin, Hawraz Ibrahim M.; Zahir, Hawre; Kukk, Toomas (2018), Celebrating Multi-Religious Co-Existence in Central Kurdistan: the Bio-Culturally Diverse Traditional Gathering of Wild Vegetables among Yazidis, Assyrians, and Muslim Kurds in HUMAN ECOLOGY, vol. 46, pp. 217-227 (ISSN 0300-7839) (Articolo su rivista)
Pieroni, Andrea; Soukand, Renata (2018), Forest as Stronghold of Local Ecological Practice: Currently Used Wild Food Plants in Polesia, Northern Ukraine in ECONOMIC BOTANY, vol. 72, pp. 311-331 (ISSN 0013-0001) (Articolo su rivista)
Tesi di dottorato interateneo
Consulente per la studente di dottorato
07/2017 - 10/2020: Baiba Pruse, Latvian University (supervisore: Maris Klavins). Ha fatto anche il tirocinio di Erasmus a DAIS 02-07/2020 sotto il mio supervisione.
Tesi di laurea/dottorato anno solare
Tesi di dottorato:
Ciclo 34 (2018-2021): 2 (Giulia Mattalia, Olga Belichenko)
Ciclo 35 (2019-2022: 1 (Yulia Prakofyewa)

Tesi di laurea magistrale:
09/2019 - 07/2020: 2 (Jimlea Nadezda Mendoza e Sumaia Silddique)-Relatore

Tirocini:
09/2019-02/2020: 2 x 325 ore (Jimlea Nadezda Mendoza e Sumaia Silddique)
Partecipazione come referee di progetti di ricerca nazionali ed internazionali
09/2020 Membro del panel di esperti per l'Agenzia per i fondi strutturali della Fondazione Archimede, Estonia
01/2018 Membro del comitato di revisione internazionale del programma comune di ricerca HERA "Spazi pubblici: cultura e integrazione in Europa".
Partecipazione a comitati editoriali di riviste/collane scientifiche
Comitato editoriale:
Journal of Ethnobiology and Ethnomedicine
Journal of Ethnobiology

Subject editor: Nordic Journal of Botany

Co-Editor in Chief: Ethnobotany of Europe. Springer
Descrizione dell'attività di ricerca svolta nel triennio e gli obiettivi futuri
Ricerca di etnobotanica nel confine di EU, programmata da progetto in qui sono il PI (2017-2022 ERC Starting Grant "Etnobotanica delle generazioni divise nel contesto della centralizzazione". Progetto n: DiGe-714874, 1.496. 675 EUR), ma anche fuori quali regioni geografici.

I lavori sul campo:
2020 Lavoro etnobotanico sul campo a Setomaa (4 settimane), Slovacchia (1 settimana)
2019 Lavoro etnobotanico sul campo a Setomaa (4 settimane), Belarus e Lituania (2 settimane), Iraq (1 settimana), Armenia (1 settimana)
2018 Lavoro etnobotanico sul campo a Setumaa, in Estonia (6 settimane), Azerbaijan (3 settimane), Georgia (1 settimana) e Finlandia (1 settimana)

Objettivi futuri(2021-2023):
partecipare alla proposta di Grean Deal come responsabile dell'attività
sviluppare il Biocultural Diversity Lab e approfondire la ricerca sull'etnobotanica
finire con successo il progetto DiGe
presentare una proposta di progetto HEurope come PI
presentare la proposta del consolidatore ERC
sviluppare la direzione della ricerca di narrativa ambientale per supportare il corso di educazione ambientale
Menzioni e premi ricevuti
Incentivo per il progetto sorpa soglia: 2019 – FARE Ricerca in Italia: Framework per l'attrazione ed il rafforzamento delle eccellenze per la Ricerca in Italia. Finanziamento richiesto: 239 467 (valutazione 21 su 25)
Relazioni invitate presso convegni o workshops
Relazione invitata:
16/12/2019 workshop "Languages, changes and adaptations: ethnographies and ecolinguistics of the northern European coastal communities in the light of the 21st century"
Seminari su invito tenuti presso altre Università, Centri di Ricerca, Aziende, etc.
Uno dei due relatore principale all'UNISG Research Day 03/2019 (https://www.unisg.it/eventi/2019-research-day/)
Altre attività scientifiche
https://publons.com/researcher/378566/renata-soukand
50 revisioni durante 2018-2019, 54 revisioni durante 2020
Altre attività didattiche
Oltre il corso LM "Global change biology" inserito automaticalmente
2018/2019:
(Dott) Ethnobotany (30 ore, 3 studenti).
2019/2020:
(LM) Biodiversity and global change (30 ore frontali, 25 studenti). Soddisfazione complessivo 8.4 su 10 (media di programma: 8.15, media di dipartimento: 7.71).
(Dott) Ethnobotany (30 ore frontali, 2 studenti).

In corso: supervisione attivo di tesi di LM/tirocinio per 8 studenti LM, 2 di loro hanno iniziato nel autunno 2019).

2020/2021:
Biodiversity and Global Change (30 ore frontali, 36 studenti registrati sul Moodle)
Biocultural Diversity (30 ore frontali, 37 studenti registrati sul Moodle)
Partecipazione alle attività di valutazione della ricerca
2019-2020 Membro del comitato consultivo scientifico per le discipline umanistiche del Consiglio della Ricerca estone
Componente di Collegi didattici, Comitati e Commissioni di Dipartimento, Commissioni di Ateneo
da 04/2018 – Collegio dottorato Scienze Ambientali
Attività e incarichi esterni
06/2018 - Corso "Fermentazione" nel L'Università degli studi di Scienze Gastronomiche di Pollenzo, Italia (9 ore in frontali)
07/2019 Commissione di valutazione del dottorato presso l'Università di Oslo, Norvegia