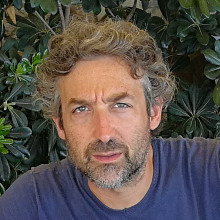 Dati relazione
Periodo di riferimento

01/09/2017 - 31/08/2020
Afferenza

Dipartimento di Economia
Ruolo

professori associati
Attività didattica
| A.A. | Insegnamento | Codice | Voto | Voto medio area |
| --- | --- | --- | --- | --- |
| 2017/2018 | MACROECONOMICS | ET2017 | 3.4 | 3.1 |
| 2017/2018 | MACROECONOMICS | ET2029 | 3.1 | 3.1 |
| 2017/2018 | MACROECONOMICS AND INSTITUTIONS | LT9011 | 3.5 | 3.2 |
| 2018/2019 | ECONOMIA POLITICA | LT0210 | 3.1 | 3.2 |
| 2018/2019 | MACROECONOMICS | ET2017 | 3.2 | 3.1 |
| 2018/2019 | MACROECONOMICS AND INSTITUTIONS | LT9011 | 3.2 | 3.2 |
Tesi
| Anno solare | Tipologia | Tesi Relatore | Tesi Correlatore |
| --- | --- | --- | --- |
| 2018 | Corso di laurea | 15 | |
| 2019 | Corso di laurea | 26 | |
| 2019 | Corso di laurea magistrale | 1 | 3 |
Finanziamenti
Design of fiscal and capital market union in an agent-based multi- country model
The role of public information in markets: an experimental and computational approach
Ricerche sviluppate e in corso
Analisi degli effetti macroeconomici della transizione digitale
Effetti della disaggregazione di modelli ad agente rappresentativo sull'equilibrio e sulle dinamiche economiche
Studio dell'impatto macroeconomico di misure di politiche per la mitigazione degli effetti de cambiamento climatico
Studio di politiche fiscali per la stabilizzazione del ciclo economico con modelli ad agenti
Sviluppo di modelli macroeconomici di economie aperte con tecniche agent-based
Pubblicazioni realizzate nel triennio
Petrović, Marko; Ozel, Bulent; Teglio, Andrea; Raberto, Marco; Cincotti, Silvano (2020), Should I stay or should I go? An agent-based setup for a trading and monetary union in JOURNAL OF ECONOMIC DYNAMICS & CONTROL, vol. 113, pp. 1-37 (ISSN 0165-1889) (Articolo su rivista)
Mazzocchetti, Andrea; Lauretta, Eliana; Raberto, Marco; Teglio, Andrea; Cincotti, Silvano (2020), Systemic financial risk indicators and securitised assets: an agent-based framework in JOURNAL OF ECONOMIC INTERACTION AND COORDINATION, vol. 15, pp. 9-47 (ISSN 1860-711X) (Articolo su rivista)
Bertani, Filippo; Ponta, Linda; Raberto, Marco; Teglio, Andrea; Cincotti, Silvano (2020), The complexity of the intangible digital economy: an agent-based model in JOURNAL OF BUSINESS RESEARCH, vol. N/D (ISSN 0148-2963) (Articolo su rivista)
Filippo Bertani; Marco Raberto; Andrea Teglio (2020), The productivity and unemployment effects of the digital transformation: an empirical and modelling assessment in REVIEW OF EVOLUTIONARY POLITICAL ECONOMY, vol. 1, pp. 329-355 (ISSN 2662-6136) (Articolo su rivista)
Teglio, Andrea; Mazzocchetti, Andrea; Ponta, Linda; Raberto, Marco; Cincotti, Silvano (2019), Budgetary rigour with stimulus in lean times: Policy advices from an agent-based model in JOURNAL OF ECONOMIC BEHAVIOR & ORGANIZATION, vol. 157, pp. 59-83 (ISSN 0167-2681) (Articolo su rivista)
Raberto, Marco; Ozel, Bulent; Ponta, Linda; Teglio, Andrea; Cincotti, Silvano (2019), From financial instability to green finance: the role of banking and credit market regulation in the Eurace model in JOURNAL OF EVOLUTIONARY ECONOMICS, vol. 29, pp. 429-465 (ISSN 0936-9937) (Articolo su rivista)
Ozel, Bulent; Nathanael, Reynold Christian; Raberto, Marco; Teglio, Andrea; Cincotti, Silvano (2019), Macroeconomic implications of mortgage loan requirements: an agent-based approach in JOURNAL OF ECONOMIC INTERACTION AND COORDINATION, vol. 14, pp. 7-46 (ISSN 1860-711X) (Articolo su rivista)
Lippe, Melvin; Bithell, Mike; Gotts, Nick; Natalini, Davide; Barbrook-Johnson, Peter; Giupponi, Carlo; Hallier, Mareen; Hofstede, Gert Jan; Le Page, Christophe; Matthews, Robin B.; Schlüter, Maja; Smith, Peter; Teglio, Andrea; Thellmann, Kevin (2019), Using agent-based modelling to simulate social-ecological systems across scales in GEOINFORMATICA, vol. N/D (ISSN 1384-6175) (Articolo su rivista)
Ponta, Linda*; Raberto, Marco; Teglio, Andrea; Cincotti, Silvano (2018), An Agent-based Stock-flow Consistent Model of the Sustainable Transition in the Energy Sector in ECOLOGICAL ECONOMICS, vol. 145, pp. 274-300 (ISSN 0921-8009) (Articolo su rivista)
Mazzocchetti, Andrea; Raberto, Marco; Teglio, Andrea; Cincotti, Silvano (2018), Securitization and business cycle: an agent-based perspective in INDUSTRIAL AND CORPORATE CHANGE, vol. 27, pp. 1091-1121 (ISSN 0960-6491) (Articolo su rivista)
Raberto, M; Nathanael, RC; Ozel, B; Teglio, A; Cincotti, S (2017), Credit-driven business cycles in an agent-based macro model in Raberto, M, Theory and Method of Evolutionary Political Economy in ROUTLEDGE ADVANCES IN HETERODOX ECONOMICS, 2 PARK SQ, MILTON PARK, ABINGDON OX14 4RN, OXFORD, ENGLAND, ROUTLEDGE, pp. 182-192 (ISBN 978-1-138-20409-6) (ISSN 2155-1995) (Articolo su libro)
Barreda Tarrazona, Iván J.; Grimalda, Gianluca; Morone, Andrea; Nuzzo, Simone; Teglio, Andrea (2017), Centralizing information improves market efficiency more than increasing information: Results from experimental asset markets in KIEL WORKING PAPER, vol. 2072 (ISSN 1862-1155) (Working paper)
Marko Petrovic; Bulent Ozel; Andrea Teglio; Marco Raberto; Silvano Cincotti (2017), Eurace Open: An agent-based multi-country model in Working Papers, Economics Department, Universitat Jaume I, Castellón (Spain), Castellón (Spain), Economics Department, Universitat Jaume I, Working Papers, vol. 2017/09 (Working paper)
Tesi di laurea/dottorato anno solare
Relatore tesi dottorato 2017: 1 (Universitat Juame I)
Relatore tesi dottorato 2019: 1 (Universitat Juame I)
Partecipazione a comitati editoriali di riviste/collane scientifiche
Associate editor, "Review of Evolutionary Political Economy" (REPE), Springer.
Associate editor, "International Journal of Microsimulation" (IJM), IMA.
Editor of "Managing Market Complexity", Springer, ISBN 978-3-642-31300-4.
Descrizione dell'attività di ricerca svolta nel triennio e gli obiettivi futuri
La mia attività di ricerca ha avuto come oggetto lo studio dell'impatto macroeconomico di diversi fenomeni di notevole rilevanza degli ultimi anni, quali: le crisi finanziarie (o del credito), la transizione digitale, i cambiamenti climatici. Lo strumento prevalentemente usato è stato quello dei modelli ad agenti interagenti, che consentono una modellizzazione più precisa delle dinamiche di aggregazione fra agenti economici. Mi sono anche dedicato all'analisi metodologica degli effetti del processo di "disaggregazione" di modelli macro ad agente rappresentativo, con l'obiettivo di valutare quali sono le principali differenze, e implicazioni, di questo processo sugli equilibri e, più ingenerale, sulle dinamiche economiche.
Gli obiettivi per il futuro sono quelli di perfezionare la metodologia, e di confrontarla in modo più strutturale con altri tipi di modelli nella letteratura, per comprendere in quali circostanze può essere preferibile l'utilizzo la metodologia ad agenti, e perché.
Relazioni invitate presso convegni o workshops
2018 EAEPE Conference,30th Annual EAEPE Conference of the European Association for Evolutionary Political Economy, Nice - France (relazioni invitata).
Seminari su invito tenuti presso altre Università, Centri di Ricerca, Aziende, etc.
2020 SSSA,Seminario alla Scuola Superiore Sant'Anna, Pisa - Italy.
Altre attività scientifiche
2017 – ICCS Conference, International Conference on Computational Science.
2017 Conference on Complex Systems, Annual Conference organized by the Complex
System Society (CSS).
2017 EAEPE Conference, Conference of the European Association for Evolutionary Political
Economy.
2012 – 2017 Artificial Economics, International Conference on complexity in economics.
Incarichi accademici e attività organizzative
Delegato all'orientamento del dipartimento di economia, dal 2020.

Membro del "Brain Gain Program" Search Committee di Ca'Foscari, nel 2019 – 2020.

Membro della commissione per la valutazione di studenti stranieri per l'accesso al corso di laurea in "Economics and Business", dal 2019.

Membro del comitato organizzativo dei "Ca' Foscari Economic Seminars", dal 2018.
Attività e incarichi esterni
Membro e segretario della commissioni per gli "Esami di Stato per Dottore Commercialista", a Ca' Foscari nel 2019 – 2020.