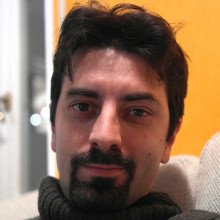 Dati relazione
Periodo di riferimento

01/06/2019 - 31/05/2021
Afferenza

Dipartimento di Scienze Ambientali, Informatica e Statistica
Ruolo

Professori Associati
Attività didattica
| A.A. | Insegnamento | Codice | Voto | Voto medio area |
| --- | --- | --- | --- | --- |
| 2019/2020 | INTRODUZIONE ALLA PROGRAMMAZIONE | NS001A | 7.5 | 7.9 |
| 2019/2020 | LAB OF COMPUTER SECURITY | ET7016 | 6.9 | 7.6 |
| 2019/2020 | LAB OF SOFTWARE PROJECT DEVELOPMENT | ET7018 | 6.8 | 7.6 |
Tesi
| Anno solare | Tipologia | Tesi Relatore | Tesi Correlatore |
| --- | --- | --- | --- |
| 2020 | Corso di laurea | 1 | |
Finanziamenti
Internet Citizen Science: ICS
IoF: Internet on FIRE
Ricerche sviluppate e in corso
Analysis of Backhaul networks based on Quantum Key Distribution
Analysis of the performance of Digital Contact Tracing applications
Design and study of Robust 5G Network topologies
Performance and Design of Wireless Mesh Networks
Pubblicazioni realizzate nel triennio
Maccari, Leonardo; Cagno, Valeria (2021), Do we need a contact tracing app? in COMPUTER COMMUNICATIONS, vol. 166, pp. 9-18 (ISSN 0140-3664) (Articolo su rivista)
Gemmi G.; Cigno R.L.; Maccari L. (2021), WIP: Analysis of feasible topologies for backhaul mesh networks , Proceedings - 2021 IEEE 22nd International Symposium on a World of Wireless, Mobile and Multimedia Networks, WoWMoM 2021, Institute of Electrical and Electronics Engineers Inc., pp. 240-243, Convegno: 22nd IEEE International Symposium on a World of Wireless, Mobile and Multimedia Networks, WoWMoM 2021, 2021 (ISBN 978-1-6654-2263-5) (Articolo in Atti di convegno)
Maccari L.; Ghiro L.; Guerrieri A.; Montresor A.; Cigno R.L. (2020), Exact Distributed Load Centrality Computation: Algorithms, Convergence, and Applications to Distance Vector Routing in IEEE TRANSACTIONS ON PARALLEL AND DISTRIBUTED SYSTEMS, vol. 31, pp. 1693-1706 (ISSN 1045-9219) (Articolo su rivista)
Baldesi L.; Maccari L.; Lo Cigno R. (2020), Infective flooding in low-duty-cycle networks, properties and bounds in COMPUTER COMMUNICATIONS, vol. 151, pp. 216-226 (ISSN 0140-3664) (Articolo su rivista)
Milani M.; Nesler M.; Segata M.; Baldesi L.; Maccari L.; Cigno R.L. (2020), Improving BGP convergence with Fed4FIRE+ experiments , IEEE INFOCOM 2020 - IEEE Conference on Computer Communications Workshops, INFOCOM WKSHPS 2020, 345 E 47TH ST, NEW YORK, NY 10017 USA, Institute of Electrical and Electronics Engineers Inc., pp. 816-823, Convegno: 2020 IEEE INFOCOM Conference on Computer Communications Workshops, INFOCOM WKSHPS 2020, 2020 (ISBN 978-1-7281-8695-5) (Articolo in Atti di convegno)
Gemmi G.; Maccari L. (2020), NPART+: Improving Wireless Network Topology Generators with Data from the Real World , 2020 Mediterranean Communication and Computer Networking Conference, MedComNet 2020, Institute of Electrical and Electronics Engineers Inc., pp. 1-8, Convegno: 2020 Mediterranean Communication and Computer Networking Conference, MedComNet 2020, 2020 (ISBN 978-1-7281-6248-5) (Articolo in Atti di convegno)
Gemmi, G; Cigno, RL; Maccari, L (2020), Poster: TrueNets, a Topology Generator for Realistic Network Analysis , IFIP Networking, 345 E 47TH ST, NEW YORK, NY 10017 USA, IEEE, pp. 646-648, Convegno: IFIP Networking (Poster in Atti di convegno)
Maccari L.; Gemmi G.; Lo Cigno R.; Karaliopoulos M.; Navarro L. (2019), Towards scalable Community Networks topologies in AD HOC NETWORKS, vol. 94, pp. 101949 (ISSN 1570-8705) (Articolo su rivista)
Baldesi L.; Maccari L.; Lo Cigno R. (2019), Keep it fresh: Reducing the age of information in V2X networks , TOP-Cars '19: Proceedings of the 1st ACM MobiHoc Workshop on Technologies, mOdels, and Protocols for Cooperative Connected Cars, Association for Computing Machinery, pp. 7-12, Convegno: 1st ACM MobiHoc Workshop on Technologies, mOdels, and Protocols for Cooperative Connected Cars, TOP-Cars 2019, 2019 (ISBN 9781450368070) (Articolo in Atti di convegno)
Tesi di laurea/dottorato anno solare
Sono stato advisor insieme ad un altro professore di ruolo a Trento di Lorenzo Ghiro, un dottorando dell'università di Trento che ha conseguito il titolo il 19/5/2021.

Nel 2/11/20 sono stato commissario di una commissione di dottorato nell'università di Firenze.
Partecipazione a comitati editoriali di riviste/collane scientifiche
Dall'8/2020 sono nell'editorial board della rivista Wiley: "Transactions on Emerging Telecommunications Technologies" (presente in JCR dal 2012, attualmente IF 2.638) e dal 2019 del Wiley "Security and Privacy" journal (Fondato nel 2018, ancora non presente in JCR).
Descrizione dell'attività di ricerca svolta nel triennio e gli obiettivi futuri
L'attività di ricerca si è concentrata nel tema delle reti wireless distribuite, con particolare attenzione a reti wireless mesh, reti di backhaul 5G, e comunicazioni locali per contact tracing. Queste due ultime attività sono iniziate nel periodo di riferimento, sono tuttora in corso e prevedono lo studio di reti a partire da topologie realistiche, ricavate da open data. Sono state portate avanti con il supporto dei due progetti finanziati e attualmente coinvolgono il progetto di ricerca del mio dottorando Gabriele Gemmi.
Sono quindi attività da considerarsi in evoluzione, con pubblicazioni attualmente under review su due transactions IEEE top di settore: IEEE Transactions on Network and Service Managment e IEEE Transactions on Network Science and Engineering (in seconda revisione).
Il tema è in forte sviluppo nella comunità di ricerca sulle reti e sarà al centro degli sviluppi futuri delle reti mobili.

Il tema del contact tracing è ovviamente molto attuale ed ha portato ad un'altra recente pubblicazione in un'altra Transaction IEEE di grande rilievo:

https://ieeexplore.ieee.org/document/9712862

Entrambi questi temi sono da considerarsi quindi di forte attualità e saranno oggetto di ulteriori ricerche nei prossimi anni.

In fine, da una collaborazione con Peppino Fazio (Ric RTD-B Inf-inf/03 del DSMN) e' iniziata una nuova linea di ricerca, attualmente agli inizi, riguardante il Quantum Key distribution, che ha prodotto una proposta di progetto europeo presentata da DSMN e DAIS.
Altri prodotti scientifici
Sono stato responsabile di unita' in due proposte di progetti Europei cooperativi presentati da un consorzio contenente UniVe, non finanziati ma che hanno ricevuto un voto oltre la soglia di accettazione. Per uno dei due ho ricevuto un incentivo dall'ateneo come riconoscimento. Una terza proposta anch'essa non finanziata ma con voti positivi e' stata presentata da DSMN e DAIS su un'attivita' congiunta.
Relazioni invitate presso convegni o workshops
Cavalese 2020: presentazione all' Italian Networking Workshop (non peer-reviewed)
Seminari su invito tenuti presso altre Università, Centri di Ricerca, Aziende, etc.
Montreal 2019: presentazione al meeting internazionale IETF
Altre attività scientifiche
TPC in conferenze top nel settore del networking: IEEE INFOCOM (2019, 2020), IFIP Networking (2020-2022); IEEE Globecom (2019-2022).
Revisore per top conferences e journals: IEEE INFOCOM, IFIP Networking, IEEE Globecom, IEE ICC; IEEE Transactions on Networking, Elsevier Ad Hoc Networks, Computer Communications.
Nel giugno 2019 ho partecipato al TPC meeting della conferenza IEEE Infocom, top di settore.
Altre attività didattiche
Nell'anno 19/20 ho tenuto i tre corsi riportati, nota che il mio incarico è iniziato nel 6/19, quindi ho partecipato solo ad uno stralcio dell'AA.

Nell'AA 20/21, ho tenuto i seguenti insegnamenti, per un totale di 138 ore di didattica frontale:

INFORMATICA Laurea [CT3]
1) SIMULAZIONE E PERFORMANCE DELLE RETI (6 cfu) [CT0421]

INGEGNERIA FISICA Laurea [CT8]
2) INFORMATICA I - MOD. 1 (6 su 12 cfu) [CT0569]

DIGITAL MANAGEMENT Laurea [ET7]
3) INTRODUCTION TO CODING AND DATA MANAGEMENT-1 (6 su 12 cfu) [ET7006]
4) LAB OF COMPUTER SECURITY (6 cfu) [ET7016]

L'anno 20/21 non è completo alla fine del periodo di valutazione, quindi i corsi non vengono automaticamente inseriti nel modulo.
Componente di Collegi didattici, Comitati e Commissioni di Dipartimento, Commissioni di Ateneo
Sono membro del collegio didattico del corso di laurea triennale in digital management e del relativo comitato AQ dal 10/20.
Sono membro del collegio di dottorato in informatica dal 1/10/20.
Nel 2019/20 sono stato responsabile del Minor in computer science.
Nel periodo 10/3/21-10/22 sono stato il coordinatore del Data Monitoring Board di ateneo.