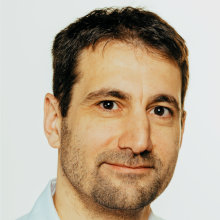 Dati relazione
Periodo di riferimento

15/10/2019 - 14/10/2021
Afferenza

Dipartimento di Economia
Ruolo

Professori Associati
Attività didattica
| A.A. | Insegnamento | Codice | Voto | Voto medio area |
| --- | --- | --- | --- | --- |
| 2019/2020 | MICROECONOMICS 2 | EM2Q03 | 8.5 | 7.6 |
| 2019/2020 | WELFARE STATE, REGULATIONS AND ENVIRONMENT | EM1302 | 6.9 | 7.6 |
| 2020/2021 | MICROECONOMICS | ET2020 | 7.4 | 7.8 |
| 2020/2021 | MICROECONOMICS 2 | EM2Q03 | 7.3 | 7.8 |
| 2020/2021 | WELFARE STATE, REGULATIONS AND ENVIRONMENT | EM1302 | 6.5 | 7.8 |
Tesi
| Anno solare | Tipologia | Tesi Relatore | Tesi Correlatore |
| --- | --- | --- | --- |
Finanziamenti
"Information Design in Contests"
Ricerche sviluppate e in corso
Analisi teorica e sperimentale di meccanismi di asta (Auction theory and experiments)
Information design and contests
Political Campaign contributions
Studio mercato delle informazioni (Markets for persuasive information)
Pubblicazioni realizzate nel triennio
Ettinger, David; Michelucci, Fabio (2019), Manipulating Information Revelation with Reserve Prices in ANNALS OF ECONOMICS AND STATISTICS, vol. 133, pp. 87-92 (ISSN 2115-4430) (Articolo su rivista)
Tesi di dottorato interateneo
Ho supervisionato tesi di dottorato per CERGE-EI, Praga. Vedasi altre informazioni.
Tesi di laurea/dottorato anno solare
Tesi di laurea: Matteo Tine, titolo: Leniency programs, Luglio 2021
Partecipazione a comitati editoriali di riviste/collane scientifiche
Associate Editor per "Research in Economics" (2021 - in corso)
Descrizione dell'attività di ricerca svolta nel triennio e gli obiettivi futuri
Durante il mio primo biennio a Ca' Foscari (coinciso con la pandemia covid19), ho portato avanti i seguenti progetti che sono a diverso livello di sviluppo:


- Ho lavorato per modificare due lavori di cui avevo inizialmente draft complete.

How to pick a winner (con Mattozzi).

Abstract: We study a two-period model in which two agents of different and privately-known abilities compete for a single prize by exerting costly effort. A risk-neutral principal can affect the outcome of the contest by allocating resources to agents in each period, and her net payoff depends on the relative share allocated to the winner. We analyze how the principal optimal strategy depends on the severity of moral hazard. The results we derive are consistent with stylized facts regarding the dynamics of political campaign contributions and of third-party intervention in military conflicts.

How to Boost Revenues in FPAs? The Magic of Disclosing only Winning bids from Past Auctions", con Philippe Jehiel and Peter Katuščák.

Abstract: We evaluate the revenue implications of two disclosure policies commonly available in auction design: Disclosure of all bids from past auctions and disclosure of winning bids only.The results from our experiment show that disclosing only the winning bids in first-price auctoons with two bidders leads to higher bids and higher revenues in the long run. We explain the finding by the presence of a share of subjects (naive bidders) who fail to understand that the information they are provided with might come from a selected sample when only winning bids are disclosed. We provide a theoretical framework as well as a new method to estimate this share. The method also allows us to relate na.vet. to risk aversion. We find that 57% of subjects are naive, and revenues are higher by 6% when only winning bids are disclosed. Our finding may provide a novel rationale as to why sellers rarely disclose losing bids in the field.

- Ho continuato a sviluppare il progetto su information design finanziato dai fondi provenienti dalla repubblica ceca Ceca.

"Stimulating efforts by coarsening information", with Levent Celik

Abstract: We examine the problem of a principal who wishes to maximize the total effort of two agents competing in a contest. The principal holds private informaSon about which of the two agents is in an advantaged posiSon (if any), and can control the coarseness of the disclosed informaSon provided that the true state is contained in the disclosed set. We solve for the optimal disclosure policy under two alternative assumptions. First, in the spirit of the Bayesian persuasion literature, we assume that the principal can commit to a disclosure strategy before learning the true state. Second, we relax the commitment assumption. We show how the solution varies with the size of the cost of efforts and with the relative likelihood of different states.

- Ho iniziato un nuovo progetto con Topi Miettinen (proposto per il premio fondi primo insediamento). Ad oggi abbiamo risolto il modello con un esperto e abbiamo risultati preliminari per il modello con due esperti.

Markets for persuasive information (con Topi Miettinen).

Abstract: We study markets for verifiable evidence in which decision makers can purchase more accurate information from media or experts who care about profits as well as about persuading decision makers to take a specific action. The model encompasses an IO set-up with unbiased media selling expert information and a setting with ideological media who try to persuade decision makers paying attention to their news.
Under a monopoly market, we show that the monopolistic media has no incentive to filter information even when biased. However, the composition of decision makers that choose the action preferred by the media
platform is affected. In a duopoly market, we show how decision makers' decision of purchasing information vary with the media bias, and ex-ante quality of their information. Perhaps surprisingly, we find that the amount of information purchased may be non-monotonic in the decision makers' preferences.

Obiettivi futuri:

Per prima cosa ultimare i progetti di cui sopra. Poi molto sviluppare nuovi progetti. L'area sarà vicina ai temi delle ricerche sopra. Con Miettinen in futuro vorremmo provare ad aggiungere al modello presente una scelta di policy da parte dei politici. Con Jan Zapal (che è stato visino a fine 2021) abbiamo discusso di modellare l'influenza nel bargaining tra due parti dell'informazione ricevuta da esperti.
Relazioni invitate presso convegni o workshops
Annual Conference on Contests: Theory and evidence (Max Planck, Berlin), 2021. Titolo presentazione: Stimulating efforts by coarsening information.
Seminari su invito tenuti presso altre Università, Centri di Ricerca, Aziende, etc.
Collegio Carlo Alberto, Torino. Titolo presentazione: How to pick a winner. Novembre 2019
Altre attività scientifiche
Ho svolto attività di referaggio per varie riviste internazionali.
Altre attività didattiche
Nell'ambito del mio periodo come visiting Professor all'università di Torino nel Novembre 2019 ho insegnato una parte del corso Microeconomic Analysis.
Incarichi accademici e attività organizzative
- Referente curriculum Economics QEM (dal 2021):
Sono responsabile per il curriculum di studi Economics QEM della laurea magistrale in Economia e Finanza.

- Vice-Referente curriculum Economics QEM joint degree (dal 2021, e Referente dal 2022):

Sono stato vice-referente per Ca' Foscari del programma magistrale con titolo congiunto QEM "Models and
Methods of Quan\ta\ve Economics Methods" con Université Paris 1 - Sorbonne, Universitat Autonoma de
Barcellona, Université Catholique de Louvain, Warsaw School of Economics.


- Selezione studenti internazionali magistrale QEM- Economics - Joint Degree (2019-20 e 2020-21).

Mi sono occupato della selezione studenti per il joint degree internazionale QEM. Insieme ad altri due
colleghi abbiamo valutato centinaia di domande di ammissione. Questa selezione viene fatta corrispondendo e confrontandosi con le altre università partner.

- Selezione studenti magistrale QEM- Economics (2019-20 e 2020-21).
Mi sono altresì occupato della selezione studenti per il curriculum Economics-QEM

Co-organizzatore seminari di economia (a.a 2020-2021 e 2021-2022 ): Sono uno dei tre responsabili dell'organizzazione dei seminari di dipartimento.

- Organizzatore e creatore dei NEAT seminars (da Ottobre 2020 in poi):

Ho stabilito una collaborazione con l'Università di Padova su una nuova serie di seminari. Abbiamo un
nostro sito web e una newsletter con più di 100 iscritti. Oltre all'organizzazione dei seminari mi occupo della gestione della newsletter e della manutenzione. e continuo aggiornamento del sito.
La serie ha attratto speakers di primissimo livello. Per informazioni e verifica qualità seminari organizzati:
https://www.unive.it/neat

- Organizzatore dei seminari del Job market (a.a 2020-2021):

Mi sono occupato dell'organizzazione dei seminari del job market, ed anche della fase di selezione candidati.

- Selezionatore Premi di Laurea Faini/Cazzavillan (a.a 2019-2020):

Ho selezionato (con altri tre colleghi) le 5 tesi più meritevoli da un pool di un centinaio di tesi.

- Presidente commissione Premi di Laurea Faini/Cazzavillan (2020-2021):

Come sopra ma Il secondo anno ero il presidente della commissione.

- Coordinatore programma Erasmus per lo scambio con l' università di Alicante (dal 2021).
Componente di Collegi didattici, Comitati e Commissioni di Dipartimento, Commissioni di Ateneo
- Membro collegio docenti di dottorato (dal 2019):

Faccio parte di un gruppo di circa 20 colleghi che si occupa di prendere le decisioni riguardo alla conduzione del programma di Dottorato.

- Membro del Collegio didattico per la laurea in Economia e Finanza (dal 2021):

Sono uno dei 9 membri del collegio didaIco del corso di Laurea magistrale in Economia e finanza.
Attività e incarichi esterni
Ho un contratto con il mio datore di lavoro precedente (CERGE-EI, Praga) per via del finanziamento di ricerca ottenuto dal Grant agency of Czech republic con Levent Celik per un progetto di ricerca "Information Design in Contests".
Altre informazioni
Nel periodo di riferimento ho seguito alcuni dottorandi di CERGE, Praga. Tra questi:

William Appleman (mio ruolo: Chair del dissertation committee), ha difeso il suo PhD. in economics il 6/12/2021
Michal Soltes (mio ruolo: Membro del dissertation committee) ha difeso il suo PhD. in economics il 2/12/2021