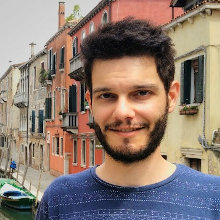 CARNASSALE Dany
Position

Research Grant Holder
E-mail
Website

www.unive.it/persone/dany.carnassale (personal record)

I'm a Postdoctoral Research Fellow at Ca' Foscari University of Venice (Italy), where I'm involved in a 3-year international and multidisciplinary project called "VULNER", that is coordinated by the department of Law & Anthropology at the Max Planck Institute for Social Anthropology in Halle (Germany). I'm part of the team in charge of the Italian case study both for the legal/policy framework analysis and the ethnographic fieldwork in Veneto and Lazio. The research team based in Ca' Foscari University coordinated by prof. Sabrina Marchetti.
More in general, my research interests are:
- international migrations and transnational networks;
- socio-cultural implications of human rights and international laws;
- social construction of genders and sexualities;
- prevention and contrast of SGBV (sexual and gender-based violence);
- intercultural communication;
- stigma management and social exclusion;
- qualitative research methodologies (especially intersectional and participative approaches).
Before joining Ca' Foscari University of Venice, I studied Cultural Anthropology at University of Bologna (Italy) and I got a Ph.D. in Social Sciences from University of Padua (Italy) [SSD: M-DEA/01, SPS/08].
During the Ph.D. (2014-2018), I carried out a multi-sited research between Italy and Senegal on the transnational trajectories of Senegalese migrants who express non-heteronormative masculinities and sexualities. Data have been collected and analyzed through a transnational and multi-sited approach. The main purpose was understanding to what extent the construction and the redefinition of sexual identity may be linked to the experience of migration, as well as which is the role acted by local and transnational institutions. Another goal was to examine to what extent the expression of a non-normative gender identity may contribute to redefining significant social ties and networks.
During the bachelor and master degree, I focused on two main topics: 1) the history of same-sex sexualities and non-normative gender identifications in sub-saharan Africa during the post-colonial period, 2) the management of multiple identities experienced by self-identified LGBTQI African migrants living in northern Italy. In 2009 and 2012, my bachelor and master degree thesis won the "Maria Baiocchi Award" (a national competition for graduate and undergraduate students who wrote thesis on gender and LGBT+ issues, that are evaluated through a double-blind assessment procedure).
Since 2010 I've been involved in the field of migrations and asylum requests based on genders and sexualities, in which I acted as an ethnographer, socio-legal operator, activist, trainer and consultant for various international organizations, NGOs and grassroot associations. Over time, I carried out an ethnography of the asylum system in Italy, focusing on the experiences of a wide range of social actors involved in the field of gender and sexual orientation-based asylum claims. Throughout this period, I explored the experiences of migrants, asylum seekers and refugees as well as those working within institutions related to asylum (lawyers, social workers, volunteers and decision makers).
Last update: 22/03/2022
The information above have been uploaded on Ca' Foscari website direclty by the user this webpage refers to. The correctness and truthfulness of the published information are responsibilities of the relevant user.