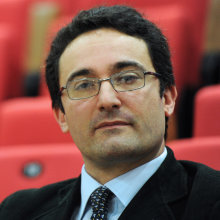 MOSCONE Francesco
Position

Associate Professor
Roles

Member of the Erasmus Committee of the Department of Economics

Telephone

041 234 9155 / 041 234 6664
E-mail
Scientific sector (SSD)

SCIENZA DELLE FINANZE [SECS-P/03]
Website

www.unive.it/persone/francesco.moscone (personal record)

Office

Department of Economics
Website: https://www.unive.it/dep.economics
Where: San Giobbe

Dati relazione
Periodo di riferimento

07/01/2020 - 06/01/2022
Afferenza

Dipartimento di Economia
Ruolo

Professori Associati
Attività didattica
| A.A. | Insegnamento | Codice | Voto | Voto medio area |
| --- | --- | --- | --- | --- |
| 2019/2020 | INTRODUCTION TO ECONOMICS | LT9005 | 7 | 8.1 |
| 2019/2020 | PUBLIC ECONOMICS | ET2021 | 6.1 | 7.6 |
| 2020/2021 | INTRODUCTION TO ECONOMICS | LT9005 | 8.3 | 8.3 |
| 2020/2021 | LABORATORIO DI ECONOMIA | EM2077 | 8.8 | 7.8 |
| 2020/2021 | SCIENZA DELLE FINANZE | ET0057 | 7.2 | 7.8 |
Tesi
| Anno solare | Tipologia | Tesi Relatore | Tesi Correlatore |
| --- | --- | --- | --- |
| 2020 | Corso di laurea | 7 | |
| 2020 | Corso di laurea magistrale | | 1 |
| 2021 | Corso di laurea | 12 | |
Ricerche sviluppate e in corso
Exploring the Spatial Dimension of Health Care Systems
Pubblicazioni realizzate nel triennio
Alacevich, C., Cavalli, N., Giuntella, O., Lagravinese, R., Moscone, F. and Nicodemo, C. (2021), Exploring the relationship between care homes and excess deaths in the COVID-19 pandemic: Evidence from Italy in HEALTH ECONOMICS, vol. 30 (ISSN 1057-9230) (Articolo su rivista)
Domenico Lisi, Francesco Moscone, Elisa Tosetti, Veronica Vinciotti (2021), Hospital Quality Interdependence in a Competitive Institutional Environment: Evidence from Italy in REGIONAL SCIENCE AND URBAN ECONOMICS, vol. 89 (ISSN 0166-0462) (Articolo su rivista)
Moscone, F; Siciliani, L; Tosetti, E; Vittadini, G (2020), Do public and private hospitals differ in quality? Evidence from Italy in REGIONAL SCIENCE AND URBAN ECONOMICS, vol. 83 (ISSN 0166-0462) (Articolo su rivista)
Catia Nicodemo, Samira Barzin, Nicolo' Cavalli, Daniel Lasserson, Francesco Moscone, Stuart Redding, Mujaheed Shaikh (2020), Measuring geographical disparities in England at the time of COVID-19: results using a composite indicator of population vulnerability in BMJ OPEN, vol. 10 (ISSN 2044-6055) (Articolo su rivista)
Partecipazione come referee di progetti di ricerca nazionali ed internazionali
Senior member of the Peer Review College of the Economic and Research Council (U.K)
Partecipazione a comitati editoriali di riviste/collane scientifiche
Editore associato di Empirical Economics

Editore principale insieme al Prof Badi H. Baltagi, della collana Contributions to Economic Analysis della cassa editrice Emerald Publishing
Descrizione dell'attività di ricerca svolta nel triennio e gli obiettivi futuri
L'attivita' di ricerca nell'arco temporale di riferimento ha interessato tematiche relative all'economia della salute e della sanità'. Nello specifico, mi sono interessato della sostenibilità dei sistemi sanitari Italiani e Inglesi. Per quanto riguarda lo studio dei sistemi sanitari italiani ho studiato l'impatto della competizione tra gli ospedali sulla qualità' dei servizi sanitari in Lombardia, il ruolo del settore privato, e gli effetti dello shock da COVID-19 sulla mortalità' delle case di cura Lombarde. In Inghilterra ho analizzato l'effetto del COVID-19 sulle disuguaglianze territoriali. Questi studi sono stati svolti in collaborazione con Università' quali Bocconi, Oxford, e Pittsburgh. Per tutti i dettagli dei metodi e dati usati, rimando alle pubblicazioni elencate in questa relazione. Gli obiettivi futuri sono: adottare e sviluppare nuovi metodi econometrici che possano aiutarci a comprendere i rapporti di causa-effetto in diverse aree dell'economia sanitaria. L'obiettivo principale e' quello di poter avere un impatto oltre quello accademico, per poter influenzare le politiche sanitarie e in Europa.
Altri prodotti scientifici
Qui sotto si riportano capitoli di libri che emergono dalla mia attività di ricerca, pubblicati in prestigiose collane come l'enciclopedia di Oxford

2020 Tosetti E. Moscone, F.R, Santos, G. Arbia The Spatial Dimension of
Health Systems, Oxford Research Encyclopedia of Economics and Finance
2019 Health Econometrics, Contributions to Economic Analysis, B. H. Baltagi(ed.) and Moscone F. (ed.), Emerald Publishing.
2019 Baltagi B. H., Moscone F., Santos R. Spatial Health Econometrics, to
appear, Emerald Publishing, eidted by Baltagi and Moscone F.
Menzioni e premi ricevuti
Una menzione speciale ricevuta dal preside del College presso la Brunel University London

"An individual who leads by example in demonstrating excellence in their work"
Relazioni invitate presso convegni o workshops
2008 to present Chair Organizer, with Vittadini G, of the Health Econometrics (biannual event)
workshop

2019. Invito come relatore presso il Workshop on Active Aging, Udine, Italy. Il titolo della presentazione "L'associazione tra l'utilizzo di assistenza medica e risultati sanitari: Un'analisi spaziale. "
Altre attività scientifiche
(2019)Chair organiser, con Catia Nicodemo, dell' American-European Health Economics Study Group, IV Edition, Vienna University
Altre attività didattiche
Nell'anno accademico 2021-22 ho insegnato health economics al dottorato di ricerca del dipartimento di economia Cà Foscari. Segnalo di aver ottenuto in media valutazioni sopra il 4 su 5 (dove 5 e' il massimo della soddisfazione degli studenti) e di aver superato il punteggio medio ottenuto dai professori che insegnano nello stesso dottorato.
Partecipazione alle attività di valutazione della ricerca
Esaminatore esterno dei seguenti studenti di PhD

2020 Dr Niccolo Stamboglis, City University, UK2019

2019 Dr Xiangpu Gong, King's College London, UK
Componente di Collegi didattici, Comitati e Commissioni di Dipartimento, Commissioni di Ateneo
Membro del collegio dei docenti PhD Economics. Cà Foscari

Membro del Collegio Erasmus. Cà Foscari

2019 e 2020 membro del collegio dei docenti PhD in Economics and Statistics, University Milan- Bicocca
Attività e incarichi esterni
Dal 2012 fino ad oggi ha insegnato healthcare policy presso la Brunel University London, Business School
Altre informazioni
Pubblicazioni di articoli giornalistici di divulgazione nazionale:

2020 Angelici M., Berta P., Moscone F., G. Turati Ospedali, dove e perchè si
`e tagliato, Lavoce.info

2019 Moscone F. and G. Turati Esistono differenze nella qualità tra gli ospedali
pubblici e privati?, Sole 24 Ore Sanit`a