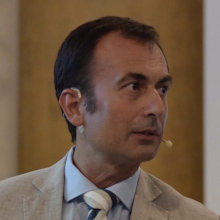 Dati relazione
Periodo di riferimento

01/01/2018 - 31/12/2020
Afferenza

Dipartimento di Scienze Molecolari e Nanosistemi
Ruolo

Professori Ordinari
Attività didattica
| A.A. | Insegnamento | Codice | Voto | Voto medio area |
| --- | --- | --- | --- | --- |
Tesi
| Anno solare | Tipologia | Tesi Relatore | Tesi Correlatore |
| --- | --- | --- | --- |
Finanziamenti
MAC2MIC (Con CNR-ISC) Macro to Micro: uncovering the hidden mechanisms driving network dynamics
Ricerche sviluppate e in corso
Analisi della diffusione dei disordini dell'informazione
Analisi di sistemi complessi in biologia ed epidemiologia
Diagnostica da analisi di reti cerebrali tramite risonanza magnetica funzionale
Fisica statistica dei sistemi di reti
Stabilità del mercato interbancario
Studio di Materiali da Analisi del Chemical Space
Pubblicazioni realizzate nel triennio
Andrienko G.; Andrienko N.; Boldrini C.; Caldarelli G.; Cintia P.; Cresci S.; Facchini A.; Giannotti F.; Gionis A.; Guidotti R.; Mathioudakis M.; Muntean C.I.; Pappalardo L.; Pedreschi D.; Pournaras E.; Pratesi F.; Tesconi M.; Trasarti R. (2020), (So) Big Data and the transformation of the city in INTERNATIONAL JOURNAL OF DATA SCIENCE AND ANALYTICS, vol. n/a (ISSN 2364-415X) (Articolo su rivista)
Guido Caldarelli (2020), A Perspective on Complexity and Networks Science in JOURNAL OF PHYSICS. COMPLEXITY, vol. 1, pp. 021001 (ISSN 2632-072X) (Articolo su rivista)
Pamela Vernocchi, Tommaso Gili, Federica Conte, Federica Del Chierico, Giorgia Conta, Alfredo Miccheli, Andrea Botticelli, Paola Paci, Guido Caldarelli, Marianna Nuti, Paolo Marchetti and Lorenza Putignani (2020), Network Analysis of Gut Microbiome and Metabolome to Discover Microbiota-Linked Biomarkers in Patients Affected by Non-Small Cell Lung Cancer in INTERNATIONAL JOURNAL OF MOLECULAR SCIENCES, vol. 21, pp. 8730 (ISSN 1422-0067) (Articolo su rivista)
Barucca, Paolo; Bardoscia, Marco; Caccioli, Fabio; D'Errico, Marco; Visentin, Gabriele; Caldarelli, Guido; Battiston, Stefano (2020), Network valuation in financial systems in MATHEMATICAL FINANCE, vol. N/A (ISSN 0960-1627) (Articolo su rivista)
Delpini, Danilo; Battiston, Stefano; Caldarelli, Guido; Riccaboni, Massimo (2020), Portfolio diversification, differentiation and the robustness of holdings networks in APPLIED NETWORK SCIENCE, vol. 5 (ISSN 2364-8228) (Articolo su rivista)
Matteo Bruno, Fabio Saracco, Diego Garlaschelli, Claudio J. Tessone & Guido Caldarelli (2020), The ambiguity of nestedness under soft and hard constraints in SCIENTIFIC REPORTS, vol. 10, pp. 19903 (ISSN 2045-2322) (Articolo su rivista)
Caldarelli G.; De Nicola R.; Del Vigna F.; Petrocchi M.; Saracco F. (2020), The role of bot squads in the political propaganda on Twitter in COMMUNICATIONS PHYSICS, vol. 3 (ISSN 2399-3650) (Articolo su rivista)
Facchini A.; Rubino A.; Caldarelli G.; Di Liddo G. (2019), Changes to Gate Closure and its impact on wholesale electricity prices: The case of the UK in ENERGY POLICY, vol. 125, pp. 110-121 (ISSN 0301-4215) (Articolo su rivista)
Van Lidth De Jeude J.; Caldarelli G.; Squartini T. (2019), Detecting core-periphery structures by surprise in EUROPHYSICS LETTERS, vol. 125, pp. 68001 (ISSN 0295-5075) (Articolo su rivista)
Becatti C.; Caldarelli G.; Saracco F. (2019), Entropy-based randomization of rating networks in PHYSICAL REVIEW. E, vol. 99, pp. 022306 (ISSN 2470-0045) (Articolo su rivista)
Barelli E.; Ottaviani E.; Auconi P.; Caldarelli G.; Giuntini V.; McNamara J.A.; Franchi L. (2019), Exploiting the interplay between cross-sectional and longitudinal data in Class III malocclusion patients in SCIENTIFIC REPORTS, vol. 9, pp. 6189 (ISSN 2045-2322) (Articolo su rivista)
Becatti C.; Caldarelli G.; Lambiotte R.; Saracco F. (2019), Extracting significant signal of news consumption from social networks: the case of Twitter in Italian political elections in PALGRAVE COMMUNICATIONS, vol. 5 (ISSN 2055-1045) (Articolo su rivista)
Rapisardi G.; Arenas A.; Caldarelli G.; Cimini G. (2019), Fragility and anomalous susceptibility of weakly interacting networks in PHYSICAL REVIEW. E, vol. 99, pp. 042302 (ISSN 2470-0045) (Articolo su rivista)
Gabrielli A.; Mastrandrea R.; Caldarelli G.; Cimini G. (2019), Grand canonical ensemble of weighted networks in PHYSICAL REVIEW. E, vol. 99, pp. 030301 (ISSN 2470-0045) (Articolo su rivista)
Van Lidth De Jeude J.; Di Clemente R.; Caldarelli G.; Saracco F.; Squartini T. (2019), Reconstructing Mesoscale Network Structures in COMPLEXITY, vol. 2019, pp. 1-13 (ISSN 1076-2787) (Articolo su rivista)
Delpini D.; Battiston S.; Caldarelli G.; Riccaboni M. (2019), Systemic risk from investment similarities in PLOS ONE, vol. 14, pp. e0217141 (ISSN 1932-6203) (Articolo su rivista)
Jeude J.A.V.L.D.; Aste T.; Caldarelli G. (2019), The multilayer structure of corporate networks in NEW JOURNAL OF PHYSICS, vol. 21, pp. 025002 (ISSN 1367-2630) (Articolo su rivista)
Cimini G.; Squartini T.; Saracco F.; Garlaschelli D.; Gabrielli A.; Caldarelli G. (2019), The statistical physics of real-world networks in NATURE REVIEWS PHYSICS, vol. 1, pp. 58-71 (ISSN 2522-5820) (Articolo su rivista)
Caldarelli, Guido (2019), Review of 'Introduction to the Theory of Complex Systems' by Stefan Thurner, Rudolf Hanel and Peter Klimek in JOURNAL OF COMPLEX NETWORKS, vol. cnz038 (ISSN 2051-1329) (Recensione in rivista)
Rapisardi G.; Caldarelli G.; Cimini G. (2019), Numerical assessment of the percolation threshold using complement networks , COMPLEX NETWORKS 2018: Complex Networks and Their Applications VII in STUDIES IN COMPUTATIONAL INTELLIGENCE, Springer Verlag, vol. 812, pp. 820-827, Convegno: 7th International Conference on Complex Networks and their Applications, COMPLEX NETWORKS 2018, 2018 (ISBN 978-3-030-05410-6; 978-3-030-05411-3) (ISSN 1860-949X) (Articolo in Atti di convegno)
Mureddu M.; Facchini A.; Scala A.; Caldarelli G.; Damiano A. (2018), A Complex Network Approach for the Estimation of the Energy Demand of Electric Mobility in SCIENTIFIC REPORTS, vol. 8 (ISSN 2045-2322) (Articolo su rivista)
Pappalardo G.; DiMatteo T.; Caldarelli G.; Aste T. (2018), Blockchain inefficiency in the Bitcoin peers network in EPJ DATA SCIENCE, vol. 7 (ISSN 2193-1127) (Articolo su rivista)
Kadovic A.; Krause S.M.; Caldarelli G.; Zlatic V. (2018), Bond and site color-avoiding percolation in scale-free networks in PHYSICAL REVIEW. E, vol. 98 (ISSN 2470-0045) (Articolo su rivista)
Olsen R.; Battiston S.; Caldarelli G.; Golub A.; Nikulin M.; Ivliev S. (2018), Case study of Lykke exchange: architecture and outlook in JOURNAL OF RISK FINANCE, vol. 19, pp. 26-38 (ISSN 1526-5943) (Articolo su rivista)
Caldarelli, G (2018), Complex Networks: Principles, Methods and Applications by Vito Latora, Vincenzo Nicosia and Giovanni Russo in JOURNAL OF COMPLEX NETWORKS, vol. 6, pp. 830-830 (ISSN 2051-1310) (Articolo su rivista)
Shekhtman L.M.; Danziger M.M.; Bonamassa I.; Buldyrev S.V.; Caldarelli G.; Zlatic V.; Havlin S. (2018), Critical field-exponents for secure message-passing in modular networks in NEW JOURNAL OF PHYSICS, vol. 20, pp. 053001 (ISSN 1367-2630) (Articolo su rivista)
Parisi F.; Caldarelli G.; Squartini T. (2018), Entropy-based approach to missing-links prediction in APPLIED NETWORK SCIENCE, vol. 3 (ISSN 2364-8228) (Articolo su rivista)
Straka M.J.; Caldarelli G.; Squartini T.; Saracco F. (2018), From Ecology to Finance (and Back?): A Review on Entropy-Based Null Models for the Analysis of Bipartite Networks in JOURNAL OF STATISTICAL PHYSICS, vol. 173, pp. 1252-1285 (ISSN 0022-4715) (Articolo su rivista)
Rapisardi G.; Arenas A.; Caldarelli G.; Cimini G. (2018), Multiple structural transitions in interacting networks in PHYSICAL REVIEW. E, vol. 98, pp. 012302 (ISSN 2470-0045) (Articolo su rivista)
Korjani S.; Facchini A.; Mureddu M.; Caldarelli G.; Damiano A. (2018), Optimal positioning of storage systems in microgrids based on complex networks centrality measures in SCIENTIFIC REPORTS, vol. 8 (ISSN 2045-2322) (Articolo su rivista)
Caldarelli G.; Wolf S.; Moreno Y. (2018), Physics of humans, physics for society in NATURE PHYSICS, vol. 14, pp. 870-870 (ISSN 1745-2473) (Articolo su rivista)
Squartini T.; Caldarelli G.; Cimini G.; Gabrielli A.; Garlaschelli D. (2018), Reconstruction methods for networks: The case of economic and financial systems in PHYSICS REPORTS, vol. 757, pp. 1-47 (ISSN 0370-1573) (Articolo su rivista)
Balister, Paul; Balogh, József; Bertuzzo, Enrico; Bollobás, Béla; Caldarelli, Guido; Maritan, Amos; Mastrandrea, Rossana; Morris, Robert; Rinaldo, Andrea (2018), River landscapes and optimal channel networks in PROCEEDINGS OF THE NATIONAL ACADEMY OF SCIENCES OF THE UNITED STATES OF AMERICA, vol. 115, pp. 6548-6553 (ISSN 0027-8424) (Articolo su rivista)
Kojaku S.; Cimini G.; Caldarelli G.; Masuda N. (2018), Structural changes in the interbank market across the financial crisis from multiple core–periphery analysis in THE JOURNAL OF NETWORK THEORY IN FINANCE, vol. 4, pp. 33-52 (ISSN 2055-7795) (Articolo su rivista)
Barucca P.; Caldarelli G.; Squartini T. (2018), Tackling Information Asymmetry in Networks: A New Entropy-Based Ranking Index in JOURNAL OF STATISTICAL PHYSICS, vol. 173, pp. 1028-1044 (ISSN 0022-4715) (Articolo su rivista)
Caldarelli, G (2018), Niche Hierarchy: Structure, Organization, and Assembly in Natural Systems in JOURNAL OF COMPLEX NETWORKS, vol. 6, pp. 155-155 (ISSN 2051-1310) (Recensione in rivista)
(a cura di) Stefano Battiston, Guido Caldarelli, A. Garas (2018), Multiplex and Multilevel Networks , Oxford University Press (ISBN 9780198809456; 9780191847073) (Curatela)
Tesi di dottorato interateneo
Le Tesi Dottorato IMT 2018 sono state 1

Le Tesi Dottorato IMT 2019 sono state 4

Le Tesi Dottorato IMT 2020 sono state 1
Tesi di laurea/dottorato anno solare
Straka, Mika Julian (2018) DOTTORATO Entropy-based methods for the statistical validation of bipartite networks. Advisor: Caldarelli, Prof. Guido. Coadvisor: Saracco, Dott. Fabio . pp. 171. [IMT PhD Thesis]
http://e-theses.imtlucca.it/view/creators/Straka=3AMika_Julian=3A=3A.html

Becatti, Carolina (2019) DOTTORATO Essays on statistical methods for the analysis of social networks. Advisor: Caldarelli, Prof. Guido. Coadvisor: Crimaldi, Prof. Irene . pp. 221.
http://e-theses.imtlucca.it/view/creators/Becatti=3ACarolina=3A=3A.html

Parisi, Federica (2019) DOTTORATO Entropy-based methods to tackle missing information in complex networks. Advisor: Caldarelli, Prof. Guido. Coadvisor: Squartini, Prof. Tiziano . pp. 111. [IMT PhD Thesis]
http://e-theses.imtlucca.it/view/creators/Parisi=3AFederica=3A=3A.html

Rapisardi, Giacomo (2019) DOTTORATO Critical Phenomena in Multilayer Networks. Advisor: Caldarelli, Prof. Guido. Coadvisor: Cimini, Dott. Giulio . pp. 88. [IMT PhD Thesis]
http://e-theses.imtlucca.it/view/creators/Rapisardi=3AGiacomo=3A=3A.html

van Lidth de Jeude, Jeroen Allard (2019) DOTTORATO Analysing mesoscale structures in economic and financial networks. Advisor: Caldarelli, Prof. Guido. pp. 158. [IMT PhD Thesis]
http://e-theses.imtlucca.it/view/creators/van_Lidth_de_Jeude=3AJeroen_Allard=3A=3A.html

Davidescu, George (2020) DOTTORATO The capacitated spanning forest problem. Advisor: Caldarelli, Prof. Guido. pp. 128. [IMT PhD Thesis]
http://e-theses.imtlucca.it/view/creators/Davidescu=3AGeorge=3A=3A.html
Partecipazione come referee di progetti di ricerca nazionali ed internazionali
Reviewer progetto Horizon 2020 SOMA "Social Observatory for Disinformation and Social Media Analysis" https://www.disinfobservatory.org
Partecipazione a comitati editoriali di riviste/collane scientifiche
Editor in chief Cambridge Elements on Structure and Dynamics of Complex Networks
https://www.cambridge.org/core/series/elements-in-structure-and-dynamics-of-complex-networks/9806C31A3953E8EB03ABFA3B3C19D92F
Senior Editor Nature Scientific Reports https://www.nature.com/srep/
Descrizione dell'attività di ricerca svolta nel triennio e gli obiettivi futuri
Mi occupo dal 1999 della fisica statistica dei sistemi di rete. Sono stato uno dei primi ricercatori a pubblicare un articolo su questi temi (The Fractal Properties of Internet, G. Caldarelli, R. Marchetti, L. Pietronero, Europhysics Letters 52, 386 (2000)) a partire dal quale ho iniziato una proficua attività su questo tema con 3 libri pubblicati come autore e 4 in curatela. Nel triennio di riferimento per questa relazione, le linee di ricerca sono state le seguenti:

1) Analisi della diffusione dei disordini dell'informazione
2) Analisi di sistemi complessi in biologia ed epidemiologia
3) Diagnostica da analisi di reti cerebrali tramite risonanza magnetica funzionale
4) Fisica statistica dei sistemi di reti
5) Stabilità del mercato interbancario

1) Analisi della diffusione dei disordini dell'informazione
Nel dettaglio, abbiamo studiato il fenomeno della diffusione dei bot su twitter nel lavoro Caldarelli G.; De Nicola R.; Del Vigna F.; Petrocchi M.; Saracco F. (2020), The role of bot squads in the political propaganda on Twitter in COMMUNICATIONS PHYSICS, vol. 3 (ISSN 2399-3650). I bot sono i principali responsabili della eccessiva polarizzazione delle opinioni. Il fenomeno della polarizzazione può essere misurato vedendo come gli utenti delle reti sociali selezionino i propri amici in una specie di cassa di risonanza (echo chambers) delle proprie idee portando quindi al fenomeno della omofilia e della polarizzazione. La mia attività di ricerca vuole portare nella discussione lo strumento della topologia e come obiettivo futuro applicare questa metodologia per esempio alla discussione sui vaccini.

2) Analisi di sistemi complessi in biologia ed epidemiologia
Pressati dall'emergenza pandemica, ho provato ad usare le mie competenze per aiutare nel contrasto alla diffusione e mortalità del COVID-19. In collaborazione con medici dei prinicipali ospedali lombardi abbiamo analizzato la comorbidità dei pazienti deceduti per COVID-19 nella prima ondata. Il paper messo su preprint nel 2020 è stato poi pubblicato nel 2021.
Per quello che riguarda lo studio del microbiota, crediamo tutti che possa essere cruciale per quello che riguarda la medicina preventiva. Il primo lavoro è stato pubblicato su Pamela Vernocchi, Tommaso Gili, Federica Conte, Federica Del Chierico, Giorgia Conta, Alfredo Miccheli, Andrea Botticelli, Paola Paci, Guido Caldarelli, Marianna Nuti, Paolo Marchetti and Lorenza Putignani (2020), Network Analysis of Gut Microbiome and Metabolome to Discover Microbiota-Linked Biomarkers in Patients Affected by Non-Small Cell Lung Cancer in INTERNATIONAL JOURNAL OF MOLECULAR SCIENCES, vol. 21, pp. 8730. Riguardo agli obietti futuri, questi temi sta ancora lavorando un dottorato a IMT e ho presentato un progetto da Ca'Foscari con
l'IRCSS San Camillo al Lido.
Per quello che riguarda il sistema complesso oromandibolare ho pubblicato una serie di articoli con il gruppo di Sapienza della Prof. Polimeni (attuale Rettrice). La topologia della rete della correlazione fra variabili cefalometriche mostra un'ottima capacità predittiva delle malocclusioni. Come obiettivi futuri che presenteremo nel PRIN 2021-2022 c'è la possibilità di estendere temporalmente questa predicibilità grazie a modelli di evoluzione dinamica.

3) Diagnostica da analisi di reti cerebrali tramite risonanza magnetica funzionale
Su questo tema abbiamo pubblicato un preprint nel quale lo studio topologico delle reti di correlazione da imaging funzionale di risonanze magnetiche consente di diagnosticare malattie e disordini (il lavoro è stato poi pubblicato nel 2021).
L'obiettivo futuro è di stabilire una collaborazione con IRCSS san Camillo del Lido e integrare questa ricerca negli insegnamenti per il corso di laurea magistrale in Ingegneria fisica.

4) Fisica statistica dei sistemi di reti
Su questo tema ho pubblicato la maggior parte delle pubblicazioni allegate. Lo scopo è di mostrare come la fisica delle reti sia uno strumento per la comprensione del mondo che ci circonda. Segnalo per l'importanza questa perspective che chiarisce lo spirito delle varie pubblicazione più e meno tecniche su giornali specifici della discipline (Physical Review E) così come a più ampia diffusione in Fisica e nelle altre discipline (PNAS, Nature Physics, Nature Reviews Physics Physics Reports)
Caldarelli G.; Wolf S.; Moreno Y. (2018), Physics of humans, physics for society in NATURE PHYSICS, vol. 14, pp. 870-870 (ISSN 1745-2473)

5) Stabilità del mercato interbancario
Una delle applicazioni più importanti della mia attività. Per mezzo dell'analisi topologica del sistema interbancario siamo in grado di stabilire non solo l'impatto delle bancarotte ma anche dello stress finanziario nel sistema. (si veda la review Barucca, Paolo; Bardoscia, Marco; Caccioli, Fabio; D'Errico, Marco; Visentin, Gabriele; Caldarelli, Guido; Battiston, Stefano (2020), Network valuation in financial systems in MATHEMATICAL FINANCE, vol. N/A (ISSN 0960-1627) ). A partire da questi studi topologici abbiamo realizzato vari modelli ad agenti che descrivono possibili dinamiche utili a simulare scenari futuri. Un obiettivo futuro è di trasformare questa ricerca di punta in una serie di nozioni per la formazione delle nostre studentesse e studenti nel corso di laurea magistrale di Ingengeria Fisica. Per quello che riguarda la parte scientifica, vorremmo estendere gli stessi approcci sia al caso delle criptovalute (Pappalardo G.; DiMatteo T.; Caldarelli G.; Aste T. (2018), Blockchain inefficiency in the Bitcoin peers network in EPJ DATA SCIENCE, vol. 7 (ISSN 2193-1127) (Articolo su rivista)) che a quello dell'economia classica (Delpini D.; Battiston S.; Caldarelli G.; Riccaboni M. (2019), Systemic risk from investment similarities in PLOS ONE, vol. 14, pp. e0217141 (ISSN 1932-6203) ).

La 6 attività menzionata nella mia scheda 6) Studio di Materiali da Analisi del Chemical Space
è appena iniziata e non ho ancora risultati pubblicati, ma lo scopo è di utilizzare la teoria delle reti per la mappatura del chemical space e la scoperta di nuovi materiali.
Altri prodotti scientifici
Tuttora co-advisor studenti a IMT
Valentina Pieroni Network agreements and Italian firms' performance: a policy evaluation framework (not definitive title)
Mirko Hu Network property of microbiota (not definitive title)
Valentina Guiroli
Francesca Santucci
Menzioni e premi ricevuti
Eletto Membro dell'American Physical Society (comunicazione ricevuta autunno 2020)
Eletto Membro Academia Europaea 2020 (https://www.ae-info.org/ae/Member/Caldarelli_Guido)
Fellowship Società scientifica delle Reti (NETSCI) 2019
Premio Service Società Scientifica delle Reti (NETSCI) 2020
Relazioni invitate presso convegni o workshops
Relazione invitata a Statistical Physics of Financial Networks 2020 Kyoto
Presentazione a Convegno Nazionale Fisica Statistica 2019
Presentazione a Conferenza NETSCI 2019
Relazione ad Invito Conferenza Discovery Science Spalato (2019)
Seminari su invito tenuti presso altre Università, Centri di Ricerca, Aziende, etc.
Ciclo di lezioni su reti complesse tenuta presso T6-Ecosystem (2020)
Relazione ad invito di Apertura convegno APRE (2019)
Invito per Ted-x Foggia "La scintilla della complessità" (2018)
Altre attività scientifiche
Chairman (organizzatore principale) della conferenza NETSCI2020 prima in persona e poi trasformata in conferenza online per l'emergenza pandemica
Organizzatore in qualità di Presidente della Complex Systems Society delle conferenze CCS2019 (Singapore), CCS2020 (online)
Organizzatore sessione APS March Meeting 2020 (poi cancellato)
Revisore articoli per
Scientific Reports, PRX, Nature Communication, PRE, Nature Human Behaviour, Cell
Altre attività didattiche
Docente del corso di Reti complesse (60 ore/anno) presso IMT Lucca
Docente del corso di Reti complesse (30 ore/anno) presso Ca'Foscari
Incarichi accademici e attività organizzative
Membro eletto consiglio di Amministrazione IMT Lucca fino al trasferimento presso Ca'Foscari
Presidente della Società dei sistemi complessi (2018-2021)
Board della Società Scientifica dei Networks (NETSCI)
Fondazione della Società Italiana di Fisica Statistica (20 Maggio 2019) https://www.fisicastatistica.org/home/fondazione-della-sifs
Board della Società Scientifica Fisica Statistica (2019-2022)
Partecipazione alle attività di valutazione della ricerca
Non possibile in molti concorsi e o commissioni in quanto membro di un consiglio di Amministrazione di Ateneo (IMT).
Componente di Collegi didattici, Comitati e Commissioni di Dipartimento, Commissioni di Ateneo
Componente dei due collegi di Dottorato di IMT Lucca, dal 2018 al passaggio a Ca'Foscari
Ospite collegio d Dottorato Nano Bio di Ca' Foscari (da poco dopo assunzione a AA 2020-2021 e successivamente membro dello stesso)
Componente collegio laurea triennale Ingengeria Fisica (da poco dopo assunzione ad oggi)
Attività e incarichi esterni
Docente presso Polizia di Stato per corso di aggiornamento ispettori di P.S. su reti complesse