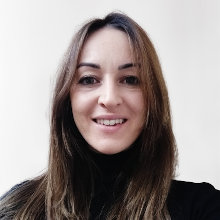 LEONI Veronica
Position

Adjunct Professor
E-mail
Website

www.unive.it/persone/veronica.leoni (personal record)

Office
Office hours
Venezia - San Giobbe - Dipartimento di Management - studio collaboratori terzo piano ala C1
Ricevimento on line (via Gmeet o Skype) tutti i lunedì dalle 14:00 alle 16:00. Agli interessati è richiesto di prenotarsi via email almeno 24 ore prima del ricevimento.
NB. Si prega di verificare eventuali variazioni nella sezione "AVVISI".
Venice – San Giobbe – Department of Management – C1 building – third floor – room "collaboratori"
Monday from 2 to 4 pm, online by Gmeet or Skype. It's kindly requested to send an email to professor to get an appointment at least 24 hours before the office hours.
Please check if there are possible changes by clicking on "Avvisi".

follow the feed