IVIĆ Ines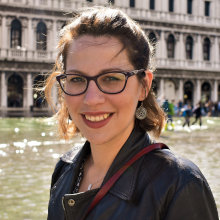 Ines Ivić is an art historian and medievalist who received her PhD at the Doctoral School of History (2020) and master's degree in Medieval Studies with the specialization in the Religious Studies (2016), both from Central European University, Budapest. In her dissertation, she explored the role of the cult of saints as the mirror of the cultural, artistic, political and intellectual changes in the Eastern Adriatic Coast. During the master's studies in Art History at the University of Zagreb (2015), she worked on the archival documents relevant for the development of the architectural and construction practices in the Republic of Ragusa during the Early Modern Period. The general focus of her research interest is within the sphere of cultural history and the adoption and the adaptation of artistic and intellectual ideas between two coasts of the Adriatic Sea during the Late Medieval and Early Modern period.
Ultima modifica: 20/11/2020
Le informazioni riportate sono state caricate sul sito dell'Università Ca' Foscari Venezia direttamente dall'utente a cui si riferisce la pagina. La correttezza e veridicità delle informazioni pubblicate sono di esclusiva responsabilità del singolo utente.