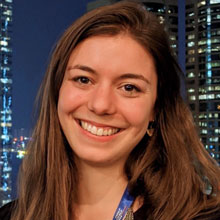 SOMMERSCHIELD Thea
Position

Research Grant Holder
E-mail
Website

www.unive.it/persone/thea.sommerschield (personal record)

Office
Bio
I am a Marie Skłodowska-Curie postdoctoral fellow at Ca' Foscari University of Venice. My research uses machine learning to study the written cultures of the ancient Mediterranean world.
I did my BA in Classics at the University of Pavia (2012-15) and a parallel MA in Humanities at the School for Advanced Study IUSS (2012-16). I then moved to the University of Oxford to do a MSt in Greek and Roman History (2015-16) and a DPhil in Ancient History (2016-21).
In 2020 I was the Ralegh Radford Rome Awardee at the British School at Rome, and in 2021-22 I was a Fellow in Hellenic Studies at Harvard's CHS. Since 2022 I am a member of Google Cloud's Research Innovators cohort.
Recent Publications
2022 Assael, Y.,* Sommerschield, T.,* Shillingford, B., Bordbar, M., Pavlopoulos, J., Chatzipanagiotou, M., Androutsopoulos, I., Prag, J., de Freitas, N. "Restoring and attributing ancient texts with deep neural networks." In Nature, 603(7900) [*co-first author]. Cover issue of 10 March 2022. DOI link: https://www.nature.com/articles/s41586-022-04448-z
2021 Prag, J., Sommerschield, T. "Sicilia epigrafica: dai depositi alla valorizzazione." In R. Panvini, et al. (eds.) Beni Culturali: dai depositi alla valorizzazione. Modi, forme, esperienze, norme. Mesogheia. 117-136.
2019 Assael, Y., * Sommerschield, T.,* Prag, J. "Restoring Ancient Text Using Deep Learning: A Case Study on Greek Epigraphy." In Proceedings of the 2019 Conference on Empirical Methods in Natural Language Processing (EMNLP 2019). Association for Computational Linguistics. 6369-6376 [*co-first author]. DOI link: https://aclanthology.org/D19-1668/
Personal Links
Personal website | LinkedIn | Google Scholar | Academia.edu | ORCiD | Twitter | GitHub
MCIF PythiaPlus project links
Unive Project website | EU CORDIS Project website
Recent press coverage
Google Cloud (link) | RAI News 24 (link) | Le Monde (link) | Greek Ministry of Culture (link) | New Scientist (link) | Nature video (link) | Η Καθημερινή (link) | El Paìs (link) | La Stampa (link) | The Guardian (link) | University of Oxford (link) | The Times (link) | DeepMind Research (link)
Teaching at Ca' Foscari
Teaching assistant for Epigrafia latina: critica, contesto, strumenti digitali [FM0541] – Ca' Foscari Università di Venezia.
Teaching assistant for Venice and the Classical World [ECC077] – International College, Ca' Foscari Università di Venezia.
Research interests
Greek history, Greek epigraphy, Machine Learning for ancient languages, NLP, Greek religion, Digital Humanities, ancient Sicily.
BA, MA and PhD supervision
I have supervised and am currently supervising MA students in Greek and Roman history, Greek and Latin epigraphy and Digital Classics, and would welcome students in these areas and others, including epigraphy and in the application of digital humanities to classical studies.
Please make an appointment with me via email to discuss your interests.
Last update: 14/11/2022
The information above have been uploaded on Ca' Foscari website direclty by the user this webpage refers to. The correctness and truthfulness of the published information are responsibilities of the relevant user.