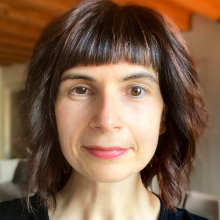 CALDAROLA Elisa
Position

Researcher
E-mail
Scientific sector (SSD)

ESTETICA [M-FIL/04]
Website

www.unive.it/persone/elisa.caldarola (personal record)

Office
Office hours
Office hours take place in my office: Malcanton Marcorà, 4° floor, or on Zoom. To make an appointment, please send an email to: elisa.caldarola@unive.it

Notices
AESTHETICS, POLITICS AND ENVIRONMENTAL SUSTAINABILITY - [LT9042] (202014): Notice for students who do NOT attend my classes but wish to take the exam
Published on 30/01/2023
All students who will not attend my classes, but nevertheless want to take the exams relative to those classes, must contact me to arrange a specific, mandatory writing tasks. Please get in touch at least one month before the exam. Email: elisa.caldarola@unive.it
AESTHETICS, POLITICS AND ENVIRONMENTAL SUSTAINABILITY - [LT9042] (202014): Accessible course material and student support
Published on 30/01/2023
This is an advice for all students, and especially for those with a disability or learning difficulty.
Starting from the first week of lectures, on the Moodle webpage of the course you will find videos with excerpts from the lectures, as well as handouts.
I seek to write accessible texts, but you can help me improve my work.
In the interest of your privacy, you do not have to tell me about your disability or learning difficulty, if you prefer not to.
However, if you have a disability or learning difficulty, and you think it can be useful, I highly reccommend you ask for support for attending classes, taking exams, and getting accessible learning material. Please check www.unive.it/inclusione, and contact inclusione@unive.it
Please do not wait for long: ask for support at the beginning of the course, otherwise I will not have the time to adjust my teaching style and learning material.
follow the feed