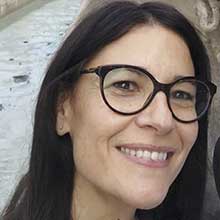 TRIBULATO Olga
Position

Full Professor
Roles

Member of the Ca' Foscari ERC Board
President of Ca 'Foscari School for International Education (CFSIE)

Telephone

041 234 6312
E-mail
Scientific sector (SSD)

LINGUA E LETTERATURA GRECA [L-FIL-LET/02]
Website

www.unive.it/persone/olga.tribulato (personal record)

Office
Office

Ca' Foscari School for International Education (President)
Website: https://www.unive.it/pag/9915/

Dati relazione
Periodo di riferimento

02/05/2017 - 01/05/2020
Afferenza

Dipartimento di Studi Umanistici
Ruolo

Professori associati
Attività didattica
| A.A. | Insegnamento | Codice | Voto (max 4) | Voto medio area (max 4) |
| --- | --- | --- | --- | --- |
| 2016/2017 | LABORATORIO DI GRECO ZERO | FT0427 | 3.3 | 3.3 |
| 2016/2017 | STORIA DELLA LINGUA GRECA | FT0430 | 3.7 | 3.3 |
| 2017/2018 | LABORATORIO DI GRECO DUE | FT0483 | | |
| 2017/2018 | LABORATORIO DI GRECO UNO | FT0482 | | |
| 2017/2018 | STORIA DELLA LINGUA GRECA | FT0430 | 3.7 | 3.3 |
| 2017/2018 | STORIA DELLA LINGUA GRECA SP. | FM0191 | 3.8 | 3.3 |
| 2018/2019 | LABORATORIO DI GRECO DUE | FT0483 | | |
| 2018/2019 | LABORATORIO DI GRECO TRE | FT0484 | | |
| 2018/2019 | LABORATORIO DI GRECO UNO | FT0482 | | |
| 2018/2019 | STORIA DELLA LINGUA GRECA | FT0430 | 3.8 | 3.3 |
Tesi
| Anno solare | Tipologia | Tesi Relatore | Tesi Correlatore |
| --- | --- | --- | --- |
| 2017 | Corso di laurea | 1 | |
| 2017 | Corso di laurea magistrale | 1 | 2 |
| 2018 | Corso di dottorato | 1 | |
| 2018 | Corso di laurea | 1 | |
| 2018 | Corso di laurea magistrale | 1 | 3 |
| 2019 | Corso di laurea | 2 | |
| 2019 | Corso di laurea magistrale | | 2 |
Finanziamenti
AXON. Iscrizioni storiche greche
I dialetti greci e Alessandria
Ricerche sviluppate e in corso
I dialetti greci e Alessandria
Lingue letterarie e dialetti locali nella Grecia antica
Omero, Esiodo, Pindaro, Eschilo: forme e trasmissione dell'esegesi antica (Progetto FIRB 2013-2016, direttore nazionale G. Ucciardello, direttore unità locale F. Pontani)
Purism in Antiquity
Pubblicazioni realizzate nel triennio
Olga Tribulato (2020), A ognuno il suo purismo: dall'atticismo a Nigel Farage. In Lingua italiana, 06.03.2020, www.treccani.it (Altro)
O. Tribulato (2019), La legge tardo- arcaica di Himera (SEG 47, n. 1427; IGDS II n. 15): un riesame linguistico ed epigrafico in PALLAS, vol. 2019, pp. 167-193 (ISSN 0031-0387) (Articolo su rivista)
Olga Tribulato (2019), Two Notes on the Text of Pollux X 1.1‒5 Bethe in PHILOLOGUS, vol. 163, pp. 237-249 (ISSN 0031-7985) (Articolo su rivista)
O. Tribulato (2019), Lingue letterarie e dialetti nell'esegesi antica in A. Willi, Formes et fonctions des langues littéraires en Grèce ancienne. LXV Entretiens Hardt sur l'Antiquité classique., Genève, Fondation Hardt, pp. 359-396 (ISBN 978-2-600-00765-8) (Articolo su libro)
O. Tribulato (2019), Making the Case for a Linguistic Investigation of Greek Lexicography: Some Examples from the Byzantine Reception of Atticist Lemmas in E. Passa, O. Tribulato, The Paths of Greek: Literature, Linguistics and Epigraphy. Studies in Honour of Albio Cesare Cassio, Berlin/Boston, De Gruyter, pp. 241-270 (ISBN 978-3-11-062108-2) (Articolo su libro)
E. Passa, O. Tribulato (2019), Introduction in E. Passa, O. Tribulato, The Paths of Greek: Literature, Linguistics and Epigraphy. Studies in Honour of Albio Cesare Cassio., Berlin/Boston, De Gruyter, pp. 1-7 (ISBN 978-3-11-062108-2) (Breve introduzione)
O. Tribulato (2019), Ammonius in A. Sommerstein, The Encyclopedia of Greek Comedy, Wiley-Blackwell, pp. 42-42 (ISBN 978-1-118-60504-2) (Voce in dizionario/enciclopedia)
O. Tribulato (2019), Antiatticist in A. Sommerstein, The Encyclopedia of Greek Comedy, Wiley-Blackwell, pp. 57-58 (ISBN 978-1-118-60504-2) (Voce in dizionario/enciclopedia)
O. Tribulato (2019), Atticism in A. Sommerstein, The Encyclopedia of Greek Comedy, Wiley-Blackwell, pp. 113-114 (ISBN 978-1-118-60504-2) (Voce in dizionario/enciclopedia)
O. Tribulato (2019), Gregory of Corinth in A. Sommerstein, The Encyclopedia of Greek Comedy, Wiley-Blackwell, pp. 401-402 (ISBN 978-1-118-60504-2) (Voce in dizionario/enciclopedia)
O. Tribulato (2019), Language of comedy (Old) in A. Sommerstein, The Encyclopedia of Greek Comedy, Wiley-Blackwell, pp. 486-488 (ISBN 978-1-118-60504-2) (Voce in dizionario/enciclopedia)
O. Tribulato (2019), Phrynichus (3) in A. Sommerstein, The Encyclopedia of Greek Comedy, Wiley-Blackwell, pp. 714-715 (ISBN 978-1-118-60504-2) (Voce in dizionario/enciclopedia)
O. Tribulato (2019), Pollux in A. Sommerstein, The Encyclopedia of Greek Comedy, Wiley-Blackwell, pp. 739-740 (ISBN 978-1-118-60504-2) (Voce in dizionario/enciclopedia)
O. Tribulato (2019), Sicilian comedy in A. Sommerstein, The Encyclopedia of Greek Comedy, Wiley-Blackwell, pp. 867-869 (ISBN 978-1-118-60504-2) (Voce in dizionario/enciclopedia)
(a cura di) E. Passa, O. Tribulato (2019), The Paths of Greek: Literature, Linguistics and Epigraphy. Studies in Honour of Albio Cesare Cassio , Berlin/Boston, De Gruyter (ISBN 9783110621082) (Curatela)
O. Tribulato (2018), Il dialetto di Himera nel contesto dell'area dello Stretto in LINGUARUM VARIETAS, vol. 7, pp. 163-178 (ISSN 2239-6292) (Articolo su rivista)
Olga Tribulato (2018), Le epistole prefatorie dell'Onomasticon di Polluce: Frammenti di un discorso autoriale in LEXIS, vol. 36, 2018, pp. 247-283 (ISSN 2210-8823) (Articolo su rivista)
Marta Cardin, Olga Tribulato (2018), Enumerating the Muses: Tzetzes in Hes. Op. 1 and the parody of catalogic poetry in Epicharmus in M. Ercoles, L. Pagani, F. Pontani, G. Ucciardello, Approaches to Greek Poetry: Homer, Hesiod, Pindar, and Aeschylus in Ancient Exegesis (TRENDS IN CLASSICS SUPPLEMENTARY VOLUMES 73), Berlin/Boston, De Gruyter, pp. 161-192 (ISBN 978-3-11-063188-3) (Articolo su libro)
O. Tribulato (2018), Writing and language in the Getty hexameters in C. Antonetti, Gli esametri Getty e Selinunte: testo e contesto, Alessandria, Edizioni dell'Orso, pp. 5-20 (ISBN 978-88-6274-906-0) (Articolo su libro)
Tribulato, O. (2017), Cenotafio di un prosseno corcirese in AXON, vol. 1, pp. 45-51 (ISSN 2532-6848) (Articolo su rivista)
Tribulato, O (2017), Decisione della polis per lo scriba Spensithios in AXON, vol. 1, pp. 75-87 (ISSN 2532-6848) (Articolo su rivista)
Tribulato, O (2017), Learning to write in indigenous Sicily: A new abecedary from the necropolis of Manico di Quarara (Montelepre, south-west of Palermo) in ZEITSCHRIFT FÜR PAPYROLOGIE UND EPIGRAPHIK, vol. 201, pp. 117-122 (ISSN 0084-5388) (Articolo su rivista)
Cucco, Rosa Maria; Polizzi, Giovanni; Tribulato, Olga (2017), Recente recupero di reperti archeologici da Montelepre (PA): un nuovo abecedario in NOTIZIARIO ARCHEOLOGICO DELLA SOPRINTENDENZA DI PALERMO, vol. 17/2017, pp. 1-20 (Articolo su rivista)
Tribulato, O., Olivieri L.M. (2017), Writing Greek in the Swat region: A new graffito from Barikot (Pakistan) in ZEITSCHRIFT FÜR PAPYROLOGIE UND EPIGRAPHIK, vol. 204, pp. 128-135 (ISSN 0084-5388) (Articolo su rivista)
Tribulato, O. (2017), Recensione di Nathalie Rousseau, Du syntagme au lexique: sur la composition en grec. Paris: Les Belles Lettres, 2016. in BRYN MAWR CLASSICAL REVIEW, vol. 2017.07.22 (ISSN 1063-2948) (Recensione in rivista)
Tribulato, O. (2017), Cenotafio di un prosseno corcirese in C. Antonetti, S. De Vido, Iscrizioni greche. Un'antologia, Carocci, pp. 28-31 (ISBN 9788843088249) (Articolo su libro)
Tribulato, O. (2017), Decisione della polis per lo scriba Spensithios in C. Antonetti, S. De Vido, Iscrizioni greche, Carocci, pp. 50-55 (ISBN 9788843088249) (Articolo su libro)
Pubblicazioni in corso di stampa
Olga Tribulato Archaic and Classical inscribed epigrams from Sicily: Language and archaeological context in REVUE DE PHILOLOGIE, DE LITTERATURE ET D'HISTOIRE ANCIENNES, vol. 92, pp. 000-000 (ISSN 0035-1652) (Articolo su rivista)
Olga Tribulato (En)listing the good authors. The defence of Greek linguistic variety in the Antiatticist lexicon. , in K. Wesselmann, R. Laemmle, C. Scheidegger Laemmle, Lists and Catalogues in Ancient Literature and Beyond. Towards a Poetics of Enumeration., Berlin/Boston, De Gruyter, pp. 165-193 (Articolo su libro)
O. Tribulato, V. Mignosa Marking identity through graphemes? A new look at the Sikel arrow-shaped alpha in P. Steele, P. Boyes, N.E. Astoreca, The Social and Cultural Contexts of Historic Writing Practices, Oxford, Oxbow, pp. ----- (Articolo su libro)
O. Tribulato Sappho's Dialect in P. Finglass, A. Kelly, The Cambridge Companion to Sappho, Cambridge University Press (Articolo su libro)
O. Tribulato Theocritus' Dialects in P. Kyriakou, A. Rengakos, E. Sistakou,, Brill's Companion to Theocritus, Brill (Articolo su libro)
Tesi di dottorato interateneo
Dall'A.A. 2018-2019, co-direzione (con Ettore Cingano) della tesi dottorale di Chiara Pesaresi (XXXIV ciclo, dottorato in Scienze dell'antichità, consorzio Venezia-Udine-Trieste)
Tesi di laurea/dottorato anno solare
Si segnalano tre tesi non rilevate dal sistema:
A.A. 2019-2020, sessione straordinaria, Corso di laurea - Tesi relatore - 2 (Stefano Pasi; Luisa Piazzalonga)
A.A. 2019-2020, sessione straordinaria, Corso di laurea magistrale - Tesi relatore - 1 (Lucia Nicoletti)
Partecipazione come referee di progetti di ricerca nazionali ed internazionali
2017: referee per Agence nationale de la recherche-ANR, Francia
2017: referee per Università di Ghent, Belgio (research professorship evaluation)
2019: referee per ERC Advanced Grant
Partecipazione a comitati editoriali di riviste/collane scientifiche
Membro del Comitato scientifico della rivista AXON (Edizioni Ca' Foscari)
Membro del Comitato scientifico della rivista LEXIS (Edizioni Ca' Foscari)
Membro del Comitato editoriale di Edizioni Ca' Foscari
Descrizione dell'attività di ricerca svolta nel triennio e gli obiettivi futuri
Nel corso di questo primo triennio come Professoressa Associata a Ca' Foscari ho consolidato il mio profilo di ricerca, anche attraverso incarichi esterni (inviti a convegni e seminari, attività di referee e di membro di commissioni di dottorato e di concorso). A gennaio 2020 ho ottenuto l'abilitazione alla I fascia nel SSD L-FIL-LET/02.

L'attività di ricerca si è sviluppata essenzialmente su due direttrici. Ho proseguito le mie ricerche su lingue letterarie, dialetti locali ed esegesi antica ai dialetti greci, già avviate nel sessennio come ricercatrice Levi Montalcini, concentrandomi in particolare sulle teorie linguistiche dei lessici atticisti, pur senza trascurare la visione d'insieme (si veda il contributo per gli LXV Entretiens Hardt, 2019) e l'uso dei dialetti negli autori letterari (si vedano il contributo del 2018 su Epicarmo, pubblicato insieme a M. Cardin nel volume Approaches to Greek Poetry, e i contributi c.d.s. sui dialetti di Saffo e di Teocrito rispettivamente per companions editi da Cambridge University Press e da Brill).
Al tema principale dell'atticismo ho dedicato alcune delle mie pubblicazioni più importanti di questo triennio (gli articoli sull'Onomasticon di Polluce in Lexis 36, 2018 e in Philologus 163, 2019; il capitolo sulla ricezione bizantina di alcuni lemmi atticisti nel volume da me co-edito The Paths of Greek, De Guyter 2019; il contributo sull'Antiatticista in c.d.s. nel volume Lists and Catalogues in Ancient Literature and Beyond, De Gruyter 2020; alcune delle voci per la Encyclopedia of Greek Comedy). Da questo filone di ricerche è scaturita anche la proposta progettuale per l'ERC Consolidator Grant che ho presentato nel 2018 (giungendo all'ultima selezione) e che ho poi affinato e ripresentato nel 2019, ottenendo il finanziamento. Il progetto Purism in Antiquity: Theories of Language in Greek Atticist Lexica and their Legacy (PURA) partirà nel 2021 e sarà dedicato alle teorie di purismo e correttezza linguistica sostenute nei lessici atticisti, nonché alla loro trasmissione tra Medioevo e Umanesimo. Grazie a questo finanziamento avrò modo di consolidare ulteriormente il mio profilo di studiosa di linguistica greca acquisendo anche esperienza in campi a me meno familiari (come la lingua di epoca bizantina e lo studio dei manoscritti) grazie alla collaborazione con i membri del gruppo di ricerca che giungeranno nel DSU nei prossimi cinque anni.

Il secondo filone delle mie ricerche del triennio ha riguardato la lingua e la pratica epigrafica delle iscrizioni greche, che da sempre studio in una prospettiva interdisciplinare con particolare attenzione al tema del contatto tra lingue e tra scritture. Alle iscrizioni della Sicilia antica (in greco, ma anche in elimo e siculo) ho dedicato cinque contributi: uno studio della lingua dei cd. 'Getty Hexameters' apparso in un volume curato dalla collega Claudia Antonetti (Edizioni dell'Orso, 2018); uno studio del fenomeno del contatto dialettale nel dialetto di Himera (Linguarum Varietas 7, 2018); un riesame linguistico ed epigrafico della legge tardo-arcaica di Himera (apparso in Pallas 2019); un contributo (c.d.s. in Revue de Philologie alla fine del 2020) sugli epigrammi siciliani su pietra di età arcaico-classica; e infine la rianalisi (con V. Mignosa) della presenza dell'alpha 'a freccia' nelle iscrizioni sicule (accettato per la pubblicazione nel volume The Social and Cultural Contexts of Historic Writing Practices, Oxbow). Nel 2017 ho collaborato con la Soprintendenza di Palermo per la pubblicazione di un abecedario su vaso dall'area elima (articolo sulla Zeitschrift für Papyrologie und Epigraphik 201, 2017 e articolo sul Notiziario della Soprintendenza di Palermo del 2017). Si tratta di una testimonianza fondamentale per comprendere alcuni dettagli della trasmissione dell'alfabeto dai Greci agli Elimi di Sicilia. La mia fruttuosa collaborazione con gli archeologi è proseguita con la pubblicazione di alcuni graffiti vascolari in alfabeto greco da Barikot, Pakistan (Zeitschrift für Papyrologie und Epigraphik 204, 2017), in co-autoraggio con Luca Maria Olivieri (ISMEO, Missione archeologica in Pakistan – da quest'anno a Ca' Foscari). La proficua collaborazione con le colleghe Antonetti e De Vido sul fronte dell'epigrafia greca si è incarnata nella partecipazione al progetto di Ateneo AXON e in quattro commenti ad iscrizioni apparsi sia nel database del progetto (poi divenuto rivista), sia nel volume Iscrizioni storiche greche (Carocci 2017).
Nel triennio, infine, ho curato (insieme ad E. Passa) il volume The Paths of Greek, pubblicato da De Gruyter nel 2019. Sempre sul fronte della ricerca ho avuto incarichi come reviewer di progetti internazionali e di pubblicazioni per diverse riviste e case editrici; sono stata commissario in una commissione di concorso all'università di Bologna e in una commissione di dottorato a Napoli Orientale. Mi sono impegnata attivamente per portare a Ca' Foscari proposte progettuali Marie Curie (una lo scorso anno, due in corso quest'anno). Sono stata research fellow al Seeger Center for Hellenic Studies (Princeton University) nell'estate del 2017 e nel 2018 sono stata ospite su invito della Fondation Hardt (Ginevra). Nel corso del 2020, come parte del mio congedo per studio all'estero, dovevo recarmi come visiting researcher presso il Research Centre for Modern Greek Dialects, Greek Historical Lexicon dell'Accademia di Atene e in seguito all'università di Oxford. Entrambe le attività e il congedo sono stati annullati a causa dell'emergenza COVID-19.


Dopo questo proficuo triennio, il prossimo periodo sarà quasi interamente dedicato alle ricerche del progetto ERC, che produrrà un database digitale, una monografia e diversi articoli. Ho tuttavia in corso anche altri studi, alcuni dei quali in connessione con convegni internazionali. Sui temi del progetto ERC intendo inoltre sviluppare un progetto di alternanza scuola-lavoro per il DSU e alcune attività di terza missione.
Altri prodotti scientifici
13.01.2020: Abilitazione alla I fascia nel SSD L-FIL-LET/02

15.11.2019: conferimento del 2019 ERC Consolidator Grant (Progetto: Purism in Antiquity: Theories of Language in Greek Atticist Lexica and their Legacy - PURA, che comincerà nel 2021)

Settembre 2018: finalista nel 2018 ERC Consolidator Grant
Menzioni e premi ricevuti
2017: FFABR (Fondo per il finanziamento delle attività base di ricerca, ANVUR)

2019: Premio alla ricerca del Dipartimento di Studi Umanistici
Relazioni invitate presso convegni o workshops
RELAZIONI SU INVITO

22.05.2020: "Greek lexicography between philology and linguistics: A look at the Medieval afterlife of some Atticistic words", 14th Trends in Classics International Conference "Historical Linguistics and Classical Philology", Salonicco 22-24.05.2020 (convegno in seguito annullato per emergenza COVID-19 e spostato a marzo 2021)

28.02.2020: relazione "Scripts, graphemes, contact and identity in multilingual ancient Sicily: A look at the Sicel area", Convegno internazionale Languages and Cultures in Contact in the Ancient Mediterranean, Università di Verona (Convegno in seguito annullato per emergenza COVID-19).

05.03.2019: "Homer and Herodotus: The linguistic perspective", Conference Homer and Herodotus: A Reappraisal (Newcastle University, 05-04.03.2019).

14.09.2018: relazione "The reception of Atticist material in Byzantine lexicography: towards a linguistic approach", Convegno internazionale Beyond Standards: Attic, the Koiné and Atticism (Cambridge 13-15.09.2018).

30.08.2018: relazione "L'approccio alle lingue letterarie e ai dialetti nell'esegesi antica", Entretiens Hardt sur l'Antiquité Classique (Fondation Hardt, Ginevra, 26-30.08.2018).

15.06.2018: relazione "Alla ricerca di ciò che è perduto: l'epigramma di Sicilia nel suo contesto linguistico, archeologico ed epigrafico", Convegno Langue poétique et formes dialectales dans les inscriptions versifiées grecques, Laboratoire HISoMA (Université de Lyon, 15.06.2018).


ALTRE PRESENTAZIONI

16.03.2019: relazione (con V. Mignosa) "A graphic sign of identity? History and Meaning of An Arrow-Shaped Alpha", Conference Exploring the Social and Cultural Contexts of Historic Writing (Cambridge University, 14-16.03.2019).
Seminari su invito tenuti presso altre Università, Centri di Ricerca, Aziende, etc.
06.12.2019: seminario su invito presso l'Università di Verona (prof. Paolo Scattolin), sul tema "Erodoto 'omericissimo': la questione dialettale"
Altre attività scientifiche
2017: peer reviewer per Oxford University Press
2017: peer reviewer per Lingue e Linguaggio
2017: peer reviewer per AXON
2018: peer reviewer per Cambridge University Press
2018: peer reviewer per AXON
2019: peer reviewer per Classical Quarterly
2019: peer reviewer per AXON
2020: peer reviewer per Studia Philologica Valentina
Incarichi accademici e attività organizzative
DOTTORATO
Dal 2013 sono membro del collegio dottorale del dottorato in Scienze dell'Antichità.

Sono attualmente co-tutor di Chiara Pesaresi, dottoranda del XXXIV ciclo.


SEMINARI
Nel corso del triennio ho organizzato e coordinato (insieme a Claudia Antonetti, Ettore Cingano e Stefania De Vido) i seminari dipartimentali "Dialoghi di Storia e letteratura greca".

28.04.2017: Organizzazione e coordinamento della giornata di studio internazionale "Tra letteratura, linguistica ed epigrafia", Venezia (gli atti sono poi stati pubblicati nella collana Trends in Classics, De Gruyter, 2019, a cura di E. Passa e O. Tribulato)
Partecipazione alle attività di valutazione della ricerca
Come membro del Comitato ricerca ho partecipato alla valutazione della ricerca dipartimentale per l'assegnazione annuale dell'ADiR.
Componente di Collegi didattici, Comitati e Commissioni di Dipartimento, Commissioni di Ateneo
22.04.2020 − in corso: Comitato editoriale, Edizioni Ca' Foscari

10.09.2019 - in corso: Teaching Committee, Foundation Year, Ca' Foscari School for International Education (responsabile del 'track humanities' e relativo syllabus).

26-27.04.2018: membro della Commissione di selezione delle pre-ammissioni, Collegio Internazionale Ca' Foscari.

29.01.2018 − in corso: Consiglio direttivo, Ca' Foscari School for International Education.

Settembre 2017 - 31 dicembre 2019: membro del Comitato ricerca, Dipartimento di Studi Umanistici.
Attività e incarichi esterni
COMMISSIONI
30.04.2020: esaminatore della tesi dottorale di Marta Capano dal titolo "Il greco di Sicilia tra età ellenistica e tarda antichità: risultati dell'analisi di un corpus epigrafico" (Istituto Orientale di Napoli, XXXI ciclo)

Febbraio 2019: membro della commissione di concorso per la selezione di due RTDa, Università di Bologna, Dipartimento di filologia classica e italianistica (nell'ambito del progetto ERC INSCRIBE, dir. S. Ferrara)

FELLOWSHIP
26-30.08.2018: ospite residente della Fondation Hardt pour l'antiquité classique, nell'ambito dei LXV Entretiens Hardt


15.06.2017 - 15.08.2017: Visiting Research Fellow, Seeger Center for Hellenic Studies, Princeton University (summer semester)
Altre informazioni
ALTRE TESI
Sessione straordinaria A.A. 2017-2018: correlazione della tesi triennale in Letteratura greca di Silvia Luka (relatore E. Cingano).


ATTIVITA' DI TERZA MISSIONE
Venetonight 2019. Museo archeologico di Venezia
Voci di donne nell'antichità (con S. De Vido e L. Mondin)