ELLERO Andrea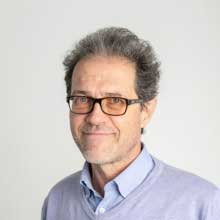 Dati relazione
| | |
| --- | --- |
| Periodo di riferimento | 01/11/2015 - 31/10/2018 |
| Afferenza | Dipartimento di Management |
| Ruolo | Professori associati |
Attività didattica
| A.A. | Insegnamento | Codice | Voto (max 4) | Voto medio area (max 4) |
| --- | --- | --- | --- | --- |
| 2015/2016 | ANALISI E MODELLI DI PRICING | ET1009 | 3.5 | 3.1 |
| 2015/2016 | COMPETENZE DI SOSTENIBILITA' | AM0001 | | |
| 2015/2016 | COMPETENZE DI SOSTENIBILITA' | AT0001 | | |
| 2015/2016 | MATEMATICA | ET0045 | 3.3 | 3.1 |
| 2015/2016 | REVENUE MANAGEMENT | EM9031 | 3.4 | 3.1 |
| 2016/2017 | ANALISI E MODELLI DI PRICING | ET1009 | 3.3 | 3.1 |
| 2016/2017 | COMPETENZE DI SOSTENIBILITA' | AM0001 | | |
| 2016/2017 | COMPETENZE DI SOSTENIBILITA' | AT0001 | | |
| 2016/2017 | MATEMATICA | ET0045 | 3.1 | 3.1 |
| 2016/2017 | REVENUE MANAGEMENT | EM9031 | 3.5 | 3.1 |
| 2017/2018 | ANALISI E MODELLI DI PRICING | ET1009 | 3.4 | 3.1 |
| 2017/2018 | COMPETENZE DI SOSTENIBILITA' | AT0001 | | |
| 2017/2018 | COMPETENZE DI SOSTENIBILITA' | AM0001 | | |
| 2017/2018 | MATEMATICA | ET0045 | 3.3 | 3.1 |
| 2017/2018 | REVENUE MANAGEMENT | EM9031 | 3.5 | 3.1 |
Tesi
| Anno solare | Tipologia | Tesi Relatore | Tesi Correlatore |
| --- | --- | --- | --- |
| 2015 | Corso di laurea | 15 | |
| 2015 | Corso di laurea magistrale | 10 | 7 |
| 2016 | Corso di laurea | 16 | |
| 2016 | Corso di laurea magistrale | 13 | 7 |
| 2017 | Corso di dottorato | 1 | |
| 2017 | Corso di laurea | 8 | |
| 2017 | Corso di laurea magistrale | 11 | 3 |
Finanziamenti
Interazione in sistemi economici complessi: Innovazione, contagio e crisi
Ricerche sviluppate e in corso
Bayesian confirmation measures in modeling decisions
Controllo ottimo frazionario per la misurazione dell'efficienza pubblicitaria
Information Technology per i servizi turistici
Legge di Benford: analisi ed applicazioni economico-finanziarie.
Metodi e modelli di revenue management
Modelli ad agenti per le applicazioni economiche
Modelli di diffusione dell'innovazione
Modelli di ottimizzazione per il marketing
Prevention, prudence and risk attitude in a multi-period framework
Short-medium term tourist services demand forecasting with Data Mining techniques
Simulazioni di mercato ad agenti
Pubblicazioni realizzate nel triennio
Baldin, Andrea; Bille, Trine; Ellero, Andrea; Favaretto, Daniela (2018), Revenue and attendance simultaneous optimization in performing arts organizations in JOURNAL OF CULTURAL ECONOMICS, vol. 42, pp. 677-700 (ISSN 0885-2545) (Articolo su rivista)
Corazza, Marco; Ellero, Andrea; Zorzi, Alberto (2018), The importance of being "one" (or Benford's law) in LETTERA MATEMATICA, vol. 6, pp. 33-39 (ISSN 2281-6917) (Articolo su rivista)
Celotto, Emilio; Ellero, Andrea; Ferretti, Paola (2018), Asymmetry degree as a tool for comparing interestingness measures in Decision Making: the case of Bayesian Confirmation Measures , Neural Advances in Processing Nonlinear Dynamic Signals. WIRN 2017. Smart Innovation, Systems and Technologies in SMART INNOVATION, SYSTEMS AND TECHNOLOGIES, Cham, Springer International Publishing, vol. 102, pp. 289-298 (ISBN 978-3-319-95097-6; 978-3-319-95098-3) (ISSN 2190-3018) (Articolo su libro)
Celotto, Emilio; Ellero, Andrea; Ferretti, Paola (2018), Coexistence of Symmetry Properties for Bayesian Confirmation Measures , Working Paper 17/WP/2018 in WORKING PAPER-DEPARTMENT OF ECONOMICS, CÀ FOSCARI. UNIVERSITY OF VENICE, Department of Economics, Università Ca' Foscari Venezia, pp. 1-14 (ISSN 1827-3580) (Articolo su libro)
Corazza, Marco; Ellero, Andrea; Zorzi, Alberto (2017), L'importanza di essere "Uno" (Ovvero la legge di Benford) in LETTERA MATEMATICA PRISTEM, vol. 103, pp. 31-38 (ISSN 1593-5884) (Articolo su rivista)
Ellero, Andrea; Ferretti, Paola; Zocchia, E. (2016), A multi criteria study of collusion risk factors , Working Paper 21/2016 in WORKING PAPER SERIES, Venezia, Department of Management, Università Ca' Foscari Venezia, pp. 1-11 (ISSN 2239-2734) (Articolo su libro)
Bykadorov, Igor; Ellero, Andrea; Funari, Stefania; Kokovin, Sergey; Pudova, Marina (2016), Chain store against manufacturers: Regulation can mitigate market distortion , Discrete Optimization and Operations Research in LECTURE NOTES IN COMPUTER SCIENCE, Springer Verlag, vol. 9869, pp. 480-493 (ISBN 978-331944913-5) (ISSN 0302-9743) (Articolo su libro)
Bitca, I.; Ellero, Andrea; Ferretti, Paola (2016), Is there any link between level of instruction and financial choices? A study on a Generation Y- based survey , Working Paper 38/2016 in WORKING PAPER-DEPARTMENT OF ECONOMICS, CÀ FOSCARI. UNIVERSITY OF VENICE, Department of Economics, Università Ca' Foscari Venezia, pp. 1-11 (ISSN 1827-3580) (Articolo su libro)
CELOTTO, E.; ELLERO, A.; FERRETTI, P. (2016), Monotonicity and Symmetry of IFPD Bayesian Confirmation Measures , Modeling Decisions for Artificial Intelligence: 13th International Conference, MDAI 2016, Sant Julià de Lòria, Andorra, September 19-21, 2016 in LECTURE NOTES IN ARTIFICIAL INTELLIGENCE, Springer International Publishing, pp. 114-125 (ISBN 978-3-319-45656-0) (ISSN 0302-9743) (Articolo su libro)
Baldin, Andrea; Bille, Trine; Ellero, Andrea; Favaretto, Daniela (2016), Multiobjective optimization model for pricing and seat allocation in non profit performing arts organization in WORKING PAPER SERIES, vol. 20/2016, pp. 1-28 (ISSN 2239-2734) (Working paper)
Bykadorov, Igor; Ellero, Andrea; Funari, Stefania; Kokovin, S.; Molchanov, P. (2016), Painful Birth of Trade Under Classical Monopolistic Competition , Higher School of Economics, vol. 132/EC/2016, pp. 1-35 (Working paper)
CELOTTO E.; ELLERO A.; FERRETTI P. (2015), Conveying tourist ratings into an overall destination evaluation in PROCEDIA: SOCIAL & BEHAVIORAL SCIENCES, vol. 188, pp. 35-41 (ISSN 1877-0428) (Articolo su rivista)
ELLERO A.; FERRETTI P.; FURLANETTO G. (2015), Realtime crowdsourcing with payment of idle workers in the Retainer Model in PROCEDIA ECONOMICS AND FINANCE, vol. 32, pp. 20-26 (ISSN 2212-5671) (Articolo su rivista)
Bykadorov, Igor; Ellero, Andrea; Funari, Stefania (2015), Pro-competitive effects and harmful trade liberalization in multi-country world in Bykadorov I.; Ellero A.; Funari S.; Kokovin S.; Molchanov P., Working paper series in WORKING PAPER SERIES, Venezia, Department of Management, Università Ca'Foscari Venezia, vol. 6/2015, pp. 1-39 (ISSN 2239-2734) (Articolo su libro)
Descrizione dell'attività di ricerca svolta nel triennio e gli obiettivi futuri
Nei lavori di Celotto, Ellero e Ferretti degli anni 2016 e 2018 vengono esaminate le proprietà teoriche delle diverse misure di confermazione bayesiane esistenti, quali monotonia e soprattutto simmetria, in parte ispirate alle simmetrie geometriche classiche. Le misure che non soddisfano condizioni di simmetria possono presentare diversi livelli di asimmetria per i quali viene fatta una prima proposta di misura di asimmetria, che permette di scoprire alcune delle loro caratteristiche, somiglianze e differenze.
Le misure di confermazione bayesiana sono utilizzate anche nella valutazione delle regole induttive utilizzate nel lavoro di Celotto, Ellero e Ferretti (2015) nel quale, utilizzando metodi di tipo multicriteria e rough sets, vengono esaminate le valutazioni di destinazioni turistiche fornite dai turisti in modo da fornire indicazioni utili al miglioramento dei servizi offerti dalle destinazioni stesse. Metodi di tipo Dominance based rough sets vengono poi utilizzati in Ellero et al. (2016) nel tentativo di fornire una metodologia per la determinazione di caratteristiche rilevabili nel mercato e in grado di evidenziare la presenza di fenomeni collusivi.
Le applicazioni in tempo reale del crowdsourcing sono state oggetto di ricerca in Ellero et al. (2015) con focus sul pagamento dei crowdworker e sul trade-off tra il tempo di attesa previsto per una lavorazione da svolgere e il numero di lavoratori nel pool di crowdworkers.
L'implementazione delle tecniche di Revenue Management (RM) nelle organizzazioni senza scopo di lucro è stata affrontata in Baldin et al. (2016 e 2018) proponendo un modello di ottimizzazione biobiettivo nel quale le scelte di prezzo e di allocazione dei posti per le manifestazioni teatrali hanno lo scopo di massimizzare sia il fatturato che l'occupazione, rispondendo così contemporaneamente ad esigenze finanziarie che di servizio pubblico. Il modello proposto è convalidato con i dati di prenotazione relativi al Royal Danish Theatre nel periodo 2010-2015.
Parte dell'attività di ricerca è stata dedicata, infine, allo studio degli effetti della liberalizzazione progressiva del mercato a partire da (e molto vicino a) una situazione di autarchia (Bykadorov et al. 2015; Bykadorov, Ellero, Funari, Kokovin e Molchanov, 2016) e alle relazioni tra le diverse componenti di una catena distributiva ipotizzando una situazione di concorrenza monopolistica. In particolare sono studiate le situazioni in cui il retailer svolga il ruolo di leader del mercato (Bykadorov, Ellero, Funari, Kokovin e Pudova, 2016).
L'attività di ricerca del prossimo futuro sarà volta all'approfondimento e al consolidamento delle ricerche orientate allo studio delle proprietà teoriche delle misure di confermazione, allo studio del pricing in ambito hospitality, all'ottimizzazione e al controllo delle dinamiche di diffusione dell'opinione in una popolazione.
Relazioni invitate presso convegni o workshops
Presentazioni:
Asymmetry degree as a tool for comparing interestingness measures, con Celotto E. e Ferretti P., Italian Workshop on Neural Networks (WIRN), Vietri sul mare, 2017
Monotonicity and Symmetry of IFPD Bayesian Confirmation Measures, con Celotto E. e Ferretti P., Modeling Decisions for Artificial Intelligence: 13th International Conference, MDAI 2016, Sant Julià de Lòria, Andorra, September 19-21, 2016
Problematic merging and cartels: a multi-attribute analysis of collusion risk factors, con Ferretti P. e Zocchia E., Emerging Markets Queries in Finance and Business,Tîrgu-Mureş, ROMÂNIA, 27-29, OCTOBER 2016
Seminari su invito tenuti presso altre Università, Centri di Ricerca, Aziende, etc.
Seminario: Non c'è una formula magica per determinare il prezzo ma…(Meeting Annuale H-Benchmark, Lavis, 2018)
Seminario: Revenue Management per strutture ricettive: strumenti per la decisione del prezzo (Accademia d'Impresa, Trento, 2018)
Altre attività scientifiche
Reviewer per:
INTERNATIONAL JOURNAL OF CONTEMPORARY HOSPITALITY MANAGEMENT
MATHEMATICAL METHODS OF OPERATIONS RESEARCH
WIRN 2017, in SMART INNOVATION, SYSTEMS AND TECHNOLOGIES, Cham, Springer International Publishing, vol. 102
DOOR 2016 (discrete optimization and operations research) Conference, Russky Island, Russia 2016
Altre attività didattiche
Corso di alta formazione Modelli Manageriali e Tourist Business (Associazione Albergatori Bibione - Fondazione Ca' Foscari); 2017 e 2018
Corso di Matematica per Master in Economia e gestione del turism; dal 2015
Incarichi accademici e attività organizzative
Responsabile Orientamento e Open Day del Dipartimento di Management, dal 2015
Rappresentante dell'Università Ca' Foscari: Consiglio di indirizzo ITS per il Turismo – Jesolo (membro); dal 2017
Rappresentante dell'Università Ca' Foscari: Comitato tecnico scientifico ITS per il Turismo Jesolo (membro); dal 2017
Componente di Collegi didattici, Comitati e Commissioni di Dipartimento, Commissioni di Ateneo
Collegio didattico laurea magistrale Sviluppo interculturale dei sistemi turistici (membro); dal 2015
Collegio dei Docenti Master in Economia e Gestione del Turismo (membro); dal 2015
Attività e incarichi esterni
Corso di Revenue management (corso ITS Hospitality management, Jesolo); dal 2015
Presidente Cooperativa El Fontego per un commercio equo e solidale; dal 2016
Partecipazione a numerose attività di orientamento presso scuole del Veneto, nell'ambito di diversi progetti