PRANOVI Fabio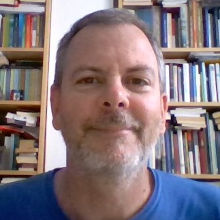 Ricercatore presso il Dipartimento di Scienze Ambientali, Informatica e Statistica dell'Università Ca' Foscari di Venezia; i principali interessi di ricerca sono nell'ambito dell'applicazione dell'approccio ecosistemico allo sfruttamento delle risorse rinnovabili in ambiente marino ed i possibili effetti dei cambiamenti climatici sulla struttura ed il funzionamento degli ecosistemi costieri. In tali contesti, particolare attenzione è dedicata all'implementazione di indicatori ecosistemici per la valutazione dello stato ecologico; all'analisi dell'attività di pesca nelle zone costiere e possibili sviluppi in termini di sostenibilità; all'analisi delle variazioni spazio-temporali dello sforzo di pesca mediante l'utilizzo di dati VMS (Vessel Monitoring System); allo studio delle peculiarità delle comunità biologiche in alto Adriatico, in relazione alla presenza della lacuna veneziana, e la possibile vulnerabilità agli effetti dei cambiamenti climatici.
Coinvolto in progetti Nazionali ed internazionali, quali FP7-FORCE project, per l'analisi dello stato della pesca e dell'acquacoltura in Egitto (WP leader), FP7-MEDINA project per l'analisi dello stato ecologico e l'applicazione di indicatori ecosistemici nei paesi nordafricani Mediterranei, progetto PRIN 'Approcci integrati alla gestione dello stato ecologico e alla gestione alieutica degli ecosistemi acquatici di transizione', progetto per la 'Conservazione ed evoluzione degli habitat lagunari: effetti dei cambiamenti climatici e delle misure di adattamento' (WP leader).
Attualmente titolare dei corsi 'Fondamenti di ecologia per il restauro' (Corso di Laurea in Scienze Chimiche per la Conservazione e il Restauro, laurea magistrale) e 'Fishery Ecology' (Corso di Laurea in Scienze Ambientali, laurea magistrale, e Joint Degree). Membro dell'Advisory Board del dottorato di eccellenza in 'Science and Management of Climate Change' (Università Ca' Foscari e Euro-Mediterranean Centre for Climate Change -CMCC).
Le informazioni riportate sono state caricate sul sito dell'Università Ca' Foscari Venezia direttamente dall'utente a cui si riferisce la pagina. La correttezza e veridicità delle informazioni pubblicate sono di esclusiva responsabilità del singolo utente.