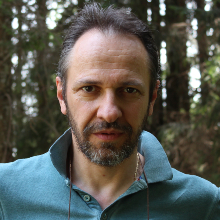 Dati relazione
Periodo di riferimento

31/12/2016 - 30/12/2019
Afferenza

Dipartimento di Economia
Ruolo

Professori associati
Attività didattica
| A.A. | Insegnamento | Codice | Voto (max 4) | Voto medio area (max 4) |
| --- | --- | --- | --- | --- |
| 2016/2017 | ANALISI STATISTICA DEI MERCATI | EM1001 | 2.8 | 3.1 |
| 2016/2017 | ANALISI STATISTICHE PER LE DINAMICHE AZIENDALI | EM1025 | | |
| 2016/2017 | BUSINESS STATISTICS | EM1028 | 2.5 | 3.1 |
| 2016/2017 | STATISTICA PER IL MERCATO MONETARIO E FINANZIARIO | EM5016 | 3.4 | 3.1 |
| 2017/2018 | ANALISI STATISTICA DEI MERCATI | EM1001 | 2.6 | 3.1 |
| 2017/2018 | BUSINESS STATISTICS | EM1028 | 2.6 | 3.1 |
| 2017/2018 | ELEMENTI DI INFORMATICA PER L'ECONOMIA | ET0032 | 2.1 | 3.1 |
| 2017/2018 | STATISTICA PER IL MERCATO MONETARIO E FINANZIARIO | EM5016 | 3.2 | 3.1 |
| 2018/2019 | BUSINESS STATISTICS | EM1028 | 2.2 | 3.1 |
| 2018/2019 | ELEMENTI DI INFORMATICA PER L'ECONOMIA | ET0032 | 2.5 | 3.1 |
| 2018/2019 | STATISTICA PER IL MERCATO MONETARIO E FINANZIARIO | EM5016 | 3.3 | 3.1 |
| 2018/2019 | STATISTICAL ANALYSIS OF MARKETS | EM1064 | 1.8 | 3.1 |
Tesi
| Anno solare | Tipologia | Tesi Relatore | Tesi Correlatore |
| --- | --- | --- | --- |
| 2016 | Corso di laurea magistrale | 9 | 4 |
| 2017 | Corso di laurea magistrale | 8 | 7 |
| 2018 | Corso di laurea | 1 | |
| 2018 | Corso di laurea magistrale | 5 | 2 |
Finanziamenti
Hi-Di NET Econometric Analysis of High Dimensional Models with Network Structures in Macroeconomics and Finance
Ricerche sviluppate e in corso
Cointegrazione non lineare nelle serie storiche finanziarie
Investment choices of individual investors
Mercati finanziari e rischio sistemico
Modelli statistici per lo studio delle competenze trasversali
Sistemi di trading e metaeuristiche di ottimizzazione
Pubblicazioni realizzate nel triennio
Marco Corazza, Francesca Parpinel, Claudio Pizzi (2019), Can PSO improve TA-based trading systems? , Neural Advances in Processing Nonlinear Dynamic Signals in SMART INNOVATION, SYSTEMS AND TECHNOLOGIES, Cham, Springer International Publishing, vol. 102, pp. 277-288 (ISBN 978-3-319-95097-6) (ISSN 2190-3018) (Articolo su libro)
BONESSO, Sara; GERLI, Fabrizio; PIZZI, Claudio; CORTELLAZZO, Laura (2018), Students' entrepreneurial intentions: The role of prior learning experiences and emotional, social and cognitive competencies in JOURNAL OF SMALL BUSINESS MANAGEMENT, vol. 56, pp. 215-242 (ISSN 1540-627X) (Articolo su rivista)
Marco Corazza; Claudio Pizzi (2018), Some critical insights on the unbiased efficient frontier à la Bodnar&Bodnar , Mathematical and Statistical Methods for Actuarial Sciences and Finance, Cham, Springer, pp. 243-247 (ISBN 978-3-319-89823-0; 978-3-319-89824-7) (Articolo su libro)
CORTELLAZZO LAURA; BONESSO SARA; GERLI FABRIZIO; PIZZI CLAUDIO (2018), Protean Career Orientation: Behavioral Antecedents and Employability Outcomes , BAM2018 Conference Proceedings, British Academy of Management, Convegno: British Academy of Management Conference, 4-6 September (ISBN 978-0-9956413-0-3) (Articolo in Atti di convegno)
Marco Corazza, Francesca Parpinel, Claudio Pizzi (2017), An evolutionary approach to improve a simple trading system , Mathematical and Statistical Methods for Actuarial Sciences and Finance, Cham, Springer International Publishing, vol. 1, pp. 83-95 (ISBN 9783319502335) (Articolo su libro)
Laura, Cortellazzo; Sara, Bonesso; Fabrizio, Gerli; Claudio, Pizzi (2017), Experiences that matter: developing behavioural competencies through experiential learning , Euram 2017 Making knowledge at work in EURAM CONFERENCE, European Academy of Management, Convegno: European Academy of Management (ISSN 2466-7498) (Articolo in Atti di convegno)
Cortellazzo, Laura; Bonesso, Sara; Gerli, Fabrizio; Pizzi, Claudio (2017), The role of extracurricular activities in developing behavioral competencies , Academy of Management Annual Meeting, Academy of Management Annual Meeting, Convegno: Academy of Management Annual Meeting, 4-8 August (Articolo in Atti di convegno)
Parpinel, Francesca; Pizzi, Claudio (2016), Measuring systemic risk through statistical combination in RIVISTA ITALIANA DI ECONOMIA, DEMOGRAFIA E STATISTICA, vol. LXX, pp. 111-121 (ISSN 0035-6832) (Articolo su rivista)
Frattarolo, Lorenzo; Parpinel, Francesca; Pizzi, Claudio (2016), SYSTEMICALLY IMPORTANT BANKS:A PERMUTATION TEST APPROACH in RIVISTA ITALIANA DI ECONOMIA, DEMOGRAFIA E STATISTICA, vol. LXX, pp. 41-52 (ISSN 0035-6832) (Articolo su rivista)
Lorenzo, Frattarolo; Francesca, Parpinel; Claudio, Pizzi (2016), Global Systemically Important Banks: A Permutation Test Approach in WORKING PAPER-DEPARTMENT OF ECONOMICS, CÀ FOSCARI. UNIVERSITY OF VENICE (ISSN 1827-3580) (Working paper)
Pubblicazioni in corso di stampa
Pizzi Claudio, Parpinel Francesca, Frattarolo Lorenzo Combining permutation tests to rank systemically important banks in STATISTICAL METHODS & APPLICATIONS, vol. forthcoming (ISSN 1618-2510) (Articolo su rivista)
Partecipazione a comitati editoriali di riviste/collane scientifiche
Associate Editor della rivista Statistical Methods & Applications (incarico biennale a partire dal 01/10/2019)
Descrizione dell'attività di ricerca svolta nel triennio e gli obiettivi futuri
L'attività di ricerca del triennio 31/12/2016-30/12/2019 ha seguito i seguenti filoni di studio:
1) Rischio sistemico nei mercati finanziari: l'attenzione è stata rivolta al tentativo di superare la metodologia di classificazione delle istituzioni finanziarie sistemicamente importanti basata sui dati di bilancio e quindi disponibili annualmente proponendo una tecnica basata sulle quotazioni giornaliere dei titoli delle istituzioni stesse. L'idea sviluppata utilizza una combinazione di test di permutazioni parziali applicata a diversi indicatori proposti in letteratura per "misurare" il rischio sistemico di un'impresa. I pesi utilizzati nella combinazione sono ottenuti cercando di riprodurre nel miglio modo possibile la classificazione fatta dal comitato di Basilea. L'utilizzo della procedura permetterebbe di svolgere una sorveglianza più frequente rispetto a quella basata sui bilanci. Il principale output di tale ricerca è stata la seguente pubblicazione
Fratarollo, L. Parpinel, F. Pizzi, C. (2019) Combining permutation tests to rank systemically important banks, Statistical Methods and Applications (accettato per la pubbicazione, consultabile online)
2) Trading system: partendo dall'osservazione che molti indicatori di analisi tecnica comunemente e ampiamente utilizzati nel trading utilizzano una parametrizzazione basata sull'esperienza si è cercato di studiare e proporre un approccio nuovo della selezione dei suddetti parametri. La definizione di una funzione di guadagno dell'attività di trading dipendente dai parametri degli indicatori che definiscono le regole di operatività nel mercato ha permesso di impostare il problema di selezione dei parametri in termini di ricerca di massimo vincolato data la presenza di vincoli sui parametri. L'ottimizzazione è stata ottenuta utilizzando meta-euristiche basate sull'apprendimento sociale (Particle Swarm Optimization). I risultati di questa attività di ricerca sono stati presentati a diversi convegni nazionali (WIRN 2017 e WIRN 2019) e internazionali (MAF2018).
3) Competenze emotive, sociali e cognitive (ESC competencies): il ruolo delle competenze ESC è stato studiato sia dal punto di vista delle antecedenti sia dal punto di vista delle determinanti. Dal primo punto di vista si è riusciti a mettere in luce come attività extra-culturali svolte da studenti universitari hanno la capacità di sviluppare maggiormente le competenze ESC permettendo agli studenti di inserirsi nel mondo del lavoro in modo più efficace ed efficiente sviluppando anche una visione di essere protagonisti della propria carriera. Dal secondo punto di vista si è studiato come le competenze trasversali possono impattare sul successo manageriale ed imprenditoriale. Il principale output di tale ricerca è sta la seguente pubblicazione:
Bonesso, S., Gerli, F., Pizzi, C., Cortellazzo, L. (2018) Students' Entrepreneural intentions: the role of the prior learning Experiences and Emotional, Social and Cognitive Competencies, Journal of Small Business Managemen, vol. 56, p. 215-242.

Gli obiettivi dell'attività ricerca per il prossimo triennio sono legati principalmente all'attività di ricerca citata al secondo punto relativo triennio trascorso e possono essere così riassunti:
• confronto tra meta-euristiche per l'ottimizzazione di modelli di trading dinamico;
• utilizzo di tecniche di machine learning per la definizione di trading system ibridi.
Relazioni invitate presso convegni o workshops
• WIRN 2017 27th Italian Workshop of Neural Networks, June 14-16, Vietri sul Mare, Italy
• Euram Conference 2017 – Making Knowledge Work, June 21-24, Glasgow, UK
• MAF2018 Mathematical and Statistical Methods for Actuarial Science and Finance, April 4-6, Madrid Spain
• WIRN 2018 28th Italian Workshop of Neural Networks, June 13-15, Vietri sul Mare, Italy
• Academy of Management Annual Meeting, August 4-8 2017, Atlanta, USA
• WIRN 2019 29th Italian Workshop of Neural Networks, June 12-14, Vietri sul Mare, Italy
Altre attività scientifiche
Membro del comitato direttivo e del comitato scientifico del convegno MAF2018 Mathematical and Statistical methods for Actuarial Science and Finance, April 4-6, 2018 - Madrid, Spain
Componente di Collegi didattici, Comitati e Commissioni di Dipartimento, Commissioni di Ateneo
- Componente del collegio didattico del CdS Global Development and Enrepreneuralship (già Sviluppo Economico e d'Impresa) per l'intero triennio
- Presidente della commissione paritetica docenti studenti della Scuola in Economia, Lingue e Imprenditorialità per gli Scambi Internazionali per l'intero triennio.