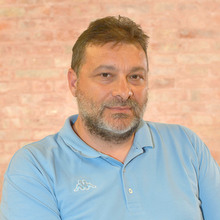 Dati relazione
Periodo di riferimento

23/10/2017 - 22/10/2020
Afferenza

Dipartimento di Economia
Ruolo

Professori Associati
Attività didattica
| A.A. | Insegnamento | Codice | Voto | Voto medio area |
| --- | --- | --- | --- | --- |
| 2017/2018 | ELEMENTI DI STATISTICA | EM1112 | 3.1 | 3.1 |
| 2017/2018 | STATISTICA | ET0060 | 2.7 | 3.1 |
| 2017/2018 | STATISTICAL METHODS FOR RISK ANALYSIS | EM5023 | 3 | 3.1 |
| 2018/2019 | ELEMENTI DI STATISTICA | EM1112 | 2.8 | 3.1 |
| 2018/2019 | STATISTICA | ET0060 | 2.8 | 3.1 |
| 2018/2019 | STATISTICAL METHODS FOR RISK ANALYSIS | EM5023 | 2.2 | 3.1 |
| 2019/2020 | ELEMENTI DI STATISTICA | EM1112 | 6.7 | 7.6 |
| 2019/2020 | STATISTICA | ET0060 | 6.5 | 7.6 |
| 2019/2020 | STATISTICAL METHODS FOR RISK ANALYSIS | EM5023 | 6.5 | 7.6 |
Tesi
| Anno solare | Tipologia | Tesi Relatore | Tesi Correlatore |
| --- | --- | --- | --- |
| 2017 | Corso di laurea magistrale | | 3 |
| 2018 | Corso di laurea | 1 | |
| 2018 | Corso di laurea magistrale | 1 | 4 |
| 2019 | Corso di laurea | 1 | |
| 2019 | Corso di laurea magistrale | 1 | 5 |
Finanziamenti
Osservatorio spesa sanitaria e supporto al piano sanitario regionale
SELECT - Unfolding the SEcrets of LongEvity
Ricerche sviluppate e in corso
ADAPT- Accessible Data for Accessible Proto-Types in Social Sector
Classification methods for functional data
Clustering with nonparametric bayesian models
Comparison of cluster analysis procedures
Forecasting of health workforce needs
Fruizione di performing arts e beneficio artistico, una nuova dimensione sociale?
SELECT Studio sulla longevità (FInanziato PRIN)
SELECT Studio sulla longevità (FInanziato PRIN)
Statistical methods in epidemiology
Pubblicazioni realizzate nel triennio
Zolin, Maria Bruna; Pastore, Andrea; Mazzarolo, Martina (2019), Common agricultural policy and sustainable management of areas with natural handicaps. The Veneto Region case study in ENVIRONMENT, DEVELOPMENT AND SUSTAINABILITY, vol. Published on line (ISSN 1387-585X) (Articolo su rivista)
Bartolomei, Luigi; Pastore, Andrea; Meligrana, Lucia; Sanson, Elena; Bonetto, Nicola; Minicuci, Giacomo Maria; Marsala, Sandro Zambito; Mesiano, Tiziana; Bragagnolo, Lorenzo; Antonini, Angelo (2018), Relevance of sleep quality on caregiver burden in Parkinson's disease in NEUROLOGICAL SCIENCES, vol. 39, pp. 835-839 (ISSN 1590-1874) (Articolo su rivista)
Michele Bonazzi, Andrea Pastore, Francesco Casarin (2018), Cultural Consumption and the Artistic Benefit in WORKING PAPER SERIES, vol. 9 (ISSN 2239-2734) (Working paper)
Descrizione dell'attività di ricerca svolta nel triennio e gli obiettivi futuri
PROGETTI CONCLUSI NELL'AMBITO DEL TRIENNIO

1. Politiche agricole e gestione sostenibile di aree svantaggiate. Si è indagato, con riferimento al caso del Veneto, se gli aiuti della Politica Agricola Comunitaria abbiano ridotto il gap esistente tra le aziende collocate nelle differenti aree geografiche (montagna, collina e pianura). E' stato identificato un modello, utilizzando microdati provenienti dal "Farm European Accountancy Data". Un lavoro, precedentemente sottoposto, è stato pubblicato nel 2019.

2. Qualità del sonno e carico di lavoro dei caregivers di pazienti con malattia di Parkinson. Si tratta di uno studio clinico randomizzato multicentro condotto nella regione Veneto che ha esaminato la relazione tra qualità del sonno e depressione nei pazienti con malattia di Parkinson e il carico di lavoro e la qualità della vita dei loro caregivers. Un lavoro è stato pubblicato nel 2018.

PROGETTI IN CORSO

1. Performing arts e beneficio artistico. Il progetto ha l'obiettivo di caratterizzare i benefici legati al consumo di arte e cultura, in particolare nelle performing arts. Dopo una prima fase di ricerca qualitativa, con la collaborazione di esperti del settore, si è sviluppata una indagine CAWI su un campione di consumatori di performing arts, per misurare i benefici connessi a tale consumo. Successivamente, si sono identificate, mediante una tecnica di analisi fattoriale, un set di dimensioni che consentono di caratterizzare tali benefici. Un lavoro era stato sottoposto per la pubblicazione senza successo. E' stato quindi sostanzialmente rivisto ed è stato sottoposto ad una diversa rivista.

2. SELECT - Unfolding the SEcrets of LongEvity. Nell'ambito di questo progetto (Bando PRIN 2017) si intende costruire un modello che rappresenti l'andamento della morbidità nella popolazione italiana, collegandola con la mortalità, e cercando di indagare le principali determinanti. In una prima fase, si è esplorata la disponibilità di basi di dati utili. Ci si è quindi concentrati sui dati provenienti dall'indagine PASSI e sulle tavole di mortalità della popolazione residente di fonte ISTAT. È in corso di preparazione un primo lavoro, che si intende sottoporre ad una rivista entro l'estate.

3. Valutazione dell'effetto della stimolazione meccanica plantare su sintomi motori di pazienti con malattia di Parkinson in fase avanzata. Si tratta di uno studio clinico randomizzato multicentro (Vicenza, Venezia, Trento) con l'obiettivo di indagare l'efficacia di una particolare terapia in pazienti affetti da malattia di Parkinson da almeno 8 anni.
Precedentemente, si è partecipato alla fase di disegno della ricerca e all'analisi dei dati raccolti in una prima fase dell'esperimento. Risultati provvisori erano stati presentati ad un convegno. Successivamente, l'esperimento ha avuto un rallentamento in ragione della pandemia. Si prevede di proseguire nel lavoro appena le condizioni lo permetteranno.

4. Misura di silhouette per classificazioni basate su misture di distribuzioni a contorno elissoidale. Il lavoro consiste nell'estendere la misura di silhouette, proposta da Roussseauw, in modo che si possa tenere conto dell'incertezza nella classificazione fornita da modelli mistura con componenti a contorno elissoidale (Normale, Student, ...). Un lavoro è in corso di completamento e si prevede si sottoporlo per la pubblicazione entro alcuni mesi.
Relazioni invitate presso convegni o workshops
"Unhealthy life prevalence estimation using the Passi dataset" (Relazione al meeting intermedio del progetto PRIN SELECT, 28/05/2020)
Altre attività scientifiche
Referee per la rivista "Statistics in Transition New Series"
Altre attività didattiche
1. Docenza nel Master "Analisi e valutazione delle politiche pubbliche", Università Ca' Foscari, anni 2018 e 2019
2. Docenza nel Master "Economia e Management della Sanità",Università Ca' Foscari, anni 2018, 2019, 2020.
Incarichi accademici e attività organizzative
Sono incaricato della valutazione dei curriculum degli studenti con titolo di studio straniero che chiedono l'iscrizione al Clm Economics and Finance (per l'intero triennio).
Componente di Collegi didattici, Comitati e Commissioni di Dipartimento, Commissioni di Ateneo
1. Componente del collegio didattico del corso di laurea magistrale in "Governance delle organizzazioni pubbliche" (per l'intero triennio).
2. Componente del collegio didattico del corso di laurea magistrale in "Economics and Finance" (per l'intero triennio).
3. Componente della Commissione Didattica Paritetica del Dipartimento di Economia (per l'intero triennio)
Attività e incarichi esterni
Membro del comitato operativo paritetico accordo di collaborazione Dipartimento per le Politiche della Famiglia, Istat, Università Ca' Foscari (dal 2019)