VEDOVATO Marco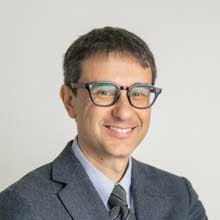 Dati relazione
| | |
| --- | --- |
| Periodo di riferimento | 16/01/2016 - 31/03/2019 |
| Afferenza | Dipartimento di Management |
| Ruolo | Ricercatori universitari |
Attività didattica
| A.A. | Insegnamento | Codice | Voto (max 4) | Voto medio area (max 4) |
| --- | --- | --- | --- | --- |
| 2015/2016 | ECONOMIA AZIENDALE | ET0017 | 3.3 | 3.1 |
| 2015/2016 | STRATEGIA AZIENDALE E SISTEMI DI PROGRAMMAZIONE E CONTROLLO | EM4025 | 2.8 | 3.1 |
| 2016/2017 | ECONOMIA AZIENDALE | ET0017 | 3.2 | 3.1 |
| 2017/2018 | BUSINESS PLANNING E CONTROLLO DI GESTIONE | EM4052 | 2.3 | 3.1 |
| 2017/2018 | ECONOMIA AZIENDALE | ET0017 | 3.3 | 3.1 |
Tesi
| Anno solare | Tipologia | Tesi Relatore | Tesi Correlatore |
| --- | --- | --- | --- |
| 2016 | Corso di laurea | 8 | |
| 2016 | Corso di laurea magistrale | 19 | 14 |
| 2017 | Corso di laurea | 10 | |
| 2017 | Corso di laurea magistrale | 9 | 5 |
| 2018 | Corso di laurea | 11 | |
| 2018 | Corso di laurea magistrale | 17 | 27 |
Ricerche sviluppate e in corso
Accountability and governance of sixteenth-century hybrid organizations in Venice
Il ruolo degli asset intangibili nei rapporti banche - piccole imprese
L'impatto aziendale delle operazioni di private equity
Strategia, innovazione e controllo di gestione nelle PMI
Pubblicazioni realizzate nel triennio
Lusiani, Maria; Vedovato, Marco; Pancot, Chiara (2019), Governance and accounting practices in hybrid organizations: Insights from a sixteenth-century charity in Venice in ACCOUNTING HISTORY, vol. 24, pp. 444-463 (ISSN 1032-3732) (Articolo su rivista)
Vedovato, Marco (2018), Le aziende: la struttura e la strategia , Istituzioni di economia d'azienda e rilevazioni contabili, Libreria Editrice Cafoscarina pscrl, pp. 41-76 (ISBN 9788875434564) (Articolo su libro)
Lusiani, Maria; Vedovato, Marco; Pancot, Chiara (2018), The rise of a culture of management control: The case of Scuola Grande di San Rocco in the XVI century , The origins of accounting culture: the Venetian connection, Routledge (ISBN 9781138103610) (Articolo su libro)
Battistin, Erich; Bortoluzzi, Paolo; Buttignon, Fabio; Vedovato, Marco (2017), Minority and majority private equity investments: firm performance and governance in THE JOURNAL OF MANAGEMENT AND GOVERNANCE, vol. 21, pp. 659-684 (ISSN 1385-3457) (Articolo su rivista)
Proto, Antonio; Vedovato, Marco (2016), PMI, asset intangibili e rapporti con le banche in BANCARIA, vol. 4, pp. 74-81 (ISSN 0005-4623) (Articolo su rivista)
Vedovato, Marco (2016), Strategy Visualization, Cognitive Frames, and Strategy Renewal in SMEs in INTERNATIONAL JOURNAL OF MANAGEMENT AND APPLIED RESEARCH, vol. 3, pp. 1-13 (ISSN 2056-757X) (Articolo su rivista)
Vedovato, Marco (2016), Strategy and Business Model in Integrated Reporting , Integrated Reporting. A New Accounting Disclosure, Palgrave Macmillan UK, pp. 19-36 (ISBN 978-1-137-55148-1) (Articolo su libro)
Pubblicazioni in corso di stampa
Bagnoli, Carlo; Vedovato, Marco; Costantini, Antonio The role of strategy maps in business integration: an interventionist approach in INTERNATIONAL JOURNAL OF MANAGEMENT PRACTICE, vol. N/D (ISSN 1477-9064) (Articolo su rivista)
Vedovato, Marco; Bagnoli, Carlo LA STRATEGIA AZIENDALE , Economia Aziendale tra tradizione e innovazione, Giuffré Francis Lefebvre (Articolo su libro)
Vedovato, Marco; Vaia, Giovanni L'AMBIENTE ESTERNO , Economia Aziendale tra tradizione e innovazione, Giuffré Francis Lefebvre (Articolo su libro)
Descrizione dell'attività di ricerca svolta nel triennio e gli obiettivi futuri
Nel corso del triennio sono giunti a conclusione alcuni progetti di ricerca avviati da tempo. In particolare:
- Ho concluso il progetto di ricerca sull'impatto aziendale delle operazioni di Private Equity, in collaborazione con alcuni colleghi dell'università di Padova. Il progetto ha complessivamente condotto ad alcuni working paper, a presentazioni a diversi convegni internazionali e ad alcune pubblicazioni scientifiche, tra cui, l'ultima e principale, sul Journal of Mangement and Governance, è andata in stampa nel 2017 (accettata 2016).
- Concluso anche il progetto di ricerca sulla valorizzazione degli asset intangibili nel rapporto tra banche e imprese, condotto assieme ad alcuni colleghi del dipartimento e beneficiario di finanziamento europeo nell'ambito del progetto EVLIA. Il progetto ha condotto a una pubblicazione sulla rivista Bancaria nel 2016.
Nel corso del triennio, inoltre, è stata avviata una nuova linea di ricerca sulle organizzazioni ibride nel sedicesimo secolo a Venezia, che ha già condotto ad alcune pubblicazioni. Nel corso del prossimo triennio è mia intenzione proseguire lungo tale linea di ricerca, oltre a proseguire nella ricerca sulla strategia e il controllo di gestione per le PMI.
Relazioni invitate presso convegni o workshops
Contributi presentati a convegni scientifici:
- Ancona, 2019, Workshop Management Control
- Edge Hill University (UK), 2019, Accounting History Review
- Torino, 2019, Convegno AIDEA
Seminari su invito tenuti presso altre Università, Centri di Ricerca, Aziende, etc.
12/12/2018 Intelligenza artificiale e decisioni di consumo, investimento e gestione aziendale, Convegno MyGdi Milano
18/05/2018 Associazione NordEstSudOvest, Mestre, "Start Up e altre iniziative per l'area produttiva veneziana"
13/04/2018 Ordine dei Dottori Commercialisti di Massa e Carrara, "Accesso al credito nell'era digitale: come cambiano i modelli di business di banche, aziende e professionisti"
Altre attività didattiche
2018, Buiness Planning, Master IBATAX, Ca' Foscari Challenge School
2017, Analisi dei costi e budgeting, Ca' Foscari Challenge School, corso executive "CFO 2.0"
2017, Controllo di gestione, Ca' Foscari Challenge School, Master in Internal Audit
Incarichi accademici e attività organizzative
Dall' a.a.a 2017-18 a oggi: Responsabile della formazione linguistica, Dipartimento di Management, Università Ca' Foscari
Dal 2016 a oggi: Membro del C.d.A di Green Decision, Spin-off dell'Università Ca' Foscari
Dal 2016 a oggi: Componente della Commissione Brevetti e Spin-off dell'Università Ca' Foscari
Attività e incarichi esterni
Docenza in materia di Strategia d'impresa, Corso di Controllo di Gestione per Dottori Commercialisti, SAF Triveneta, varie edizioni
Organizzazione e partecipazione all'erogazione della docenza nel Minimaster sul Controllo di Gestione, Ordine dei Commercialisti di Venezia, nel 2017
Docenza in materia di Analisi Prospettica e Business Planning, Gruppo Bancario Credito Valtellinese, corso organizzato da Ca' Foscari Challenge School, nel 2015 - 2016
Membro del comitato scientifico di COFIP – Associazione Consulenti Finanziari Professionisti