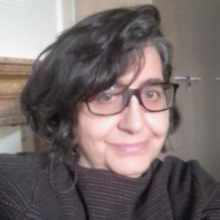 CERASI Laura
Position

Associate Professor
Roles

Member of the Commission for the Enhancement of Knowledge (DSLCC)
Delegate for Research

Telephone

041 234 5720
E-mail
Scientific sector (SSD)

STORIA CONTEMPORANEA [M-STO/04]
Website

www.unive.it/persone/laura.cerasi (personal record)

Dati relazione
Periodo di riferimento

01/12/2018 - 30/11/2021
Afferenza

Dipartimento di Studi Linguistici e Culturali Comparati
Ruolo

Professori Associati
Attività didattica
| A.A. | Insegnamento | Codice | Voto | Voto medio area |
| --- | --- | --- | --- | --- |
| 2018/2019 | HISTORY OF POLITICAL THOUGHT | LT9033 | 2.9 | 3.2 |
| 2018/2019 | STORIA COMPARATA DELL'ETA' CONTEMPORANEA | LM6070 | 3.6 | 3.2 |
| 2018/2019 | STORIA CONTEMPORANEA 1 | LT1220 | 3 | 3.2 |
| 2019/2020 | HISTORY OF POLITICAL THOUGHT | LT9033 | 7.8 | 8.1 |
| 2019/2020 | STORIA COMPARATA DELL'ETA' CONTEMPORANEA | LM6070 | 8.8 | 8.1 |
| 2019/2020 | STORIA CONTEMPORANEA 1 | LT1220 | 7.8 | 8.1 |
| 2019/2020 | STORIA CONTEMPORANEA 2 | LT0900 | 7.9 | 8.1 |
| 2020/2021 | HISTORY OF POLITICAL THOUGHT | LT9033 | 7.5 | 8.3 |
| 2020/2021 | STORIA COMPARATA DELL'EUROPA MEDITERRANEA | LM8040 | 8.7 | 8.3 |
| 2020/2021 | STORIA CONTEMPORANEA 1 | LT1220 | 8.4 | 8.3 |
| 2020/2021 | STORIA CONTEMPORANEA 2 | LT0900 | 8.3 | 8.3 |
Tesi
| Anno solare | Tipologia | Tesi Relatore | Tesi Correlatore |
| --- | --- | --- | --- |
| 2018 | Corso di laurea | 11 | |
| 2018 | Corso di laurea magistrale | 4 | 4 |
| 2019 | Corso di laurea | 5 | |
| 2019 | Corso di laurea magistrale | 2 | 4 |
| 2020 | Corso di laurea | 10 | |
| 2020 | Corso di laurea magistrale | 6 | 7 |
Pubblicazioni realizzate nel triennio
Laura CERASI (2021), Europeana Humanities. Il deperimento del sapere come ricerca in GIORNALE CRITICO DI STORIA DELLE IDEE, vol. 1/2021, pp. 141-148 (ISSN 2240-7995) (Articolo su rivista)
Laura CERASI (2020), Il lavoro corporativo. Cultura politica ed esperienze istituzionali di un sindacalista fascista , Milano, Fondazione Giangiacomo Feltrinelli, vol. Quaderni/36, pp. 1-90 (ISBN 978-88-6835-400-8) (Monografia o trattato scientifico)
Laura CERASI (2020), Sindacato, corporazioni, fascismo. Note su Giuseppe Landi in ANNALI DELLA FONDAZIONE UGO SPIRITO, vol. 2/2020, pp. 159-189 (ISSN 1121-1903) (Articolo su rivista)
Laura CERASI (2020), Nostalgia preindustriale, ghildismo e rinascita nazionale: note sul pensiero sociale di Ruskin nel dibattito culturale italiano , John Ruskin's Europe. A collection of Cross-Cultural Essay, Venezia, ECF Ca' Foscari Digital Edition, pp. 279-300 (ISBN 9781473942202; 978-88-6969-487-5) (Articolo su libro)
Laura Cerasi (2020), Fanfani, Amintore , The SAGE Encyclopedia of the Sociology of Religion, Thousand Oaks, CA, SAGE, vol. 1, pp. 290-293 (ISBN 9781473942202) (Voce in dizionario/enciclopedia)
Laura Cerasi; Vincenzo Lavenia (2019), Bibliografia degli scritti di Enzo Cervelli in STUDI STORICI, vol. 3/2019, pp. 629-636 (ISSN 0039-3037) (Articolo su rivista)
laura cerasi (2019), From corporatism to the "foundation on labour". Notes on political cultures across Fascist and Republican Italy in TEMPO, vol. 25/2019, pp. 239-255 (ISSN 1413-7704) (Articolo su rivista)
Laura Cerasi (2019), Le asimmetrie delle libertà del lavoro in SOCIETÀ E STORIA, vol. 163, pp. 143-146 (ISSN 0391-6987) (Articolo su rivista)
Laura Cerasi (2019), Storiografia come storia. Gioacchino Volpe (e dintorni) in STUDI STORICI, vol. 3/2019, pp. 615-628 (ISSN 0039-3037) (Articolo su rivista)
Laura CERASI (2019), Federico Finchelstein, Dai Fascismi ai populismi in STORICAMENTE, vol. 2019, pp. 1-7 (ISSN 1825-411X) (Recensione in rivista)
laura cerasi (2019), Valerio Torreggiani, Stato e culture corporative nel Regno Unito in MONDO CONTEMPORANEO, vol. 2/2019, pp. 170-174 (ISSN 1825-8905) (Recensione in rivista)
Laura Cerasi (2019), Di fronte alla crisi. Etica e politica della corporazione nel fascismo dei primi anni Trenta , Genealogie e geografie dell'anti-democrazia nella crisi europea degli anni Trenta. Fascismi, corporativismi, laburismi, Venezia, Edizioni Ca' Foscari - Digital Publishing, pp. 101-133 (ISBN 9788869693175; 9788869693182) (Articolo su libro)
laura cerasi (2019), Intellectuals in the Mirror of Fascist Corporatism at the Turning Point of the Mid-Thirties , Authoritarianism and Corporatism in Europe and Latin America. Crossing Borders, Routledge, pp. 27-41 (ISBN 978-1-138-30359-1) (Articolo su libro)
Laura Cerasi (2019), Premessa , Genealogie e geografie dell'anti-democrazia nella crisi europea degli anni Trenta. Fascismi, corporativismi, laburismi, Venezia, Edizioni Ca' Foscari - Digital Publishing (ISBN 9788869693175; 9788869693182) (Prefazione/Postfazione)
(a cura di) Laura Cerasi (2019), Genealogie e geografie dell'anti-democrazia nella crisi europea degli anni Trenta. Fascismi, corporativismi, laburismi , Venezia, Edizioni Ca' Foscari - Digital Publishing (ISBN 9788869693175; 9788869693182) (Curatela)
laura cerasi (2018), Corporazione e lavoro. Un campo di tensione nel fascismo degli anni Trenta in STUDI STORICI, vol. 59, pp. 971-992 (ISSN 0039-3037) (Articolo su rivista)
laura cerasi (2018), Corporativismi. Fascismi e oltre in STUDI STORICI, vol. 59, pp. 895-895 (ISSN 0039-3037) (Abstract in Rivista)
cerasi, laura (2018), A contested legacy. Conflicting images of the Roman and British empire in the Italian imperialist discourse through Liberal and Fascist era , Renovatio, inventio, absentia imperii. From the Roman Empire to Contemporary Imperialism, Turnhout, Brepols publishers, pp. 239-260 (ISBN 978-90-74461-92-4) (Articolo su libro)
laura cerasi (2018), Attraverso il fascismo. Le lingue a Ca' Foscari da sezione a Facoltà. , Le lingue occidentali nei 150 anni di storia di Ca' Foscari in I LIBRI DI CA' FOSCARI, ECF Edizioni Ca' Foscari, pp. 177-212 (ISBN 978-88-6969-263-5) (ISSN 2610-8917) (Articolo su libro)
Anna Cardinaletti; Laura Cerasi; Patrizio Rigobon (2018), Prefazione in Anna Cardinaletti; Laura Cerasi; Patrizio Rigobon (a cura di), Le lingue occidentali nei 150 anni di storia di Ca' Foscari, Venezia, Edizioni Ca' Foscari - Digital Publishing, pp. 9-15 (ISBN 978-88-6969-263-5; 978-88-6969-262-8) (Prefazione/Postfazione)
(a cura di) anna cardinaletti; laura Cerasi; patrizio rigobon (2018), Le lingue occidentali nei 150 anni di storia di Ca' Foscari in I LIBRI DI CA' FOSCARI, Venezia, Edizioni Ca' Foscari - Digital Publishing (ISBN 978-88-6969-263-5; 978-88-6969-262-8) (ISSN 2610-8917) (Curatela)
Pubblicazioni in corso di stampa
Laura Cerasi Corporativismo e politica culturale. Partito, Sindacato, Università in STUDI GERMANICI, vol. non definito, pp. 1-32 (ISSN 0039-2952) (Articolo su rivista)
Laura CERASI Il popolo corporativo del fascismo. Aporie e variazioni , Il Governo del popolo - vol IV, Roma, Viella, vol. 4, pp. 1-19 (Articolo su libro)
Tesi di dottorato interateneo
Relatore della tesi di Alessio Conte, TRA ADRIATICO E BALCANI. L'IRREDENTISMO NELL'UNIVERSITÀ ITALIANA NEL PERIODO INTERBELLICO. PADOVA, VENEZIA E TRIESTE;
Relatore della tesi di dottorato di Jinxiao Wang, An Italian among the Chinese Elite: Ludovico Nicola di Giura (1868-1947)
Partecipazione come referee di progetti di ricerca nazionali ed internazionali
Linee di ricerca: Storia delle culture politiche in età contemporanea; Fascismi, corporativismi, nazionalismi; Culture del lavoro e dello Stato; Imperi e colonie; Contro-democrazia nella cultura europea otto-novecentesca; Storia delle istituzioni di cultura, storia degli intellettuali, associazionismo culturale.
Partecipazione a comitati editoriali di riviste/collane scientifiche
- Componente Direzione rivista "Studi Storici";
- Co-coordinatore (con Mario Infelise e Anna Rapetti) della collana "Studi di Storia" delle edizioni Ca' Foscari;
Descrizione dell'attività di ricerca svolta nel triennio e gli obiettivi futuri
Nel triennio 2018-2021 ho portato a compimento la confluenza dei miei due filoni di ricerca di lungo periodo (il primo, della storia delle culture politiche e delle istituzioni culturali, il secondo della storia del lavoro) intorno al tema del corporativismo in periodo fascista, che ha costituito l'oggetto della maggior parte delle mie pubblicazioni (ma non solo: vedi elenco sopra), e su cui si sono concentrati la maggior parte (ma non solo: vedi elenco sotto) dei contributi a convegni e seminari nazionali e internazionali (a Londra, Roma, Pisa, Belfast). Il corporativismo è stato affrontato con particolare riferimento alle strategie di modernizzazione autoritaria, e in rapporto all'emergere del tema del lavoro come fondamento costituzionale delle democrazie novecentesche e dei progetti di trasformazione della Stato.
A cavallo tra il 2019 e il 2020, prima del manifestarsi dell'emergenza Covid, ho potuto svolgere alcuni brevi periodi di ricerca presso la Fondazione Ugo Spirito di Roma, per esaminare il vasto archivio del sindacalista fascista Giuseppe Landi (completandoli con una breve indagine, sempre delle carte Landi, presso l'Istituto toscano di storia della Resistenza e dell'età contemporanea di Firenze). A conclusione di questo percorso, ho pubblicato l'ebook di ricerca Il lavoro corporativo. Cultura politica ed esperienze istituzionali di un sindacalista fascista (Fondazione Feltrinelli, 2020).
Per quanto riguarda gli impegni di ricerca in corso attualmente e previsti per l'immediato futuro, il focus si è spostato sul progetto di ricostruzione complessiva della cultura politica del fascismo italiano. Questo progetto è stato proposto come pubblicazione monografica all'editore Routledge, Londra, e verrà pubblicato con il titolo Italian Fascist Political Culture, si prevede nel 2023. Per svolgere questo stesso progetto, nel 2020 sono stata accolta come Visiting Fellow presso l'Oxford Centre for European History (OCEH), History Faculty, University of Oxford, per il periodo gennaio-giugno 2022: periodo durante il quale ho ottenuto di essere posta in congedo di ricerca per dedicarmi al lavoro ora in corso. Da febbraio a luglio 2022 sono stata inoltre accolta come Associate fellow presso Exeter college, Oxford. Per presentare parte dei risultati della ricerca sono stata invitata a tenere un seminario dal titolo provvisorio Inventing Fascism da tenersi presso OCEH, History Faculty, il 10 maggio 2022. I successivi appuntamenti di ricerca a cui sono stata invitata sono relativi sempre ad aspetti della cultura politica del fascismo: il convegno Conceptualising Political Leadership:Towards an Intellectual History of Caesarism, Università di Gottinga, 21-22 giugno 2022, con la relazione Caesarism and its Reverse: Corporatism and "Organic"Representation in Fascist Political Thought, e il convegno presso il Dipartimento di Scienze politiche dell'Università di Pisa, dal titolo Un laboratorio economico del fascismo:
la 'Scuola corporativa' dell'Università di Pisa (1928-1944), previsto per luglio 2022.
Relazioni invitate presso convegni o workshops
- 3-4 dicembre 2021, Londra, A Fascist modernity. The constitutionalisation of labour and its shortcomings. Relazione a ASMI Annual Conference 2021, Labour And The Making Of Italy From Cavour To Covid, Italian Cultural Institute in London
- 29-30 novembre 2019, Londra They, the people. The ambivalence of corporative populism and its legacy, relazione al convegno ASMI Promised land of populism? "populist" culture and politics in Italy, 1800-2019, ASMI-Italian Cultural Institute
- 7-9- ottobre 2019, Venezia, Tra nostalgia preindustriale, ghildismo e rinascita nazionale: il pensiero sociale di Ruskin nel dibattito culturale italiano, relazione al convegno internazionale "Una grande comunità": l'Europa di John Ruskin, Università Ca' Foscari Venezia
- 10-12 gennaio 2019, Roma, Corporativismo e politica culturale. Partito, sindacato, Università. Relazione al convegno nazionale Le istituzioni e la politica culturale del fascismo, Istituto Italiano di Studi Germanici, Roma, Villa Sciarra-Wurts
- 13-14 dicembre 2018, Pisa, Università Cattolica, economisti e Stato corporativo: figure di un incontro, relazione al primo convegno nazionale Cipei, Economisti e scienza economica durante il fascismo, Centro interuniversitario di documentazione sul pensiero economico italiano, Università di Pisa
- 4-7 aprile 2018, Belfast, The metamorphic citizenship of labour: its emergence as a political-institutional concept during the inter-war crisis in Italy and France, relazione al convegno internazionale European Social Sciences History Conference (ESSHC 2018), Queens University Belfast
Altre attività scientifiche
- 2 dicembre 2020, Venezia, Ca' Foscari, Organizzazione del seminario di Francesca Antonini (Università di Gottinga), Caesarism and Bonapartism: an Intellectual History (on line)
- 23 ottobre 2019, Venezia, Ca' Foscari, Organizzazione del seminario di Michele Battini, (Università di Pisa), Necessario illuminismo. Problemi di verità e problemi di potere, con interventi di Giovanni Levi e Simon Levis Sullam (Università Ca' Foscari Venezia)
Incarichi accademici e attività organizzative
Da ottobre 2020: delegato del Direttore per la ricerca di Dipartimento; membro della Giunta di Dipartimento. Coordinatore del Comitato ricerca del Dipartimento
Partecipazione alle attività di valutazione della ricerca
Partecipazione come valutatore a procedura VQR (20 prodotti)
Componente di Collegi didattici, Comitati e Commissioni di Dipartimento, Commissioni di Ateneo
Dall'a.a. 2017-2018: componente del Collegio didattico del Dottorato Interateneo (Padova, Venezia) in Studi Storici, Geografici e Antropologici
Da settembre 2018 ad settembre 2020: referente curriculum Politico Internazionale per il corso di studi LCSL.
Da novembre 2017 a settembre 2020: componente collegio didattico per il corso di studi LCSL; componente comitato ristretto AQ per il corso di studi LCSL; referente piani di studio per il corso LCSL, curriculum Politico Internazionale