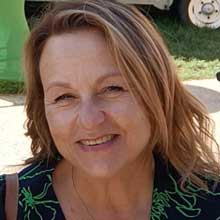 Dati relazione
Periodo di riferimento

02/11/2014 - 01/11/2017
Afferenza

Dipartimento di Scienze Molecolari e Nanosistemi
Ruolo

Ricercatori universitari
Attività didattica
| A.A. | Insegnamento | Codice | Voto (max 4) | Voto medio area (max 4) |
| --- | --- | --- | --- | --- |
| 2014/2015 | CHIMICA ANALITICA E LABORATORIO | CT0334 | 3.3 | 3.1 |
| 2015/2016 | CHIMICA ANALITICA E LABORATORIO | CT0334 | 3.2 | 3.1 |
| 2016/2017 | CHIMICA ANALITICA E LABORATORIO | CT0334 | 3.8 | 3.1 |
Tesi
| Anno solare | Tipologia | Tesi Relatore | Tesi Correlatore |
| --- | --- | --- | --- |
| 2016 | Corso di laurea | 1 | |
Ricerche sviluppate e in corso
Sviluppo di sensori analitici basati sulle nanoparticelle (NP) Janus
Pubblicazioni realizzate nel triennio
Baldo, Maria Antonietta; Stortini, Angela Maria; Ongaro, Michael; Moretto, Ligia Maria; Roman, Marco; Ugo, Paolo (2017), Electrochemical preparation of standard solutions of Pb(II) ions in ionic liquid for analysis of hydrophobic samples: The olive oil case in TALANTA, vol. 172, pp. 133-138 (ISSN 0039-9140) (Articolo su rivista)
Ugo, Paolo; Karimian, Najmeh; Stortini, Angela Maria; Moretto, Ligia Maria (2017), Trace Electroanalysis of Perfluorinated Alkyl Substances with Molecularly Imprinted Polymer Sensors in PROCEEDINGS, vol. 1, pp. 798-798 (ISSN 2504-3900) (Abstract in Rivista)
Baldo, Maria Antonietta; Stortini, Angela Maria; Moretto, Ligia Maria; Ugo, Paolo (2017), 31st EFFoST International Conference 2017 , Food Science and Technology Challenges for the 21st Century - Research to Progress Society, Elsevier, Convegno: 31st EFFoST International Conference 2017 Food Science and Technology Challenges for the 21st Century - Research to Progress Society, 13-16 November 2017 (Poster in Atti di convegno)
Ugo, Paolo; Karimian, Najmeh; Stortini, Angela Maria; Moretto, Ligia Maria (2017), NUOVI SENSORI ELETTROCHIMICI A STAMPO MOLECOLARE PER PERFLUOROOTTANOSOLFONATO E SUOI DERIVATI BREVETTO NUM. 102017000026417 (Brevetto)
Đorđević, D; Buha, J.; Stortini, A.M.; Mihajlidi-Zelić, A.; Relić, D.; Barbante, C.; Gambaro, A. (2016), Mass distributions and morphological and chemical characterization of urban aerosols in the continental Balkan area (Belgrade) in ENVIRONMENTAL SCIENCE AND POLLUTION RESEARCH INTERNATIONAL, vol. 23, pp. 851-859 (ISSN 0944-1344) (Articolo su rivista)
Ongaro, Michael; Signoretto, Michela; Trevisan, Valentina; Stortini, Angela; Ugo, Paolo (2015), Arrays of TiO2 Nanowires as Photoelectrochemical Sensors for Hydrazine Detection in CHEMOSENSORS, vol. 3, pp. 146-156 (ISSN 2227-9040) (Articolo su rivista)
A.M. Stortini; L.M. Moretto; A. Mardegan; M. Ongaro; P. Ugo (2015), Arrays of copper nanowire electrodes: Preparation, characterization and application as nitrate sensor in SENSORS AND ACTUATORS. B, CHEMICAL, vol. 207, pp. 186-192 (ISSN 0925-4005) (Articolo su rivista)
Ongaro, Michael; Mardegan, Andrea; Stortini, Angela Maria; Signoretto, Michela; Ugo, Paolo (2015), Arrays of templated TiO2 nanofibres as improved photoanodes for water splitting under visible light in NANOTECHNOLOGY, vol. 26, pp. 165402-165408 (ISSN 1361-6528) (Articolo su rivista)
Mardegan, Andrea; Cettolin, Mattia; Rahul, Kamath; Veronica, Vascotto; Stortini, Angela Maria; Ugo, Paolo; Scopece, Paolo; Marc, Madou; Moretto, Ligia Maria (2015), Speciation of Trace Levels of Chromium with Bismuth Modified Pyrolyzed Photoresist Carbon Electrodes in ELECTROANALYSIS, vol. 27, pp. 128-134 (ISSN 1040-0397) (Articolo su rivista)
Baldo, Maria Antonietta; Ongaro, Michael; Stortini, Angela Maria; Cozzi, Giulio; Roman, Marco; Moretto, Ligia Maria; Daniele, Salvatore; Ugo, Paolo (2015), A novel analytical strategy for the assessment of trace heavy metal contamination in olive oils , Atti del XXV Congresso della Divisione di Chimica Analitica della Società Chimica Italiana, Rossi Antonella, pp. 205-205, Convegno: XXV Congresso della Divisione di Chimica Analitica della Società Chimica Italiana, 13-17 settembre 2015 (ISBN 9788890767029) (Articolo in Atti di convegno)
Morabito, Elisa; D., Contini; F., Belosi; Stortini, Angela Maria; Manodori, Laura; Gambaro, Andrea (2014), Atmospheric Deposition of Inorganic Elements and Organic Compounds at the Inlets of the Venice Lagoon in ADVANCES IN METEOROLOGY, vol. 2014, pp. 1-10 (ISSN 1687-9309) (Articolo su rivista)
Dragana, Đorđević; Stortini, Angela Maria; Dubravka, Relić; Aleksandra Mihajlidi, Zelić; Jasna, Huremović; Barbante, Carlo; Gambaro, Andrea (2014), Trace elements in size-segregated urban aerosol in relation to the anthropogenic emission sources and the resuspension in ENVIRONMENTAL SCIENCE AND POLLUTION RESEARCH INTERNATIONAL, vol. 21, pp. 10949-10959 (ISSN 0944-1344) (Articolo su rivista)
A. Mihajlidi-Zelić; D. Đorđević; D. Relić; I. Tošić; L. Ignjatović; A. M. Stortini; A. Gambaro (2014), Water-soluble inorganic ions in urban aerosols of the continental part of Balkans (Belgrade) during the summer – autumn (2008). Central European Journal of Chemistry. in CENTRAL EUROPEAN JOURNAL OF CHEMISTRY, vol. 13, pp. 245-256 (ISSN 1895-1066) (Articolo su rivista)
Descrizione dell'attività di ricerca svolta nel triennio e gli obiettivi futuri
L'attività di ricerca svolta dalla sottoscritta durante il triennio 2014-2017 ha riguardato principalmente lo sviluppo e studio di superfici nanostrutturate, per la rilevazione di analiti in campo alimentare e ambientale.

Si è proseguito con la ricerca relativa alla preparazione e applicazione di elettrodi nanostrutturati in rame (Stortini et al., 2015; http://dx.doi.org/10.1016/j.snb.2014.09.109). L'applicazione del rame come catalizzatore nella riduzione del nitrato permette il superamento della barriera di sovratensione tipica di tale processo elettrocatalitico. Elettrodi di rame nanostrutturati (CuWNEE) sono stati applicati in matrici reali quali acqua e vegetali. In questa parte dello studio si sono privilegiati i seguenti aspetti: a) ottenere superifci nanostrutturate ben funzionalizzate e con la maggior area attiva possibile dal punto di vista elettrochimico; b) testare metodiche per l'estrazione del nitrato da matrici reali; c) valutare l'applicazione di metodiche potenziostatiche per la rilevazione di nitrato in matrici reali.
Per ottenere superfici nanostrutturate funzionalizzate è stata applicata e valutata la metodica di plasma a bassa temperatura (Nadir S.r.l., collaborazione con Emanuele V. Falzacappa), al fine di ottenere superifici nanostrutturate, pulite dallo stampo (template) utilizzato nella preparazione delle nanotrutture (nanofili). E' bene precisare che la nanostrutturazione si esegue utilizzando come stampo una membrana track-etched in policarbonato (PC), e che la sua corretta e completa rimozione è un aspetto importante al fine di avere una consistente superficie attiva nell'elettrodo modificato, utilizzato per la riduzione del nitrato. I risultati di questo lavoro sono riportati in una recente pubblicazione (Plasma Activation of Copper Nanowires Arrays for Electrocatalytic Sensing of Nitrate in Food and Water; Stortini et al.; https://doi.org/10.3390/nano9020150). Risultati su questa attività sono stati presentati al congresso della International Society of Electrochemistry (ISE), svoltosi ad Agosto del 2016 in Olanda (L'Aia).

Sempre in tema di elettrodi nanostrutturati, è stata svolta attività di ricerca -collaborazione- su tematiche quali: la preparazione e caratterizzazione di arrays di nanofili in TiO2 e la rilevazione di cromo mediante elettrodi modificati di Bismuto (Bismuth Modified Pyrolyzed Photoresist Carbon Electrodes).

Gli obiettivi futuri per questa tematica di ricerca sono lo studio delle proprietà elettrocatalitiche di altri elementi e lo sviluppo di elettrodi nanostrutturati per la applicazioni in ambiti diversi (alimentare, ambientale, dei beni culturali, ecc.).

In tema di elettrodi modificati con molecole, è stata portata a termine la caratterizzazione mediante SEM-EDX di elettrodi modificati mediante metodica a stampo molecolare (molecular imprinting polymer-MIP), che consiste nella fabbricazione di sensore per una molecola d'interesse mediante elettropolimerizzazione di un polimero scelto, in presenza dell'analità d'interesse o di un suo derivato, che funge -l'analita- da stampo molecolare. Per questa tematica, sviluppata dal Prof. Paolo Ugo e dalla Dott.ssa Najmeh Karimian come responsabili scientifici del progetto (Sviluppo di sensori elettrochimici a stampo molecolare per PFOS), la caratterizzazione mediante SEM-EDX ha permesso di eseguire una prima verifica dell'effettiva rimozione dello stampo molecolare (analita). L'effettiva rimozione della molecola stampo è stata verificata rilevando il fluoro (F) presente, prima e dopo la rimozione dello stampo molecolare. I risultati sono stati pubblicati e presentati in congressi nazionali ed internazionali.

Gli obiettivi futuri per questa linea di ricerca riguarderà lo sviluppo di sensori per altri composti della famiglia dei PFAS e la loro caratterizzazione morfologica mediante SEM-EDX.

In ambito di studio di analiti inorganici in matrici alimentari, in particolare nella rilevazione di Pb per via elettrochimica negli oli vegetali (Dott.ssa Maria Antonietta Baldo), è stata sviluppata una metodica di mineralizzazione mediante trattamento con microonde di una matrice oleosa (olio d'oliva), mescolata con Liquido Ionico (LI). Tale metodica è servita per rilevare e quantificare, mediante ICP-MS, il contenuto di Pb nelle soluzioni standard preparate per via elettrochimica, utilizzando un LI scelto come elettrolita di supporto. Tali soluzioni sono state preparate per via elettrochimica dalla Dott.ssa Maria Antonietta Baldo, mediante la preconcentrazione e strippaggio del Pb dalla matrice oleosa studiata. I risultati sono stati pubblicati e presentati in congressi nazionali ed internazionali.

Durante il triennio in esame è stato dato inizio a un MoU agreement e a un Supplementary Agreement tra il Dipartimento di Scienze Molecolari e Nanosistemi dell'Università Ca' Foscari Venezia (DSMN-UNIVE) e il Centro de Investigación y Desarrollo Tecnológico en Electroquímica del Consejo Nacional de Ciencia y Tecnología (CIDETEQ-CONACyT). Tali accordi sono stati siglati nel 2017.
Responsabile scientifico per DSMN: Dott.ssa Angela Maria Stortini
Responsabile scientifico per CIDETEQ-CONACyT: Dott.ssa Erika Bustos Bustos.

Da questo accordo di collaborazione ci si aspetta la possibilità di dar inizio a uno scambio di personale docente, tecnico scientifico e studenti di dottorato.

Sono stati completati e pubblicati manoscritti riguardante l'attività di ricerca precedente alla attività della sottoscritta in DSMN. Tale attività riguarda lo studio del particolato atmosferico ed è stato eseguito con membri del DAIS, del CNR-IDPA e dell'Institute for Chemistry, Technology and Metallurgy, Belgrade, Serbia (Dott.ssa-Prof.ssa Dragana Dordevich).
Altri prodotti scientifici
Responsabile scientifico del Memorandum of Understanding (MoU) e relativo Supplementary Agreement (siglati in giugno 2017) tra il Dipartimento di Scienze Molecolari e Nanosistemo (DSMN) e il "Centro de Investigación y Desarrollo Tecnológico en Electroquímica (CIDETEQ).

Presentazione di un progetto di cooperazione bilaterale Italia-Mexico a Luglio del 2017 (MAECI2017 – non vincitore);
Relazioni invitate presso convegni o workshops
Presentazione
ELETTRO-1 ARRAYS OF COPPER NANOWIRE ELECTRODES FOR THE SENSITIVE ELECTROANALYSIS OF NITRATE
A.M. Stortini, L.M. Moretto, P. Ugo
Dipartimento di Scienze Molecolari e Nanosistemi, Università Ca' Foscari Venezia, Via Torino 155, 30172 Venezia Mestre.
Atti del XXV Congresso della Divisione di Chimica Analitica della Società Chimica Italiana Trieste, 13 – 17 Settembre 2015

Relazione inviata
Altre attività scientifiche
Partecipazione al comitato organizzatore del 24th Young Investigators Seminar on Analytical Chemistry (YISAC)

Peer-review per le seguenti riviste:
- Environmental Geochemistry and Health (EGAH)
- Ecotoxicology and Environmental Safety (EES)
- Environmental Pollution (ENVEPOL)
- Chemosphere (CHEM)
- Science of the Total Environment (STOTEN)
- Sensors (SENS)
- The Open Respiratory Medicine Journal (TORMJ)
- International Journal of Environmental Research and Public Health (IJERPH)
Altre attività didattiche
Supporto studenti nel Laboratorio di Chimica Analitica e Archeometria (assorbimento atomico).
Altre informazioni
Partecipazione alla Notte Europea dei Ricercatori