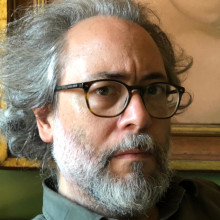 TOCCHINI Gerardo
Position

Full Professor
Telephone

041 234 5736
E-mail
Fax

041 234 9423
Scientific sector (SSD)

STORIA MODERNA [M-STO/02]
Website

www.unive.it/persone/tocchini (personal record)

Office
Dati relazione
Periodo di riferimento

13/02/2015 - 12/02/2018
Afferenza

Dipartimento di Studi Linguistici e Culturali Comparati
Ruolo

Professori associati
Attività didattica
| A.A. | Insegnamento | Codice | Voto (max 4) | Voto medio area (max 4) |
| --- | --- | --- | --- | --- |
| 2014/2015 | STORIA MODERNA MOD. 1 | LT0870 | 3.6 | 3.2 |
| 2014/2015 | STORIA MODERNA MOD. 2 | LT0910 | 3.7 | 3.2 |
| 2015/2016 | STORIA MODERNA MOD. 1 | LT0870 | 3.6 | 3.2 |
| 2015/2016 | STORIA MODERNA MOD. 2 | LT0910 | 3.4 | 3.2 |
| 2015/2016 | STORIA MODERNA MOD. 3 | LT2790 | 3.4 | 3.2 |
| 2016/2017 | STORIA MODERNA MOD. 1 | LT0870 | 3.6 | 3.2 |
| 2016/2017 | STORIA MODERNA MOD. 2 | LT0910 | 3.4 | 3.2 |
| 2016/2017 | STORIA MODERNA MOD. 3 | LT2790 | 3.6 | 3.2 |
Tesi
| Anno solare | Tipologia | Tesi Relatore | Tesi Correlatore |
| --- | --- | --- | --- |
| 2015 | Corso di laurea | 14 | |
| 2016 | Corso di laurea | 9 | |
| 2017 | Corso di laurea | 16 | |
Finanziamenti
L'eredità dell'Illuminismo. Diritti e costituzionalismo tra rivoluzioni e restaurazioni (1789-1848)
Ricerche sviluppate e in corso
Culture e poteri nell'età barocca
Melodramma e usi politici della storia fra Ottocento e Novecento
Melodramma e usi politici della storia tra Ottocento e Novecento
Uomini e culture politiche nell'età della Restaurazione
belle arti, letteratura e politica in antico regime
letterati e artisti del tardo Illuminismo nella creazione della moderna opinione pubblica
politica e culto dell'antichità nell'Europa dell'età dei Lumi
Pubblicazioni realizzate nel triennio
Tocchini, Gerardo (2018), La Casa grande dei Foscari in Zipoli, Riccardo, In Domo Foscari. Memorie e immagini di un Ateneo, Venezia, Marsilio, pp. 20-21 (ISBN 978-88-317-4272-6) (Articolo su libro)
Tocchini, G. (2018), The Great House of the Foscari , In Domo Foscari. Memory and images of a university, Venezia, Marsilio, pp. 22-23 (ISBN 978-88-317-4273-3) (Articolo su libro)
Tocchini, Gerardo (2017), Teatro e echi della Rivoluzione: il censore al lavoro, Cremona 1793 , Tra Venezia e Saturno. Storia, drammaturgia e poesia per Paolo Puppa, Corazzano (Pisa), Titivillus, pp. 407-424 (ISBN 978-88-7218-419-6) (Articolo su libro)
Tocchini, Gerardo (2017), Un'opera reazionaria? "Andrea Chénier" e la leggenda del Terrore nella crisi di fine secolo , Andrea Chénier, Milano, Edizioni del Teatro Alla Scala, pp. 61-69, Convegno: Andrea Chénier oggi, 9 novembre 2017 (Articolo in Atti di convegno)
Tocchini, Gerardo (2016), Arte e politica nella cultura dei Lumi. Diderot, Rousseau e la critica dell'antico regime artistico in STUDI STORICI CAROCCI, Roma, Carocci editore, vol. unico, pp. 1-392 (ISBN 978-88-430-8499-9) (Monografia o trattato scientifico)
Tocchini, Gerardo (2016), Su Greuze e Rousseau. Politica delle élite, romanzo e committenza d'arte nella tarda età dei Lumi in LETTERE - STUDI, Pisa, Edizioni della Normale, vol. unico, pp. 1-212 (ISBN 978-88-7642-591-2) (ISSN E238036) (Monografia o trattato scientifico)
Tocchini, Gerardo (2016), Les mystères de Venise. Magie, espions, ésotérisme, cercles sectaires (XVIe-XVIIIe siècles) , Venise. Histoire, promenades, anthologie et dictionnaire in BOUQUINS, Paris, Robert Laffont, vol. unico, pp. 441-453 (ISBN 9782221128749) (ISSN 0244-5913) (Articolo su libro)
Tocchini, Gerardo (2015), Pensare prima di scrivere. La battaglia critica sul "Fils naturel" di Diderot e la questione della "sentence" in ANNALI DI CA' FOSCARI, vol. 49, pp. 11-42 (ISSN 1125-3762) (Articolo su rivista)
Descrizione dell'attività di ricerca svolta nel triennio e gli obiettivi futuri
L'anno 2016 ha visto la pubblicazione delle due monografie annunciate nella precedente relazione triennale (Arte e Politica nella cultura dei Lumi, Calocci e Su Greuze e Rousseau, Scuola Normale Superiore di Pisa). Parallelamente, ho avviato un nuovo cantieri di ricerca legandolo in seguito alla costituzione e codirezione di un nuovo gruppo interdisciplinare (storia politica, storia sociale della cultura, musicologia, storia delle arti visive e performative, storia della storiografia), intitolato "Melodramma e usi politici della storia fra Ottocento e Novecento" e nuove indagini che hanno condotto alla messa a punto di due nuove monografie:
* la prima, sulla Tosca di Giacomo Puccini in relazione alla Questione romana e al canone garibaldino-risorgimentale, da tempo in fase di redazione e destinata alla collana del Centro Studi Pucciniani di Lucca (Olschki editore); i risultati della ricerca sono stati anticipati in differenti occasioni, negli USA e in lezioni/conferenza tenute al Teatro alla Scala di Milano e al Regio di Parma.
* la seconda, ultimata e in corso di revisione, è un profilo politico di Arrigo Boito contenente una ridefinizione complessiva degli schieramenti e degli antagonismi politico-letterari della Milano della Scapigliatura; studio avviato in occasione dei 100 anni dalla morte e dai 150 anni della rappresentazione del "Mefistofele". I risultati della ricerca sono stati presentati nel convegno del centenario tenuto alla Fondazione Cini.
Un altro centenario (i 150 anni della fondazione di Ca' Foscari), sono invece all'origine di un corposo studio (circa 90 pp.), in corso di pubblicazione presso le "VerdiPerspektiven" (Bern, rivista di fascia A) sui Due Foscari Byron e di Verdi in relazione alla cosiddetta "leggenda nera" di Venezia nel contesto del cosiddetto "canone risorgimentale".
Nel frattempo ho continuato ad occuparmi di temi sette-ottocenteschi (in particolare il rapporto Illuminismo/Neoclassicismo) in veste di coordinatore dell'UR di Venezia del PRIN 2015 (esercizio effettivo 2017-2020) intitolato L'eredità dell'Illuminismo. Diritti e costituzionalismo tra rivoluzioni e restaurazioni (1789-1848), strutturato a fine 2015, presentato a gennaio 2016, vinto in ottobre, al momento ancora in corso. Nel maggio 2017 ho iniziato una collaborazione con la Voltaire Foundation (Oxford) nella cui collana di studi verrà edita in traduzione inglese una delle monografie del 2016 - sono in pour-parler per collocare nella stessa collana anche la monografia sul teatro di Voltaire, alla quale sto lavorando a singhiozzo dal 2010, con consegna programmata non prima del 2022.
Avrei un altro paio di temi di ricerca ai quali sto pensando, ma preferisco non parlarne - almeno per ora.
Altri prodotti scientifici
* la monografia Arte e politica nella cultura dei Lumi. Diderot, Rousseau e la critica dell'antico regime artistico in STUDI STORICI CAROCCI, Roma, Carocci editore, 2016 è attualmente in traduzione in lingua inglese per la collana degli Oxford University Studies in Enlightenment - Oxford, The Voltaire Foundation [accettazione dell'editoral board (12 referee): luglio 2018]
Menzioni e premi ricevuti
* gennaio 2017: RISULTATI 2011-2014 D.M. n. 8 del 19/03/2010:

La politica della rappresentazione. Comunicazione sociale e consumo culturale nella Francia di antico regime (1669-1781). Nuova edizione ampliata, pp. xxiv-346, Torino, Libreria Stampatori 2012, ISBN: 9788896339244.(Autore)
ELEVATO (0.70)
L'«Œdipe» del giovane Voltaire alla prova della scena pubblica. Canone politico, strategie e autocensure nel teatro tragico della prima età dei Lumi, in «Rivista Storica Italiana», vol. CXXV, p. 681-763, ISSN: 0035-7073. (Autore)
ECCELLENTE (1.00)

* 28/03/2017: ABILITAZIONE AL RUOLO DI I FASCIA (professore ordinario), Settore concorsuale 11/A2, Settore Scientifico Disciplinare M-STO/02 (Storia moderna), Abilitazione Scientifica Nazionale Bando 2012 D.D. 1532/2016 - UNANIMITA'

VALUTAZIONE TITOLI:
Il candidato risulta in possesso di almeno 3 titoli tra quelli individuati e definiti dalla Commissione nella prima riunione ai sensi dall'art. 8, comma 1, del D.P.R. 95/2016 e, in particolare, di quelli rispettivamente indicati alle lettere A, B, D, E, F, G, H, I. Essi attestano la sua partecipazione attiva alla ricerca italiana e internazionale con la presentazione di contributi personali ben individuabili, la responsabilità con ruolo autonomo e riconosciuto, la capacità propositiva in sedi di studio e di ricerca di riconosciuto prestigio italiane e internazionali. I titoli concorrono quindi alla definizionedel profilo del candidato come meritevole dell'abilitazione.

GIUDIZIO:
Il prof. Gerardo Tocchini è Professore Associato dal 13.2.2015 presso l'Università Ca' Foscari di Venezia.

Impatto della produzione scientifica
Il candidato è valutato positivamente con riferimento al titolo 1 dell'Allegato A al D.M. 120/2016, atteso che gli indicatori relativi all'impatto della produzione scientifica raggiungono tutti e tre i valori soglia previsti dal D.M. 602/2016

Pubblicazioni scientifiche
Il candidato ha presentato complessivamente N. 15 pubblicazioni scientifiche.
La Commissione, valutate le pubblicazioni secondo i criteri di cui all'art. 4, del D.M. 120/2016,esprime il seguente giudizio: Le pubblicazioni sono complessivamente coerenti con le tematiche del settore concorsuale e con quelle interdisciplinari ad esso pertinenti, e valutate di elevata qualità, atteso il carattere innovativo e l'originalità delle stesse. La produzione scientifica del candidato risulta continua sotto il profilo temporale e prevalentemente caratterizzata da una collocazione editoriale su riviste e volumi di rilievo nazionale e internazionale.
Complessivamente le pubblicazioni presentate dimostrano un grado di originalità tale da contribuire in modo significativo al progresso dei temi di ricerca affrontati e possono essere ritenute di qualità elevata in relazione al settore concorsuale.
Alla luce delle valutazioni di cui sopra e dopo approfondito esame del profilo scientifico del candidato, la commissione all'unanimità dei suoi membri ritiene che lo stesso presenti complessivamente titoli e pubblicazioni tali da dimostrare una posizione riconosciuta nel panorama della ricerca, come emerge dagli ottimi risultati della ricerca in termini di qualità e originalità per il settore concorsuale rispetto alle tematiche scientifiche affrontate.

Conseguentemente si ritiene che il candidato possieda la piena maturità scientifica richiesta per le funzioni di professore di I fascia.
Relazioni invitate presso convegni o workshops
* 25 maggio 2017: Congresso della Società Italiana di Studi sul XVIII secolo, Popolo e cultura popolare nel Settecento, Marina di Massa, 24-26 maggio 2017, con la relazione Immagini di rurali nella Francia del Tardo illuminismo: pittura di genere, opéras comiques
* 1 luglio 2017: Colloquio internazionale, Os espaços teatrais para a música na Europa do séc. XVIII, Palacio Nacional de Queluz, Lisboa (30 giugno-2 luglio 2017) con la relazione: «Dire et non dire». Ascesa e declino della tragédie en musique come strumento per il controllo delle fazioni: Versailles-Parigi, 1683-1753.
* 9 novembre 2017: Convegno di studi, «Andrea Chénier» oggi, Milano, Teatro alla Scala, con la relazione: Dove si uccidono i poeti. «Andrea Chénier» e la leggenda del Terrore nella crisi di fine secolo.
Seminari su invito tenuti presso altre Università, Centri di Ricerca, Aziende, etc.
* 24 aprile 2017: Conferenza (invited speaker), International Workshop Theatre and Politics in the Early Modern Age, Dpt. of Italian Studies and Dpt. of Film, Television and Theatre University of Notre Dame, South Bend (Indiana, USA): Puccini's Tosca: an "opera without politics"?
Altre attività scientifiche
ATTIVITÀ DI REFEREE ANONIMO PER RIVISTE SCIENTIFICHE
* da Settembre 2014: per «Rivista Storica Italiana» [Riv. fascia A]
Altre attività didattiche
* 7 maggio 2015: Seminario dottorale DSSAM, Università Ca' Foscari di Venezia Di chi è il canone?, Venezia 6-8 maggio 2015, relazione: Canone e illusioni ottiche: come t'invento il "Settecento libertino".
* 22 marzo 2016: Seminario di dottorato, Università degli Studi di Milano, Dipartimento di Studi Storici, Lo storico e le arti visive: istruzioni per l'uso. Il caso Greuze.
* aprile 2016: Membro della Commissione di esame finale del Dottorato in Storia moderna, Università degli Studi di Torino (XXVII ciclo)
Incarichi accademici e attività organizzative
* dal febbraio 2016: Membro del Collegio di Dottorato di Ricerca in Storia Sociale europea dal medioevo all'età contemporanea, Università Ca' Foscari di Venezia (Scuola Superiore di Studi Storici, Geografici, Antropologici, Università di Venezia, Padova, Verona)
Partecipazione alle attività di valutazione della ricerca
ATTIVITÀ DI REFEREE ANONIMO:
* primavera-autunno 2016: valutatore ANVUR per VQR 2011-2014
Componente di Collegi didattici, Comitati e Commissioni di Dipartimento, Commissioni di Ateneo
* febbraio 2015-settembre 2017: Presidente del Corso di Laurea triennale LCSL e Coordinatore del Collegio didattico (Lingue, Civiltà e Scienze del Linguaggio); responsabile accademico programmi mobilità Overseas triennale LCSL.
* fino a settembre 2017: Membro della Commissione paritetica per la didattica del CdL Dipartimento di Studi Linguistici e Culturali Comparati, Università Ca' Foscari di Venezia.
* fino a settembre 2017: Membro del Gruppo Responsabili Qualità del CdL LCSL (Lingue, Civiltà e Scienze del Linguaggio)
* dall'ottobre 2017: Membro del Comitato per la ricerca del Dipartimento di Studi Linguistici e Culturali Comparati, Università Ca' Foscari di Venezia.
* da febbraio 2018: Referente Stage del CdS LCSL, curriculum Politico-Internazionale.
Altre informazioni
Si specifica che i seguenti insegnamenti:
* 2015/2016 STORIA MODERNA MOD. 1 LT0870 valutazione 3.6 (media dip 3.2)
* 2016/2017 STORIA MODERNA MOD. 1 LT0870 valutazione 3.6 (media dip 3.2)
sono stati svolti in due classi per complessive 30+30 ore accademiche, consentendo di raggiungere in entrambi i casi le 120 ore complessive di obbligo didattico. Nei due anni accademici, i 4 insegnamenti erogati hanno prodotto una media di circa 500 verbali d'esame per anno.