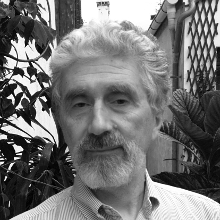 INFELISE Mario
Position

Full Professor
Telephone

041 234 9849
E-mail
Fax

041 234 9860
Scientific sector (SSD)

STORIA MODERNA [M-STO/02]
Website

www.unive.it/persone/infelise (personal record)

Office
Dati relazione
Periodo di riferimento

01/11/2015 - 31/10/2018
Afferenza

Dipartimento di Studi Umanistici
Ruolo

Professori ordinari
Attività didattica
| A.A. | Insegnamento | Codice | Voto (max 4) | Voto medio area (max 4) |
| --- | --- | --- | --- | --- |
| 2015/2016 | STORIA CULTURALE SP. | FM0165 | 3.2 | 3.3 |
| 2015/2016 | STORIA DEL LIBRO E BIBLIOGRAFIA SP. | FM0178 | 3 | 3.3 |
| 2015/2016 | STORIA DELLA COMUNICAZIONE SCRITTA | FT0204 | 3.4 | 3.3 |
| 2015/2016 | STORIA MODERNA | FT0258 | 3 | 3.3 |
| 2016/2017 | ARCHIVISTICA SPECIALE | FM3016 | | |
| 2016/2017 | STORIA CULTURALE SP. | FM0165 | 2.8 | 3.3 |
| 2016/2017 | STORIA DEL LIBRO E BIBLIOGRAFIA SP. | FM0178 | 3 | 3.3 |
| 2016/2017 | STORIA E CIVILTA' DELLA SCRITTURA | FT0459 | 3.2 | 3.3 |
| 2017/2018 | STORIA CULTURALE SP. | FM0165 | 3.4 | 3.3 |
| 2017/2018 | STORIA DEL LIBRO E BIBLIOGRAFIA SP. | FM0178 | 3.3 | 3.3 |
| 2017/2018 | STORIA MODERNA | FT0258 | 2.8 | 3.3 |
Tesi
| Anno solare | Tipologia | Tesi Relatore | Tesi Correlatore |
| --- | --- | --- | --- |
| 2015 | Corso di laurea | 2 | |
| 2015 | Corso di laurea magistrale | 2 | 3 |
| 2015 | Corso di laurea specialistica | | 1 |
| 2016 | Corso di dottorato | 1 | |
| 2016 | Corso di laurea | 5 | 1 |
| 2016 | Corso di laurea magistrale | 2 | 4 |
| 2017 | Corso di laurea | 1 | |
| 2017 | Corso di laurea magistrale | | 2 |
Ricerche sviluppate e in corso
Censura nell'Europa dell'età moderna
EMoDiR (Early Modern religious Dissents and Radicalism)
I generi editoriali di larga circolazione
L'informazione politica XVI-XVIII secolo
News Network in Early Modern Europe
Pubblicazioni realizzate nel triennio
Infelise, Mario (2018), Maria Iolanda Palazzolo, Gli editori del papa. Da Porta Pia ai Patti lateranensi, Roma, Viella, 2016 in RIVISTA STORICA ITALIANA, vol. anno CXXX (2018), pp. 340-344 (ISSN 0035-7073) (Recensione in rivista)
Infelise, Mario (2018), Censure: la peur des mots , L'Europe: Encyclopèdie historique, Arles, Actes Sud, pp. 971-975 (ISBN 978-2-330-10643-0) (Articolo su libro)
Infelise, Mario (2018), Chi stampava i primi libretti d'opera (Venezia 1637-1645)? in M. Infelise, Itinerari del libro nella storia : per Anna Giulia Cavagna a trent'anni dalla prima lezione, Bologna, Patron, pp. 141-150 (ISBN 978-88-555-3398-0) (Articolo su libro)
Infelise, Mario (2018), Ha ancora senso di parlare di tutela e conservazione? in M. Infelise, Dalla tutela al restauro del patrimonio librario e archivistico. Storia, esperienze, interdisciplinarietà, Venezia, Edizioni Ca' Foscari, pp. 93-96 (ISBN 978-88-6969-215-4; 978-88-6969-216-1) (Articolo su libro)
Infelise, Mario (2017), Gazzetta. Storia di una parola , Venezia, Marsilio (ISBN 978-88-317-2938-3) (Monografia o trattato scientifico)
Infelise, Mario (2017), 禁書―グーテンベルクから百科全書まで (Traduzione giapponese de I libri proibiti) , Tokio, Hosei University Press (ISBN 978-4-588-35233-1) (Monografia o trattato scientifico)
Infelise, Mario (2017), Mario Infelise su Anna Scannapieco, Il falso originale : un originale falso o l'ultima commedia di Goldoni? , Venezia Marsilio 2016 in VENETICA, vol. Terza serie, n. 53, 2/2017, pp. 203-206 (ISSN 1125-193X) (Recensione in rivista)
Infelise, Mario (2017), Scrivere gli avvisi: autori ignoti e autori di fama , La invención de las noticias : las relaciones de sucesos entre la literatura y la información (siglos 16.-18.), Trento, Università degli studi di Trento, pp. 19-30 (ISBN 978-88-8443-737-2) (Articolo su libro)
Infelise, Mario (2017), The Printed Editions of Benedetto Cotrugli's Treaty , Benedetto Cotrugli - The Book of the Art of Trade, London, Palgrave Macmillan, pp. 213-218 (ISBN 978-3-319-39968-3) (Articolo su libro)
Infelise, Mario (2016), Aldo Manuzio tra storia e bibliofilia , Aldo Manuzio: La costruzione del mito. Aldus Manutius: the Making of the Mith, Venezia, Marsilio, pp. 9-22 (ISBN 9788831725941) (Articolo su libro)
Infelise, Mario (2016), Aldo Manuzio: da Bassiano a Venezia , Aldo Manuzio. Il rinascimento di Venezia, Venezia, Marsilio, pp. 157-165 (ISBN 978-88-317-2361-9) (Articolo su libro)
Infelise, Mario; Paul, Arblaster; André, Belo; Carmen, Espejo; Stéphane, Haffemayer; Noah, Moxham; Joad, Raymond; Nikolaus, Schobesberger (2016), European Postal Networks , News Networks in Early Modern Europe, Leiden, Brill, pp. 19-63 (ISBN 9789004277175; 9789004277199) (Articolo su libro)
Infelise, Mario (2016), The History of a word: Gazzetta / Gazette , News Networks in Early Modern Europe, Leiden Boston, Brill, pp. 243-260 (ISBN 9789004277199; 9789004277175) (Articolo su libro)
Infelise, Mario; Paul, Arblaster; André, Belo; Carmen, Espejo; Stéphane, Haffemayer; Noah, Moxham; Joad, Raymond; Nikolaus, Schobesberger (2016), The Lexicons of Early Modern News , News Networks in Early Modern Europe, Leiden, Brill, pp. 64-101 (ISBN 9789004277175; 9789004277199) (Articolo su libro)
Infelise, Mario (2016), Remondini in Mario Infelise, Dizionario Biografico degli Italiani, Roma, Istituto della Enciclopedia Italiana, vol. 86, pp. 780-784 (ISBN 978-88-12-00032-6) (Voce in dizionario/enciclopedia)
Infelise, Mario (2016), Remondini, Giuseppe , Dizionario Biografico degli Italiani, Roma, Istituto della Enciclopedia Italiana, vol. 86, pp. 786-789 (ISBN 978-88-12-00032-6) (Voce in dizionario/enciclopedia)
(a cura di) Infelise, Mario (2016), Aldo Manuzio. La costruzione del mito. Aldus Manutius. The Making of the Mith in Infelise, Mario, Venezia, Marsilio (ISBN 9788831725941) (Curatela)
Infelise, Mario (2015), Simon F. Davies and Puck Fletcher, eds. News in Early Modern Europe: Currents and Connections, Leiden: Brill, 2014. in SHARP NEWS, vol. 24 (2015), pp. 9-10, pp. 9-10 (ISSN 2155-3491) (Recensione in rivista)
Infelise, Mario (2015), Le prefazioni di Aldo Manuzio: il ritratto di un editore , Aldo Manuzio. La voce dell'editore: prefazioni e dediche, Venezia, Marsilio, pp. 9-22 (ISBN 978-88-317-2397-8) (Articolo su libro)
Infelise, Mario (2015), Paolo Sarpi , Oxford bibliographies - Renaissance and Reformation, Oxford, Oxford University Press (Voce in dizionario/enciclopedia)
(a cura di) Infelise, Mario; Plebani, Tiziana (2015), La voce dell'editore in Aldo Manuzio, Venezia, Marsilio (ISBN 978-88-317-2397) (Curatela)
Partecipazione come referee di progetti di ricerca nazionali ed internazionali
Refereee per progetti di ricerca e valutazioni delle attività di studiosi per agenzie internazionali (Canada, Inghilterra, Spagna).
Partecipazione a comitati editoriali di riviste/collane scientifiche
Bibliofilia, membro del comitato scientifico.
Marsilio editore, collana Albrizziana (Direttore)
Edizioni Ca' Foscari (presidenza sino al gennaio 2016; quindi coordinatore della collana "Studi di Storia").
Descrizione dell'attività di ricerca svolta nel triennio e gli obiettivi futuri
L'attività di ricerca si rivolta essenzialmente verso le seguenti linee di ricerca:
- proseguimento delle ricerche sui network informativi europei tra XVI e XVII secolo, con attenzione al lessico dell'informazione e alla storiografia relativa;
- censura e società, con attenzione alle paure che in determinate circostanze creano consenso attorno ad azioni di controllo sull'uso della parola.
Sono inoltre stati avviati nuovi percorsi di ricerca.
- le origini dell'opera a Venezia e i rapporti con l'Accademia degli Incogniti. Un primo intervento dal titolo "Libertinism and politics. Notes for an Incognito reading of L'Incoronazione di Poppea" è in corso di stampa in un volume su Monteverdi a c. di E. Rosand e S. Lavia (Routledge).
- Libertinismo e biografia: con attenzione ai percorsi biografici di autori libertini italiani (Ferrante Pallavicino, Gregorio Leti, Girolamo Brusoni)
Relazioni invitate presso convegni o workshops
- Trento, 2016, 21-23 settembre (Univ. di Trento, SOCIEDAD INTERNACIONAL
PARA EL ESTUDIO DE LAS RELACIONES DE SUCESOS). VIII COLOQUIO INTERNACIONAL La invención de las noticias: las relaciones de sucesos entre la literatura y la información (siglos XVI-XVIII)V: Intervento "Scrivere gli avvisi: autori ignoti e autori di fama".
- Milano, 2016, 13 dicembre. Convegno Leggere in Europa (XVIII-XXI sec.)Reading in Europe (18th-21st C.): Intervento "La lettura del giornale è ancora 'La preghiera del mattino dell'uomo moderno'?"
- Monaco di Baviera (Thyssen Foundation, Munich Research Center "Foundations of Modernity), 2017, 1 giugno. Convegno The Year of the News: Intervento "The origins of the avviso".
- Venezia, 2017, 16-17 giugno (Fondazione Cini). Convegno Monteverdi Le opere veneziane di Monteverdi: nuove proposte di lettura e messa in scena: Intervento "Una lettura 'Incognita' de L'incoronazione di Poppea".
- Napoli, 2017, 30-31 ottobre (Università Federico II, Ecole française de Roma). Convegno: Stranieri. Controllo, accoglienza e integrazione negli Stati italiani (XVI-XIX secolo): Intervento "La nozione di straniero nei censimenti veneziani seicenteschi".
- Venezia, 2017, 9-11 novembre (Università Ca' Foscari e Univ. di Trieste). Convegno: La Riforma nella Repubblica di Venezia tra Cinquecento e Settecento, protestanti a Venezia: Intervento "Venezia, la Riforma e il controllo sulla parola".
Seminari su invito tenuti presso altre Università, Centri di Ricerca, Aziende, etc.
- Brno (Repubblica Ceca, Masaryk University), 2016 28 gennaio. Lezione al dottorato: Censura, società e potere tra XVI e XVII secolo
- Roma, 2016, 9 marzo. Escuela Española de Historia y Arqueología en Roma-CSIC, Direzione del corso "Informazione e communicazione nell'Europa della prima età moderna".
- Venezia, Fondazione Cini, 2016, 18 luglio. 'Venezia, città senza corte: chiesa, teatro e ridotto. Seminario sulle fonti musicali dei secoli XVI e XVII',
- Tokio (Giappone), 2018, 8 aprile. Conferenza su invito dell'Istituto Italiano di Cultura in Giappone in occasione della traduzione giapponese de "I libri proibiti. Da Gutenberg all'Encyclopédie" (Tokio, Hosei University Press)
Altre attività scientifiche
- Presidente del comitato scientifico del Convegno "Aldo Manuzio e la costruzione del mito. Aldus Manutius and the Making of the Myth", 26-28 febbraio 2015: raccolta e cura degli atti del convegno (Venezia, Marsilio 2016)
- Membro del CISUI - Centro Interuniversitario per la Storia delle Università Italiane (2016-2018)
- attività di peer review per riviste italiane e straniere
Altre attività didattiche
- Regolare attività seminariale nell'ambito del Corso di Dottorato in Studi Storici, Geografici, Antropologici delle Università di Padova, Venezia, Verona.
- tutor di tesi in cotutela con Grenoble, Teramo.
- membro di commissioni di dottorato nazionali e internazionali (Rep. Ceca, Irlanda)
Incarichi accademici e attività organizzative
- Vicecoordinatore del Corso di Dottorato in Studi Storici, Geografici, Antropologici delle Università di Padova, Venezia, Verona, per tutto il triennio.
- Allestimento del progetto per una mostra storica per il 150° di Ca' Foscari (non realizzata).
Partecipazione alle attività di valutazione della ricerca
Refereee per progetti di ricerca e valutazioni delle attività di studiosi per agenzie internazionali (Canada, Inghilterra, Spagna)
Componente di Collegi didattici, Comitati e Commissioni di Dipartimento, Commissioni di Ateneo
- Membro del direttivo e del Collegio del Corso di Dottorato in Studi storici, geografici e antropologici (Università di Padova, Ca' Foscari Venezia, Università di Verona) per l'intero triennio
- Membro del Comitato per la Ricerca del Dipartimento di Studi Umanistici (sino al 2017)
Attività e incarichi esterni
- Membro del comitato scientifico del Museo Per Via (Pieve Tesino, Trento)
- Membro del comitato scientifico del Cisui (Centro interuniversitario per la storia delle università italiane) in rappresentanza di Ca' Foscari (2015-2018)