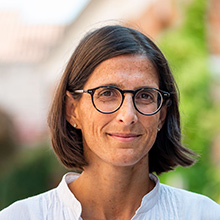 Dati relazione
Periodo di riferimento

22/12/2017 - 21/12/2020
Afferenza

Dipartimento di Economia
Ruolo

Professori associati
Attività didattica
| A.A. | Insegnamento | Codice | Voto | Voto medio area |
| --- | --- | --- | --- | --- |
| 2017/2018 | Climate Change and International Policies | PHD029 | | |
| 2018/2019 | CLIMATE CHANGE ECONOMICS: THEORY, METHODS AND APPLICATIONS | PHD088 | | |
| 2018/2019 | CLIMATE CHANGE POLICIES–NEGOTIATIONS, IMPLEMENTATION AND ASSESSMENT | PHD091 | | |
| 2019/2020 | CLIMATE CHANGE POLICIES–NEGOTIATIONS, IMPLEMENTATION AND ASSESSMENT | PHD091 | | |
| 2019/2020 | POLITICA E DIRITTO DELL'AMBIENTE | CT0367 | | |
Tesi
| Anno solare | Tipologia | Tesi Relatore | Tesi Correlatore |
| --- | --- | --- | --- |
| 2018 | Corso di laurea | 1 | |
| 2018 | Corso di laurea magistrale | 2 | 4 |
Finanziamenti
ENERGYA - Energy use for Adaptation
Ricerche sviluppate e in corso
Adaptation to climate change - energy consumption, macroeconomic and integrated assessment modelling (with the ENERGYA team)
Climate change impacts on calorie production (with Malcolm Mistry and Ian Sue Wing)
Climate change impacts on energy demand (with Ian Sue Wing)
Pubblicazioni realizzate nel triennio
Randazzo T.; De Cian E.; Mistry M. (2020), Air conditioning and electricity expenditure: The role of climate in temperate countries in ECONOMIC MODELLING, vol. 90, pp. 273-287 (ISSN 0264-9993) (Articolo su rivista)
Colelli, FP; De Cian, E (2020), Cooling demand in integrated assessment models: a methodological review in ENVIRONMENTAL RESEARCH LETTERS, vol. 15, pp. 113005 (ISSN 1748-9326) (Articolo su rivista)
Hof A.F.; Carrara S.; De Cian E.; Pfluger B.; van Sluisveld M.A.E.; de Boer H.S.; van Vuuren D.P. (2020), From global to national scenarios: Bridging different models to explore power generation decarbonisation based on insights from socio-technical transition case studies in TECHNOLOGICAL FORECASTING AND SOCIAL CHANGE, vol. 151, pp. 119882 (ISSN 0040-1625) (Articolo su rivista)
Yalew S.G.; van Vliet M.T.H.; Gernaat D.E.H.J.; Ludwig F.; Miara A.; Park C.; Byers E.; De Cian E.; Piontek F.; Iyer G.; Mouratiadou I.; Glynn J.; Hejazi M.; Dessens O.; Rochedo P.; Pietzcker R.; Schaeffer R.; Fujimori S.; Dasgupta S.; Mima S.; da Silva S.R.S.; Chaturvedi V.; Vautard R.; van Vuuren D.P. (2020), Impacts of climate change on energy systems in global and regional scenarios in NATURE ENERGY, vol. 10.1038/s41560-020-0664-z (ISSN 2058-7546) (Articolo su rivista)
Vesco P.; Dasgupta S.; De Cian E.; Carraro C. (2020), Natural resources and conflict: A meta-analysis of the empirical literature in ECOLOGICAL ECONOMICS, vol. 172, pp. 106633 (ISSN 0921-8009) (Articolo su rivista)
van Ruijven, BJ; De Cian, E; Wing, IS; (2019), Amplification of future energy demand growth due to climate change in NATURE COMMUNICATIONS, vol. 10, pp. 2762 (ISSN 2041-1723) (Articolo su rivista)
Markandya A.; De Cian E.; Drouet L.; Polanco-Martinez J.M.; Bosello F. (2019), Building Risk into the Mitigation/Adaptation Decisions simulated by Integrated Assessment Models in ENVIRONMENTAL & RESOURCE ECONOMICS, vol. 74, pp. 1687-1721 (ISSN 0924-6460) (Articolo su rivista)
Davide M.; De Cian E.; Bernigaud A. (2019), Building a framework to understand the energy needs of adaptation in SUSTAINABILITY, vol. 11, pp. 4085 (ISSN 2071-1050) (Articolo su rivista)
Zelingher, Rotem; Ghermandi, Andrea; De Cian, Enrica; Mistry, Malcolm; Kan, Iddo (2019), Economic Impacts of Climate Change on Vegetative Agriculture Markets in Israel in ENVIRONMENTAL & RESOURCE ECONOMICS, vol. 72, pp. 1-18 (ISSN 0924-6460) (Articolo su rivista)
Enrica De Cian, Filippo Pavanello, Teresa Randazzo, Malcolm Mistry, Marinella Davide (2019), Households' adaptation in a warming climate. Air conditioning and thermal insulation choices in ENVIRONMENTAL SCIENCE & POLICY, vol. 100, pp. 136-157 (ISSN 1462-9011) (Articolo su rivista)
Campagnolo Lorenza; De Cian Enrica (2019), Can the Paris Agreement Support Achieving the Sustainable Development Goals? in Campagnolo Lorenza, De Cian Enrica, Ancillary Benefits of Climate Policy, Springer Climate, pp. 15-50 (ISBN 978-3-030-30978-7) (Articolo su libro)
De Cian, Enrica; Dasgupta, Shouro; Hof, Andries F.; van Sluisveld, Mariësse A.E.; Köhler, Jonathan; Pfluger, Benjamin; van Vuuren, Detlef P. (2018), Actors, decision-making, and institutions in quantitative system modelling in TECHNOLOGICAL FORECASTING AND SOCIAL CHANGE, vol. n/d (ISSN 0040-1625) (Articolo su rivista)
Dasgupta, Shouro; De Cian, Enrica (2018), The influence of institutions, governance, and public opinion on the environment: Synthesized findings from applied econometrics studies in ENERGY RESEARCH & SOCIAL SCIENCE, vol. 43 (ISSN 2214-6296) (Articolo su rivista)
Tesi di laurea/dottorato anno solare
Paola Vesco, PhD in Science and Management of Climate Change, Climate change and conflicts, 2017-2020, (co-tutor)

2018-2020, 5 triennali di cui 1 in corso

2018-202, 5 magistrali, di cui 1 in corso
Partecipazione come referee di progetti di ricerca nazionali ed internazionali
European Science Foundation
Partecipazione a comitati editoriali di riviste/collane scientifiche
Climatic Change, Associate Deputy Editor
Descrizione dell'attività di ricerca svolta nel triennio e gli obiettivi futuri
La mia attività di ricerca per il triennio dicembre 2017-dicembre 2020 si è concentrata principalmente sull'avvio e coordinamento del progetto ENERGYA.

Il progetto è partito il primo marzo 2018 con un core team di 5 persone (Mistry, Davide, Campagnolo, Randazzo) con il ruolo di assegnisti e RTDA e un gruppo di 6 country experts dai paesi oggetto di studio del progetto, Messico, India, Indonesia, Brasile.

L'obiettivo del progetto è di capire come l'energia e i servizi energetici sono usati da famiglie e imprese per adattarsi al rischio legato ai cambiamenti climatici, e quali sono le implicazioni ambientali, economiche e sociali oggi e qualora questi comportamenti venissero intensificati nel futuro.

Dopo l'avvio del progetto e del sito web, le prime attività di ricerca del 2018-2019 si sono concentrate sul framework teorico che ha definito il concetto energy-use for adaptation (con Davide) e la preparazione dei primi indicatori climatici per l'analisi d'impatto di temperatura sui condizionatori (Mistry). Abbiamo poi iniziato l'analisi empirica delle determinanti delle scelte di acquistare un condizionatore con Randazzo, Davide e Pavanello, nei paesi OECD.

Con il supporto dei country experts ha avuto inizio nel corso del 2019 la preparazione di un primo database con dati delle famiglie circa i comportamenti di adozione di aria condizionata e consumi elettrici in Brasile, Messico, India, Indonesia. Nel corso del 2020 tale database è stato utilizzato per sviluppare una prima analisi comparativa di questi paesi. Oltre all'analisi comparativa, ogni membro del team di ricerca sta implementando analisi empiriche ulteriori su paesi specifici. L'analisi è in corso e sarà completata nel 2021.

In parallelo è partita una seconda attività di ricerca del progetto che prevede lo sviluppo di modelli integrati e macroeconomici per l'analisi delle implicazioni ambientali e distributive di scenari di variazione futura della domanda di energia in risposta alle variazioni socioeconomiche e climatiche. Questa sarà l'attività principale per gli anni restanti del progetto, 2021-2023.

Il team ENERGYA ha pubblicato 11 articoli elencati nel sito del progetto in questa pagina: http://www.energy-a.eu/publications/, di cui 8 con il mio contributo.

La maternità da maggio 2019 a novembre 2019 non ha causato rallentamenti nell'attività di ricerca. La pandemia COVID-19 ha creato delle difficoltà, ma i meeting del team sono proseguiti in forma virtuale.

ALTRE ATTIVITA' DI RICERCA

Durante questo periodo ho anche finalizzato dei lavori in corso. In particolare è stata completata la revisione di un articolo per Journal of Environmental Economics and Management (con Mistry e Sue Wing), in corso di pubblicazione, e ho pubblicato 5 articoli aggiuntivi a quelli del progetto ENERGYA, per un totale di 13 articoli.

Durante il triennio 2017-2020 ho collaborato ad altre tematiche di ricerca con colleghi del Dipartimento di Economia sui temi degli impatti macroeconomici dei cambiamenti climatici (Casarin, Billio). Ho iniziato una scoping activity per esplorare la possibilità di utilizzare i dati SHARE per analizzare gli impatti dei cambiamenti climatici sulla salute. Questa è un'attività che proseguirà anche nel corso del 2021.
Altri prodotti scientifici
Durante il triennio 2017-2020 ho effettuato anche attività di fund raising:

Bando FARE MIUR per PI di ERC, non finanziata.

Horizon 2020 Call: H2020-LC-CLA-2018-2019-2020. Topic: LC-CLA-03-2018, Policy Response Options for Transforming European health risks under changing Climate Trends con Agar Brugiavini e Raluca Buia, non finanziata.

Horizon 2020 Call Marie Curie International fellowship (IOF) ACTION. PI: Marinella Davide, finanziata.

Con Malcolm Mistry il mio team ha collaborato a due proposte della prof.ssa Monica Billio (EIBURS, tender WB) che sono state finanziate.

Ho contribuito ad un progetto Marie Curie ITN EPOC che è stato finanziato. Sarò coinvolta con la supervisione congiunta di due dottorandi in Economia.

Ho partecipato alla stesura di una proposta per il bando PRIN e per il bando
Green Deal.

Ho contributo alla progettazione ICM2019 con gli Stati Uniti e in particolare con Boston University (finanziato).
Menzioni e premi ricevuti
EAERE award for ERC Grants in environmental economics, June 2018
Relazioni invitate presso convegni o workshops
Il team ha partecipato a numerose conferenze internazionali dove è stato presentato il nostro lavoro.
Personalmente ho partecipato alle conferenze annuali dell'EAERE, dell'IAERE, della SISC.
Ho organizzato diversi seminari per il CMCC e contribuito con alcuni inviti ai seminari di Dipartimento.
Ho organizzato una sessione alla Conferenza delle Parti dell'UNFCCC di Madrid (02/12/2019).
Sono stata invitata come relatrice a conferenze internazionali (ISIMIP, Modeling adapation).
Sono stata invitata a partecipare a diversi eventi di disseminazione verso la società come il Festival del giornalismo di Internazionale, di Perugia, Ecomondo, la Biennale.

Partecipazione a conferenze:
Conferenza SISC - Società Italiana per le Scienze del Clima, 18/10/2018, Venice
IAERE 7th Annual Conference 07/02/2019, Udine
World Congress of Environmental and Resources Economist, 28/06/2018, Gothenburg
Eleventh Annual Meeting of the Integrated Assessment Modelling Consortium IAMC 2018, 13/11/2018, Seville

Conferenza IRIS - 26/02/2019 Bologna (invited speaker)
High-level Expert Workshop on Climate Adaptation Modelling, 09/09/2020, Virtual meeting (invited speaker)
Workshop: best practices for modeling human behaviour in IAMs, 22/11/2018, Milan (invited speaker)
Green Schools Competition - Provincia di Treviso, 21/03/2019, Treviso (invited speaker)
Episode of the RAI documentary series "Memex" focused on science, 02/05/2018 (invited speaker)
Ecomondo 2018 07/11/2018, Rimini, (invited speaker)
Venice Biennale - Side event climate change, 12/05/2019, Venice (invited speaker)
Seminari su invito tenuti presso altre Università, Centri di Ricerca, Aziende, etc.
UCL (invited) guest lecture (ottobre 2020, online): "Evaluating climate change and responses: economic debates and modeling developments", MSc in Economics and Policy of Energy and the Environment
MIT seminar, Joint Programme on Climate Change (luglio 2020, online): "Overview of the energya project"
Altre attività scientifiche
Membro del Consiglio Direttivo SISC, 2019-presente

Membro del comitato di selezione dei contributi scientifici (revisore dei contributi) SISC/EAERE 2019, 2020
Altre attività didattiche
Kids University, evento per scuole elementari/medie sullo sviluppo sostenibile (con Marinella Davide e Lorenza Campagnolo), maggio 2019
Incarichi accademici e attività organizzative
Master in Science and Management of Climate Change, coordinatrice, 2018-present

PhD in Science and Management of Climate Change, coordinatrice, novembre 2020-presente

Membro del gruppo RUS Gdl Cambiamenti climatici e partecipazione alla stesura delle linee guida Piano di mitigazione degli Atenei Italiani, 2019-present

Referente programma Erasmus ICM+ per lo scambio con Boston University, 2019-presente
Partecipazione alle attività di valutazione della ricerca
Valutatore per le proposte Spin, Università Ca' Foscari, 2018 1st and 2nd call
Componente di Collegi didattici, Comitati e Commissioni di Dipartimento, Commissioni di Ateneo
Environmental Humanities, membro del Collegio didattico, 2019-presente

PhD in Science and Management of Climate Change, membro del Collegio didattico, 2018-presente

Membro del Search Committee, Università Ca' Foscari, 2019-2020

Membro del Consiglio di Biblioteca DEC 2018,2019
Attività e incarichi esterni
Affiliated senior scientist, Fondazione CMCC, 2017-oggi

Affiliated senior scientist, RFF-CMCC, 2018-oggi
Altre informazioni
Maternità: maggio 2019-novembre 2019