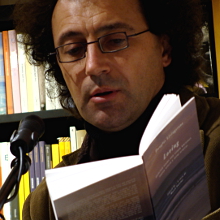 FAZZINI Marco
Position

Researcher
Telephone

041 234 7868
E-mail
Fax

041 234 7873
Scientific sector (SSD)

LETTERATURA INGLESE [L-LIN/10]
Website

www.unive.it/persone/mfazzini (personal record)

Dati relazione
Periodo di riferimento

19/08/2018 - 18/08/2021
Afferenza

Dipartimento di Studi Linguistici e Culturali Comparati
Ruolo

Ricercatore universitario
Attività didattica
| A.A. | Insegnamento | Codice | Voto | Voto medio area |
| --- | --- | --- | --- | --- |
| 2017/2018 | HISTORY OF POSTCOLONIAL CULTURE | LMJ480 | 2.8 | 3.2 |
| 2017/2018 | LETTERATURA INGLESE 1 | LT001P | 3 | 3.2 |
| 2018/2019 | HISTORY OF POSTCOLONIAL CULTURE | LMJ480 | 2.6 | 3.2 |
| 2018/2019 | LETTERATURA INGLESE 1 | LT001P | 3.3 | 3.2 |
| 2019/2020 | ENGLISH LITERATURE | LMJ490 | 4.5 | 8.1 |
| 2019/2020 | SOCIETA' E CULTURE POSTCOLONIALI | LT2040 | 4.4 | 8.1 |
Tesi
| Anno solare | Tipologia | Tesi Relatore | Tesi Correlatore |
| --- | --- | --- | --- |
| 2018 | Corso di laurea | 4 | |
| 2018 | Corso di laurea magistrale | 1 | 3 |
| 2019 | Corso di laurea magistrale | 1 | 1 |
| 2020 | Corso di laurea | 1 | |
| 2020 | Corso di laurea magistrale | | 2 |
Ricerche sviluppate e in corso
Poesia e traduttologia
a modo mio: poeti e traduttori sulla teoria e pratica della traduzione
arte e poesia: i poeti visti dagli artisti
poesia contemporanea di lingua inglese; interviste e saggi su vari autori
Pubblicazioni realizzate nel triennio
FAZZINI, Marco (2020), "Dite dire: Chi la ridusse a tale?". Una difesa della poesia in Zona Letteraria, vol. vol. 4, pp. 7-15 (Articolo su rivista)
Marco FAZZINI (2020), Introduzione: poesia, canto, resistenza in Fazzini, Marco, Raul Zurita. Ni pena ni miedo, Milano, Agenzia X, vol. 1, pp. 7-21 (Breve introduzione)
(a cura di) Marco FAZZINI; Alessandro Scarsella; Giorgio Rimondi (2020), Raul Zurita: ni pena ni miedo. Poesia civile, canzone e performance in Marco Fazzini; Alessandro Scarsella; Giorgio Rimondi, Milano, agenziax, pp. 1-233 (ISBN 978-88-31268-21-9) (Curatela)
FAZZINI, Marco (2019), At the Back of My Ear. Essays on Poetry and Literary Crossings , Mestre (VE), Amos Edizioni, vol. 1, pp. 1-222 (ISBN 9788887670707) (Monografia o trattato scientifico)
FAZZINI MARCO (2019), Speaking Out: Lawrence Ferlinghetti @ 100 in LE SIMPLEGADI, vol. XVII, pp. 20-29 (ISSN 1824-5226) (Articolo su rivista)
FAZZINI, Marco (2019), "Nulla è impossibile per la poesia: Gioconda Belli" , Dedica a Gioconda Belli, Pordenone, THESIS, vol. 1, pp. 97-121 (ISBN 9788890700798) (Articolo su libro)
Marco FAZZINI (2018), Poetry Vicenza 2018 , Pisa, ETS, vol. 1 (ISBN 9788846751850) (Monografia o trattato scientifico)
Marco FAZZINI (2018), Poesia in stato di grazia: Gerda Stevenson in Gerda, Stevenson, Se questo fosse vero, Roma, Ensemble, pp. 5-8 (ISBN 978-88-6881-200-3) (Prefazione/Postfazione)
FAZZINI, Marco (2018), Water, Colour & Life on Earth , Pisa, ETS, vol. 1, pp. 1-168, Convegno: Water, Colour & Life on Earth, 10 novembre 2018-27 gennaio 2019 (Catalogo di Mostra)
Tesi di laurea/dottorato anno solare
Tipo Corso di Studi Corso di studi Studente Docente Anno Laurea Anno Accademico Tipo Relatore
Corso di Laurea Magistrale LINGUE E LETTERATURE EUROPEE, AMERICANE E POSTCOLONIALI
KURTIC IRENA FAZZINI MARCO 2020 2018/2019 Primo correlatore
Corso di Laurea Magistrale LINGUE E LETTERATURE EUROPEE, AMERICANE E POSTCOLONIALI
DI VENERE GIULIA FAZZINI MARCO 2020 2018/2019 Primo correlatore
Corso di Laurea (DM 270) LINGUE, CIVILTÀ E SCIENZE DEL LINGUAGGIO DAL CIN GIADA FAZZINI MARCO 2020 2019/2020 Primo relatore
Corso di Laurea (DM 270) LINGUE, CIVILTÀ E SCIENZE DEL LINGUAGGIO LEWIS DYLAN GEOFFREY FAZZINI MARCO 2021 2019/2020 Primo relatore
Corso di Laurea (DM 270) LINGUE, CIVILTÀ E SCIENZE DEL LINGUAGGIO VIALETTO GAIA NUNZIA FAZZINI MARCO 2021 2019/2020 Primo relatore
Corso di Laurea Magistrale LINGUE E LETTERATURE EUROPEE, AMERICANE E POSTCOLONIALI
NITOPI STEFANO FAZZINI MARCO 2021 2020/2021 Primo relatore
Corso di Laurea (DM 270) LINGUE, CIVILTÀ E SCIENZE DEL LINGUAGGIO STOCCO ALESSANDRO FAZZINI MARCO 2021 2020/2021 Primo relatore
Corso di Laurea Magistrale LINGUE E LETTERATURE EUROPEE, AMERICANE E POSTCOLONIALI
JOSHUA NNEOMA UCHECHUKWU FAZZINI MARCO 2021 2020/2021 Primo correlatore
Corso di Laurea Magistrale SCIENZE DEL LINGUAGGIO
SAVI MARIA CHIARA FAZZINI MARCO 2021 2019/2020 Primo relatore
Corso di Laurea Magistrale LINGUE E LETTERATURE EUROPEE, AMERICANE E POSTCOLONIALI
MONTI NIA DENISE FAZZINI MARCO 2021 2020/2021 Primo correlatore
Corso di Laurea (DM 270) LINGUE, CIVILTÀ E SCIENZE DEL LINGUAGGIO
LU YUANHAO FAZZINI MARCO 2021 2019/2020 Primo relatore
Corso di Laurea Magistrale SCIENZE DEL LINGUAGGIO
NEGRI CHIARA FAZZINI MARCO 2021 2019/2020 Primo relatore
Corso di Laurea (DM 270) LINGUE, CIVILTÀ E SCIENZE DEL LINGUAGGIO --CORTESIANA ROBERTA FAZZINI MARCO 2021 2019/2020 Primo relatore
Partecipazione a comitati editoriali di riviste/collane scientifiche
- Il Tolomeo (rivista di studi postcoloniali): Venezia / in qualità di membro del direttivo;
- Direttore della collana di poesia "I dardi del poeta", dal 1996 (per le Edizioni del Bradipo, Lugo, Ravenna);
- Ali (rivista di arte e poesia): Ravenna / redattore e membro del comitato scientifico.
Descrizione dell'attività di ricerca svolta nel triennio e gli obiettivi futuri
La ricerca dell'ultimo triennio si è concentrata soprattutto sulla poesia contemporanea, con una speciale attenzione alla poesia civile/impegnata (Ferlinghetti, Hirschman, Baraka, Reed, Belli, Alegre, Zurita, ecc.) per un doppio obiettivo: rivalutare figure centrali della poesia contemporanea in varie lingue (dall'inglese parlato in varie aree anglofone, allo scots, al gaelico, fino al portoghese, e allo spagnolo dell'America Latina, ecc.) e considerare quale sia ancora l'impatto della poesia sulle società contemporanee. A tale proposito il programma "Incroci di Poesia Contemporanea" (alla sua 15ma edizione a Ca' Foscari, con il sostegno del Dipartimento di afferenza) e il festival Poetry Vicenza (a cui il nostro Dipartimento ha sempre contribuito) vuole da una parte convogliare/invitare autori specifici su tematiche specifiche e dall'altra rendere partecipi gli studenti, soprattutto del terzo anno e della magistrale, a performance esemplari. Oltre al volume di saggi critici da poco pubblicati (At the Back of My Ear, Amos Edizioni 2019) in un prossimo futuro uscirà un vero e proprio volume a Difesa della Poesia (attualmente in fase di stesura per Medusa Edizioni), contenente tre saggi/capitoli sul tema e un inventario unico sui luoghi nel mondo in cui si fa poesia, e dove la poesia riesce a dar manforte alla lotta per i diritti civili, e per le libertà di vario tipo.
Altri prodotti scientifici
Autori sui quali usciranno saggi che andranno a corredare questa ricerca in atto:
- Seamus Heaney
- H.D. Thoreau
- Douglas Dunn
- Norman MacCaig
- Amiri Baraka
Relazioni invitate presso convegni o workshops
- Istituto Italiano Cultura (Edimburgo). CROSSINGS: A JOINT BILINGUAL POETRY READING by Marco Fazzini & Gerda Stevenson Introduced by James Reid Baxter. 5 marzo 2019.
- Stanza Poetry Festival (St Andrews, Scozia). Border Crossings. Una lettura e una lezione. 7 marzo 2019.
- Fondation Saint John Perse (Aix-en-Provence). Printemps des poètes. 16 marzo 2019.
- Foz Coa Poetry Festival (Portogallo). Literatura e Libertade Hoje. Conferenza del 25 aprile 2019.
- Università di Bari: Conferenza: "Edwin Morgan @ 100". Conferenza del 30 ottobre 2019.
- Ca' Foscari - Conferenza "L'ibrido multilingue e la sua traduzione" all'interno del convegno: Migrazioni. Convegno Internazionale Itinerante. 12 novembre 2019.
- Università di Bari. "Give Life a Chance. John Lennon e l'utopia del pacifismo". Conferenza online del 16 dicembre 2020.
- Università di Bari: Conferenza su Bob Dylan & Contrafactum (Convegno 80 anni du B.D.). Conferenza online del 28 marzo 2021.
- Rotary Club, Vicenza: "Ma la poesia può davvero cambiare il mondo? Una difesa della poesia in tempi difficili. Conferenza online del 8 aprile 2021.
- Guarda (Portogallo): Conferenza su Seamus Heaney (Nel progetto Guarda Capitale Europea 2026). Biblioteca Comunale E. Lourenco. Conferenza online del 18 agosto 2021.
Altre attività scientifiche
- Incroci di Poesia contemporanea, una rassegna di poesia contemporanea, in varie lingue, promossa da Ca' Foscari Venezia - Dipartimento di Studi Linguistici e Culturali Comparati, in collaborazione con il festival Poetry Vicenza & Premio Dubito Feltrin International & Festival VicenzaJazz. Curatore scientifico del progetto dal 2004: Marco Fazzini.

- Premio Alberto Dubito International di poesia con musica in partnership con Università Ca' Foscari Venezia - Dipartimento di Studi Linguistici e Culturali Comparati & Laboratorio per lo Studio Letterario del Fumetto & Poetry Vicenza. Giurati: Marco Fazzini, Lello Voce, Alessandro Scarsella, Giorgio Rimondi e Paolo Feltrin. Il Premio Internazionale Alberto Dubito. A partire dal 2016, in collaborazione con il Dipartimento di Studi Linguistici e Culturali Comparati dell'Università Ca' Foscari di Venezia, viene assegnato il premio alla carriera Alberto Dubito International, riservato a personalità del mondo artistico che si siano distinte per l'attenzione alla correlazione tra testo e linguaggi musicali.
Il comitato organizzatore/scientifico: Marco Fazzini, Paolo Feltrin, Marco Philopat, Lello Voce, Giorgio Rimondi e Alessandro Scarsella.

- Poetry Vicenza (Festival di poesia contemporanea con musica) in partnership con Università Ca' Foscari Venezia - Dipartimento di Studi Linguistici e Culturali Comparati & Comune di Vicenza & Gallerie d'Italia di Banca Intesa Sanpaolo/Palazzo Leoni Montanari & Festival VicenzaJazz. Si tratta di un festival internazionale di poesia contemporanei da tutti il mondo, in varie lingue, che mette in gioco soprattutto la collaborazione tra poeti e musicisti, o invita cantautori/poeti che hanno fatto nel corso di decenni della poesia musicata o delle canzoni d'autore un percorso di alta scrittura attraverso messaggi precisi per la libertà, i diritti civili, l'impegno nel sociale e la lotta per un miglioramento climatico e ambientale.
Direttore artistico dalla fondazione nel 2015: Marco Fazzini.