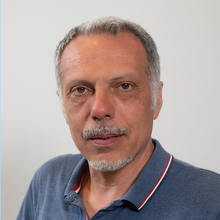 Dati relazione
Periodo di riferimento

05/11/2014 - 04/11/2017
Afferenza

Dipartimento di Scienze Ambientali, Informatica e Statistica
Ruolo

Professori associati
Attività didattica
| A.A. | Insegnamento | Codice | Voto (max 4) | Voto medio area (max 4) |
| --- | --- | --- | --- | --- |
| 2014/2015 | BIOLOGIA ANIMALE E LABORATORIO DI BIODIVERSITA' | CT0389 | 3.5 | 3.1 |
| 2014/2015 | ECOLOGIA E COMPORTAMENTO ANIMALE | CT0319 | 4 | 3.1 |
| 2014/2015 | GLOBAL CHANGE BIOLOGY | CM0441 | 3.3 | 3.1 |
| 2015/2016 | BIOLOGIA ANIMALE E LABORATORIO DI BIODIVERSITA' | CT0389 | 3.4 | 3.1 |
| 2015/2016 | ECOLOGIA E COMPORTAMENTO ANIMALE | CT0319 | 3.7 | 3.1 |
| 2015/2016 | GLOBAL CHANGE BIOLOGY | CM0441 | 3.5 | 3.1 |
| 2016/2017 | BIOLOGIA ANIMALE E LABORATORIO DI BIODIVERSITA' | CT0389 | 3.2 | 3.1 |
| 2016/2017 | ECOLOGIA E COMPORTAMENTO ANIMALE | CT0319 | 3.7 | 3.1 |
| 2016/2017 | GLOBAL CHANGE BIOLOGY | CM0441 | 3.7 | 3.1 |
Tesi
| Anno solare | Tipologia | Tesi Relatore | Tesi Correlatore |
| --- | --- | --- | --- |
| 2014 | Corso di laurea | 6 | |
| 2015 | Corso di laurea | 11 | |
| 2016 | Corso di laurea | 8 | |
| 2016 | Corso di laurea magistrale | 2 | |
Finanziamenti
FORCE - Fishery & aquaculture oriented research capacity in Egypt
Ricerche sviluppate e in corso
Biologia ed ecologia di specie ittiche lagunari
Comunicazione acustica in pesci Teleostei
Ecologia comportamentale applicata all'acquacoltura e al restocking
Ecologia comportamentale ed evolutiva di specie ittiche estuarine
Ecologia, comportamento e conservazione di specie ittiche inserite in Direttiva Habitat
Effetti della temperatura su ciclo biologico e comportamento di specie ittiche di interesse commerciale, nella prospettiva dell'analisi degli impatti da cambiamenti climatici
Gestione della fauna selvatica locale, con particolare riferimento agli alloctoni
Monitoraggio acustico passivo (passive listening) di barriere rocciose artificiali lungo il litorale veneziano
Monitoraggio e conservazione di ittiofauna ed erpetofauna
Pubblicazioni realizzate nel triennio
Ottonello, Dario; D'Angelo, Stefania; Oneto, Fabrizio; Malavasi, Stefano; Zuffi, Marco Alberto Luca (2017), Feeding ecology of the Sicilian pond turtle Emys trinacris (Testudines, Emydidae) influenced by seasons and invasive aliens species in ECOLOGICAL RESEARCH, vol. 32, pp. 1-10 (ISSN 0912-3814) (Articolo su rivista)
Cavraro, Francesco; Malavasi, Stefano; Torricelli, Patrizia; Gkenas, C.; Liousia, V.; Leonardos, I.; Kappas, I.; Abatzopoulos, T. J.; Triantafyllidis, A. (2017), Genetic structure of the South European toothcarp Aphanius fasciatus (Actinopterygii: Cyprinodontidae) populations in the Mediterranean basin with a focus on the Venice lagoon in THE EUROPEAN ZOOLOGICAL JOURNAL, vol. 84 (ISSN 2475-0263) (Articolo su rivista)
Ottonello, Dario; Oneto, Fabrizio; Malavasi, Stefano; Marco Alberto Luca, Zuffi; D'Angelo, Stefania (2017), Preliminary Data on the Population of the Sicilian Pond Turtle, Emys trinacris Fritz et al., 2005 (Emydidae) Inhabiting the Gorgo Tondo Basso in the "Lago Preola e Gorghi Tondi" Nature Reserve, Sicily, Italy in ACTA ZOOLOGICA BULGARICA, vol. 2017, pp. 121-128 (ISSN 0324-0770) (Articolo su rivista)
Cavraro, Francesco; Zucchetta, Matteo; Malavasi, Stefano; Franzoi, Piero (2017), Small creeks in a big lagoon: The importance of marginal habitats forfish populations in ECOLOGICAL ENGINEERING, vol. 99 (ISSN 0925-8574) (Articolo su rivista)
Mattia, Toni; Elisa, Angiulli; Malavasi, Stefano; Enrico, Alleva; Carla, Cioni (2017), Variation in Environmental Parameters in Research and Aquaculture: effects on behaviour, physiology and cell Biology of Teleost fish in JOURNAL OF AQUACULTURE & MARINE BIOLOGY, vol. 5 (ISSN 2378-3184) (Articolo su rivista)
Kuciel, M.; Zuwala, K.; Lauriano, E.R.; Polgar, G.; Malavasi, S.; Zaccone, G (2017), Structure and function of sensory organs , Fishes out of Water - Biology and Ecology of mudskippers, CRC Press (Articolo su libro)
Picciulin, Marta; Bolgan, M.; Coro', ANNA BEATRICE; Calcagno, Giancarlo; Malavasi, Stefano (2016), Sound production by the Shi drum Umbrina cirrosa and comparison with the brown meagre Sciaena umbra: a passive acoustic monitoring perspective in JOURNAL OF FISH BIOLOGY, vol. 88 (ISSN 1095-8649) (Articolo su rivista)
Horvatic, S.; Cavraro, Francesco; Zanella, D.; Malavasi, Stefano (2016), Sound production in the Ponto-Caspian goby Neogobius fluviatilis and acoustic affinities within the Gobius lineage: implications for phylogeny in BIOLOGICAL JOURNAL OF THE LINNEAN SOCIETY, vol. 117 (ISSN 1095-8312) (Articolo su rivista)
Brigolin, D; Cavraro, F.; Zanatta, V.; Pastres, R.; Malavasi, S. (2016), The influence of habitat structure on energy allocation tactics in an estuarine batch spawner in ESTUARINE, COASTAL AND SHELF SCIENCE, vol. 172, pp. 60-71 (ISSN 0272-7714) (Articolo su rivista)
Picciulin, M.; Colla, Silvia; Pranovi, Fabio; Malavasi, Stefano; Fiorin, R.; Boldan, M. (2016), The soundscape of a mussel farm: Biophony and man-made noise levels in PROCEEDINGS OF MEETINGS ON ACOUSTICS, vol. 27 (ISSN 1939-800X) (Articolo su rivista)
Zeyl, N.J.; Malavasi, S.; Holt, D. E.; Noel, P.; Lugli, M.; Johnston, C.E (2016), Convergent aspects of acoustic communication in darters, sculpins and gobies , Fish Hearing and Bioacoustics in ADVANCES IN EXPERIMENTAL MEDICINE AND BIOLOGY, Springer (ISSN 0065-2598) (Articolo su libro)
Bolgan, M.; Picciulin, M.; Codarin, A.; Fiorin, R.; Zucchetta, M.; Malavasi, S (2016), Is the Venice Lagoon noisy? First passive listening monitoring of the Venice Lagoon: Possible effects on the typical Fish Community , The effects of Noise on Aquatic life II in ADVANCES IN EXPERIMENTAL MEDICINE AND BIOLOGY, Springer (ISSN 0065-2598) (Articolo su libro)
Stefano, Malavasi (2015), Dal treno di impulsi al tono puro: storia naturale della comunicazione sonora in un gruppo di pesci ossei in SCIENZE E RICERCHE, vol. 12 (ISSN 2283-5873) (Articolo su rivista)
Stefano Malavasi, Giacomo Cipolato ; Cioni, Carla; Torricelli, Patrizia; Manciocco, Arianna; Alleva, Enrico (2015), Feeding Behaviour of Larval European Sea Bass (Dicentrarchus labrax L.) in Relation to Temperature and Prey Density in JACOBS JOURNAL OF AQUACULTURE AND RESEARCH, vol. 2(19, pp. 1-5 (ISSN 2379-5085) (Articolo su rivista)
Picciulin, Marta; Colla, Silvia; Pranovi, Fabio; Malavasi, Stefano (2015), Monitoraggio acustico passivo di Sciaena umbra in un allevamento di mitili del Nord Adriatico in BIOLOGIA MARINA MEDITERRANEA, vol. 22 (1) (ISSN 1123-4245) (Articolo su rivista)
Manciocco, A.; Toni, M.; Tedesco, A.; Malavasi, Stefano; Alleva, E.; Cioni, C. (2015), The acclimation of European Sea Bass (Dicentrarchus labrax) to temperature: behavioural and neurochemical responses in ETHOLOGY, vol. 120, pp. 1-1-16 (ISSN 0179-1613) (Articolo su rivista)
Malavasi, Stefano (2015), ThinkAnimal, l'animale come soggetto attivo in Malavasi Rachele, Think animal, il mondo visto dagli altri animali, Studioverde edizioni (Prefazione/Postfazione)
Cavraro F.; Daouti I.; Leonardos I.; Torricelli P.; Malavasi S. (2014), Linking habitat structure to life history strategy: insights from a Mediterranean killifish in JOURNAL OF SEA RESEARCH, vol. 85, pp. 205-213 (ISSN 1385-1101) (Articolo su rivista)
Cavraro F.; Varin C.; Malavasi S. (2014), Lunar-induced reproductive patterns in transitional habitats: insights from a Mediterranean killifish inhabiting northern Adriatic saltmarshes in ESTUARINE, COASTAL AND SHELF SCIENCE, vol. 139, pp. 60-66 (ISSN 0272-7714) (Articolo su rivista)
Pubblicazioni in corso di stampa
Toni, M.; Manciocco, A.; Anguilli, E.; Alleva, E.; Cioni, C.; Malavasi, S. Review: Assessing fish welfare in research and aquaculture, with a focus on European directives. in ANIMAL, vol. non disponibile - online (ISSN 1751-7311) (Articolo su rivista)
Partecipazione come referee di progetti di ricerca nazionali ed internazionali
Referee per la valutazione dei prodotti VQR 2011-2014
Partecipazione a comitati editoriali di riviste/collane scientifiche
Referee per Ethology, Journal of Fish Biology, Biological Journal of the Linnean Society, Plos One, Environmental Biology of Fishes
Descrizione dell'attività di ricerca svolta nel triennio e gli obiettivi futuri
L'attività di ricerca intreccia ecologia, etologia ed evoluzione di specie animali di habitat acquatici con particolare riferimento agli ambienti di transizione. Il risvolto applicativo di tali ricerche è la biologia della conservazione. Le principali linee di ricerca sviluppate sono: 1) Ecologia comportamentale ed evolutiva di specie ittiche estuarine, con risvolti applicativi legati alla gestione di specie di interesse commerciale e alla conservazione di specie inserite in Direttiva Habitat. Comportamento riproduttivo e sociale, comportamento antipredatorio, tratti di life histories.
2) Evoluzione della comunicazione acustica nei pesci Teleostei, utilizzando i gobioidei (Perciformes, Gobiidae) come modello di studio. Analisi delle interazioni tra storia naturale e adattamento nel plasmare i segnali acustici.
3) Impatto dei cambiamenti climatici su ciclo biologico e comportamento di specie ittiche di interesse commerciale. Effetti degli incrememti di temperatura sull'investimento riproduttivo, i cicli biologici, il comportamento sociale ed antipredatorio; 4) Biologia della conservazione. Conservazione e gestione della funa selvatica.

Gli obiettivi futuri prevedono di proseguire le ricerche in tutti gli ambiti sopra menzionati, anche mediante un progetto approvato e finanziato di recente: il programma di ricerca "Venezia 2021, Programma di ricerca scientifica per una laguna "regolata", Tematica 3: forme ed habitat lagunari, Linea 3.3.3: Specie ittiche modello"- progetto DAIS/Corila.
Relazioni invitate presso convegni o workshops
Presentazioni a convegni:
1)Relatore al XXVI convegno della Società Italiana di Etologia (SIE), tenutosi a Parma dal 24 al 26 giugno 2015. Il titolo del contributo era "DIVERSITA' ED EVOLUZIONE DEI SEGNALI ACUSTICI NEI PESCI GOBIOIDEI". Allego il book dei riassunti.dal 24-06-2015 al 26-06-2015
2)Relatore al XV convegno ECI - European Congress of Ichthyology tenutosi a Oporto (Portogallo) dal 07-09-2015 al 11-09-2015 - con un contributo dal titolo "Sound production in the Ponto-Caspian goby Neogobius fluviatilis and acoustic affinities within the Gobius-lineage: implications for phylogeny". L'abstract è pubblicato online in un numero speciale di Frontiers in Marine Science.
Altre attività scientifiche
Referee per diverse riviste scientifiche internazionali: Ethology, Journal of Fish Biology, Fisheries Research, Biological Journal of the Linnean Society, Plos One, Environmental Biology of Fishes.
Altre attività didattiche
Incarico di docenza al Master Universitario in "Amministrazione e gestione della fauna selvatica" (Ca' Foscari, Challenge School, ed. 2017 /2018). Modulo di "Biologia, evoluzione ed eco-teologia dei vertebrati" per un totale di 27 ore.

Partecipazione al gruppo per l'orientamento del Dipartimento di Scienze Ambientali, Informatica e Statistica. Svolgimento di lezioni di orientamento presso scuole secondarie superiori del Veneto, e presso gli Open Day di Ateneo.
Componente di Collegi didattici, Comitati e Commissioni di Dipartimento, Commissioni di Ateneo
Membro della commissione paritetica docenti-studenti del Dipartimento di Scienze Ambientali, Informatica e Statistica nel periodo 2014-2018.

Componente del collegio didattico del dottorato di ricerca in Scienze Ambientali dal 2013 ad oggi.

Membro del consiglio di biblioteca BAS nel periodo 2015-2018.