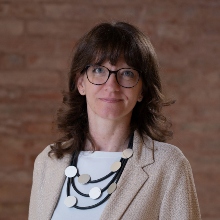 Dati relazione
Periodo di riferimento

01/01/2018 - 31/12/2020
Afferenza

Dipartimento di Economia
Ruolo

Professori Associati
Attività didattica
| A.A. | Insegnamento | Codice | Voto | Voto medio area |
| --- | --- | --- | --- | --- |
| 2017/2018 | FINANCIAL MATHEMATICS | ET0089 | 3.3 | 3.1 |
| 2017/2018 | FINANCIAL MATHEMATICS PROBLEMS FOR BUSINESS | EM4035 | 3.2 | 3.1 |
| 2017/2018 | MATEMATICA | ET0045 | 2.8 | 3.1 |
| 2018/2019 | FINANCIAL MATHEMATICS | ET0089 | 3.2 | 3.1 |
| 2018/2019 | FINANCIAL MATHEMATICS PROBLEMS FOR BUSINESS | EM4035 | 2.9 | 3.1 |
| 2018/2019 | MATEMATICA | ET0045 | 2.8 | 3.1 |
| 2019/2020 | FINANCIAL MATHEMATICS | ET0089 | 7.1 | 7.6 |
| 2019/2020 | FINANCIAL MATHEMATICS PROBLEMS FOR BUSINESS | EM4035 | 6.6 | 7.6 |
| 2019/2020 | MATEMATICA PER L'ECONOMIA E LA FINANZA | ET3009 | 6.9 | 7.6 |
Tesi
| Anno solare | Tipologia | Tesi Relatore | Tesi Correlatore |
| --- | --- | --- | --- |
| 2018 | Corso di laurea | 14 | |
| 2018 | Corso di laurea magistrale | 8 | 7 |
| 2019 | Corso di laurea | 5 | |
| 2019 | Corso di laurea magistrale | 6 | 7 |
Finanziamenti
EeDaPP Energy efficiency Data Protocol and Portal
EeMAP Energy efficient Mortgages Action Plan
Ricerche sviluppate e in corso
Analisi del downside risk in modelli di tracking error multiperiodali.
Analisi di portafogli clienti e miglioramento del profilo rischio-rendimento ed efficienza
Dark Pools of Liquidity and Alternative Trading Venues
Eventi estremi e dipendenza
Modelli di credit contagion per l'analisi del rischio di credito di portafogli di prestiti bancari
Portafogli long-short e problemi di tracking error
Problemi di gestione dinamica di un fondo in presenza di vincoli di rendimento
Rischio di credito e portafogli di esposizioni bancarie
Strumenti finanziari e mercato assicurativo
Pubblicazioni realizzate nel triennio
Diana Barro, Marco Corazza, Martina Nardon (2020), Cumulative Prospect Theory portfolio selection , WORKING PAPER (DEPARTMENT OF ECONOMICS, CÀ FOSCARI. UNIVERSITY OF VENICE) ISSN 1827-3580 in WORKING PAPER-DEPARTMENT OF ECONOMICS, CÀ FOSCARI. UNIVERSITY OF VENICE, WORKING PAPER (DEPARTMENT OF ECONOMICS, CÀ FOSCARI. UNIVERSITY OF VENICE - ISSN 1827-3580, vol. 26/2020, pp. 1-14 (ISSN 1827-3580) (Articolo su libro)
Barro, Diana*; Canestrelli, Elio; Consigli, Giorgio (2019), Volatility versus downside risk: performance protection in dynamic portfolio strategies in COMPUTATIONAL MANAGEMENT SCIENCE, vol. 16, pp. 433-479 (ISSN 1619-697X) (Articolo su rivista)
(a cura di) Barro, Diana; Igor Bykadorov; Corazza, Marco; Fasano Giovanni; Ferretti, Paola; Funari, Stefania; Nardon, Martina (2019), MATHEMATICAL METHODS IN ECONOMICS AND FINANCE in Barro, Diana; Igor Bykadorov; Corazza Marco; Fasano Giovanni; Ferretti, Paola; Funari Stefania; Nardon Martina in MATHEMATICAL METHODS IN ECONOMICS AND FINANCE, Venezia, Dipartimento di Economia, Università di Venezia, vol. 11/12 (ISSN 1971-6419) (Curatela)
Barro, Diana (2018), Integration of Non-financial Criteria in Equity Investment in Barro, Diana, Mathematical and Statistical Methods for Actuarial Sciences and Finance, Cham, Springer, pp. 97-100 (ISBN 978-3-319-89823-0; 978-3-319-89824-7) (Articolo su libro)
Tesi di dottorato interateneo
Vivek Varun - Co-Supervisione - Università di Bergamo - 2018
Tesi di laurea/dottorato anno solare
Anno 2020 Corso di laurea 5
Anno 2020 Corso di laurea magistrale 16
Partecipazione a comitati editoriali di riviste/collane scientifiche
Mathematical Methods in Economics and Finance
International Journal of Financial Studies
Descrizione dell'attività di ricerca svolta nel triennio e gli obiettivi futuri
Nel triennio l'attività di ricerca si è concentrata lungo le seguenti linee:
1. Proseguendo lungo un filone precedentemente avviato, mi sono occupata di Modelli di gestione dinamica di portafoglio. La ricerca si è concentrata nella formulazione di un modello dinamici di analisi delle dimensioni di rischio nel mercato equity con particolare riferimento al rischio di downside a alla volatilità. La ricerca ha condotto allo sviluppo di un modello di selezione e gestione di portafoglio in un contesto mutiperiodale a scenari e l'individuazione di una metodologia efficiente per la risoluzione del risultante problema di programmazione stocastica multiperiodale a tempo discreto.

I lavori, e la loro presentazione a conferenze e convegni, in questo filone hanno contribuito a portare anche ad un risultato di visibilità internazionale nell'ambito dell'EuroWorking Group on Stochastic Optimization, comunità scientifica di riferimento.

La ricerca condotta in questo ambito ha portato alla pubblicazione
del lavoro "Volatility versus downside risk: performance protection in dynamic portfolio strategies" in COMPUTATIONAL MANAGEMENT SCIENCE (in collaborazione con Elio Canestrelli e Giorgio Consigli).


2. Una seconda linea di ricerca si è concentrata su un argomento innovativo e promettente relativo allo studio dell'integrazione di criteri di sostenibilità (ESG) nella formulazione di un modello di selezione e gestione di portafoglio in ambito multiperiodale e condizioni di incertezza. Questo filone di ricerca, tuttora attivo con diversi progetti in corso, ha portato ad un primo contributo
pubblicato "Integration of Non-financial Criteria in Equity Investment" in Mathematical and Statistical Methods for Actuarial Sciences and Finance, Cham, Springer


3. Una terza linea di ricerca si è concentrata sullo studio di un modello di gestione dinamica di portafoglio nel contesto della programmazione stocastica che permetta di includere posizioni in titoli derivati e strategie che li contengano con l'obiettivo i estendere in modo significativo la letteratura esistente su questo punto. Un primo lavoro che ne è risultato, in collaborazione con Giorgio Consgli e Vivek Varun, è stato presentato a conferenze internazionali di finanza di prestigio sul tema avviando dei contatti particolarmente interessanti anche per future collaborazioni di ricerca.

4. Un tema di ricerca avviato più recentemente, in collaborazione con i colleghi Marco Corazza e Martina Nardon, è centrato su problemi di selezione portafoglio di tipo behavioral basati sulla Cumulative Prospect Theory. La metodologia risolutiva utilizzata si basa sull'ottimizzazione bio-ispirata. Un primo lavoro in tal senso è stato il seguente "Cumulative Prospect Theory portfolio selection", nel 2020 ancora nella forma di WP, che ha contribuito ad iniziare una collaborazione che è continuata anche successivamente e tuttora sta portando ad ulteriori sviluppi e contributi.
Altri prodotti scientifici
Attività di Terza Missione: attività di informazione e diffusione di
tematiche di educazione economica e finanziaria nell'ambito del progetto regionale Il futuro conta. Incontri con: PTA Ca'Foscari; Generali; Università del Volontariato (Treviso)
Partecipazione ad un progetto di ricerca BEL Connect grant University of Queensland
Menzioni e premi ricevuti
Incentivo tesi anno 2018
Incentivo tesi anno 2019
Premio qualità pubblicazioni anno 2018
Relazioni invitate presso convegni o workshops
MAF 2018 Conference Madrid
Computational Management Science Conference (invited) - Chemnitz 2019
International Conference on Stochastic Programming - Trondheim 2019
MAF 2020 Conference Ginevra (online)
AMASES 2020 (online)
Altre attività scientifiche
Attività di referaggio per le seguenti riviste:
-European Journal of Operational Research
-Computational Management Science
-International Journal of Financial Studies
-Econometrics and Statistics
-ORSpectrum
-Annals of Operations Research
-International Transactions in Operational Research
-Journal of Operations Research
-Mathematical Methods in Economics and Finance
Altre attività didattiche
Reading Seminar "Static and Dynamic Portfolio Management" - PhD Economics Dipartimento di Economia a.a. 2018 -2019 -2020
Corso Mathematics - Master IMEF 2018 - 2019-2020
Corso Preparatory -Master IMEF 2019-2020
Incarichi accademici e attività organizzative
Organizzazione della giornata di studio: "Life-cycle finance, asset allocation and insurance: New trends and challenges" VERA Workshop - 17 Gennaio 2020
Componente di Collegi didattici, Comitati e Commissioni di Dipartimento, Commissioni di Ateneo
Membro Comitato per la Ricerca del Dipartimento
Membro Comitato per la Didattica del Dipartimento (dal 2019)
Membro Giunta di Dipartimento
Coordinatrice Corso di Laurea in Commercio Estero e Turismo
Membro Gruppo AQ CdS Commercio Estero, ora Commercio Estero e Turismo