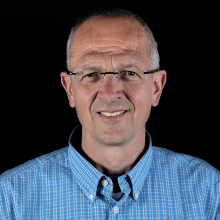 Dati relazione
Periodo di riferimento

01/11/2019 - 31/10/2022
Afferenza

Dipartimento di Scienze Molecolari e Nanosistemi
Ruolo

PO
Attività didattica
| A.A. | Insegnamento | Codice | Voto | Voto medio area |
| --- | --- | --- | --- | --- |
| 2019/2020 | ADVANCED PHYSICAL METHODS | CM0510 | 7.3 | 7.9 |
| 2019/2020 | COMPLEX SYSTEMS ANALYSIS | PHD112 | | |
| 2019/2020 | CONDENSED MATTER PHYSICS | CM1335 | 6.2 | 7.9 |
| 2019/2020 | MATHEMATICAL METHODS FOR PHYSICS | CM1334 | 6.7 | 7.9 |
| 2020/2021 | COMPLEX SYSTEMS ANALYSIS | PHD112 | | |
| 2020/2021 | CONDENSED MATTER PHYSICS | CM1335 | 8.1 | 8.1 |
| 2020/2021 | MATHEMATICAL METHODS FOR PHYSICS | CM1311 | 8.9 | 8.1 |
| 2021/2022 | ADVANCED PHYSICAL METHODS | CM0510 | 7.4 | 7.8 |
| 2021/2022 | COMPLEX SYSTEMS ANALYSIS | PHD112 | | |
| 2021/2022 | CONDENSED MATTER PHYSICS | CM1335 | 7 | 7.8 |
| 2021/2022 | MATHEMATICAL METHODS FOR PHYSICS | CM1311 | 6.4 | 7.8 |
Tesi
| Anno solare | Tipologia | Tesi Relatore | Tesi Correlatore |
| --- | --- | --- | --- |
| 2019 | Corso di laurea magistrale | 3 | |
Finanziamenti
CNECT/2020/OP/0035 - A research agenda on Digital Media and Human Well-Being – VIGIE 2020-661
Understanding DNA condensation
Ricerche sviluppate e in corso
Building with DNA bricks
Effect of penetrability in soft colloidal systems
Energia di solvatazione di proteine in soluzione
Fisica statistica dei sistemi di reti
Modelli numerici per fluidi semplici e complessi
Processi di autoassemblamento per nanomateriali
Studio di Materiali da Analisi del Chemical Space
Sustainability indicators for university ranking
The Problem of Evaluating Books in Social Sciences and Humanities Research
Pubblicazioni realizzate nel triennio
Giulia Moro, Cedrix J. Dongmo Foumthuim, Marco Spinaci, Ettore Martini, Dafne Cimino, Eleonora Balliana, Peter Lieberzeit, Flavio Romano, Achille Giacometti, Rui Campos, Karolien De Wael, Ligia Maria Moretto (2022), How perfluoroalkyl substances modify fluorinated self-assembled monolayer architectures: An electrochemical and computational study in ANALYTICA CHIMICA ACTA, vol. 1204, pp. 339740 (ISSN 1873-4324) (Articolo su rivista)
Škrbić, Tatjana; Hoang, Trinh Xuan; Giacometti, Achille; Maritan, Amos; Banavar, Jayanth R. (2022), Proteins — a celebration of consilience in INTERNATIONAL JOURNAL OF MODERN PHYSICS B, vol. 36, pp. 1-15 (ISSN 0217-9792) (Articolo su rivista)
Liu, Yawei; Wood, Jared A; Giacometti, Achille; Widmer-Cooper, Asaph (2022), The thermodynamic origins of chiral twist in monolayer assemblies of rod-like colloids in NANOSCALE, vol. 14, pp. 16837-16844 (ISSN 2040-3364) (Articolo su rivista)
Škrbić, Tatjana; Maritan, Amos; Giacometti, Achille; Rose, George D.; Banavar, Jayanth R. (2021), Building blocks of protein structures: Physics meets biology in PHYSICAL REVIEW. E, vol. 104, pp. 014402-1-014402-7 (ISSN 2470-0045) (Articolo su rivista)
Škrbić, Tatjana; Maritan, Amos; Giacometti, Achille; Banavar, Jayanth R. (2021), Local sequence‐structure relationships in proteins in PROTEIN SCIENCE, vol. 30, pp. 818-829 (ISSN 0961-8368) (Articolo su rivista)
Škrbić, Tatjana; Hoang, Trinh Xuan; Giacometti, Achille; Maritan, Amos; Banavar, Jayanth R. (2021), Marginally compact phase and ordered ground states in a model polymer with side spheres in PHYSICAL REVIEW. E, vol. 104, pp. L0125011-L0125017 (ISSN 2470-0045) (Articolo su rivista)
Lopes, Joyce T.; Romano, Flavio; Grelet, Eric; Franco, Luís F. M.; Giacometti, Achille (2021), Phase behavior of hard cylinders in THE JOURNAL OF CHEMICAL PHYSICS, vol. 154, pp. 1049021-1049032 (ISSN 0021-9606) (Articolo su rivista)
Škrbić, Tatjana; Hoang, Trinh Xuan; Giacometti, Achille; Maritan, Amos; Banavar, Jayanth R. (2021), Spontaneous dimensional reduction and ground state degeneracy in a simple chain model in PHYSICAL REVIEW. E, vol. 104, pp. L0121011-L0121017 (ISSN 2470-0045) (Articolo su rivista)
Boso, Daniela; Braga, Tommaso; Ravasini, Simone; Škrbić, Tatjana; Puglisi, Andrea; Pinato, Odra; Chillon, Alberto; Frare, Maria Chiara; Giacometti, Achille (2020), An integrated DEM-FEM approach to study breakage in packing of glass cartridges on a conveyor belt in GRANULAR MATTER, vol. 22, pp. 1-16 (ISSN 1434-5021) (Articolo su rivista)
Carrer, Manuel; Škrbić, Tatjana; Bore, Sigbjørn Løland; Milano, Giuseppe; Cascella, Michele; Giacometti, Achille (2020), Can Polarity-Inverted Surfactants Self-Assemble in Nonpolar Solvents? in JOURNAL OF PHYSICAL CHEMISTRY. B, CONDENSED MATTER, MATERIALS, SURFACES, INTERFACES & BIOPHYSICAL, vol. 124, pp. 6448-6458 (ISSN 1520-6106) (Articolo su rivista)
Dongmo Foumthuim, Cedrix J; Carrer, Manuel; Houvet, Maurine; Škrbić, Tatjana; Graziano, Giuseppe; Giacometti, Achille (2020), Can the roles of polar and non-polar moieties be reversed in non-polar solvents? in PHYSICAL CHEMISTRY CHEMICAL PHYSICS, vol. 22, pp. 25848-25858 (ISSN 1463-9076) (Articolo su rivista)
Toffano, Alberto A.; Chiarot, Giacomo; Zamuner, Stefano; Marchi, Margherita; Salvi, Erika; Waxman, Stephen G.; Faber, Catharina G.; Lauria, Giuseppe; Giacometti, Achille; Simeoni, Marta (2020), Computational pipeline to probe NaV1.7 gain-of-function variants in neuropathic painful syndromes in SCIENTIFIC REPORTS, vol. 10 (ISSN 2045-2322) (Articolo su rivista)
Škrbić, Tatjana; Banavar, Jayanth R.; Giacometti, Achille (2019), Chain stiffness bridges conventional polymer and bio-molecular phases in THE JOURNAL OF CHEMICAL PHYSICS, vol. 151, pp. 174901 (ISSN 0021-9606) (Articolo su rivista)
Škrbić, Tatjana; Hoang, Trinh Xuan; Maritan, Amos; Banavar, Jayanth R; Giacometti, Achille (2019), Local symmetry determines the phases of linear chains: a simple model for the self-assembly of peptides in SOFT MATTER, vol. 15, pp. 5596-5613 (ISSN 1744-683X) (Articolo su rivista)
Škrbić, Tatjana; Hoang, Trinh X; Maritan, Amos; Banavar, Jayanth R; Giacometti, Achille (2019), The elixir phase of chain molecules in PROTEINS, vol. 87, pp. 176-187 (ISSN 0887-3585) (Articolo su rivista)
Partecipazione come referee di progetti di ricerca nazionali ed internazionali
Referee per Progetto PRIN 2008, FIRB 2010
Referee per diversi progetti di ricerca stranieri
Sono inserito come possibile referee nella banca dati del VI e VII Programma Quadro
Partecipazione a comitati editoriali di riviste/collane scientifiche
Sono Referee stabile per molte riviste di altro fattore di impatto, tra le quali:
Physical Review Letters, Physical Review E, Journal of Chemical Physics, Chemical Physics Letters, Soft Matter, Macromolecules, PCCP
Descrizione dell'attività di ricerca svolta nel triennio e gli obiettivi futuri
Nel triennio 2020-2022 sono partiti tre nuovi di ricerca nella Soft Matter che si sono rivelati molto produttivi. Il primo e' sulle proprietà' meccanico-statistiche dei biopolimeri. Il secondo riguarda le connessioni tra la polarità di un solvente e le proprietà' delle macromolecule che vi sono contenute. Il terzo riguarda alcune transizioni di fase nei cristalli liquidi e il loro legame con la chiarita' delle molecule che compongono il sistema. Tutti i tre filoni sono attualmente ancora attivi e oggetto di pubblicazioni.
Relazioni invitate presso convegni o workshops
2020 Relazione su invito alla XXIV International School of Pure and Applied Biophysics
2021 Relazione su invito al Trilateral Symposium on Biobased and Bioinspired Materials
2022 Relazione su invito Workshop From Water to Colloidal Water

Ho dovuto annullare altri tre inviti per problemi con la pandemia o per impegni didattici. In alcuni casi sono stato sostituito da miei collaboratori
Seminari su invito tenuti presso altre Università, Centri di Ricerca, Aziende, etc.
2020 Seminario alla Ashoka University (India)

Ho dovuto declinare altri 2 inviti per problemi con la pandemia o per
Altre attività scientifiche
Member of the International Scientific Committee for the International Soft Matter Conference 2022
Member of the International Scientific Committee for Liquids 2024, 12th Liquid Matter Conference
Incarichi accademici e attività organizzative
Direttore dell' European Centre For Living Technologies (ECLT)
Membro del Board NCC che governa la rete di eccellenza SoftComp (unico italiano presente)
Working Group 2 Leader of the COST ACTION EUTOPIA
Partecipazione alle attività di valutazione della ricerca
Sono stato componente del Nucleo di Valutazione della SISSA dal 2017 al 2020
Componente di Collegi didattici, Comitati e Commissioni di Dipartimento, Commissioni di Ateneo
Componente del Collegio di Dottorato in BioNanoMateriali
Componente del Collegio didattico Magistrale in Scienze e Tecnologie dei Bio e Nanomateriali
Componente del Board for Global Challenges
Coordinatore del Team Complexity
Componente del Board Global@Venice
Delegato del Dipartimento alla Ricerca (fino al 2022)
Delegato AQ del Dipartimento (dal 2022)