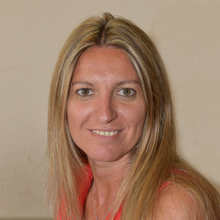 MASI Francesca
Position

Associate Professor
Telephone

041 234 7249
E-mail
Scientific sector (SSD)

STORIA DELLA FILOSOFIA ANTICA [M-FIL/07]
Website

www.unive.it/persone/fgmasi (personal record)

Office
Dati relazione
Periodo di riferimento

01/11/2017 - 31/10/2020
Afferenza

Dipartimento di Filosofia e Beni Culturali
Ruolo

Professori Associati
Attività didattica
| A.A. | Insegnamento | Codice | Voto | Voto medio area |
| --- | --- | --- | --- | --- |
| 2017/2018 | HISTORY OF PHILOSOPHY | LT9024 | 3.2 | 3.2 |
| 2017/2018 | INTRODUZIONE ALLA STORIA DELLA FILOSOFIA ANTICA E MEDIEVALE | FT0421 | 3.4 | 3.3 |
| 2017/2018 | STORIA DELLA FILOSOFIA ANTICA I | FT0207 | 3.4 | 3.3 |
| 2018/2019 | HISTORY OF PHILOSOPHY | LT9024 | 3 | 3.2 |
| 2018/2019 | INTRODUZIONE ALLA STORIA DELLA FILOSOFIA ANTICA E MEDIEVALE | FT0421 | 3.4 | 3.3 |
| 2018/2019 | STORIA DELLA FILOSOFIA ANTICA I | FT0207 | 3.4 | 3.3 |
| 2018/2019 | STORIA DELLA FILOSOFIA ANTICA II | FT0208 | 3.4 | 3.3 |
| 2019/2020 | ACADEMIC WRITING 1 | ECC024 | | |
| 2019/2020 | HISTORY OF PHILOSOPHY | LT9024 | 7.3 | 8.1 |
| 2019/2020 | INTRODUZIONE ALLA STORIA DELLA FILOSOFIA ANTICA E MEDIEVALE | FT0421 | 8.5 | 8.3 |
| 2019/2020 | STORIA DELLA FILOSOFIA ANTICA I | FT0207 | 8.6 | 8.3 |
| 2019/2020 | STORIA DELLA FILOSOFIA ANTICA II | FT0208 | 8.6 | 8.3 |
Tesi
| Anno solare | Tipologia | Tesi Relatore | Tesi Correlatore |
| --- | --- | --- | --- |
| 2017 | Corso di laurea magistrale | 1 | 2 |
| 2018 | Corso di laurea | 1 | |
| 2018 | Corso di laurea magistrale | 1 | 2 |
| 2019 | Corso di laurea | 1 | |
| 2019 | Corso di laurea magistrale | | 1 |
Finanziamenti
PRIN 2012. L'universalità e i suoi limiti: meccanismi di inclusione ed esclusione nella storia della filosofia e nei dibattiti filosofici contemporanei. Prin 2012
Spin: Science and philosophical debates: a new approach towards ancient Epicureanism (SPIDER)
Ricerche sviluppate e in corso
Aristotele: accidente ed ente accidentale
Aristotele: etica ed economia
Aristotele: la nozione di giustizia
Aristotele:natura, ontologia e semantica
Determinismo, responsabilità morale e libertà nel pensiero antico
Epicuro e l'epicureismo: psicologia, etica, teoria dell'immaginazione e del linguaggio, scienza e metodo
PRIN 2012: L'universalità e i suoi limiti: meccanismi di inclusione ed esclusione nella storia della filosofia e nei dibattiti filosofici contemporanei.
Science and philosophical debates: a new approach towards ancient Epicureanism
Pubblicazioni realizzate nel triennio
F. G. Masi (2020), L'origine dell'errore e del turbamento emotivo nei sogni in CRONACHE ERCOLANESI, vol. Sesto supplemento, pp. 59-70 (ISSN 0391-1535) (Articolo su rivista)
F. Masi (2020), Lucretius on the Mind -Body Relation : the case of dreams , Lucretius Poet and Philosopher. Background and Fortunes of De Rerum Natura, Berlin/Boston, Walter de Gruyter GmbH, pp. 43-60 (ISBN 978-3-11-067347-0) (Articolo su libro)
(a cura di) G., Leone, F.G. Masi, F. Verde (2020), 'Vedere' l'invisibile. Rileggendo il XXXIV libro Sulla Natura di Epicuro (PHerc 1431) in G. Leone, F. G. Masi, F. Verde in CRONACHE ERCOLANESI, Napoli, CISPE, vol. 50 (Sesto Supplemento) (ISSN 0391-1535) (Curatela)
F. Masi (2019), Epicuro e la formazione di sé: pathologikos e aitiologikos tropos , La volontarietà dell'azione tra Antichità e Medioevo, Trento, Università degli Studi di Trento, Dipartimento di Lettere e Filosofia, Studi e Ricerche, pp. 183-203 (ISBN 978-88-8443-864-5) (Articolo su libro)
f.masi (2019), Giustizia universale e giustizia particolare , Ethike Theoria. Studi sull'Etica Nicomachea in onore di C. Natali in STUDI DI STORIA DELLA FILOSOFIA ANTICA, Roma, Edizioni di Storia e Letteratura, vol. 8, pp. 101-122 (ISBN 9788893592888) (Articolo su libro)
(a cura di) Maso Stefano, Masi Francesca, Viano Cristina (2019), Êthikê theôria. Studi sulla' Etica Nicomachea in onore di Carlo Natali in Maso Stefano; Masi Francesca; Viano Cristina, Roma, Edizioni di storia e letteratura, pp. 1-458 (ISBN 978-88-9359-287-1; 978-88-9359-288-8) (Curatela)
F. Masi (2018), Passione e immaginazione in Lucrezio: il caso dell'inganno onirico in ELENCHOS, vol. 39, pp. 257-279 (ISSN 2037-7177) (Articolo su rivista)
F. Masi (2018), Mind in an Atomistic World , Philosophy of Mind in Antiquity, The History of the philosophy of mind vol 1, New York, Routledge, pp. 236-257 (ISBN 978-1-138-24392-7) (Articolo su libro)
F. Masi (2018), Introduzione , Dai Presocratici a Platone. Cinque Studi in STUDI DI STORIA DELLA FILOSOFIA ANTICA, Roma, Edizioni di Storia e Letteratura, vol. 6, pp. 7-12 (ISBN 9788893591645) (Breve introduzione)
(a cura di) F.Masi (2018), Dai Presocratici a Platone. Cinque studi in STUDI DI STORIA DELLA FILOSOFIA ANTICA, Roma, Edizioni di Storia e Letteratura (ISBN 9788893591645) (Curatela)
(a cura di) F. Masi, S. Maso, F. Verde (2018), Materialistic Pathe in F. Masi, S. Maso, F. Verde (edd.) in ELENCHOS, Walter de Gruyter GmbH Napoli: Bibliopolis, vol. 39 (ISSN 2037-7177) (Curatela)
Francesca Masi (2017), La dimensione emotiva della giustizia. Aristotele, Etica Nicomachea V , Aristotele e le sfide del suo tempo. A 2400 anni dalla sua nascita, Edizioni Unicopli, pp. 183-202 (ISBN 9788840019697) (Articolo su libro)
Francesca Masi (2017), Sognare oggetti nascosti. La teoria onirica epicurea , Studi su Ellenismo e filosofia romana in STUDI DI STORIA DELLA FILOSOFIA ANTICA, Edizioni di Storia e Letteratura, vol. 5, pp. 65-94 (ISBN 9788893590594) (Articolo su libro)
Francesca Masi (2017), Virtue, Pleasure, and Cause. A case of multi-target polemic? Diogenes of Oenoanda, fr. 32-33 Smith , Diogenes of Oinoanda. Epicureanism and Philosophical Debates. Diogène d'Oenoanda Epicurisme et controverses in ANCIENT AND MEDIEVAL PHILOSOPHY, Lovanio, Leuven University Press, vol. LV, pp. 111-141 (ISBN 9789462701014) (ISSN 1784-262X) (Articolo su libro)
Tesi di laurea/dottorato anno solare
Sono attualmente supervisore di una tesi di dottorato
Descrizione dell'attività di ricerca svolta nel triennio e gli obiettivi futuri
Nel corso degli ultimi tre anni la ricerca si è articolata in due direzioni principali. Una parte è stata dedicata allo studio della teoria etica aristotelica. Un'altra parte è stata dedicata al nesso tra etica, epistemologia e fisica nella filosofia epicurea. Rispetto alla teoria etica Aristotelica la ricerca si è concentrata sul tema della giustizia. In particolare, si è esaminato il modo in cui la trattazione della giustizia si collochi nell'ambito della analisi aristotelica della felicità, della virtù, della volontarietà e della saggezza; come si in quadri nell'ambito del dibattito sulla giustizia sviluppato in Grecia a partire dal V secolo a.C.; quale metodologia di ricerca il filosofo utilizzi per giungere a definire la giustizia; quale sia la sua articolazione interna e come si definiscano le varie forme di giustizia (legalità, onestà, equità e più nello specifico giustizia distributiva, giustizia correttiva e giustizia commutativa); quale sia stato il suo contributo alla nascita e allo sviluppo di un pensiero economico in senso moderno, quale la sua rilevanza per la dimensione politica. Per quanto riguarda lo studio della filosofia epicurea, da un lato, si è sviluppata l'indagine sul nesso tra etica, epistemologia e fisica, già avviata negli anni precedenti, con particolare riguardo al problema della responsabilità morale, alla nozione del self e alla teoria dell'immaginazione, dall'altro, nell'ambito della direzione di un progetto di ricerca Spin, intitolato Science and philosophical debates: a new approach towards ancient Epicureanism, si è avviata una nuova linea di indagine, in collaborazione con studiosi e studiose appartenenti a Università e Istituti di ricerca nazionali e internazionali, che ha come oggetto la nozione di scienza epicurea, intesa sia come fisiologia sia come epistemologia e che è condotta, da una parte, sulla base di una lettura sistematica di tutte le fonti primarie e secondarie a disposizione, dall'altra, alla luce dei dibattiti filosofici ellenistici. La maggior parte delle pubblicazioni dell'ultimo triennio così come dei workshop, delle conferenze, degli interventi presso convegni e seminari riguardano i risultati delle ricerche in questi due ambiti di ricerca, la filosofia aristotelica e la filosofia epicurea. Nel corso dei prossimi anni si intendono continuare, approfondire e sviluppare queste due linee di indagine. Per quanto riguarda la filosofia aristotelica, si intende lavorare a una monografia sulla teoria della giustizia ed estendere lo studio della nozione aristotelica di giustizia all'ambito politico e retorico e al confronto con i Sofisti e Platone. Per quanto riguarda la filosofia epicurea, ci si concentrerà sulle seguenti tematiche: metodo di ricerca, teoria del linguaggio, lessico scientifico e polemiche linguistiche, teoria della percezione e della rappresentazione, teoria dell'errore percettivo (allucinazione, illusione, inganno).
Relazioni invitate presso convegni o workshops
Relazioni su invito:
Atene, 11-14 aprile 2019, 'Aristotle's Posterior Analytics II.11, 94b27-37', (25th Conference of the European Society for Ancient Philosophy, organizzata da S. Rangos).

Napoli, 28 febbraio- 1 marzo 2019, 'L'origine dell'errore e del turbamento emotivo nel XXXIV libro Sulla natura di Epicuro, col. XV' (Convegno internazionale 'Vedere' l'invisibile. Rileggendo il XXXIV libro Sulla natura di Epicuro PHerc 1438, organizzato da G. Leone, Dipartimento Studi Umanistici, Università degli Studi di Napoli Federico II, F. Masi, Dipartimento di filosofia e beni Culturali, Università Ca' Foscari di Venezia, F. Verde, Dipartimento di Filosofia, Sapienza, Università di Roma)

Oxford, 1 marzo 2018, 'The distinction between chance and luck: Aristotle Physics II 6' (Workshop in Ancient Philosophy, Faculty of Philosophy, University of Oxford).
Stoccolma, 10-12 maggio 2018, 'Norms and nature: Epicurus on Agency' (Workshop internazionale "Norms and Nature from Plato to Hume", organizzato da Henrik Lagerlund e Gösta Grönroos, Stockholm University).
Trento, 3-4 maggio 2018, 'Epicuro e la formazione di sé: pathologikos e aitiologikos tropos', (Convegno nazionale ''La volontarietà dell'azione tra Antichità e Medioevo'', organizzato da F. De Luise e I. Zavattero, Università degli Studi di Trento).
Atene, 26 luglio 2017, 'Aristotle, Eudemian Ethics II 6', Symposium Aristotelicum 24-29 luglio 2017, (organizzato da Hendrik Lorenz e Ben Morrison, Princeton University, Atene).
L'Aquila, 29 maggio 2017, ' La sostanza nelle "Categorie" di Aristotele: lettura analitica del cap. 5' (Giornata Internazionale di Studi di Filosofia Antica, " La sostanza in Aristotele con alcune riprese arabe e medievali", organizzata da A. Longo, Università degli Studi de l'Aquila).
Seminari su invito tenuti presso altre Università, Centri di Ricerca, Aziende, etc.
Seminari su invito:
Napoli, 20-23 gennaio 2020, 'Il tema del phantasma nelle opere psicologiche di Aristotele' in ('Eidolon /phantasma', Seminario organizzato da F. Aronadio, L. Palumbo, M. Serra per L'Istituto Italiano per gli Studi Filosofici).
Parigi, 8-9 novembre 2019, 'Aristotle, Posterior Analytics I 4' (Workshop internazionale, "Science and demonstration, Aristotle, Posterior Analytics", Book I, organizzato da Pierre-Marie Morel, Université Paris 1 - Panthéon-Sorbonne).
Aix en Provence, 6 dicembre 2017, 'Lucrèce et l'illusion onirique' – (Séminaire d'Histoire de la philosophie ancienne, Faculté ALLSH - Académie Aix-en-Provence-Marseilles).
Milano, 30 marzo 2017, "L'essere umano come principio di azioni. Aristotele, Etica Eudemia II 6", Seminario di Storia della Filosofia Antica, Università degli Studi di Milano.
Altre attività scientifiche
Partecipazione a comitati scientifici di conferenze:

Roma, 22-24 Ottobre 2020, Workshop Internazionale
Titolo: Epistemology and Meteorology: Epicureanism and Scientific Debates
Struttura: Dipartimento di Filosofia, Sapienza, Università di Roma; Dipartimento di Filosofia e Beni Culturali, Università Ca' Foscari di Venezia.
Responsabilità scientifica: Francesca Masi, Pierre-Marie Morel, Francesco Verde.

Venezia, 21-22 Ottobre 2019, Workshop Internazionale
Titolo: Science and philosophical debates: A new approach towards ancient Epicureanism;
Struttura: Dipartimento di filosofia e beni Culturali, Università Ca' Foscari di Venezia;
Responsabilità scientifica: Francesca Masi, Pierre-Marie Morel, Francesco Verde.

Napoli, 28 febbraio- 1 marzo 2019, Convegno internazionale
Titolo: 'Vedere' l'invisibile. Rileggendo il XXXIV libro Sulla natura di Epicuro PHerc 1438, Struttura: Dipartimento Studi Umanistici, Università degli Studi di Napoli Federico II; Dipartimento di filosofia e beni Culturali, Università Ca' Foscari di Venezia; Dipartimento di Filosofia, Sapienza, Università di Roma
Responsabilità Scientifica: Giuliana Leone, Francesca Masi, Francesco Verde

8-10 febbraio 2017 - Convegno Internazionale
Titolo: "Materialistic Pathe"
Istituzione: Università Ca' Foscari di Venezia
Struttura: Dipartimento di Filosofia e Beni Culturali
Responsabilità scientifica: Francesca Masi, Stefano Maso, Carlo Natali
Altre attività didattiche
Academic Writing -Scuola di Dottorato Ca' Foscari
Seminario di Storia della Filosofia Antica Dottorato di Filosofia e Scienze della Formazione
Academic writing- Collegio Internazionale
Docenza al Master di Consulenza filosofica
Incarichi accademici e attività organizzative
Componente della giunta di Dipartimento (DFBC): gennaio 2018- ottobre 2020
Delegata al monitoraggio dello sviluppo del Dipartimento (DFBC): settembre 2017-ottobre 2020
Delegata AQ del Dipartimento (DFBC): gennaio 2018- ottobre 2020
Coordinatrice del cds Pise (Philosophy, International and Economic Studies): novembre 2020-oggi
Partecipazione alle attività di valutazione della ricerca
Partecipazione valutazione Adir di Dipartimento (DFBC): 2017-2020
Componente di Collegi didattici, Comitati e Commissioni di Dipartimento, Commissioni di Ateneo
Componente Collegio Didattico di Filosofia e Scienze filosofiche (DFBC): settembre 2017- ottobre 2020;
Componente Collegio di Dottorato di Filosofia e Scienze della Formazione (DFBC): 2019-oggi;
Componente Commissione paritetica (DFBC): settembre 2017- gennaio 2018;
Componente Commissione ricerca (DFBC): settembre 2017- ottobre 2020;
Componente Commissione didattica (DFBC): gennaio 2018- oggi;
Componente Consiglio Didattico del Collegio Internazionale di Ca' Foscari: dicembre 2019-oggi;
Componente della Commissione paritetica del Collegio Internazionale di Ca' Foscari : 2020-oggi
Attività e incarichi esterni
Componente del direttivo della SISFA (Società Italiana di Storia della Filosofia Antica);
Componente del direttivo dell'Esap (European Society of Ancient Philosophy)