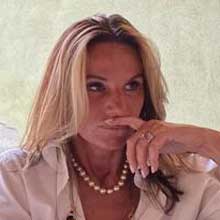 SOLINAS Patrizia
Position

Associate Professor
Telephone

041 234 6343
E-mail
Fax

041 234 6370
Scientific sector (SSD)

GLOTTOLOGIA E LINGUISTICA [L-LIN/01]
Website

www.unive.it/persone/solinas (personal record)

Office
Dati relazione
Periodo di riferimento

10/03/2019 - 09/03/2022
Afferenza

Dipartimento di Studi Umanistici
Ruolo

Professori Associati
Attività didattica
| A.A. | Insegnamento | Codice | Voto | Voto medio area |
| --- | --- | --- | --- | --- |
| 2018/2019 | FONDAMENTI DI LINGUISTICA | FT0089 | 3.1 | 3.3 |
| 2018/2019 | LINGUISTICA GENERALE SP. | FM0125 | 3.1 | 3.3 |
| 2018/2019 | LINGUISTICA INDOEUROPEA SP. | FM0375 | 3.1 | 3.3 |
| 2019/2020 | FONDAMENTI DI LINGUISTICA | FT0089 | 7.7 | 8.3 |
| 2019/2020 | LINGUISTICA GENERALE SP. | FM0125 | 7.5 | 8.3 |
| 2019/2020 | LINGUISTICA INDOEUROPEA SP. | FM0375 | 8.6 | 8.3 |
| 2020/2021 | FONDAMENTI DI LINGUISTICA | FT0089 | 7.8 | 8.3 |
| 2020/2021 | LINGUISTICA GENERALE SP. | FM0125 | 6.8 | 8.3 |
| 2020/2021 | LINGUISTICA INDOEUROPEA SP. | FM0375 | | |
Tesi
| Anno solare | Tipologia | Tesi Relatore | Tesi Correlatore |
| --- | --- | --- | --- |
| 2019 | Corso di laurea | 1 | |
Finanziamenti
Languages and Cultures of Ancient Italy. Historical Linguistics and Digital Models/Lingue e culture dell'Italia antica: linguistica storica e modelli digitali.
Lingue e culture dell'Italia antica: linguistica storica e modelli digitali.
SaInAT-Ve - Sacred Inscriptions from the Ancient Territory of Venetia
Ricerche sviluppate e in corso
La celticità liguistica in Italia: testi, alfabeti, aspetti 'culturali'.
Lingue e culture dell'Italia antica: linguistica storica e modelli digitali
Ricerche sul lessico istituzionale indeuropeo.
Ricerche sulla romanizzazione linguistica dell'Italia settentrionale
Pubblicazioni realizzate nel triennio
Patrizia Solinas (2021), Su alcune forme onomastiche celtiche dalla necropoli di Dormelletto (No) , Perspectives on Language and Linguistics Essays in honour of Lucio Melazzo, Palermo, Palermo University Press, pp. 587-598 (ISBN 978-88-5509-355-2) (Articolo su libro)
Patrizia Solinas (2021), Su due iscrizioni in alfabeto leponzio dalla necropoli di Dormelletto in AAVV, EQO ⋮ DUENOSIO. Studi offerti a Luciano Agostiniani per i suoi 80 anni (ARIODANTE - Linguistica e epigrafia dell'Italia antica, 1), Perugia, Università degli Studi di Perugia, vol. 1, pp. 525-536 (ISBN 978-88-9426-979-6) (Articolo su libro)
Pubblicazioni in corso di stampa
patrizia solinas Lingue e culture dell'Italia antica: convergenze e divergenze in RIVISTA DI SCIENZE PREISTORICHE, vol. numero speciale (ISSN 0035-6514) (Articolo su rivista)
patrizia solinas Sulle prime fasi dell'epigrafia leponzia in AAVV, Atti del LII R.S. dell'I.I,P.P., Preistoria e Protostoria in Lombardia e Canton Ticino, Istituto italiano di preistoria e protostoria, Convegno: Preistoria e protostoria in Lombardia e Canton Ticino, 17-21 ottobre 2017 (Articolo in Atti di convegno)
Tesi di laurea/dottorato anno solare
Alice Boscariol, La Sinestesia: il fenomeno mentale e le sue manifestazioni linguistiche (tesi triennale correlazione 2019)
Sara Zuanetti, Aspetti linguistici nel bilinguismo infantile (tesi triennale, correlaione 2020).
Francesca Puddu, Il dodicesimo colore (triennale correlazione 2020)
Descrizione dell'attività di ricerca svolta nel triennio e gli obiettivi futuri
Nel triennio 03/2019-03/2022 si è proseguita l'attività di ricerca sulle epigrafie e le lingue dell'Italia preromana (soprattutto in area settentrionale). Si è dunque continuato l'impegno di edizione e studio dei documenti epigrafici della celticità linguistica in Italia. Il lavoro sulla documentazione epigrafica parte dall'esame autoptico (con produzione di fotografie, apografi e letture) e, dopo lo studio paleografico e linguistico, arriva fino alla considerazione dei contenuti culturali. Parte rilevante ha avuto anche la revisione di documentazione nota e già pubblicata ma da riconsiderare a seguito di rinnovate contestuazioni archeologiche o in relazione all'aggiornamento dei quadri di riferimento linguistico o culturale. Si è dunque tornati, ad esempio, sulle iscrizioni dalla necropoli gallica di Dormelletto (NO), sull'iscrizione bilingue (latino celtico) di Todi e sull'iscrizione da San Bernardino di Briona (NO). I risultati della riconsiderazione epigrafica e linguistica sono già stati in parte pubblicati o presentati in sede di convegno e quindi, a breve, negli Atti. Le attività di ricerca su questo fronte sono rese possibili dalla continuativa collaborazione con le Soprintendenze, soprattutto con quelle di Veneto, Lombardia e Piemonte. Per la revisione di alcune iscrizioni di particolare rilevanza è in corso una collaborazione con la Soprintendenza piemontese per la produzione non solo di nuovi apografi con rilievo iconografico completato da restituzioni vettoriali, ma anche di modelli digitali e cioè fotopiani zenitali navigabili ad alta risoluzione ricavati dal modello 3D stereo-fotogrammetrico (SFM) esportato in orto-mosaico (il modello 3D si ricava da riprese fotografiche ravvicinate a luce radente). Sempre in collaborazione con la Soprintendenza del Piemonte è avviato un progetto di riesame epigrafico e linguistico delle iscrizioni in alfabeto etrusco sulle statue stele dalla Lunigiana.
Come conseguenza dell'attività più squisitamente editoriale è continuata la ricerca sui correlati aspetti di carattere linguistico e culturale (tradizioni scrittorie, onomastica e toponomastica, istituzioni) nonché, soprattutto per i dati linguistici, l'inserimento degli stessi nei quadri più ampi della celticità continentale, della celticità in generale e della comparazione indeuropea. Si è inoltre lavorato per evidenziare nella documentazione epigrafica gli aspetti che possono essere indizio della variabilità linguistica e culturale nonché di fenomeni di contatto linguistico e culturale (nel senso ampio cha va dai modelli scrittori, ai formulari, alle relazioni sociali, agli assetti istituzionali e religiosi). Dallo studio delle dinamiche di contatto sono emersi anche gli aspetti (scelta di varietà alfabetiche, scelte onomastiche, etc.) attraverso i quali le diverse compagini linguistiche e culturali affermano la propria identità e prendono le distanze da identità altre. In questo filone di ricerca ha avuto parte rilevante (soprattutto per la sua natura interdisciplinare) la riflessione sulle dinamiche linguistiche e culturali del processo di romanizzazione. Quindi, a latere dell'attività editoriale (ma anche come presupposto ad esempio per le attribuzioni cronologiche di materiali che non hanno cronologia archeologica), si è continuata la ricerca sulle tradizioni scrittorie dell'Italia antica, con particolare attenzione da un lato alle dinamiche di trasmissione/acquisizione/adattamento che caratterizzano fasi più arcaiche delle tradizioni "nordetrusche", dall'altro al fatto che gli usi alfabetici e onomastici restituiti dalle iscrizioni di epoca più tarda forniscono elementi per la ricostruzione delle dinamiche del processo di romanizzazione. Si è quindi ad esempio continuato il lavoro sul sepolcreto di Cerrione (inizio I sec. a.C. - III sec. d.C.) che ha restituito iscrizioni redatte in alfabeto latino insieme a iscrizioni redatte in alfabeto cosiddetto «leponzio» che, nell'Italia antica, si associa a manifestazioni di identità locale e, nello specifico, di identità celtica: questa peculiarità ha reso lo studio della necropoli un'occasione per verificare anche su dati provenienti dall'epigrafia e dall'onomastica, le dinamiche di un processo di romanizzazione in fieri che si rivelata diversa rispetto a quella riscontrata in altre aree, e soprattutto nelle aree urbane.
Infine, la documentazione epigrafica della celticità linguistica in Italia entra (con altri ambiti epigrafici quali quello venetico o quello falisco) nel progetto PRIN "Languages and cultures of ancient Italy. Historical Linguistics and Digital Models" che mira a integrare l'utilizzo dei metodi della linguistica storica e delle tecnologie digitali per arrivare all'allestimento di un corpus di testi in un archivio digitale e di un thesaurus elettronico che saranno poi condivisi attraverso le RI europee CLARIN e DARIAH. Per le rappresentazioni in formato semantico di testi e interpretazione si stanno utilizzando CRMinf e CRMtex.
Relazioni invitate presso convegni o workshops
Lingue e culture dell'Italia antica. Convergenze e divergenze, LIV RS IIPP, Archeologia del cambiamento. Modelli, processi, adattamenti nella Preistoria e Protostoria, ROMA, 23-26 OTTOBRE 2019 (relazione su invito)
(con Anna Marinetti), Le lingue di frammentaria attestazione dell'Italia preromana: interpretare, ricostruire, classificare, Convegno internazionale di studi Ricostruire lingue: dalle Restsprachen alle endangered languages, Venezia 2-3 dicembre 2021 (relazione su invito)
Seminari su invito tenuti presso altre Università, Centri di Ricerca, Aziende, etc.
L'alfabeto di Lugano. Lingua e scrittura dei Leponzi del Canton Ticino, Lugano 11 aprile 2019, per Associazione Cristiano Castelletti.
Altre attività scientifiche
Revisore anonimo per Incontri Linguistici, Aion, Collana Studi e Ricerche sulla Gallia Cisalpina
Componente di Collegi didattici, Comitati e Commissioni di Dipartimento, Commissioni di Ateneo
Membro della commissione paritetica del DSU (2019)
Membro del Collegio didattico del corso triennale di Lettere (responsabile stage e tirocini) e del corso magistrale di Scienze del testo letterario e della comunicazione (2020-)
Membro della gruppo per l'assicurazione della qualità (2020-)