CABIGIOSU Anna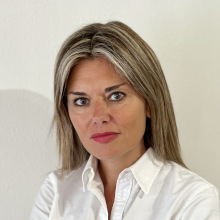 Anna Cabigiosu is Associate Professor of Strategy and Innovation Management at Ca' Foscari University of Venice (Italy), Department of Management.
Anna received her Ph.D. in Economics and Management from the University of Padua (Italy). She was visiting Ph.D. student at the Ross School of Business (US), and received a master degree in Business Management at the Ca' Foscari University of Venice (Italy).
Her research interests include innovation management, product and service modularity and the study of the architecture of complex systems. Anna's research work has been published in various journals, including Strategic Management Journal (John Wiley & Sons), Organization Science (Informs) and Research Policy (Elsevier) among others.
Anna is the scientific director of the IOS (Innovation, Organization and Strategy) research centre and is the executive director of CAMI (Center for Automotive and Mobility Innovation) of the Ca' Foscari University.
Ultima modifica: 04/02/2019
Le informazioni riportate sono state caricate sul sito dell'Università Ca' Foscari Venezia direttamente dall'utente a cui si riferisce la pagina. La correttezza e veridicità delle informazioni pubblicate sono di esclusiva responsabilità del singolo utente.