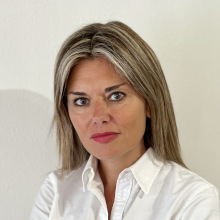 Dati relazione
Periodo di riferimento

30/01/2018 - 29/01/2021
Afferenza

Dipartimento di Management
Ruolo

Professori Associati
Attività didattica
| A.A. | Insegnamento | Codice | Voto | Voto medio area |
| --- | --- | --- | --- | --- |
| 2017/2018 | ACADEMIC WRITING 1 | ECC024 | | |
| 2018/2019 | ACADEMIC WRITING 1 | ECC024 | | |
| 2018/2019 | GESTIONE DELLE IMPRESE | ET0114 | 3.4 | 3.1 |
| 2018/2019 | MARKETING INTERNAZIONALE E NEW PRODUCT DEVELOPMENT | EM7022 | 2.9 | 3.1 |
| 2019/2020 | ECONOMIA E GESTIONE DELLE IMPRESE | ET0069 | 8.4 | 7.6 |
| 2019/2020 | GESTIONE DELLE IMPRESE | ET0114 | 8.1 | 7.6 |
| 2019/2020 | MARKETING INTERNAZIONALE E NEW PRODUCT DEVELOPMENT | EM7022 | 7.6 | 7.6 |
Tesi
| Anno solare | Tipologia | Tesi Relatore | Tesi Correlatore |
| --- | --- | --- | --- |
| 2018 | Corso di laurea | 5 | |
| 2018 | Corso di laurea magistrale | 10 | 6 |
| 2019 | Corso di laurea | 8 | |
| 2019 | Corso di laurea magistrale | 6 | 5 |
| 2020 | Corso di laurea | 11 | |
| 2020 | Corso di laurea magistrale | 9 | 8 |
Ricerche sviluppate e in corso
Innovation and replication in services
Modularity measures
Post-merger integration in the automotive industry
Pure imitation and creative imitation: antecedents and performance implications
Reti di imprese e accesso al credito
Sustainability, modularity and platforms development in the automotive industry
The architecture of complexity: loose coupling and hierarchy in real organizations
The relationship between product and organizational modularity
Pubblicazioni realizzate nel triennio
Cabigiosu, A. (2021), Caratteristiche, nascita ed evoluzione dei contratti di rete , Osservatorio Nazionale sulle reti d'impresa 2021, Venezia, Edizioni Ca' Foscari, pp. 35-46 (ISBN 978-88-6969-574-2) (Articolo su libro)
Cabigiosu A. (2021), Industria 4.0 nella filiera automotive italiana , Osservatorio sulla componentistica automotive italiana 2021, Venezia, Edizioni Ca' Foscari, pp. 199-213 (ISBN 978-88-6969-564-3) (Articolo su libro)
Cabigiosu, A. (2021), La performance e l'innovazione nei contratti di rete , Osservatorio Nazionale sulle reti d'impresa 2021, Venezia, Edizioni Ca' Foscari, pp. 75-88 (ISBN 978-88-6969-574-2) (Articolo su libro)
(a cura di) Anna Cabigiosu (2021), Osservatorio Nazionale sulle reti d'impresa 2021 in Anna Cabigiosu, Venezia, Edizioni Ca' Foscari (ISBN 978-88-6969-574-2) (Curatela)
Cabigiosu A. (2020), Innovation in Knowledge Intensive Business Services: The Digital Era. , London, Routledge (ISBN 978-0-367-34191-6) (Monografia o trattato scientifico)
Cabigiosu A. (2020), I CONTRATTI DI RETE: OBIETTIVI E VANTAGGI PER LE PMI , IL FUTURO DELLA FINANZA PER LE IMPRESE DEL NORDEST. PMI: OPPORTUNITÀ, CRITICITÀ E STRUMENTI DI INTERVENTO, Fondazione di Venezia (ISBN 978-88-945713-01) (Articolo su libro)
cabigiosu a., moretti a. (2020), Il contratto di rete e la performance delle imprese in rete , Osservatorio Nazionale sulle reti d'impresa 2020, Edizioni Ca' Foscari (Articolo su libro)
Cabigiosu A. (2020), Industria 4.0: diffusione, tecnologie e performance nel settore auto , Osservatorio sulla componentistica automotive italiana 2020, Edizioni Ca' Foscari (ISBN 978-88-6969-482-0) (Articolo su libro)
(a cura di) Cabigiosu A., Moretti A. (2020), Osservatorio Nazionale sulle reti d'impresa 2020 , Edizioni Ca' Foscari (Curatela)
cabigiosu anna; campagnolo diego (2019), Innovation and Growth in KIBS: The Role of Clients' Collaboration and Service Customization in INDUSTRY AND INNOVATION, vol. 26, pp. 592-618 (ISSN 1366-2716) (Articolo su rivista)
Cabigiosu (2019), Industria 4.0: diffusione, applicazioni e rischi nel settore auto , Osservatorio sulla componentistica automotive italiana 2019, Venezia, Edizioni Ca' Foscari - Digital Publishing (ISBN 978-88-6969-343-4) (Articolo su libro)
Anna Cabigiosu; anna moretti (2019), La performance dei contratti di rete attraverso l'analisi delle caratteristiche organizzative e strutturali , Osservatorio nazionale sulle reti d'impresa 2019, Pearson (ISBN 978-88-919-1625-9) (Articolo su libro)
Anna Cabigiosu; anna moretti (2019), L'innovazione nelle reti d'impresa , Osservatorio nazionale sulle reti d'impresa 2019, Pearson (ISBN 978-88-919-1625-9) (Articolo su libro)
(a cura di) Anna Cabigiosu; anna moretti (2019), Osservatorio nazionale sulle reti d'impresa 2019 , Pearson (ISBN 978-88-919-1625-9) (Curatela)
Cabigiosu A.; Zirpoli F. (2018), Digitalization in the Italian Auto Industry in SYMPHONYA, vol. 2 (ISSN 1593-0300) (Articolo su rivista)
cabigiosu a., moretti a., pacella m. (2018), Il contratto di rete nel settore dell'auto: uno strumento performante in un contesto turbolento in SINERGIE, vol. vol. 36, n. 105, pp. 83-103 (ISSN 0393-5108) (Articolo su rivista)
Cabigiosu A., Campagnolo D. (2018), Innovare nelle imprese ad alto contenuto di conoscenza in SVILUPPO & ORGANIZZAZIONE, vol. 281 (ISSN 0391-7045) (Articolo su rivista)
Balzarin Lisa; Cabigiosu Anna (2018), Il contratto di rete in Italia: uno sguardo d'insieme , Il contratto di rete: caratteristiche, genesi, ed efficacia dello strumento, Milano-Torino, Pearson, pp. 117-138 (ISBN 978-88-919-0804-9) (Articolo su libro)
Anna Cabigiosu (2018), Industria 4.0: diffusione, applicazioni e rischi nel settore auto , Osservatorio sulla componentistica automotive italiana 2018, Edizioni Ca' Foscari - Digital Publishing, pp. 251-265 (ISBN 978-88-6969-275-8; 978-88-6969-269-7) (Articolo su libro)
cabigiosu a., moretti a., balzarin l. (2018), Introduzione , Il contratto di rete: caratteristiche, genesi ed efficacia dello strumento, Pearson Italia (Breve introduzione)
(a cura di) Cabigiosu A., Moretti A. (2018), Il contratto di rete: caratteristiche, genesi ed efficacia dello strumento , Pearson Italia (ISBN 9788891908049) (Curatela)
Descrizione dell'attività di ricerca svolta nel triennio e gli obiettivi futuri
- Dal 2019 sono membro del Gruppo di ricerca "Benchmark Electric, Connected and Autonomous Mobility" (BECAM) guidato da Research in Management Center (CRG - Ecole polytechnique - France) in partnership con il CAMI, Program on Vehicle and Mobility Innovation (Mack Institute for Innovation Management at the Wharton School (University of Philadelphia - USA)), Manufacturing Management Research Center (MMRC - Tokyo University - Japan), National Institute for Innovation Management (NIIM - School of Management of Zhejiang University - China). Il gruppo di ricerca realizza interviste per approfondire i temi della mobilità elettrica e sostenibile. La ricerca ha portato ad una serie di interviste in AVM ed è prevista una pubblicazione collettanea sul tema.
- Dal 2017 studio il tema dell'impatto innovazione disruptive sugli incumbent nel settore auto attraverso il caso dello sviluppo di auto elettriche. Lo studio ha prodotto un articolo che sarà pubblicato nel 2022 su Business Strategy and the Environment;
- Dal 2018 studio il tema dell'Industria 4.0 nel settore auto e attraverso i dati raccolti dall'Osservatorio nazionale sulla componentistica automotive italiana, pubblico annualmente un articolo sullo stato e l'evoluzione degli investimenti in Industria 4.0 nel settore nell'opera che porta lo stesso nome dell'Osservatorio, edita da Edizioni Ca' Foscari. Nel 2019 ho anche pubblicato su Symphonia, con Francesco Zirpoli, un articolo sul tema.
- Dal 2018 sono Direttrice scientifica dell'Osservatorio nazionale sui contratti di rete. L'Osservatorio ci permette di pubblicare annualmente, con Edizioni Ca' Foscari, un volume nel quale curo i temi di performance delle reti e delle imprese in rete. Intendo utilizzare i dati raccolti dall'Osservatorio per realizzare degli articoli con cui contribuire al dibattito internazionale sulla network performance.
- Dal 2011 studio l'innovazione nei servizi ad elevato contenuto di conoscenza o KIBS (Knowledge intensive business services) ed ho pubblicato su questo tema una monografia con Routdlege nel 2020 e nel 2019 ho pubblicato un articolo su Industry and Innovation sul legame tra coinvolgimento dei clienti nell'innovazione dei KIBS e performance innovativa. Sto continuando ad approfondire il tema dei KIBS con un altro articolo sull'open innovation nei KIBS.
- Nel 2021 ho pubblicato una monografia sull'innovazione e digitalizzazione del settore del fashion Luxury con Palgrave. E' mia intenzione continuare a studiare il settore sotto il profilo della sostenibilità ambientale.
- Dal 2014 seguo il tema dell'integrazione di fonti esterne di innovazione nel settore auto con un focus particolare sull'integrazione della conoscenza a seguito di fusioni e acquisizioni. Ho un working paper a cui sto lavorando già presentato in diversi contesti nazionali e internazionali.
- Nel triennio considerato nella relazione ho inoltre continuato a sviluppare le mie ricerche sulla modularità di prodotto e sul legame che esiste tra la modularità di prodotto e l'emergere di un design dominante. Ho un working paper teorico a cui sto ancora lavorando e che ho presentato a due convegni.
Menzioni e premi ricevuti
- Nel 2020 riceve la menzione per la ricerca del Dipartimento di Management per il paper: Cabigiosu Anna; Campagnolo Diego (2019), Innovation and Growth in KIBS: The Role of Clients' Collaboration and Service Customization in INDUSTRY AND INNOVATION, vol. 26, pp. 592-618 (ISSN 1366-2716)
- Nel 2020 riceve dal Dipartimento di Management, con C. Giachetti, M. Calcagno e V. Finotto, un incentivo di 10.000 euro, assegnato da una commissione del Dipartimento su base competitiva, per realizzare un progetto di Didattica innovativa all'interno del Progetto di Eccellenza di Dipartimento. Il progetto ha come obiettivo la creazione di materiali innovativi per il corso di Gestione delle imprese (triennale in Economia Aziendale).
- 2018. Beneficiaria del fondo speciale per la ricerca, MIUR (comma 295, Legge di Bilancio 2017 (Legge 232/2016)).
Relazioni invitate presso convegni o workshops
- 2020, "Too close or too open for innovation? Mitigating the dark side effects of the dependence on clients on innovation performance with external knowledge sources and coordination mechanisms", 27TH IPDMC: Innovation and Product Development Management Conference, Online, June (7) 8-9 (with S. Li Pira e D. Campagnolo)
- 2019, "Linking Customer Embeddedness and Imitation: The Mediating Role of External Knowledge Sources and Coordination Mechanisms", (with S. Li Pira e D. Campagnolo), WOA 2019, Workshop di Organizzazione Aziendale – Palermo 7-8 February 2019
- 2018 "Linking Customer Embeddedness and Imitation: The Mediating Role of External Knowledge Sources and Coordination Mechanisms", (with S. Li Pira e D. Campagnolo), DRUID18 Copenhagen Business School, Denmark June 11-13,
- 2018, "When do modular dominant designs emerge? A theoretical framework", Sinergie XXX Annual Conference, Venezia, 14-15 June 2018.
Seminari su invito tenuti presso altre Università, Centri di Ricerca, Aziende, etc.
Relazioni invitate:
- 2020, "From execution to learning: how shifting focus in New Product Development eases Post Merger Integration processes" (With F. Zirpoli e M. Becker), Università di Trento, Dipartimento di Economia e Management
- 2020, "I contratti di rete", Convegno organizzato dalla Camera di Commerico di Venezia e Rovigo
- 2020, "I contratti di rete: obiettivi e vantaggi per le PMI", intervento al convegno "Le reti di imprese: motore per l'innovazione e la competitività. 2009-2019 dieci anni di contratti di rete" organizzato dalla Fondazione di Venezia;
- 2019 e 2020, "Presentazione dei risultati dell'Osservatorio nazionale sui contratti di rete", evento organizzato a Roma da RetImpresa, agenzia di Confindustria.
- 2019, "La componentistica automotive italiana", presentazione presso il convegno intitolato "L'Innovazione di I4.0: Teconologie abilitanti e standard per il mondo automotive", presso la camera di commercio di Pisa, organizzato da Movet.
- 2019, "I principali trend del settore automotive", presentazione presso il convegno organizzato dall'Osservatorio sulla componentistica italiana automotive, organizzato da ANFIA, Camera di Commercio di Torino e Università Ca' Foscari Venezia CAMI.
Altre attività scientifiche
Reviewer ad-hoc per le seguenti riviste internazionali:
- Research Policy
- Industry and Innovation
- International Journal of Operations and Production Management
- Industrial and Corporate Change
- Journal of Management Studies
- Emerging Markets Finance and Trade
- R&D Management
- Production and Operations Management
- Journal of Engineering and Technology Management
- Symphonya. Emerging issues in management.
Dal 2019 reviewer per monografie sui temi della network innovation e il settore del fashion per le case editirici Routledge e Palgrave.
Altre attività didattiche
- Da novembre 2019, Docente della Scuola Nazionale della Pubblica Amministrazione, corso "Riorganizzare i processi di lavoro", Presidenza del Consiglio dei Ministri.
- Dal 2020, docente e vice-direttrice del Master di primo livello in "Mobility and Innovation Management", e docente e responsabile del modulo "Innovation Management", Università Cà Foscari, Venezia.
Incarichi accademici e attività organizzative
- Dal 2017 al 2019. Delegata per il Placement del Collegio Internazionale di Ca' Foscari.
- Da gennaio 2018 ha la Direzione scientifica dell'Osservatorio nazionale sui contratti di rete, in partneship con Infocamere e Retimpresa.
- Dal 2012 è membro del centro di ricerca IOS, Innovation Organization & Strategy (Dipartimento di Management) di cui è stata direttrice dal 2014 al 2020. Oggi il centro di ricerca è NOIS (Network, Organization, Innovation and Strategy).
- Dal 2018 al 2021 è Direttrice esecutiva del Centro di ricerca CAMI (Center for Automotive and Mobility Innovation), del Dipartimento di Management.
Componente di Collegi didattici, Comitati e Commissioni di Dipartimento, Commissioni di Ateneo
- Dal 2020. Membro del Collegio Didattico della laurea triennale in Economia Aziendale del Dipartimento di Management.
- Da gennaio 2013- settembre 2019. Membro del Collegio Didattico del Collegio Internazionale di Ca' Foscari.
- Dal 2019 al 2020. Membro della Commissione per la Didattica del Dipartimento di Management con l'incarico di formulare proposte di didattica innovativa.
- Dal 2016 a gennaio 2020. Membro della Commissione per i programmi di scambio e programmi Erasmus del Dipartimento di Management.
- Dal 2013 Membro del Collegio dei Docenti del Dottorato in Management dell'Università Ca' Foscari, Venezia
Altre informazioni
2020, Presidentessa della Commissione Giudicatrice per l'esame finale relativo al conseguimento del Titolo di Dottore di Ricerca in Management di Lisa Balzarin, tesi dal titolo "Walking the tightrope: the balancing work of agency in organizational routines". Ciclo XXXII. Università Ca' Foscari, Venezia (4 gennaio 2020).
2020, Presidentessa della Commissione Giudicatrice per l'esame finale relativo al conseguimento del Titolo di Dottore di Ricerca in Management di Prasanna Kumar Kukkamalla, dal titolo Orchestrating organisational transformation for business model innovation towards servitization in the automotive industry, University of Girona, Spain (23 ottobre 2020)