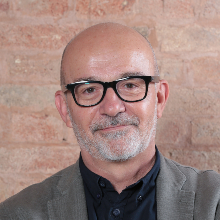 CORO' Giancarlo
Position

Full Professor
Roles

Coordinator of the Master's Degree Programme in Global Development and Entrepreneurship
Rector's delegate for International Cooperation and Development Policies

Telephone

041 234 6676 / 041 234 9189
E-mail
Fax

041 234 9176
Scientific sector (SSD)

ECONOMIA APPLICATA [SECS-P/06]
Website

www.unive.it/persone/corog (personal record)

Office

Department of Economics
Website: https://www.unive.it/dep.economics
Where: San Giobbe

Dati relazione
Periodo di riferimento

01/11/2015 - 31/10/2018
Afferenza

Dipartimento di Economia
Ruolo

Professori associati
Attività didattica
| A.A. | Insegnamento | Codice | Voto (max 4) | Voto medio area (max 4) |
| --- | --- | --- | --- | --- |
| 2015/2016 | CLUSTER ECONOMICS | EM1055 | 2.6 | 3.1 |
| 2015/2016 | ECONOMIA DEI SISTEMI DI IMPRESE | EM6019 | 2.2 | 3.1 |
| 2015/2016 | ECONOMIA E POLITICA DELLO SVILUPPO | ET3004 | 2.7 | 3.1 |
| 2015/2016 | ECONOMIA E POLITICA ECONOMICA INTERNAZIONALE | LM1900 | 2.5 | 3.2 |
| 2016/2017 | ECONOMIA DEI SISTEMI DI IMPRESE | EM6019 | 2.5 | 3.1 |
| 2016/2017 | ECONOMIA DELL'IMPRESA E DEI MERCATI | M58001 | | |
| 2016/2017 | ECONOMIA E POLITICA DELLO SVILUPPO | ET3004 | 2.7 | 3.1 |
| 2016/2017 | INDUSTRIAL CLUSTER ECONOMICS | EM1062 | 3 | 3.1 |
| 2017/2018 | ECONOMIA E POLITICA DELLO SVILUPPO | ET3004 | 2.9 | 3.1 |
| 2017/2018 | ECONOMICS OF GLOBALIZATION | LT9017 | 2.6 | 3.2 |
| 2017/2018 | INDUSTRIAL CLUSTER ECONOMICS | EM1062 | 2.9 | 3.1 |
| 2017/2018 | POLITICAL ECONOMY | LM3170 | 2.5 | 3.2 |
| 2017/2018 | URBAN INNOVATION ALL (ACTIVE LEARNING LAB) | PLE001 | | |
Tesi
| Anno solare | Tipologia | Tesi Relatore | Tesi Correlatore |
| --- | --- | --- | --- |
| 2015 | Corso di laurea | 28 | |
| 2015 | Corso di laurea magistrale | 8 | 7 |
| 2016 | Corso di laurea | 37 | |
| 2016 | Corso di laurea magistrale | 15 | 7 |
| 2017 | Corso di laurea | 36 | |
| 2017 | Corso di laurea magistrale | 23 | 17 |
Ricerche sviluppate e in corso
Aree di sviluppo industriale
Economics and Geography of the New Manufacturing
Green Mountain
Innovation Clusters
International fragmentation of production and spatial value absorbtion in global chain
North Italy as Global region
Pubblicazioni realizzate nel triennio
Corò, Giancarlo (2018), Cambiamento tecnologico e lavoro. gli impatti occupazionali di industria 4.0 in ECONOMIA E SOCIETÀ REGIONALE. OLTRE IL PONTE, vol. 1/18, pp. 52-69 (ISSN 1827-2479) (Articolo su rivista)
Barzotto, Mariachiara; Coro', Giancarlo; Volpe, Mario (2018), Global value chains and the role of MNEs in local production systems , Local Clusters in Global Value Chains. Linking Actors and Territories Through Manufacturing and Innovation, New York, NY 10017, Routledge, pp. 94-114 (ISBN 978-1-138-74286-4) (Articolo su libro)
Corò, Giancarlo (2018), Structural change and convergence across European regions (Working paper)
Coro', Giancarlo; Barzotto, Mariachiara; Mariotti, Ilaria (2017), APERTURA INTERNAZIONALE E CAPITALE TERRITORIALE: GLI INVESTIMENTI ESTERI COME NUOVO FATTORE DI CRESCITA DEI DISTRETTI INDUSTRIALI in ECONOMIA E SOCIETÀ REGIONALE. OLTRE IL PONTE, vol. XXXV (2) 2017, pp. 65-75 (ISSN 1827-2479) (Articolo su rivista)
Coro', Giancarlo (2017), Viaggio in Italia: Treviso in IL MULINO, vol. 6/17, pp. 1083-1086 (ISSN 1973-8145) (Articolo su rivista)
Coro', Giancarlo (2017), La questione metropolitana tra riordino amministrativo e nuove istituzioni , Governare il Territorio in Veneto, Padova, CLEUP, pp. 219-228 (ISBN 978 88 6787 571 9) (Articolo su libro)
Barzotto, Mariachiara; Coro, Giancarlo; Volpe, Mario (2017), Multinational Firms and Local Development: How Global Value Chains 
Can Sustain Industrial Commons , Enterprise and Social Rights, 2400 AH Alphen aan den Rijn, Kluwer Law International B.V., pp. 99-118 (ISBN 978-90-411-8234-0) (Articolo su libro)
Coro', Giancarlo (2017), Periferie competitive: lo spazio delle città intermedie nell'economia dell'innovazione , VERTICAL INNOVATION La vera natura dell'innovazione, Milano, Guerini, pp. 55-68 (ISBN 978-88-6896-092-6) (Articolo su libro)
Sufrauj, SHAMNAAZ BEGUM; Coro', Giancarlo; Volpe, Mario (2017), Regional labour market mobility. A network analysis of inter-firm relatedness in WORKING PAPER-DEPARTMENT OF ECONOMICS, CÀ FOSCARI. UNIVERSITY OF VENICE, Venice, Department of Economics, Ca' Foscari University of Venice, vol. No 06/WP/2017, pp. 1-40 (ISSN 1827-3580) (Working paper)
Coro, Giancarlo; Costantini, Mauro; Garalova, Petya; Iapadre, Lelio; Mutinelli, Marco (2017), Rapporto CER Integrazione internazionale e occupazione , Roma, CER - Centro Europa Ricerche, vol. 4, pp. 1-56 (Rapporto di ricerca)
Barzotto, Mariachiara; Corò, Giancarlo; Volpe, Mario (2016), Territorial capital as a company intangible in JOURNAL OF INTELLECTUAL CAPITAL, vol. 17, pp. 148-167 (ISSN 1469-1930) (Articolo su rivista)
Coro', Giancarlo (2016), Dalla periferia industriale al nuovo paesaggio metropolitano , Paesaggi delle Venezie. Storia ed economia, Venezia, Marsilio, pp. 665-683 (ISBN 9788831724722) (Articolo su libro)
Barzotto, Mariachiara; Coro, Giancarlo; Mariotti, Ilaria; Mutinelli, Marco (2016), The impact of Inward FDI on host country labour markets. A counterfactual analysis on Italian manufacturing companies in WORKING PAPERS C.MET-05, vol. 03/2016, pp. 1-24 (ISSN 2281-5023) (Working paper)
Corò, Giancarlo; Dalla Torre, Riccardo (2015), Spazio metropolitano , Marsilio Editore spa (ISBN 9788831721677) (Monografia o trattato scientifico)
Giancarlo, Corò (2015), Se il Nord (Italia) si scopre Sud (Europa) in ITALIANIEUROPEI, vol. 2/2015, pp. 36-43 (ISSN 1593-5124) (Articolo su rivista)
Corò Giancarlo; Dalla Torre Riccardo (2015), The Governance of Metropolitan Areas in Italy: A Plan to Enhance Competition in TAFTER JOURNAL, vol. 2/2015 (ISSN 1974-563X) (Articolo su rivista)
Corò, Giancarlo; Micelli, Stefano; Gianluca Toschi (2015), Piccole imprese globali crescono. Nuovo manifatturiero, tecnologie di rete ed e-commerce a sostegno del made in Italy in Giancarlo Corò; Stefano Micelli; Gianluca Toschi, L'Italia nell'economia internazionale. Rapporto ICE 2014-2015, Roma, Italian Trade Agengy (ISBN 9788898597024) (Articolo su libro)
Coro', Giancarlo (2015), Scala, efficienza, equità: le condizioni per un nuovo ciclo di investimenti sul territorio , Investimenti, innovazione e città. Una nuova politica industriale per la crescita, Milano, EGEA S.p.A., pp. 373-380 (ISBN 978-88-238-4480-3) (Articolo su libro)
(a cura di) Antonietti, Roberto; Corò, Giancarlo; Gambarotto, Francesca (2015), Uscire dalla crisi. Città, comunità, specializzazioni intelligenti in Roberto Antonietti; Giancarlo Corò; Gambarotto Francesca, Milano, FrancoAngeli srl (ISBN 9788891726025) (Curatela)
Partecipazione come referee di progetti di ricerca nazionali ed internazionali
Fondazione IRSO, Progetto Nord
Fondazione Nord Est, Osservatorio sull'economia del Nord Est
Uncem - Ministero Ambiente, Green Mounatin Project
Veneto Innovazione - Aree di Sviluppo Industriale
Partecipazione a comitati editoriali di riviste/collane scientifiche
Economia e società regionale
Argomenti
Small Business
Descrizione dell'attività di ricerca svolta nel triennio e gli obiettivi futuri
L'attività di ricerca nell'ultimo triennio si è sviluppata su quattro temi principali.

1. Il primo riguarda i fattori abilitanti e gli impatti sulle imprese dell'adozione di tecnologie digitali di ultima generazione, note anche come Industria 4.0. Il lavoro di ricerca è stato per lo più condotto all'interno del progetto Horizon-Makers coordinato dalla Prof.ssa Lisa De Propris dell'Università di Birmingham. La ricerca su questo tema si è sviluppata sia mediante un'ampia analisi della letteratura economica, sia con indagini empiriche tese a rilevare la diffusione delle tecnologie nel tessuto produttivo da mettere in relazione a condizioni strutturali e performance delle imprese, nonché ai dati su occupazione e capitale umano. All'interno del progetto Makers ho svolto due periodi di Secondment a Stoccolma (agosto-settembre 2017 e maggio-giugno 2018) presso Vinnova, l'agenzia nazionale per l'innovazione del governo svedese.
I risultati più maturi di questa ricerca sono in corso di pubblicazione nel capitolo "Driving Factors in the Adoption of Industry 4.0 Technologies. An investigation on SMEs" all'interno del volume a cura di Lisa De Propris per Springer, e nel paper "Enabling Factors and Job Creation in Firms adopting Industry 4.0 technologies. An Empirical Inquiry in an Italian Manufacturing Region" che verrà presentato il 28 giugno a New York nell'ambito della Conferenza internazionale della Society for Advancement Socio-Economics.

2. La seconda linea di ricerca ha riguardato l'analisi degli impatti degli investimenti diretti esteri sulle economie locali. Anche in questo caso l'approccio di ricerca ha seguito sia il confronto con la letteratura economica più recente, sia indagini empiriche sul fenomeno multinazionale condotte a livello regionale e nazionale, incrociando diverse basi dati. In particolare, l'obiettivo è stato analizzare gli impatti su occupazione, qualità del capitale umano e reti di fornitura degli investimenti internazionali in Italia, verificando anche l'esistenza di specifiche strategie localizzative dei gruppi multinazionali. La documentazione dei risultati di questa linea di ricerca si può trovare oltre che nelle pubblicazioni effettuate entro il 2018, nell'articolo "Ownership and Workforce Composition:
A Counterfactual Analysis of Foreign Multinationals and Italian Uni-National Firms" nel Journal of Industrial and Business Economics.

3. La terza linea di ricerca ha riguardato gli effetti di polarizzazione spaziale dei processi di innovazione, con particolare riguardo alle tecnologie digitali. Si tratta di un programma di ricerca che sto portando avanti assieme a Giulio Buciuni del Trinity College e Dieter Kogler dello University College di Dublino. L'analisi ha riguardato in particolare i processi di polarizzazione delle attività innovative (misurate dal patenting), del capitale umano (distribuzione e mobilità dei laureati) e del venture capital (intesa come attività finanziaria più direttamente collegata all'innovazione). La ricerca ha inoltre analizzato le giustificazioni teoriche della polarizzazione delle attività a maggiore contenuto di conoscenza (matching, sharing, learning) insieme alle conseguenze economiche e politiche generate dalle crescenti disparità territoriali. Il lavoro di ricerca ha tuttavia l'obiettivo di individuare anche opzioni alternative alla polarizzazione in pochi hub innovativi, studiando alcune interessanti esperienze di "periferie competitive" sia in Europa, sia negli USA. Oltre ad alcune pubblicazioni e alle presentazioni di working paper avvenute nel 2017 e 2018, i risultati di questa linea di ricerca sono in fase di elaborazione nell'articolo "Innovation Hubs and Spatial Inequalities. Can Peripheral Areas Become Competitive?" attualmente in submission, e nel libro Periferie competitive. Innovazione, equità, prosperità, in preparazione per la casa editrice il Mulino.

4. Il quarto tema di ricerca, collegato e trasversale ai precedenti, segue l'approccio alla Economic Complexity della scuola Hausmann-Hidalgo per studiare crescita, competitività e attrattività dei territori. In questo caso l'analisi è stata condotta sia a livello nazionale, sia europeo, costruendo misure di complessità economica dei territori che sono poi state messe in relazione con i processi di crescita, convergenza, attrattività degli investimenti esteri. Due gli articoli su questo tema attualmente in submission, entrambi in collaborazione con Tullio Buccellato: "Relatedness, economic complexity and convergence across European regions" (Regional Studies) e "Investimenti diretti esteri e complessità economica: un esempio di analisi per orientare le strategie di politica industriale" (Approfondimento nel Rapporto ICE, L'Italia nell'economia internazionale).
Altri prodotti scientifici
Socio Ordinario Accademica Olimpica di Vicenza - Sezione Diritto, Economia, Amministrazione dal 17-12-2017
Guest Researcher, Dep. of Economic History, University of Lund, dal 14-08-2017
Menzioni e premi ricevuti
Premio Innovazione e trasversalità della didattica 2015 Università Ca' Foscari Venezia - Laboratorio didattico: The Urban Innovation Bootcamp
Premio RUS - Rete Università per lo Sviluppo Sostenibile - Best practice Didattica per lo Sviluppo Sostenibile 2017
A.A. 2016/17 e 2017/18 - Riconoscimento per impegno come relatore tesi di laurea Dipartimento Economia
Relazioni invitate presso convegni o workshops
12-06-2015, Industria internazionale e investimenti per i territori. Ripensare le politiche per la crescita e lo sviluppo - Workshop c.MET05, Università Ca' Foscari Venezia
01-07-2015, Enterprise transformations, externalization processes and productive decentralization - 2nd International Seminar on International and Comparative Labour Law, EIUC Venice
19-03-2016, LAS PYMES Y LA ARTICULACION DE LOS ECOSISTEMAS DE INNOVACION - SESIÓN PLENARIA DEL II FORO ITALO-LATINOAMERICANO SOBRE PYMES Leon, Guanajuato, Mexico
16-06-2016, MNE's and local labour market: a social network analysis of sectoral mobility (with S. Sufrauj) - Tredicesimo Workshop c.MET05, Napoli
25-06-2016, Multinational Investments and Labour Market - 3rd International Seminar on International and Comparative Labour Law - EIUC Venice
07-06-2017, Enabling Factors for Digital Upgrading: The Case of Veneto Region (Italy) - RSA Annual Conference 2017, Trinity College Dublin, Ireland
09-06-2017, Inward FDIs and labour market. Evidence from mature local production systems - XIV Workshop c.MET05, Università di Ferrara
24-06-2017, Free trade or fair trade? The point of view of lawyers and economists - 4th SEMINAR ON INTERNATIONAL AND COMPARATIVE LABOUR LAW - EIUC Venice
23-06-2017, Volontariato, Capitale Sociale, Sviluppo Economico - Lectio Giornata conclusiva Università del Volontariato, Treviso
06-07-2017, Le piccole imprese esportatrici nel nuovo scenario dell'economia internazionale, Export per le imprese artigiane, Fondazione Fornace dell'Innovazione, Asolo (TV)
22-09-2017, The geography of foreign affiliates establishments location, Conferenza Annuale AISRe, Cagliari
30-09-2017, Industry 4.0, StatisticALL - Festival della Statistica
06-10-2017, Fabbriche, territori, comunità al tempo della quarta rivoluzione industriale, Unindustria Treviso e Padova
17-11-2017, How Peripheries Compete: Second-Tier Cities in the Innovation Economy, Regional Studies Association – Winter Conference London, with Giulio Buciuni (Trinity Colleg Dublin) and Dieter Kogler (University College Dublin)
17-11-2017, Industria 4.0 e il suo impatto sul mercato del lavoro - Seminario di apertura del Master in Diritto del Lavoro e della Previdenza Sociale a.a. 2017-18 / XV Edizione, Ca' Foscari Challenge School
20-11-2017, Multinational Firms, Local Development and Global Value Chains - INTERNATIONAL CONFERENCE Globalisation, human capital, regional growth and the 4th industrial revolution, Regioen Emilia Romagna, Bologna
29-11-2017, Offshoring e re-shoring distrettuale - Sessione Reti di produzione trans-locali, INCONTRI DI ARTIMINO SULLO SVILUPPO LOCALE EDIZIONE 2017
16-01-2018, PAESAGGI E PRODUZIONEA NORDEST, IUAV
02-02-2018, Enabling factors in firms' adoption of new digital technologies: an empirical investigation of an Italian manufacturing region - Società Italiana di Economia e Politica Industriale XVI Workshop Annuale
09-03-2018, Innovazione digitale e disuguaglianze territoriali, Crema, Scuola di Educazione all'Economia
10-06-2018, La formazione delle conoscenze per l'internazionalizzazione delle imprese, Convegno SELES-EVERAP Conoscenza e strumenti per un export efficace, Padova
12-07-2018, Il rapporto internazionalizzazione e territorio, Convegno Regione del Veneto, Interpretare il cambiamento: sfida per la Rappresentanza, le imprese e i lavoratori, Treviso
21-09-2018, Innovazione digitale polarizzazione territoriale, StatisticAll, Treviso
25-10-2018, Enabling factors in SMEs digital technology adoption, relazione al workshop Industry 4.0 and SMEs: Skills, Upgrading, and Policy
19-11-2018, Tendenze del commercio internazionale e neo-protezionismo, relazione al Convegno Guerre Commerciali e Imprese a Nord Est, Ca' Foscari, Campus Scienftifico Mestre
Seminari su invito tenuti presso altre Università, Centri di Ricerca, Aziende, etc.
14-05-2015, Bernardo Secchi: libri e piani - La città dei ricchi e la città dei poveri, IUAV Venezia
10-11-2015, Innovation, Entrepreneurship and Finance, INEF Network Meeting, University of Hohenheim
09-05-2017, PMI & TERRITORI - Focus COLOMBIA, Università di Padova, Agripolis
01-09-2017, Clusters of Entrepreneurship. Why Geography Still Matters in Innovation Processes - Al-Farabi Kazakh National University Summer School, Università di Padova
25-09-2017, 5th International Scientific Congress Trade, Inequality, and labour mobility, Globalistics – 2017: Global Ecology and Sustainable Development, Section III. Global diplomacy and international relations, Lomonosov Moscow State University
17-11-2017, LA RESPONSABILITA' SOCIALE DI IMPRESA E DEI TERRITORI NELLA TRANSIZIONE IN CORSO, Lezione inaugurale Master Governo delle reti di Sviluppo Locale, Università di Padova
15-12-2017, Old and new forms of industrial districts - Becattini's intellectual legacy and lines of future socio-economic research, Università di Firenze
19-02-2018, Universidad Técnica Nacional Costa Rica, Escuela de Verano Pymes y Territorios - Cadenas de Valor, Pymes y Capital Territorial
23-03-2018, Fifth Workshop on GVCs: Updating our Knowledge on Global Value Chains - Roma Tre University
15-11-2018, Sviluppo e competitività delle regioni europee, Università di Perugia
14-12-2018, Exploring economic change, PHD PROGRAM METHODOLOGICAL WEEK, Politecnico di Milano
Altre attività scientifiche
Comitato scientifico-editoriale Rapporto L'Italia nell'Economia Internazionale, Istituto Commercio estero (dal 2015)
Comitato di direzione CMET - Centro Universitario Nazionale di Economia Applicata (dal 2014)
Componente Direttivo AISRe - Associazione Italiana Scienze Regionali (dal 01-10-2013 al 30-09-2016)
Responsabile Progetto di ricerca "Inward FDIs and Host Country Labour Market Composition", Ca' Foscari, Politecnico di Milano, Università di Brescia, University of Essex (dal 2015)
MAKERS - Smart Manufacturing for EU growth and prosperity is a project funded by the Horizon 2020- MSCA- RISE - Grant agreement number 691192 (2016-2018)
How Peripheries Compete: Second-Tier Cities in the Knowledge Economy - Research project Ca' Foscari University Venice and Trinity College Dublin (dal 2016)
Economic complexity, Structural change and Convergence across European Regions - Progetto di ricerca con Centro Studi Confindustria (dal 2017)
Componente Comitato Scientifico Fondazione Nord Est (Direttore Prof. Carlo Carraro) - Responsabile Osservatorio Crescita, Competitività, Mercati Internazionali (dal 2018)
Altre attività didattiche
2015, Dottorato in Ingegneria Civile, Architettura e Paesaggio, Università di Udine
2015-2018, Pianificazione territoriale e politiche pubbliche, IUAV PhD School
2015-2018, Master Economia e Lingue dell'Europa Orientale, Università Ca' Foscari Challenge School
2018, Master in Diritto del Lavoro, Università Ca' Foscari Challenge School
2017-2018, Master in Global Economics and Social Affairs, Università Ca' Foscari Challenge School
2017-2018, Master MAGAM-Valutazione e gestione ambientale ed energetica delle imprese e del territorio, Università Ca' Foscari Challenge School
2015-2018, Master in Pubblica Amministrazione Università Ca' Foscari Challenge School
2015-2018, Master in Governance dello Sviluppo Locale, Università di Padova
2018, Master ISTAO in Strategia d'Impresa e Management Internazionale: Focus Russia and Eurasia
2018, SPECIALIZATION, VARIETY, PROXIMITY: TOWARD A NEW COMPLEXITY OF PRODUCTION SPACES, Master Class IUAV-PhD School
2016-2018, Summer School Università di Padova-AL-FARABI KAZAKH NATIONAL UNIVERSITY
2018, Summer School Global Studies, SIE Venice School for International Education
Incarichi accademici e attività organizzative
Direzione Centro Interdipartimentale SELISI - Scuola Economia Lingue Imprenditorialità per gli Scambi Internazionali, Università Ca' Foscari Venezia
da 01-11-2014, rinnovato 01-11-2017
Responsabile scientifico Urban Innovation Bootcamp, dall'A.A. 2014/15 al 2015/16
Responsabile scientifico Active Learning Lab Social Innovation, dall'A.A. 2016/17
Responsabile scientifico Active Learning Lab Export Manager, dall'A.A. 2018/19
Partecipazione alle attività di valutazione della ricerca
Collegio di Dottorato in Ingegneria Civile, Architettura e Paesaggio, Università di Udine dal 19-04-2013
Commissione esame finale Dottorato di Ricerca in Economia - Indirizzo Economia applicata e dell'internazionalizzazione, Università di Ferrara dal 15-04-2015 al 15-04-2015
Final Examination for The Award of the PhD Degree in Development Economics and Local Systems - DELOS, Università di Trento dal 26-03-2018 al 26-03-2018
Supervisor PhD Management Università Ca' Foscari, dal 2018
Componente di Collegi didattici, Comitati e Commissioni di Dipartimento, Commissioni di Ateneo
Collegio didattico Global Development and Entrepreneurship, dal 2016
Comitato scientifico Centro Linguistico di Ateneo, dal 2017
Attività e incarichi esterni
Editorialista dei Quotidiani del Gruppo GEDI-L'Espresso (Nuova Venezia, La Tribuna, Il Mattino di Padova)
Editorialista de il Gazzettino