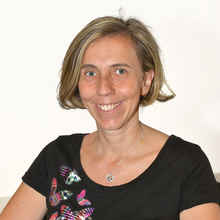 Dati relazione
Periodo di riferimento

01/11/2016 - 31/10/2019
Afferenza

Dipartimento di Scienze Ambientali, Informatica e Statistica
Ruolo

Ricercatori universitari
Attività didattica
| A.A. | Insegnamento | Codice | Voto (max 4) | Voto medio area (max 4) |
| --- | --- | --- | --- | --- |
| 2016/2017 | ALGORITMI E STRUTTURE DATI | CT0371 | 3.3 | 3.1 |
| 2016/2017 | BASI DI DATI | CT0006 | 3.5 | 3.1 |
| 2017/2018 | ALGORITMI E STRUTTURE DATI | CT0371 | 3.3 | 3.2 |
| 2017/2018 | BASI DI DATI | CT0006 | 3.4 | 3.2 |
| 2018/2019 | ALGORITMI E STRUTTURE DATI | CT0371 | 3.1 | 3.2 |
| 2018/2019 | BASI DI DATI | CT0006 | 3.3 | 3.2 |
Tesi
| Anno solare | Tipologia | Tesi Relatore | Tesi Correlatore |
| --- | --- | --- | --- |
| 2016 | Corso di laurea | 4 | |
| 2017 | Corso di laurea | 1 | |
| 2018 | Corso di laurea | 8 | |
Finanziamenti
ADAPT: Accessible Data for Accessible Proto-types in Social Sector
MASTER (Multiple ASpects TrajEctoRy management and analysis)
Ricerche sviluppate e in corso
Applicazioni di tecniche di data mining su dati spazio-temporali
Data warehouse di traiettorie di oggetti in movimento
Linguaggi per la rappresentazione e il ragionamento sui dati spazio-temporali
Pubblicazioni realizzate nel triennio
Baldan P.; Raffaeta A. (2019), Minimisation of event structures , 39th IARCS Annual Conference on Foundations of Software Technology and Theoretical Computer Science, (FSTTCS) in LEIBNIZ INTERNATIONAL PROCEEDINGS IN INFORMATICS, Schloss Dagstuhl- Leibniz-Zentrum fur Informatik GmbH, Dagstuhl Publishing, vol. 150, Convegno: 39th IARCS Annual Conference on Foundations of Software Technology and Theoretical Computer Science, FSTTCS 2019, 2019 (ISSN 1868-8969) (Articolo in Atti di convegno)
Nardini, Franco Maria; Orlando, Salvatore; Perego, Raffaele; Raffaetà, Alessandra; Renso, Chiara; Silvestri, Claudio (2018), Analysing Trajectories of Mobile Users: From Data Warehouses to Recommender Systems , A Comprehensive Guide Through the Italian Database Research Over the Last 25 Years in STUDIES IN BIG DATA, Springer, pp. 407-421 (ISBN 978-3-319-61892-0) (ISSN 2197-6503) (Articolo su libro)
Eichler, Jeronimo; Casanova, Marco; Furtado, Antonio; Ruback, Livia; Paes Leme, Luiz André; Lopes, Giseli; Nunes, Bernardo Pereira; Raffaetà, Alessandra; Renso, Chiara (2017), Searching Linked Data with a Twist of Serendipity , Proceedings of the 29th International Conference on Advanced Information Systems Engineering in LECTURE NOTES IN COMPUTER SCIENCE, Springer, vol. 10253, pp. 495-510, Convegno: 29th International Conference on Advanced Information Systems Engineering (CAiSE) (ISSN 0302-9743) (Articolo in Atti di convegno)
Descrizione dell'attività di ricerca svolta nel triennio e gli obiettivi futuri
In questi tre anni l'attività si è focalizzata nell'ambito della gestione e analisi di traiettorie semantiche. A luglio 2017 è stato accettato un progetto europeo di cui sono la responsabile per l'unità di Venezia. Il nome del progetto è "MASTER: Multiple aspect trajectories representation and analysis" ed è iniziato il 1 marzo 2018 e ha una durata di quattro anni. E' un progetto Marie Sklodowska-Curie RISE (Research and Innovation Staff Exchange), che coinvolge 10 partner internazionali. Il progetto è motivato dal crescente numero di applicazioni, dalla telefonia ai social media, ai servizi di sorveglianza terrestre, aerea e marittina, che determinano la disponibilità di enormi quantità di dati spazio-temporali di oggetti in movimento. L'obiettivo è lo sviluppo di metodi per costruire, gestire e analizzare traiettorie olistiche, ovvero sequenze di punti spazio-temporali arricchite con informazioni semantiche provenienti da fonti di dati eterogenee, quali social media, Linked Open Data, basi di conoscenza. La disponibilità di traiettorie olistiche, nei vari contesti citati, permette, per esempio, l'individuazione e il monitoraggio delle diverse tipologie di flussi turistici, la definizione di itinerari personalizzati in base agli interessi dei turisti, l'acquisizione di conoscenza sui pattern di pesca per migliorare la tutela dell'ambiente, l'identificazione delle rotte dei migranti e il rilevamento della presenza di barche sospette.

In particolare, sto lavorando in collaborazione con colleghi di Scienze ambientali, all'analisi dei comportamenti dei pescherecci nel mar Adriatico settentriale. L'area del Mar Adriatico settentrionale è nota per la sua altissima produttività nel settore della pesca ed è riconosciuta come una delle zone più sfruttate del Mar Mediterraneo. Al fine di rendere le attività di pesca sostenibili e di garantire un ecosistema produttivo e sano, si sente forte il bisogno di sviluppare una adeguata pianificazione delle attività di pesca. In questo contesto, risulta di fondamentale importanza analizzare i dati relativi agli spostamenti dei pescherecci e al loro pescato con lo scopo di costruire una mappa spaziale e temporale delle attività di pesca.

Per raggiungere questo obiettivo, è stata effettuata la ricostruzione delle traiettorie dei pescherecci nel mar Adriatico settentrionale partendo dai dati AIS (Automatic Identification System). I dati AIS contengono la posizione della barca, l'istante temporale di rilevamento e altre informazioni quali la direzione, la velocità. Poi si è proceduto con l'arricchimento delle traiettorie, cioè le traiettorie sono state suddivise in segmenti e a ciascun segmento sono state associate annotazioni semantiche. In particolare, ad ogni segmento è stata assegnata l'attività svolta dall'imbarcazione distinguendo fra in porto, entrata/uscita dal porto, navigazione e pesca. In questo modo si è potuto calcolare, per ciascuna traiettoria, la durata e la lunghezza del viaggio e dell'attività effettiva di pesca. Oltre ai dati AIS, per l'arricchimento è stato utilizzato un altro dataset che contiene la quantità e il tipo di pesce venduto dai vari pescherecci al mercato di Chioggia. I risultati di questa analisi sono stati pubblicati a Maggio 2020 in [1].

Utilizzando le traiettorie cosi' arricchite, è stata proposta una tecnica per predire il Catch Per Unit Effort (CPUE). Il CPUE è un indicatore dello sfruttamento delle risorse di pesca che permette di valutare la pressione di tali attività a livello dell'ecosistema. Intuitivamente, una diminuzione del CPUE indica una situazione di sovrasfruttamento, un CPUE stabile rileva uno sfruttamento sostenibile delle risorse di pesca e un incremento del CPUE indica una popolazione ittica sana e in crescita. L'approccio è nato dalla collaborazione con l'università Dalhousie (Canada) partner di MASTER e i risultati sono stati presentati a settembre 2019 e pubblicati in [2]. È un approccio ancora preliminare, con ampi margini di miglioramento. Si intende dunque continuare tale collaborazione e attività di ricerca e indagare altre tecniche predittive basate su metodi differenti di Machine Learning.

Sempre all'interno del progetto MASTER e in collaborazione con l'azienda di trasporto pubblico ACTV S.p.a, si sta analizzando la mobilità dei turisti attraverso le validazioni dei biglietti all'interno del servizio di trasporto. L'azienda ha fornito i dati relativi alle validazioni e questi sono stati studiati attraverso tecniche di maching learning che hanno portato all'identificazione di diverse tipologie di turisti, descrivendo tratti identificativi di questi ultimi come il punto di origine, le tratte percorse e l'orario di percorrenza. Altri elementi che sono stati studiati attraverso gli stessi dati sono: il tempo di permanenza in determinate zone, i punti di accesso alla città e le distribuzioni temporali delle visite. La difficoltà principale nell'analisi di tali dati consiste nel fatto che si conosce il punto di ingresso della persona nel mezzo di trasporto ma non quando e dove scende. Questo rende molto complessa la ricostruzione delle traiettorie degli utenti. A questo scopo si sta cercando di indagare l'uso di un modello probabilistico che permetta di fornire con quale probabilità un utente si sposti da A a B attraversando alcuni punti di interesse.

Il progetto MASTER continuerà fino a febbraio 2022 e sicuramente sarà la mia attività principale per il prossimo triennio di ricerca.

[1] Elisabetta Russo, Marco Anelli Monti, M. Cristina Mangano, Alessandra Raffaetà, Gianluca Sarà, Claudio Silvestri, Fabio Pranovi: Temporal and Spatial Patterns of Trawl Fishing Activities in the Adriatic Sea (Central Mediterranean Sea, GSA17) in OCEAN AND COSTAL MANAGEMENT. 192 (2020).

[2] Pedram Adibi, Fabio Pranovi, Alessandra Raffaetà, Elisabetta Russo, Claudio Silvestri, Marta Simeoni, Amílcar Soares, Stan Matwin:
Predicting Fishing Effort and Catch Using Semantic Trajectories and Machine Learning. MASTER@PKDD/ECML 2019. LNCS 11889, 83-99. 2020.
Relazioni invitate presso convegni o workshops
Presentazioni a convegno:
- Predicting Fishing Effort and Catch Using Semantic Trajectories and Machine Learning. Workshop on Multiple-Aspect Analysis of Semantic Trajectories. 16 Settembre 2019 Würzburg (Germania).

Presentazioni a meeting di progetto europei:
- Work Package 3: Holistic trajectories building and management. Mid Term Meeting Progetto MASTER, 11 Aprile 2019 Pisa (Italia)

- UNIVE 4 MASTER. MASTER Kick-off Meeting, 22 Marzo 2018 Brussels (Belgio)
Seminari su invito tenuti presso altre Università, Centri di Ricerca, Aziende, etc.
- Analysis of semantic trajectories in Public Transportation and Sea Monitoring Scenarios. Universidade Federal do Ceará (UFC), 16 Agosto 2018, Fortaleza (Brasile)
Altre attività scientifiche
MEMBRO del COMITATO di PROGRAMMA:
- XVII Brazilian Symposium on GeoInformatics, (GEOINFO 2016), 27-30 Novembre 2016, Campos do Jordão, São Paulo, Brazil.
- 11th International Workshop on Spatial and Spatiotemporal Data Mining (SSTDM2016), 12 Dicembre 2016, Barcelona, Spain.
- 25th Italian Symposium on Advanced Database Systems, (SEBD2017), 25-29 Giugno 2017, Squillace Lido (Catanzaro), Italy.
- 1st International Workshop on Agricultural and Environmental Big Data Analytics, (AEDBA), 5 Luglio 2017, Trieste, Italy.
- 8th IEEE International Conference on Big Knowledge, (ICBK 2017), 9-10 Agosto 2017, Hefei, China.
-6th ACM SIGSPATIAL International Workshop on Analytics for Big Geospatial Data (BigSpatial2017), 7 Novembre 2017, Redondo Beach, CA, USA.
- 12th International Workshop on Spatial and Spatiotemporal Data Mining (SSTDM2017), 18 Novembre 2017, New Orleans, USA.
- 1st Big Mobility Data Analytics (BMDA2018), Mar 26 - 29, 2018 – Vienna, Austria
- 7th ACM SIGSPATIAL International Workshop on Analytics for Big Geospatial Data (BigSpatial2018), 6 Novembre 2018, Seattle, Washington, USA.
- 2nd Big Mobility Data Analytics (BMDA2019), Mar 26 - 29, 2019 – Lisbon, Portugal

Peer-review per le seguenti riviste:
- Journal of Information and Data Management
- GeoInformatica
- Data Mining and Knowledge Discovery

Stesura di Deliverable per progetti europei
- D5.1 Requirements for application scenarios, N. Pelekis, A. Raffaetà et al. 2019
Incarichi accademici e attività organizzative
- Responsabile dei corsi part-time per i corsi di laurea di informatica dal Giugno 2011.
- Referente per l'internazionalizzazione per i corsi di studio in informatica dal Settembre 2016.
Componente di Collegi didattici, Comitati e Commissioni di Dipartimento, Commissioni di Ateneo
- Membro del Collegio didattico dal Novembre 2004.
- Membro della Commissione paritetica del DAIS dal Dicembre 2012.
- Coordinatrice della Commissione per le attività formative autogestite dagli studenti dal Novembre 2015.
Attività e incarichi esterni
- INCARICO di RICERCA presso il Departamento de Computação, Universidade Federal do Ceará (UFC), Fortaleza (Brasile), dal 08-08-2018 al 08-09-2018 nell'ambito del progetto MASTER.